HOCKEY EAST HEADLINES
#7 Northeastern swept #13 Vermont in a two-game set on home ice, 3-1 and 5-1, to open up an 11-point lead in the Army ROTC Hockey East Standings. Alina Mueller registered five assists while Maureen Murphy picked up two goals and a helper to record her 100th career point with Northeastern.
New Hampshire earned a weekend split with UConn, taking a 4-0 win on Friday behind 28 saves from Nicky Harnett. The next night, UConn's Megan Warrener made 27 stops and Claire Peterson scored to deliver a 1-0 Huskies win.
Maine swept Boston University, 3-0 and 3-2. Brooklyn Oakes collected her third collegiate shutout with 19 saves in net for the Black Bears on Friday and Luisa Welcke scored twice in Saturday's victory.
Boston College earned six points to vault into fourth place in the Army ROTC Hockey East Standings. Abby Newhook was the overtime hero in Friday's 2-1 win and added another tally to open Saturday's scoring. Katie Pyne scored twice in the Eagles' 4-2 triumph.
Providence thwarted Merrimack, 4-2 and 4-1, to push their winning streak to six games. Freshman Mégane Quirion handed out three helpers in Friday's success and Sara Hjalmarsson scored twice and added an assist in the two-game set.

---
HOCKEY EAST PLAYER OF THE WEEK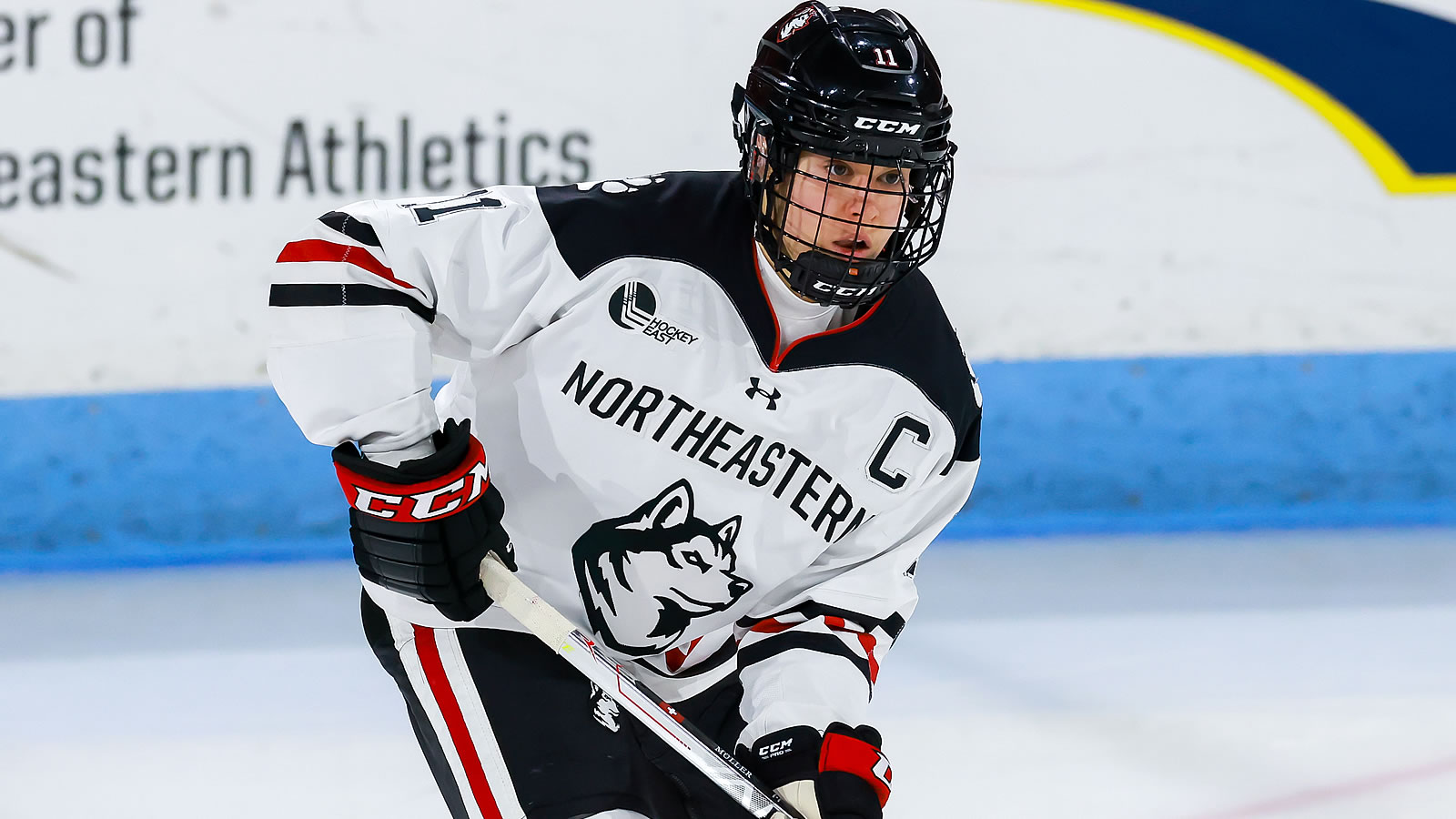 Alina Mueller - Northeastern
Alina Mueller (Gr., F; Winterthur, Switzerland) led the NCAA as she posted five assists to lead the Huskies to a weekend sweep over #13 Vermont. All five of Mueller's points came on assists, and her 17 assists on the season are tied to lead all Hockey East players. She currently has 31 points on the season, tops among Hockey East players and the fourth-best mark in the NCAA. She factored in on five of the Huskies eight goals last weekend, including four primary assists and one game-winning helper.

---
PRO AMBITIONS ROOKIE OF THE WEEK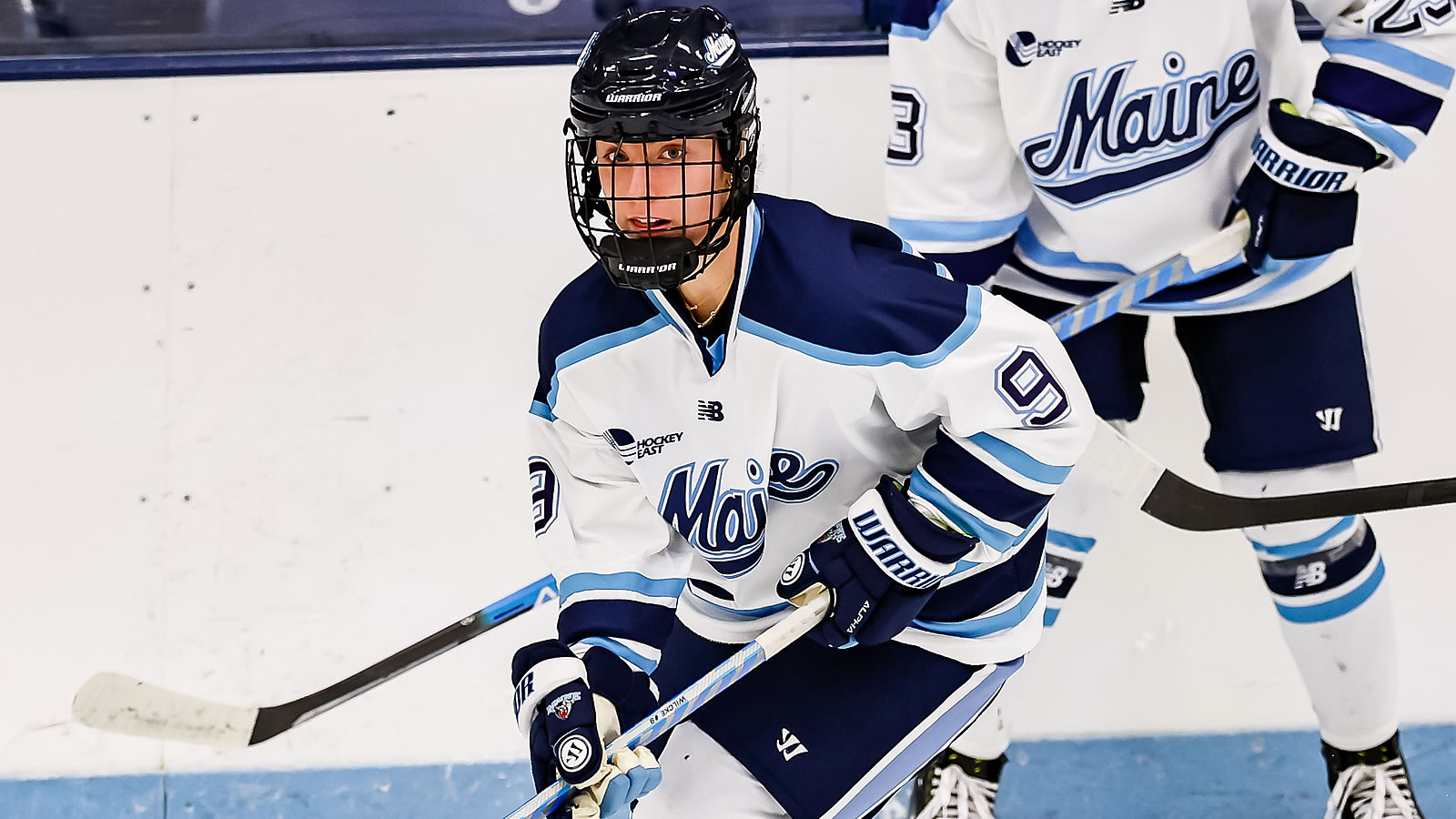 Luisa Welcke - Maine
Luisa Welcke (Fr., F; Heidelberg, Germany) stayed hot for Maine, scoring twice in a 3-2 win on Saturday and adding an assist in Friday's 3-0 shutout at Boston University. The first-year forward now has six points (2g, 4a) during Maine's current three-game winning streak.

---
ARMY ROTC DEFENDER OF THE WEEK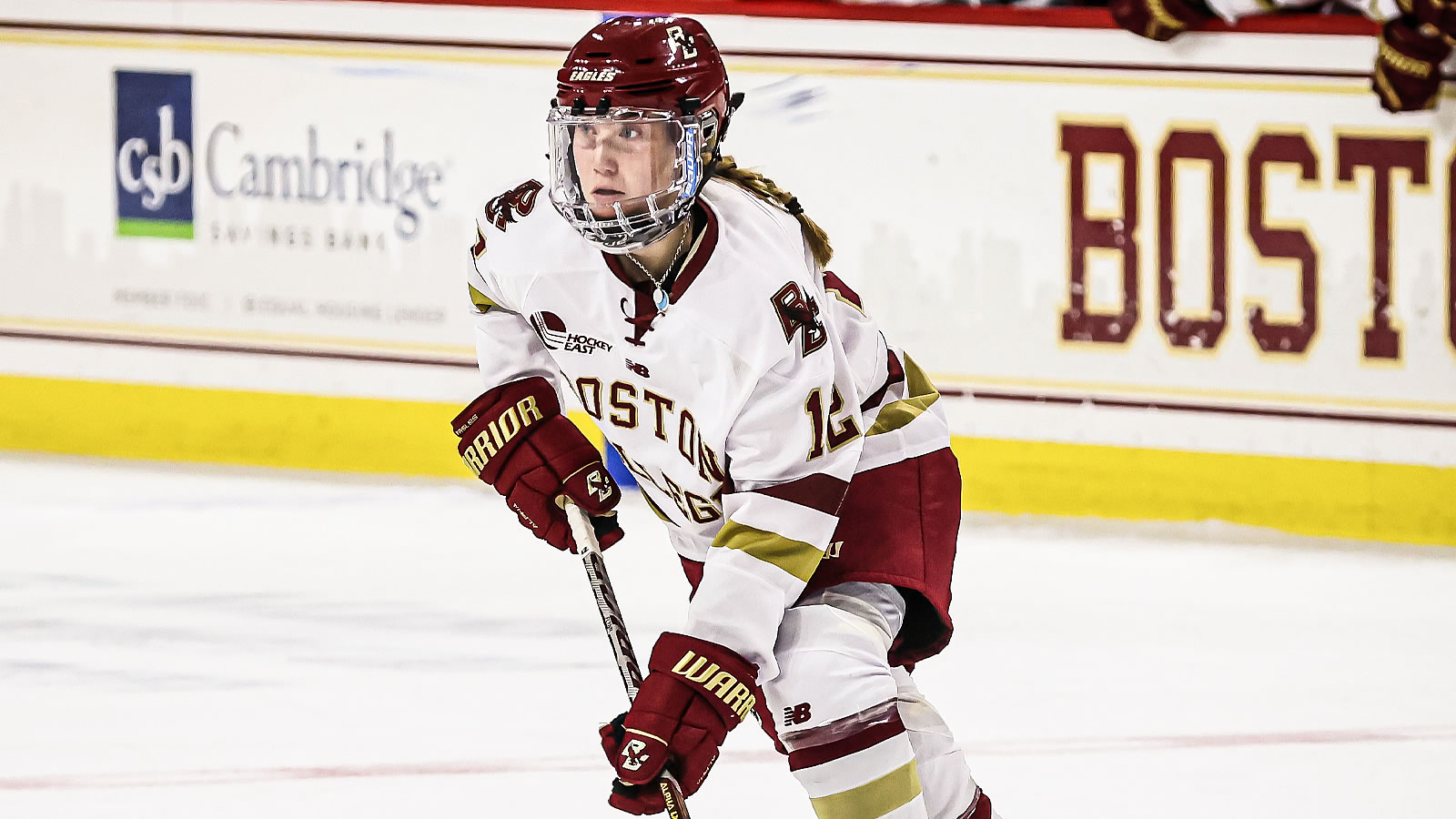 Cailin Flynn - Boston College
Cailin Flynn (So., D; Woburn, Mass.) scored her second goal of the season in Friday's road win at Holy Cross. She finished the weekend with four shots on net and three blocked shots.

---
STOP IT GOALTENDER OF THE WEEK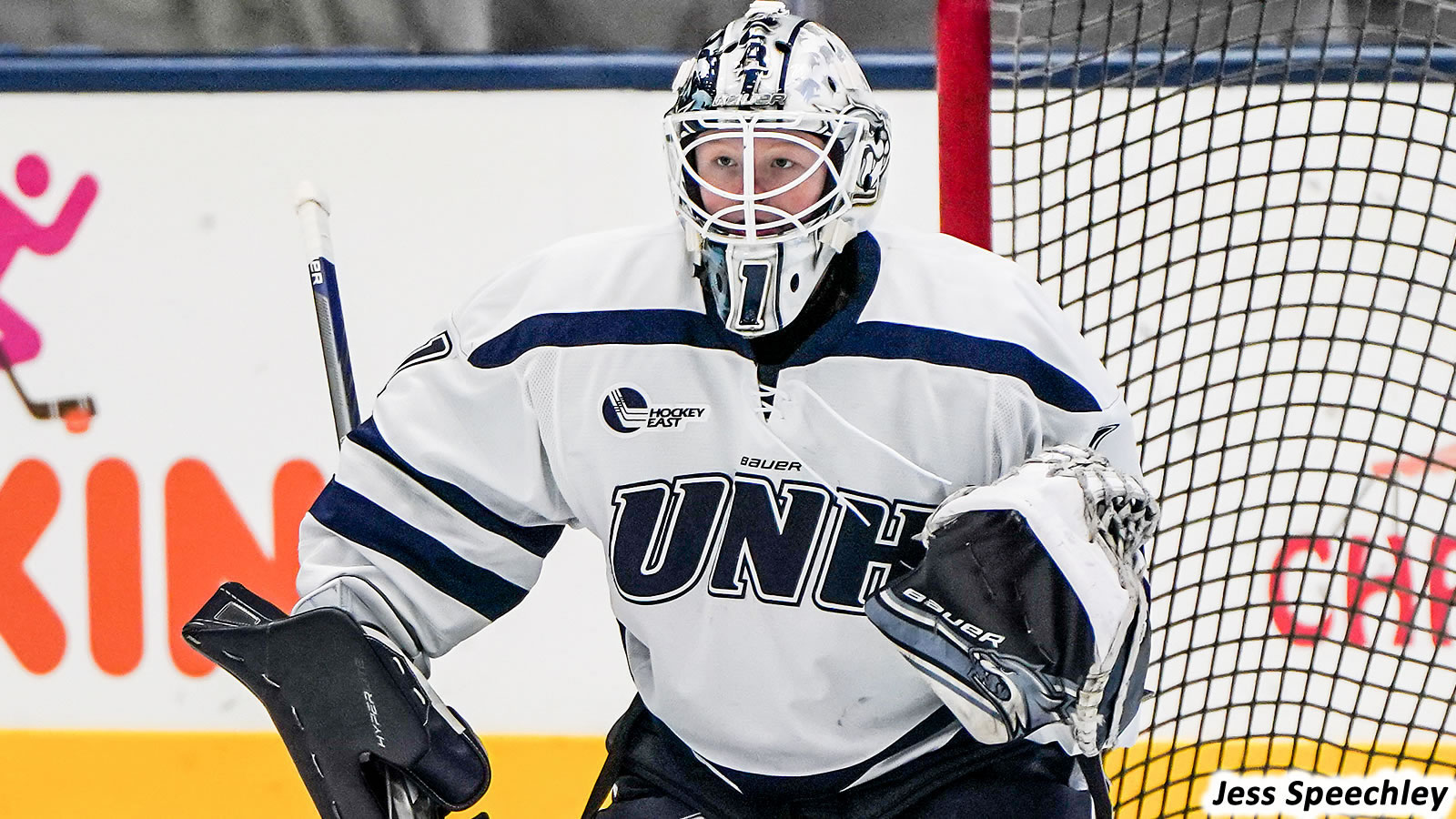 Nicky Harnett - New Hampshire
Nicky Harnett (Sr., G; Plymouth, Minn.) stopped 49 of 50 shots to record a 0.50 GAA and .980 save percentage in the two-game series against 14th-ranked UConn. Both metrics were tops in the nation among goaltenders who played more than 60 minutes. She made 28 saves to record her second shutout of the season in UNH's 4-0 win last Friday. Harnett followed that with a 21-save effort in Saturday's 1-0 loss.

---
HOCKEY EAST TOP PERFORMERS
Katie Pyne, BC (So., F; Cohasset, Mass.) Scored twice in BC's win over Holy Cross on Saturday, including the game-winning goal. She finished the weekend with eight shots on goal.
Deirdre Mullowney, BC (Sr., D; Newton, Mass.) Scored in Saturday's win over Holy Cross and helped the Eagles to a two-win weekend. Recorded four shots on goal and two blocked shots to go with a plus-one rat- ing on the weekend.
Abigail Levy, BC (Gr., G; Congers, N.Y.) Went 2-0-0 on the weekend, making 56 saves with a .949 save percentage and 1.48 goals against average.
Kelly Browne, BC (Sr., F; Burlington, Mass.) Had two assists and tied for the league lead in face-off wins with 35 last weekend. She had a 21-win game on Friday night.
Claire Peterson, UConn (Sr., D; San Jose, Calif.) Scored the lone UConn goal, her fifth of the season, in a 1-0 win at New Hampshire on Saturday.
Megan Warrener, UConn (So., G; Stony Creek, Ont.) Kicked out 27 saves to post her first shutout of the season in her fifth appearance for the Huskies.
Mira Seregely, Maine (So., F; Budapest, Hungary) Earned four points in a weekend sweep of BU on one goal and three assists. On Friday, she dished out two primary assists on Maine's first two goals. On Maine's 3-2 win on Saturday, she scored Maine's first goal of the game and earned an assist on the next goal.
Brooklyn Oakes, Maine (Fr., G; Richmond Hill, Ont.) Earned her third shutout of the season with the 3-0 win over BU. She registered 19 saves in net.
Alexa Pongo, HC (So., F; Midhurst, Ont.) Scored both Merrimack goals in a 4-2 setback to Providence on Friday.
Calli Hogarth, MC (Fr., G; Barrie, Ont.) Made 23 saves in Merrimack's 4-2 loss to Providence on Friday.
Payten Evans, MC (Fr., D; Calgary, Alta.) Recorded one assist in Merrimack's 4-2 loss to on Friday.
Emma Gorski, MC (Sr., G; Wallaceburg, Ont.) Made 38 saves in Merrimack's 4-2 loss to Providence on Saturday.
Megan Carter, NU (Sr., D; Milton, Ont.) Returned to action after missing eight games for the Huskies and posted two assists to help Northeastern to a weekend sweep over #13 Vermont. Carter also posted five blocks over the two games.
Gwyneth Philips, NU (Sr., G; Athens, Ohio) Posted 36 saves over two games and allowed just two goals as the Huskies swept #13 Vermont. Philips owns a .910 GAA and .956 save percentage, both tops among Hockey East goaltenders. Her 18 wins lead the country.
Mégane Quirion, PC (Fr., F; Saint Eustache, Que.) Recorded a new career high of three assists in one game against Merrimack College on Friday.