HOCKEY EAST HEADLINES
Northeastern goaltender Gwyneth Philips posted back-to-back road shutouts at LIU, moving the Huskies to 3-1-0 on the year. All three victories have come by way of blank sheets and Philips has stopped 100 of the 101 shots she has faced through four games.
UConn skated to an undefeated weekend at Penn State backed by junior goaltender Tia Chan. Chan stopped 72 of 73 shots she saw from the Nittany Lions, including a 33-save shutout in Friday's 2-0 victory.
New Hampshire swept a pair of non-conference games, getting two wins from rookie netminder Sedona Blair. Blair posted a 2-0-0 record to go along with a 1.50 goals against average for the Wildcats. Nicole Kelly scored three goals in the season opener, while Kira Juodikis recorded her 50th career point during a four-goal, five-point explosion on the weekend.
Merrimack toppled Saint Anselm, 3-2, on Friday to earn its first victory of the 2023-24 campaign. The Warriors saw goals from three different players and six players had a point in the win.
Boston University and Vermont both picked up exhibition wins over McGill. The Terriers traveled to Canada for their first international competition and earned a 5-2 win in head coach Tara Watchorn's first game behind the bench for her alma mater. Vermont skated to a 6-0 victory in its preseason tuneup on Sunday and blocked 15 shots from the visitors. Jessie McPherson and Ellie Simmons combined for an eight-save shutout.

---
HOCKEY EAST PLAYER OF THE WEEK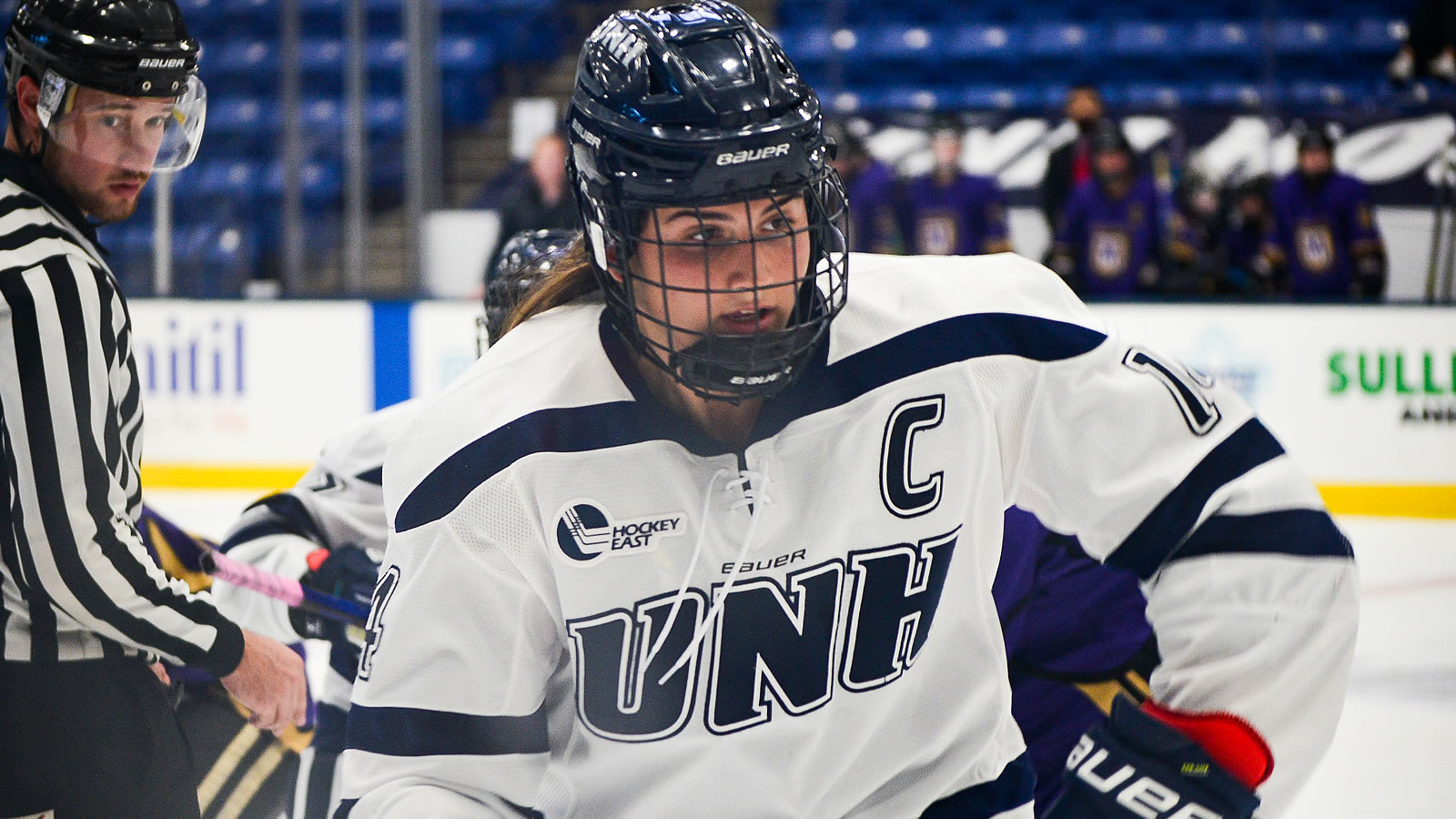 Kira Juodikis - New Hampshire
Kira Juodikis (So., F; LaSalle, Ont.) recorded four goals and an assist for a total of five points to lead UNH to a 2-0-0 season-opening weekend. She scored two goals in a 6-1 win at Saint Anselm on Saturday and followed that with two goals and an assist, including setting up the game-winning strike, in a 4-2 victory over Saint Michael's on Sunday. Her second goal on Saturday was her 50th career point. Juodikis had five shots and a plus-two rating against the Hawks.

---
PRO AMBITIONS ROOKIE OF THE WEEK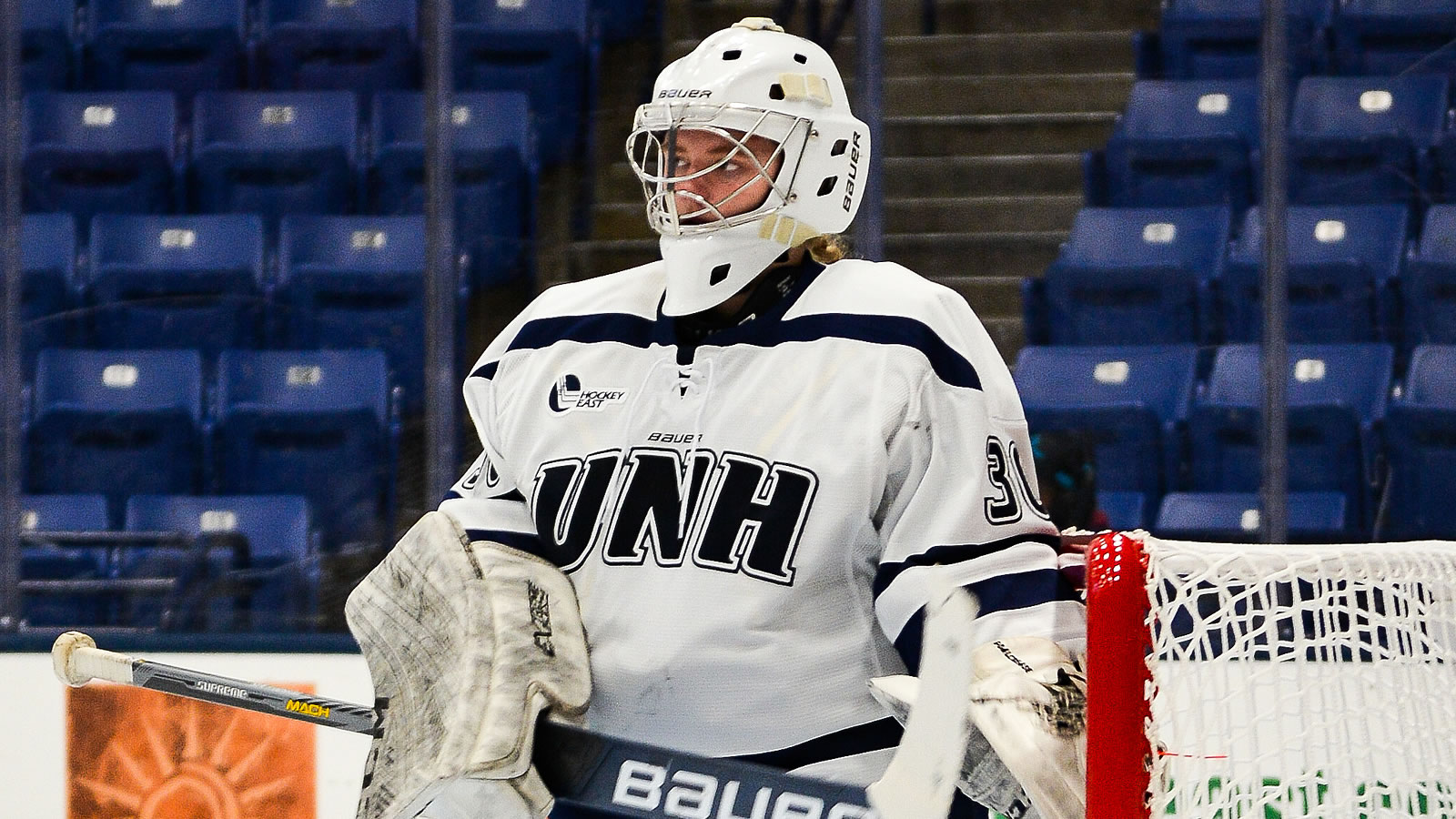 Sedona Blair - New Hampshire
Sedona Blair (Fr., G; Eden Prairie, Minn.) went 2-0-0 with a 1.50 GAA and .906 save percentage in her first two collegiate games last weekend. Two of the three goals she allowed were power-play tallies, including a 5-on-3. Blair stopped 18 of 19 shots to backbone the Wildcats to a 6-1 victory in the season opener at Saint Anselm. She followed that with 11 saves in a 4-2 win against Saint Michael's.

---
ARMY ROTC DEFENDER OF THE WEEK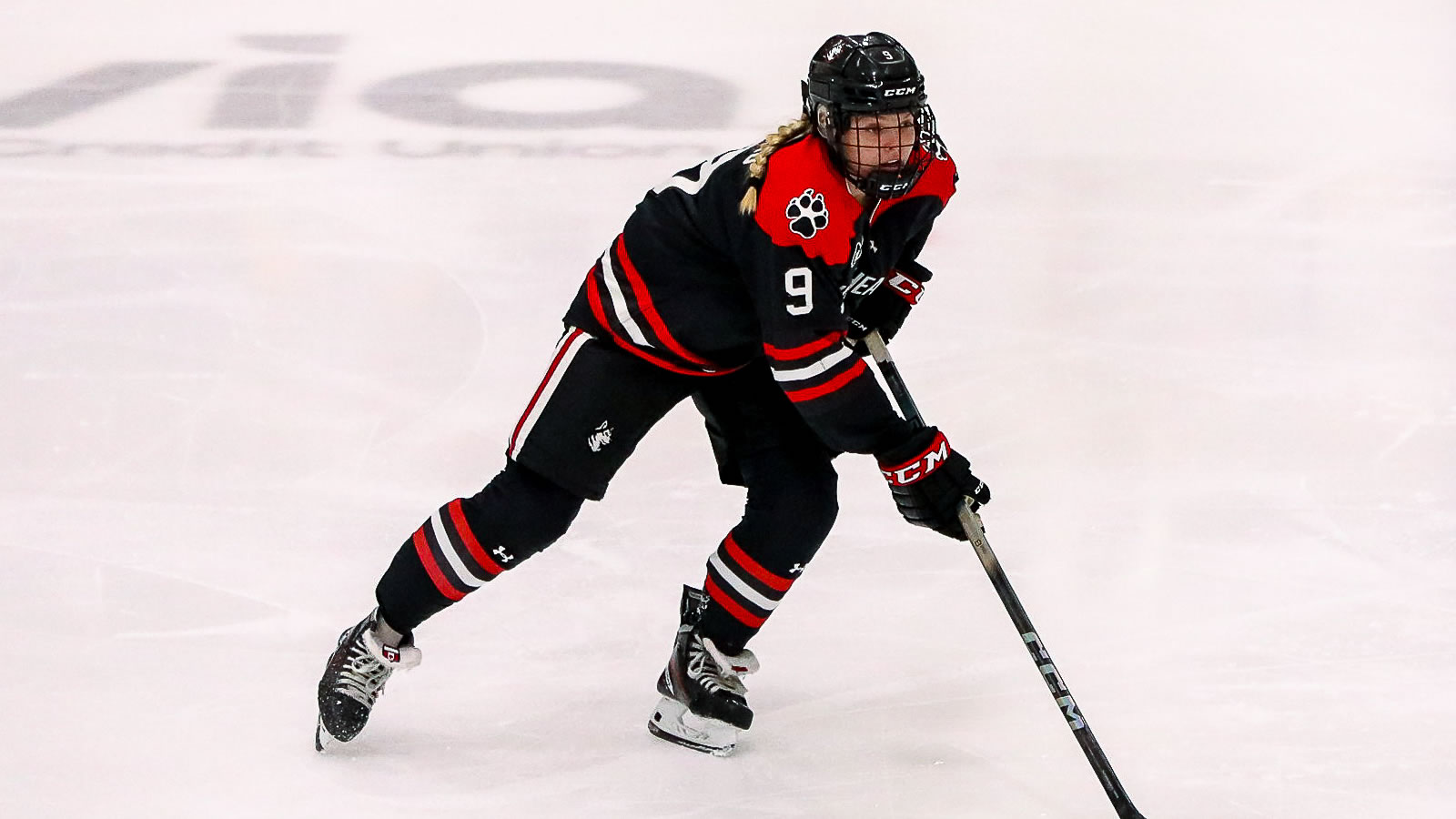 Kristina Allard - Northeastern
Kristina Allard (So., D; Kingston, N.H.) tallied two goals and three blocks to help Northeastern to back-to-back shutouts over LIU. Allard potted her first two career goals in a 6-0 victory over the Sharks on Friday.

---
STOP IT CO-GOALTENDERS OF THE WEEK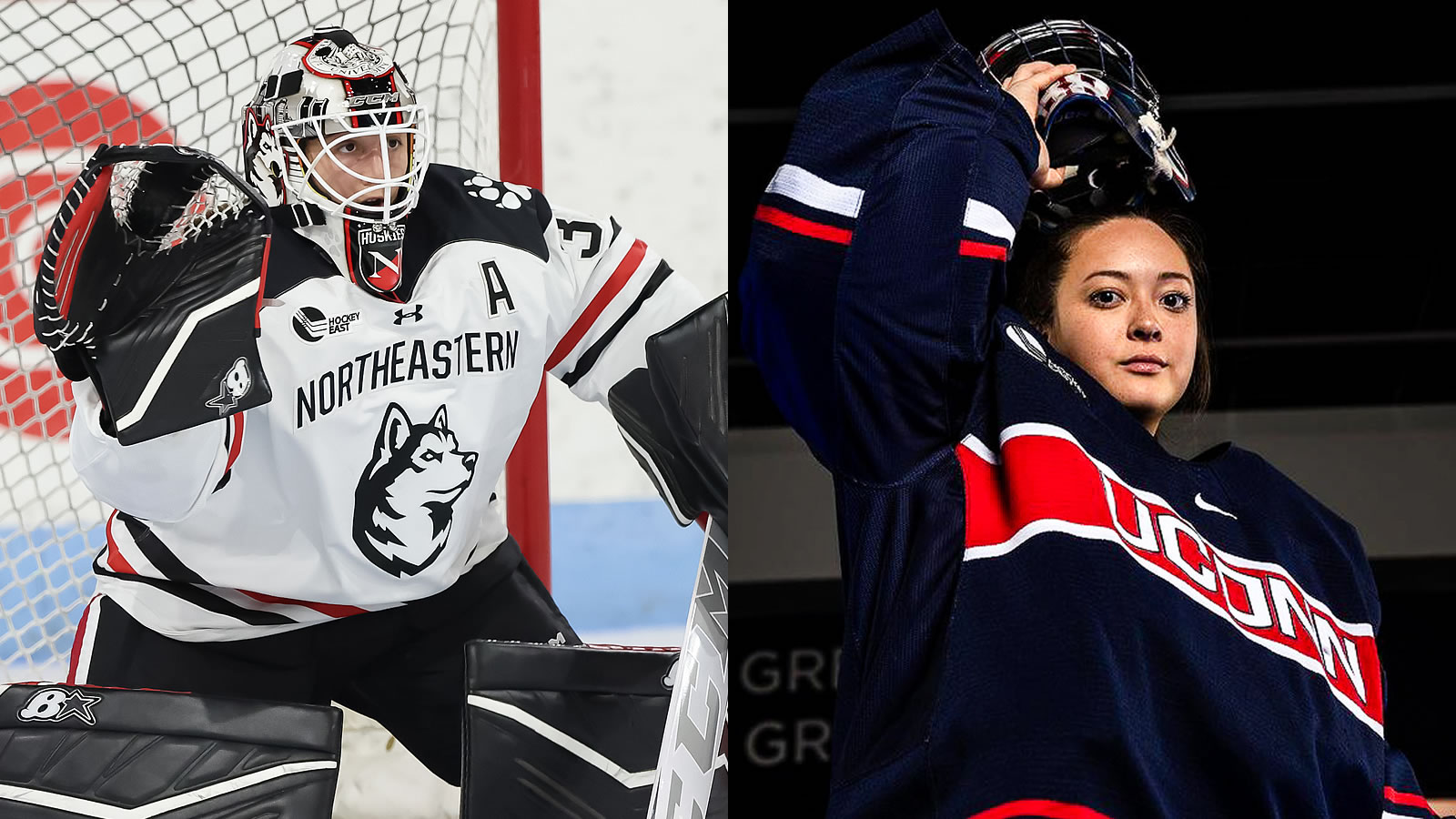 Gwyneth Philips - Northeastern
Tia Chan - UConn
Gwyneth Philips (Gr., G; Athens, Ohio) posted back-to-back shutouts to lead Northeastern to a weekend sweep at LIU. Philips made 36 saves across two starts to tally her second and third shutouts of the season in just four starts. Her three shutouts through four games leads the NCAA while her 100 saves rank third.
Tia Chan (Jr., G; Hamilton, Ont.) finished with a 1-0-1 record against No. 11 Penn State, allowing just one goal while making 72 total saves. In the season opener for the Huskies, Chan posted a 33-save shutout in a 2-0 win over the Nittany Lions. In game two, Chan stopped 39 shots while allowing just one goal in a 1-1 draw.

---
HOCKEY EAST TOP PERFORMERS
Julia Pellerin, BC (Fr., F; Windham, N.H.) Made her NCAA debut last weekend at No. 9 Clarkson, scoring her first career goal on Saturday.
Grace Campbell, BC (So., G; Kensington, Md.) Started both games for the Eagles at No. 9 Clarkson, making 61 saves across the two starts.
Lily Fetch, Maine (Fr., F: Woodbury, Minn.) Scored her first NCAA goal and fired three shots on net in her collegiate debut at No. 8 Quinnipiac.
Sydney Leonard, UNH (Fr., F; St. Bonidacius, Minn.) Posted two assists in her first two games as a collegian. She won 33 of 39 faceoffs she took and fired eight shots on net to go along with a plus-five rating.
Peyton Anderson, NU (Gr., F; Arvada, Colo.) Recorded a three-point performance off two goals and one assist as the Huskies defeated LIU, 6-0, on Friday. Anderson's assist came on Allie Lalonde's game-winner and her second goal was a power-play tally.
Charli Kettyle, UNH (Sr., D; Perth, Ont.) Tallied two points (1g, 1a) and plus-three rating and three blocks, to lead UNH to a 2-0-0 season-opening weekend. Her goal was the game-winning tally in the 4-2 victory against Saint Michael's. Kettyle tallied the primary assist on a second-period power-play goal that gave the Wildcats a 3-1 lead en route to a 6-1 road win at Saint Anselm.
Allie Lalonde, NU (Fr., F; Irvine, Calif.) Posted her first two collegiate points on a goal and an assist last weekend in a sweep of LIU, including the game-winning goal in Saturday's 6-0 victory.
Natalie Mlynkova, UVM (Sr., F; Zlin, Czech Republic) Had a goal and two assists in a Vermont's season-opening exhibition win over McGill, 6-0.
Natalie Zarcone, UVM (Fr., D; Huntington, N.Y.) In her first collegiate action on Sunday, had two assists for Vermont in a 6-0 win over McGill.