You see your favorite Hockey East stars on the ice almost every weekend during the winter and into the spring. Even once the school year ends and these student-athletes are out of the public eye, many lead fascinating lives working internships and training, among other pursuits.
Of course things are a little different this summer with the Covid-19 pandemic, but that doesn't mean there's a shortage of fun and interesting summer activities for the student-athletes to get involved with. We talked with a handful of players and here's what they've been up to.
---
Zach Solow (Sr., F) & Grant Jozefek (Sr., F) - Northeastern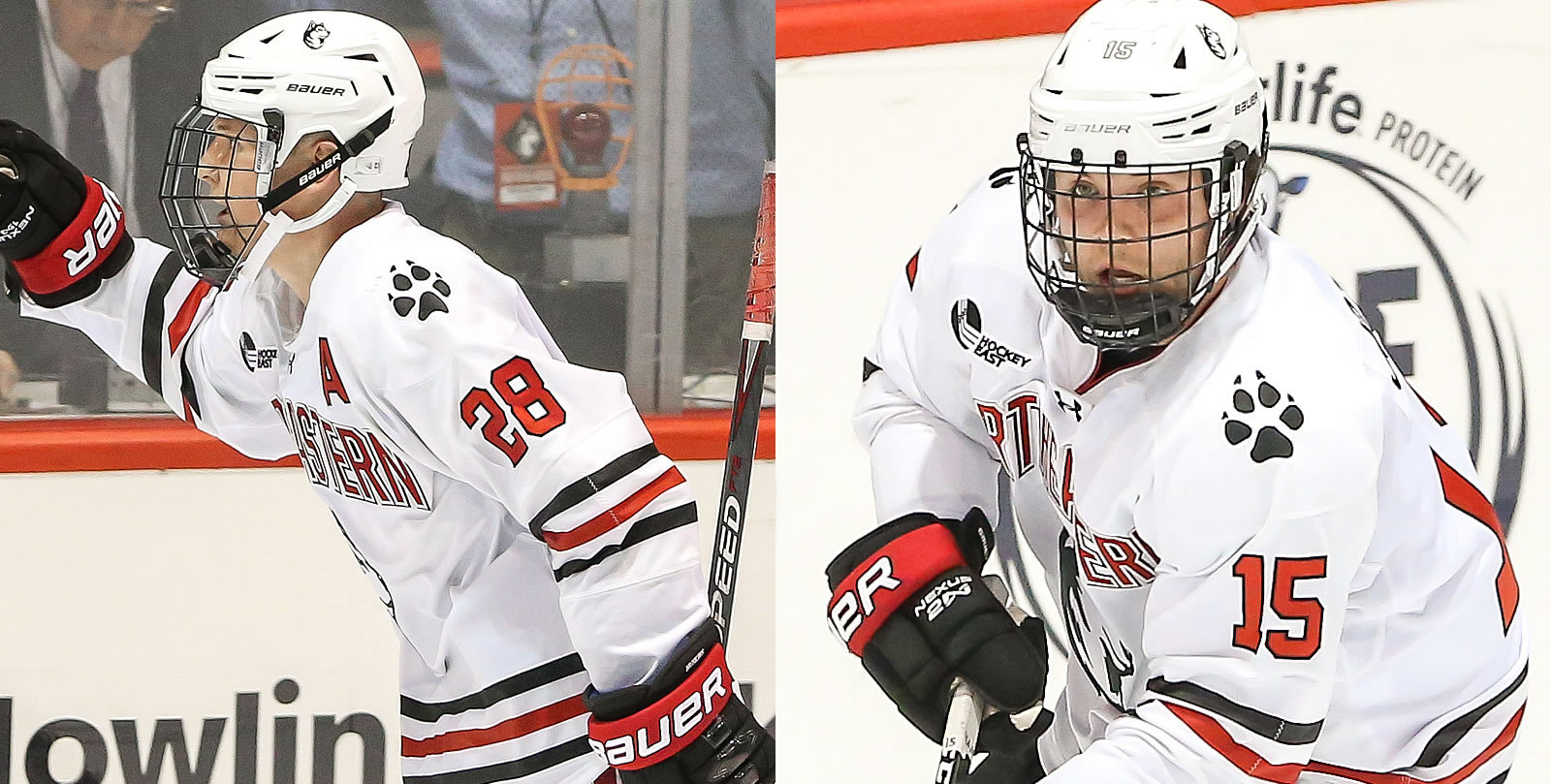 Northeastern is in good hands with a leadership group headed by Zach Solow and Grant Jozefek. This season will be Solow's fourth with the Huskies and Jozefek's fifth. In the three years they've played together, the two have won three Beanpots and a Hockey East championship. Apart from headlining Northeastern during one of the program's most successful stretches, the duo gives back off the ice, coaching youth hockey camps during the summer.
"It's kind of a different perspective," Jozefek said. "We're on the ice always getting coached by someone, but you kind of get to reverse the roles during the summer."
Solow, a Florida native, has spent the last few summers in Milwaukee training and coaching at GRIT Hockey. Each year the program hosts about 90 kids from ages 8-13.
Jozefek is home in New Jersey, but his camp unfortunately hasn't been open this summer due to the Covid-19 regulations in the state.
For Jozefek, this offseason has presented plenty of uncertainty aside from that caused by the pandemic. When he and the rest of the Huskies were sent home in mid-March, Jozefek, a senior, thought his college career was over.
Towards the end of the season, before the shutdown, Coach Jim Madigan approached Jozefek about the possibility of attempting to get a medical redshirt for his freshman season when Jozefek missed 28 of the team's 38 games with an injury. Neither side was that hopeful, but Jozefek wanted to return to Northeastern so he figured it'd be worth a shot. In April, Jozefek got word that his waiver had been approved and that he'd have one more season with the Huskies.
"I was ecstatic to get the call from the NCAA and have them tell me I could come back if I wanted to," Jozefek said. "I didn't even hesitate. I love Northeastern, so coming back was definitely really special." Both do their workouts early in the morning before coaching so they can spend the evenings relaxing and unwinding. While at home, Solow enjoys cooking. He's a big salmon guy. For Jozefek, it's watching horror movies with his buddies.
Coaching kids has been a rewarding experience for both young men, and it has come with its fair share of stories.
Solow's most memorable moment was the case of the missing glove, a story he retold for us.
After the day's activities, each age group has a different job. On that particular day the eight-year olds were assigned to picking up pucks and putting them back in the cardboard box.
After cleaning, one of the kids came up to Solow upset that he couldn't find his glove. The kid saw one of the older groups playing with it, so Solow went to ask them.
The older kids said they were playing with the glove earlier but didn't know where it was now. While Solow set out to find the glove, he had the kids do wall sits. Luckily for Solow and the kids, the glove was in the first place he looked: the puck box. The boy's black glove was buried beneath a pile of pucks, no doubt swept in there when the pucks were being put away.
"I come back [with the glove] and I've got all these kids sitting on the wall for no reason," Solow recalled.

---
Andre Lee (So., F) - UMass Lowell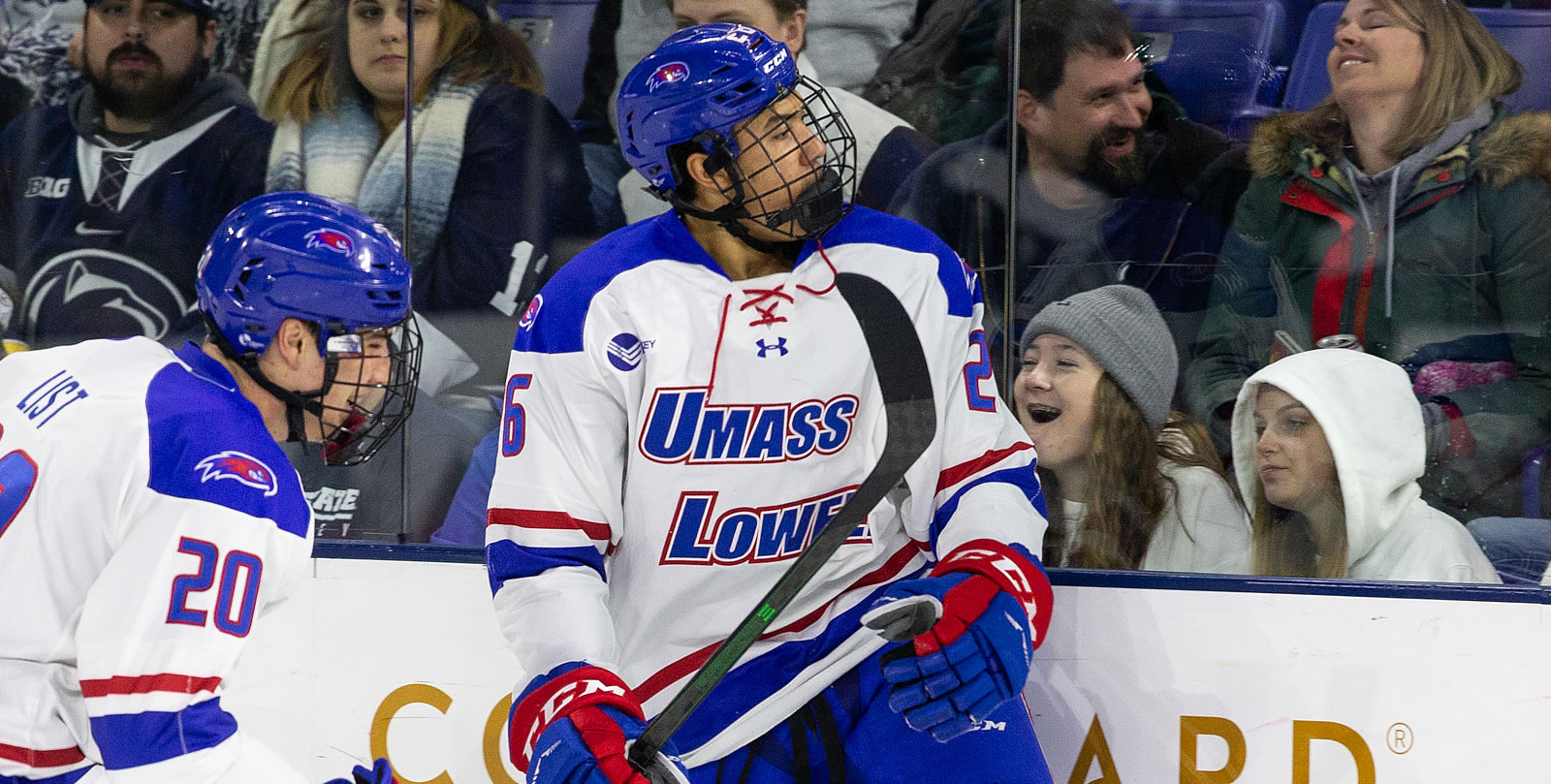 Anyone who knows Andre Lee knows how much he loves his friends. But for the Swedish-born forward, making time to see his friends back home isn't always easy.
"I have to take advantage of the time that I'm home [in Sweden] because I'm not home during the school year, so it's fun to see all my friends."
Like most players, Lee does his workouts in the morning to free up time later in the day to spend with friends. When Lee is able to meet up with friends, it's often for golf or tennis, two of Lee's favorite hobbies.
During a normal summer, Lee enjoys traveling. His grandfather is from Italy, so Lee typically spends most of July in Alassio on the western coast of Northern Italy, a short train ride from France and Monaco.
Lee is still able to train while on vacation, but Alassio provides him the opportunity to relax amidst the calming backdrop of coastline and cobblestone roads.
The vacation won't happen this year, however. Lee has been home in Sweden since May. He's been able to get more ice training than usual, because Sweden kept rinks open.

---
Adam Karashik (Sr., D) - UConn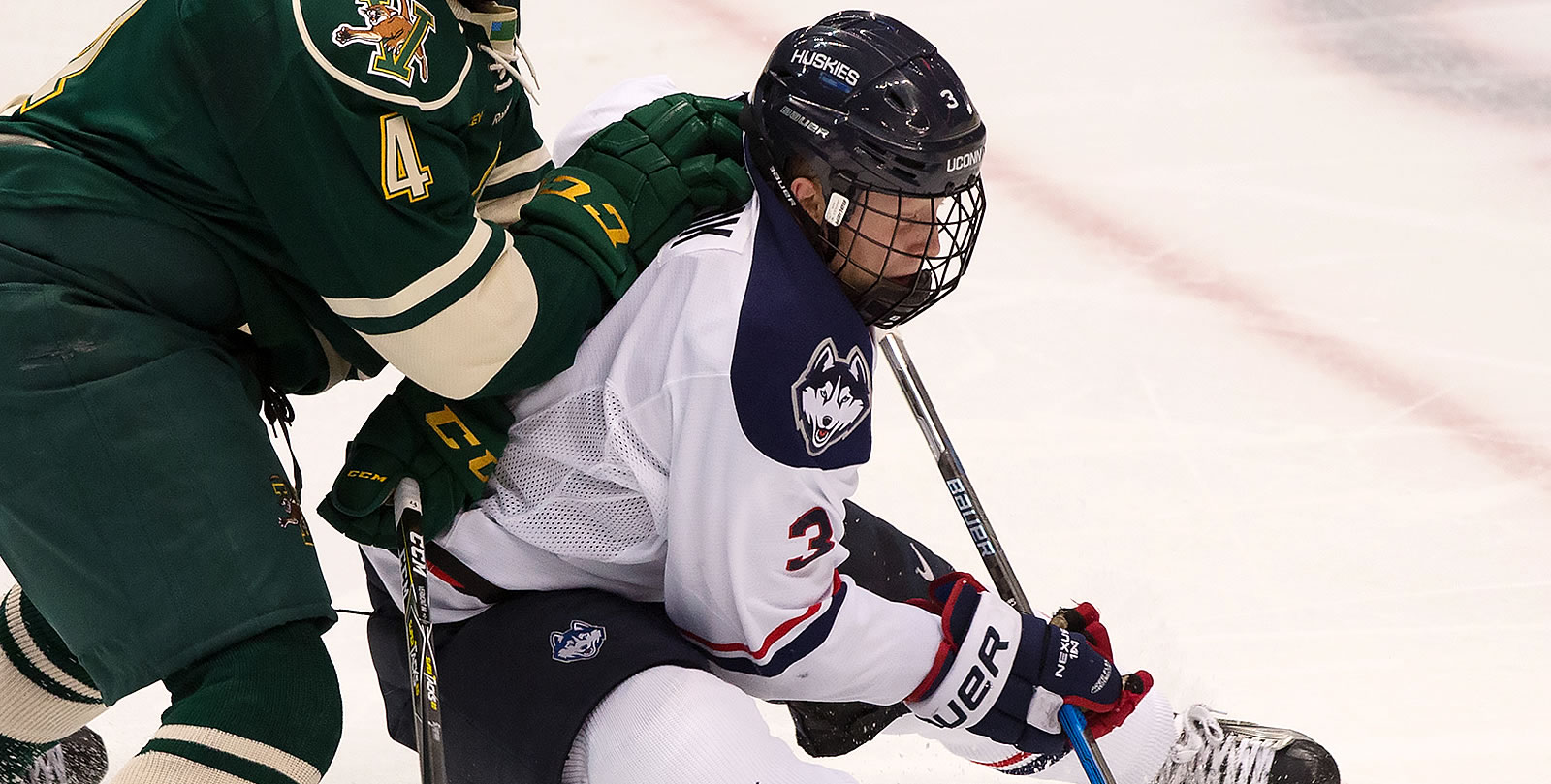 For UConn's captain, summer has centered mostly on training, with a hint of golf, both playing and caddying, thrown in.
Initially Karashik was on his own training with gyms closed down. He ran a lot and bought a pair of rollerblades so that he could skate around his driveway.
More recently he has been training at Prentiss Hockey Performance with Ben Prentiss who has mentored plenty of Hockey East stars of old, including Jonathan Quick, Charlie McAvoy and James Van Riemsdyk.
In any case, Karashik is excited to return to the ice with a UConn team many are excited about heading into the 2020-21 season. Even with higher expectations than in year's past, Karashik and the Huskies are focused on the task at hand.
"I think it's important not really focusing on what people think about where we're at or where we're going to finish. Our expectation is just to outwork every other team and let our play do the talking."

---
Jack Quinlivan (Sr., F) - Maine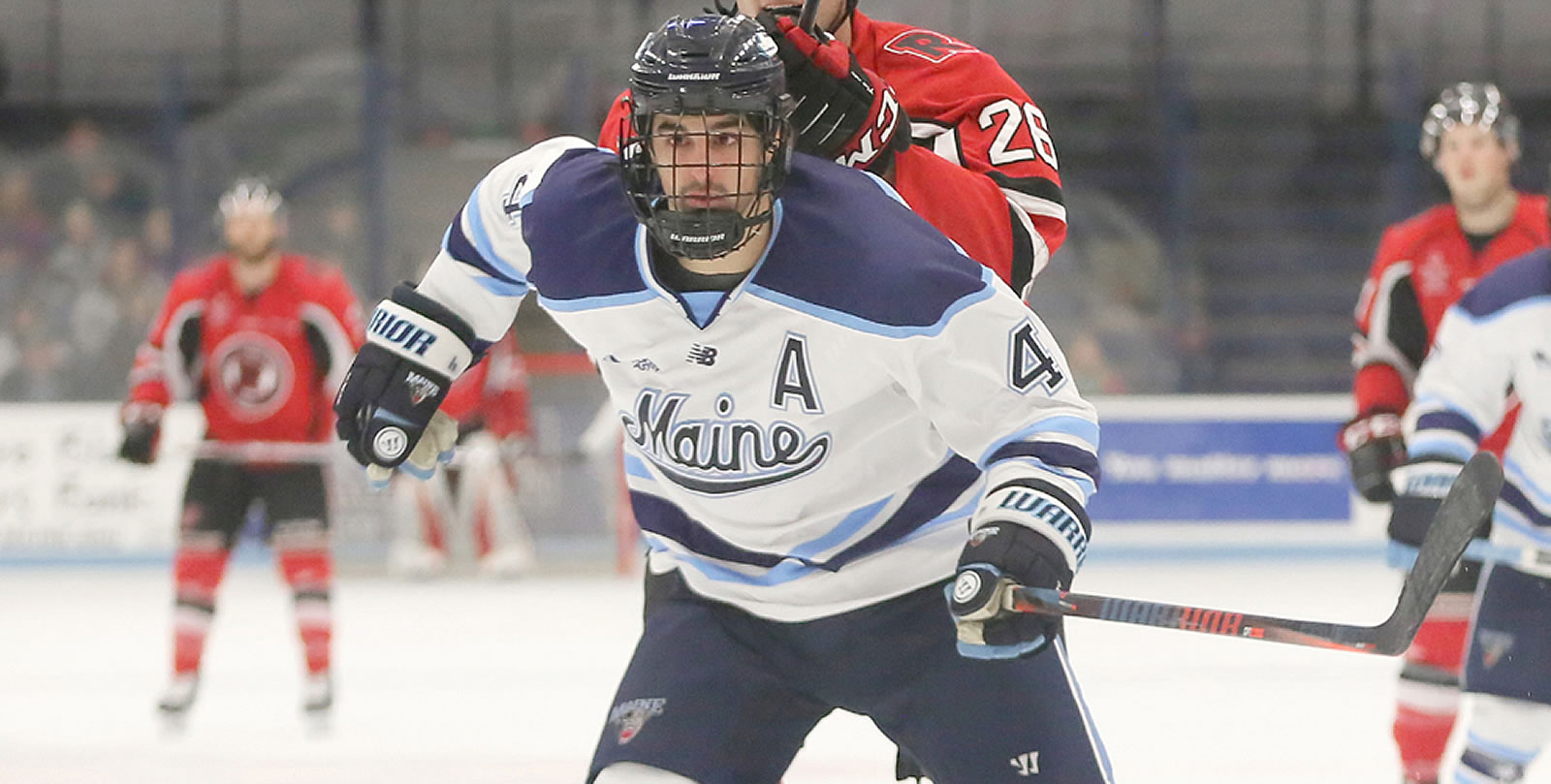 Quarantine is the perfect time to pick up new hobbies, and that's exactly what Jack Quinlivan has done this summer.
"When I got home there wasn't really much to do. I was playing video games, and I'm like 'This doesn't seem useful. I don't want to keep doing this every day this summer.'"
In place of video games, Quinlivan bought a little aluminum boat and fitted it for a trolling motor so he could go bass fishing in a pond by his house. He had never fished before but is really enjoying it and goes a few times a week now.
With rinks opening up in Massachusetts, Quinlivan hails from Shrewsbury, he has started working at hockey clinics such as the New England Sports Center and Warrior Ice Arena, practice home of the Bruins.
"I've learned so much through the college experience that I think could help kids at a young age be successful. So I want to try to give my knowledge to some of these kids growing up and playing that I didn't have at first."
Quinlivan played baseball in high school and is a huge Red Sox fan, so naturally he's excited for the MLB's return. MLB The Show was his go to video game when he got home, and when I spoke to him he was prepping for his family's fantasy baseball draft. He's hoping to bounce-back from a second place finish in 2019, falling to his brother in the championship.
Here's to hoping you were able to land Yelich or Mookie, Jack.

---
Jake Gaudet (Sr., F) - Massachusetts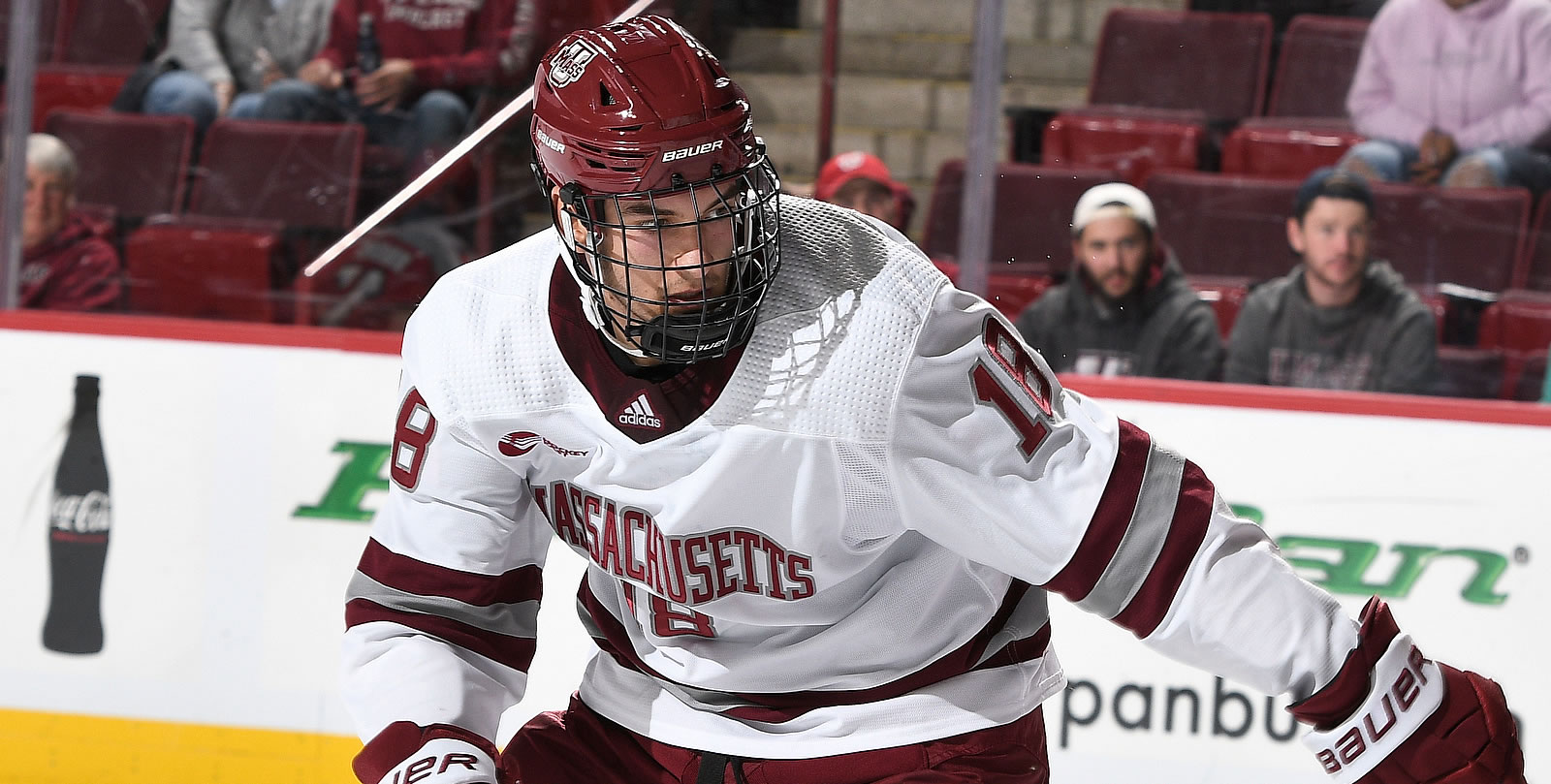 When it comes to summer activities, none may be more unique than Jake Gaudet's. The UMass captain and president of the school's fly fishing club (more on that in a minute) owns and operates his very own vegetable delivery business in Ottawa.
"Farmer Gauds" as he's affectionately called by his teammates got his start a few summers back on a family friend's farm when his parents insisted he get a summer job.
His first few tasks involved overseeing the raspberry picking operation and installing irrigation piping.
At the end of the summer, Gaudet had a friend who he wanted to give a gift to, so he made up a basket of goodies from the farm to deliver. That gift basket sparked an idea in him that came to life the following summer when he went to get a job.
"Hockey players all deal with it. It's hard to find a job that works around your training schedule when you really want to dial it in for hockey. So I decided to start my own business."
The business of bringing the farmer's market experience to people's homes, as Gaudet describes, began with just family friends, but it spread through word of mouth and quickly developed into a full-scale subscription service.
Weekly orders would be placed every Thursday. Wednesday nights Gaudet would take inventory of the farm. Thursday mornings he did everything from picking to sorting. Finally he'd make his deliveries.
The occupation comes with no shortage of chiding from his teammates who are often surprised to discover Gaudet delivers vegetables.
Last summer when he returned to UMass, Gaudet could only stay for a few days to meet the freshmen before returning home to make one last round of deliveries. It's safe to say Gaudet's answer to the questioning freshman as to why he had to leave so soon wasn't what they were expecting.
During the school year Gaudet also finds time to head the aforementioned fly fishing club. The president and only member of the club lived in the same building as Gaudet sophomore year. After the president graduated, Gaudet took over.
"Unofficially we have seven or eight people, but on paper I'm still the only member, so I'm the self-proclaimed president."
In addition to the already impressive list of activities, Gaudet has a summer internship deal sourcing for Copley Equity Partners.
It's safe to say Gaudet's summers aren't filled with much down time.