Women's Hockey East Names 2017-18 All-Star Teams
League Names First, Second Teams, Honorable Mentions at Championship Banquet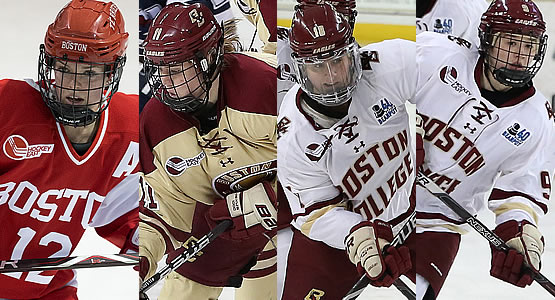 Victoria Bach (BU), Caitrin Lonergan (BC), Toni Ann Miano (BC) and Daryl Watts (BC) were unanimous All-Hockey East First Team selections
CAMBRIDGE, Mass. - The Women's Hockey East Association announced its 2017-18 all-star teams as voted by the league's nine head coaches Friday night at the conference's annual awards banquet ahead of the 16th annual Women's Hockey East Championship, March 3 and 4, at Matthews Arena on the campus of Northeastern University.
BONUS VIDEO: 2017-18 WHEA Highlights | Player of the Year Finalists | Rookie of the Year Finalists | Coach of the Year Finalists
Four players were selected unanimously as 2017-18 Women's Hockey East First Team All-Stars, including Boston University senior forward Victoria Bach (Milton, Ont.) and a trio of Boston College Eagles including senior defenseman Toni Ann Miano (Bronx, N.Y.), sophomore forward Caitrin Lonergan (Roslindale, Mass.) and freshman forward Daryl Watts (Toronto, Ont.). First Team selections were rounded out by the Terriers' sophomore defenseman Abby Cook (Kelowna, B.C.), and UConn senior goaltender Annie Belanger (Sherbrooke, Que.).
Comprising Women's Hockey East All-Star Second Team are Boston College senior goaltender Katie Burt (Lynn, Mass.), Northeastern senior defenseman Lauren Kelly (Watertown, Mass.), Maine junior defenseman Alyson Matteau (Mirabel, Que.), Boston University senior forward Rebecca Leslie (Ottawa, Ont.), Providence freshman forward Maureen Murphy (Buffalo, N.Y.) and Maine sophomore forward Tereza Vanišová (Strakonice, Czech Republic).
Recognized as Women's Hockey East All-Star Honorable Mentions was goaltender Carly Jackson (Amherst N.S./ Maine), defensemen Kate Friesen (Altona, Man./Providence) and Taylor Willard (Naperville, Ill./Vermont), and forwards Katelyn Rae (Courtice, Ont./Merrimack), Makenna Newkirk (Scottsdale, Ariz./Boston College), and Natale Snodgrass (Eagan, Minn./UConn).
The 16th annual Women's Hockey East Tournament championship will take place this weekend, Saturday, March 3, and Sunday, March 4, at Northeastern University's Matthews Arena. No. 1 Boston College will square off with No. 7 UConn Saturday at 1:30 p.m., while No. 3 Maine and No. 4 Northeastern take the ice at 4:30 p.m. The winners advance to Sunday's championship tilt at 1:30 p.m. Fans can purchase tickets online at Tickets.GoNU.com or by calling 617-373-4700. Tickets start at just five dollars.
2017-18 Women's Hockey East First-Team All-Stars

Goalie
Annie Belanger
Sr., UConn

Defense
Abby Cook
So., Boston University

Defense
Toni Ann Miano*
Sr., Boston College

Forward
Victoria Bach*
Sr., Boston University

Forward
Caitrin Lonergan*
So.,Boston College

Forward
Daryl Watts*
Fr. Boston College

* denotes unanimous selection
2017-18 Women's Hockey East Second-Team All-Stars

Goalie
Katie Burt
Sr., Boston College

Defense
Lauren Kelly
Sr., Northeastern

Defense
Alyson Matteau
Jr., Maine

Forward
Rebecca Leslie
Sr., Boston University

Forward
Maureen Murphy
Fr., Providence

Forward
Tereza Vanišová
So., Maine
2017-18 WOMEN'S HOCKEY EAST ALL-STARS
First Team
G: Annie Belanger, UConn (Sr.)
D: Abby Cook, BU (So.)
D: Toni Ann Miano, BC (Sr.) *
F: Victoria Bach, BU (Sr.) *
F: Caitrin Lonergan, BC (So.) *
F: Daryl Watts, BC (Fr.) *
*denotes unanimous selection

Second Team
G: Katie Burt, BC (Sr.)
D: Lauren Kelly, NU (Sr.)
D: Alyson Matteau, Maine (Jr.)
F: Rebecca Leslie, BU (Sr.)
F: Maureen Murphy, PC (Fr.)
F: Tereza Vanišová, Maine (So.)
Honorable Mention
G: Carly Jackson, Maine
D: Kate Friesen, Providence
D: Taylor Willard, Vermont
F: Katelyn Rae, Merrimack
F: Makenna Newkirk, Boston College
F: Natalie Snodgrass, UConn