Monday, February 27, 2017
15th Annual WHEA Championship Weekend Set for March 4-5 at BU's Walter Brown Arena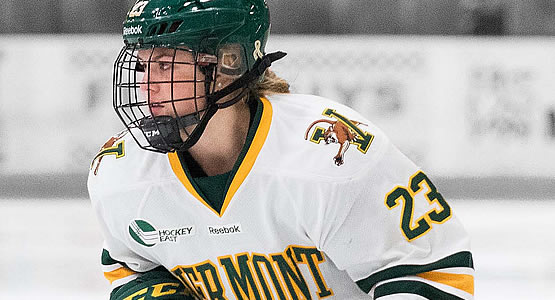 Warrior Hockey Player of the Week Alyssa Gorecki of Vermont
AROUND HOCKEY EAST: Hockey East regular-season champion and No. 1 Boston College (25-5-5/16-4-3 HEA) will skate against No. 5 Vermont (15- 13-9/9-8-7 HEA) at Walter Brown Arena at 1:30pm on Saturday, March 4. This is the fourth straight season Boston College has earned the top seed and the Eagles have advanced to the championship game each of the last three years, including winning the 2016 WHEA Tournament title. Vermont is back in the semifinals for the first time since 2014, when the Catamounts were downed by the Eagles in Hyannis. This will be the first postseason matchup since that outing. In 2016-17, Boston College swept Vermont, 3-0-0, including two road contests Jan. 20-21. In those three outings, the Eagles outscored the Catamounts 13-3. In the quarterfinals, Boston College shut out Merrimack, 4-0 and 1-0, to advance to the semifinals, while Vermont took Providence to three games and won the final two outings by a combined score of 10-3 after dropping a 5-4 decision to open the series ... No. 2 Northeastern (21-11- 3/14-8-2 HEA) draws No. 3 Boston University (19-11-6/12-8-4 HEA) at the home of the Terriers for the 4:30 p.m. start time. The tilt will be a rematch of the 2016 WHEA semifinal between the Huskies and Terriers, a game that saw Boston University advance to its fifth-straight WHEA title game. The two programs clashed as recently as Feb. 17 when the Terriers took a 7-2 win in the final game of the regular season for the Huskies. All time in the Women's Hockey East Tournament, Boston University holds a 5-1 record over Northeastern, including a 3-1 mark in semifinal action. Northeastern advanced past UConn in straight games, taking a 6-2 series opener and a 3-2 overtime tilt in game two. Boston University needed three games to move past New Hampshire in their quarterfinal series, falling, 4-2, before earning a pair of one-goal victories, 4-3 and 3-2. The Terriers seek a league-record sixth Bertagna Trophy, while Northeastern has not yet captured the WHEA Tournament title ... The 15th annual Women's Hockey East Tournament championship takes place this weekend, Saturday, March 4, and Sunda y, March 5, at Boston University's Walter Brown Arena. No. 1 Bo ston College will square off with No. 5 Vermont Saturday at 1:30pm, while No . 2 Northeastern and No. 3 Boston University take the ice at 4: 30pm. The winners advance to Sunday's championship tilt at 1:30pm. Fans can purch ase tickets online at Ticketmaster.com or by calling 800-745-30 00 and start at just five dollars.
HOCKEY EAST WEEKLY TOP PERFORMERS
Megan Keller, BC (Jr., D; Farmington Hills, Mich.) Keller factored into four of five goals the Eagles scored in their quarterfinal series with Merrimack, and was part of a defense that did not allow a goal in the series. Had a three-point day (1g, 2a) in the opening game and scored the lone goal in the second game's 1-0 victory.
Rebecca Leslie, BU (Jr., F; Ottawa, Ont.) Scored three goals on the weekend in a quarterfinals series with UNH, including the game-winning and series-winning goal on Sunday, breaking a 2-2 tie with a power-play goal in the third.
Alexis Crossley, BU (Sr., D; Cole Harbour, N.S.) Had a three-point weekend with two goals and one assist in a three-game series against UNH. She knotted the game two at three goals apiece in the third period, helping BU come back from a 3-1 deficit to force game three.
Theresa Knutson, UConn (Jr., F; Onalaska, Wisc.) Netted two goals in UConn's quarterfinal series against Northeastern. Annie Belanger, UConn (Jr., G; Sherbrooke, Que.) Kicked out 68 shots across two games at Northeastern, 34 in each game.
Denisa Krizova, NU (Jr., F; Horni Cerekev, Czech Republic) Her four points (2g, 2a) helped Northeastern to a quarterfinal sweep of UConn, including the overtime winner in Saturday's game two.
Madison Litchfield, UVM (Sr., G; Williston, Vt.) Made 83 saves across three games, including 55 saves and allowing just three goals in the final two outings to pick up a .948 save percentage in the series.