Women's Hockey East Honors 2015-16 All-Star Teams
League Names First, Second Teams, Honorable Mentions at Championship Banquet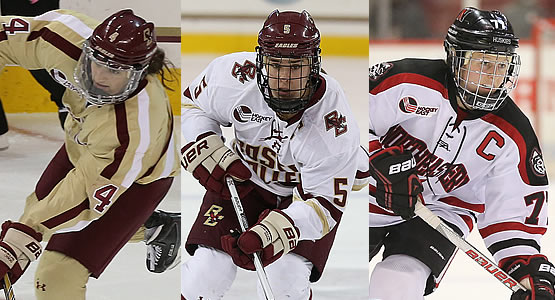 Megan Keller (BC), Alex Carpenter (BC) and Kendall Coyne (BC) were unanimous All-Hockey East First Team selections
NORTH ANDOVER, Mass. - The Women's Hockey East Association announced it's 2015-16 All-Star teams, as voted by the league's nine head coaches, Friday night at the 14th annual Women's Hockey East Awards banquet ahead of the 2016 Women's Hockey East Championship March 5 and 6 on the campus of Merrimack College.
BONUS VIDEO: 2015-16 WHEA Highlights | Player of the Year Finalists | Rookie of the Year Finalists | Coach of the Year Nominees
Three players were unanimously selected as 2015-16 Women's Hockey East First Team All-Stars, including Boston College sophomore defenseman Megan Keller (Farmington Hills, Mich.), Boston College senior forward Alex Carpenter (North Reading, Mass.) and Northeastern senior forward Kendall Coyne (Palos Heights, Ill.). First team selections were rounded out by UConn senior netminder and all-time Hockey East career saves leader Elaine Chuli (Waterford, Ont.), Boston College senior defenseman Lexi Bender (Snohomish, Wash.) and senior forward Haley Skarupa (Rockville, Md.). The First Team forwards represent Women's Hockey East's top three all-time leading point-getters in Coyne (91, 76a, 167p), Carpenter (76g, 84a, 160p) and Skarupa (73g, 75a, 148p). Keller, after just two years in the league, has nine goals and 38 assists for 47 points in league play, just 10 assists and 12 points away from breaking both career scoring records for a defenseman.
Hockey East's Second Team All-Stars include Northeastern freshman goaltender Brittany Bugalski (Boynton Beach, Fla.), Northeastern senior defenseman Jordan Krause (Kelowna, B.C.), Vermont defenseman sophomore Taylor Willard (Naperville, Ill.), Boston University sophomore forward Victoria Bach (Milton, Ont..) who was last year's Pro Ambitions Rookie of the Year, Northeastern sophomore forward Denisa Krížová (Horni Cerekev, Czech Republic), and Boston University sophomore forward Rebecca Leslie (Ottawa, Ont.).
Recognized as Hockey East All-Star Honorable Mentions were Boston College sophomore goaltender Katie Burt (Lynn, Mass.), Boston University junior defenseman Alexis Crossley (Cole Harbour, N.S.), Northeastern junior defenseman Heather Mottau (Milton, Mass.), New Hampshire junior forward Jonna Curtis (Elk River, Minn.) and Boston College senior forward Dana Trivigno (Setauket, N.Y.).
In total, Boston College leads the way with six all-star nods, Northeastern sends five honorees and Boston University boasts three all-stars, while UConn, New Hampshire and Vermont each claim one.
Of the 17 honorees selected to the 2015-16 All-Star Team and honorable mention list, 15 can be seen in action this weekend at the 2016 Women's Hockey East semifinals and championship at Lawler Rink on the campus of Merrimack College. Semifinal games are set for Saturday (March 5) at 1:30 p.m. and 4:30 p.m. and can be streamed live on HockeyEastOnline.TV. The championship game will be aired live on American Sports Network Sunday (March 6) at 1:30 p.m. and can be seen locally on NESN on tape delay at 5 p.m.
2015-16 Women's Hockey East First-Team All-Stars

Goalie
Elaine Chuli
Sr., UConn

Defense
Lexi Bender
Sr., Boston College

Defense
Megan Keller*
So., Boston College

Forward
Alex Carpenter*
Sr., Boston College

Forward
Kendall Coyne*
Sr. Northeastern

Forward
Haley Skarupa
Sr., Boston College

* denotes unanimous selection
2015-16 Women's Hockey East Second-Team All-Stars

Goalie
Brittany Bugalski
Fr., Northeastern

Defense
Jordan Krause
Sr., Northeastern

Defense
Taylor Willard
So., Vermont

Forward
Victoria Bach
So., Boston University

Forward
Rebecca Leslie
So., Boston University

Forward
Denisa Krížová
So., Northeastern
2015-16 WOMEN'S HOCKEY EAST ALL-STARS
First Team
G: Elaine Chuli, UConn (Sr.)
D: Lexi Bender, BC (Sr.)
D: Megan Keller, BC (So.)*
F: Alex Carpenter, BC (Sr.)*
F: Kendall Coyne, NU (Sr.)*
F: Haley Skarupa, BC (Sr.)
*denotes unanimous selection

Second Team
G: Brittany Bugalski, NU (Fr.)
D: Jordan Krause, NU (Sr.)
D: Taylor Willard, UVM (So.)
F: Victoria Bach, BU (So.)
F: Rebecca Leslie, BU (So.)
F: Denisa Krížová, NU (So.)
Honorable Mention
G: Katie Burt, BC (So.)
D: Alexis Crossley, BU (Jr.)
D: Heather Mottau, NU (Jr.)
F: Jonna Curtis, UNH (Jr.)
F: Dana Trivigno, BC (Sr.)