HOCKEY EAST HEADLINES
Vermont set a new single-game attendance record for an on-campus regular season game as 2,210 fans saw the Catamounts skate to a 3-1 win over Holy Cross on Friday night.
Nine teams collected at least a point in Hockey East play in a weekend that saw splits and four overtime contests. While Northeastern swept to keep a hold of first place, the next four teams are separated by just five points entering the final month of regular season play.
Maine earned four points in league play in a 1-0-1 weekend, including a 2-1 overtime win over No. 15 Boston College. The four-point weekend kept the Black Bears one point over Boston University for sixth place in the Army ROTC Hockey East Standings.
New Hampshire split a weekend series that also included a win over No. 15 Boston College. Brianna Brooks recorded her first career hat trick in the outing, including two tallies in 54 seconds to secure the 5-3 victory.
Holy Cross took a 5-1 victory at Merrimack on Saturday on Skating Strides Against Breast Cancer night at Lawler Rink. Madison Beck stopped 28 of 29 shots and Sofia Smithson pick up three assists en route to victory. The Crusaders are now just one win shy of tying the program record for most wins in Hockey East play since joining the conference in 2018-19.

---
HOCKEY EAST CO-PLAYERS OF THE WEEK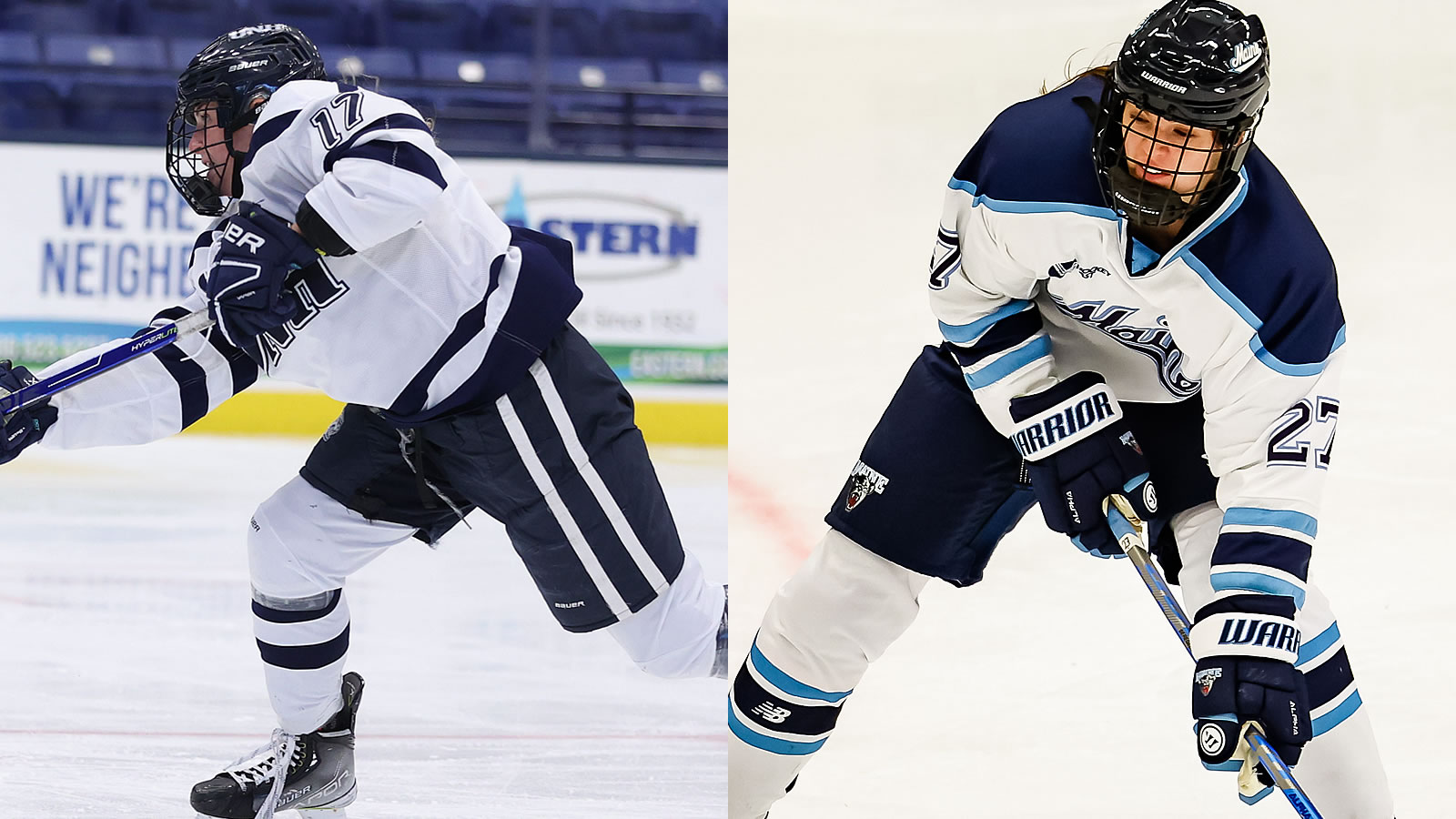 Brianna Brooks - New Hampshire
Mira Seregely - Maine
Brianna Brooks (Jr., F; Whitby, Ont.) recorded three goals and two assists for a total of five points in UNH's weekend split. Her other stats included 30 faceoff wins in 54 turns at the dot, a plus-two rating, 15 shots on net, and one block. She recorded her first career hat trick, including two goals in 54 seconds, to help UNH to a 5-3 victory over No. 15 Boston College, including the game-winning goal with 1:59 remaining in regulation.
Mira Seregely (So., F; Budapest, Hungary) earned four points this weekend on three goals and one assist. Her output included scoring both goals in Maine's 2-1 overtime victory over No. 15 Boston College on Saturday. In a 3-3 draw against Boston University, Seregély scored one goal and had one assist.

---
PRO AMBITIONS ROOKIE OF THE WEEK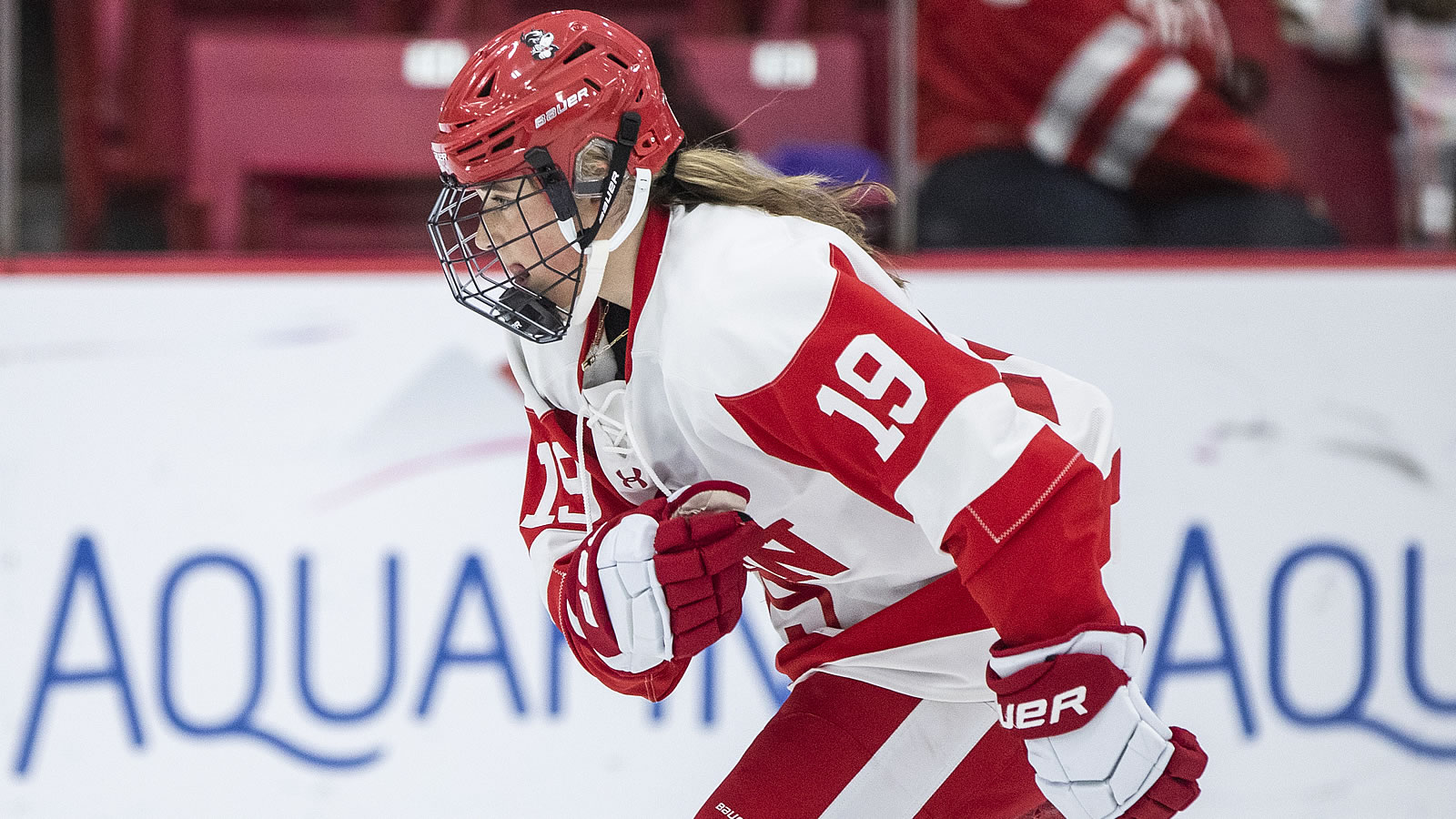 Clara Yuhn - Boston University
Clara Yuhn (Fr., F; Bloomfield Hills, Mich.) recorded a goal and two assists to help the Terriers go 1-0-2 over three games. She had a plus-two rating on the week.

---
ARMY ROTC DEFENDER OF THE WEEK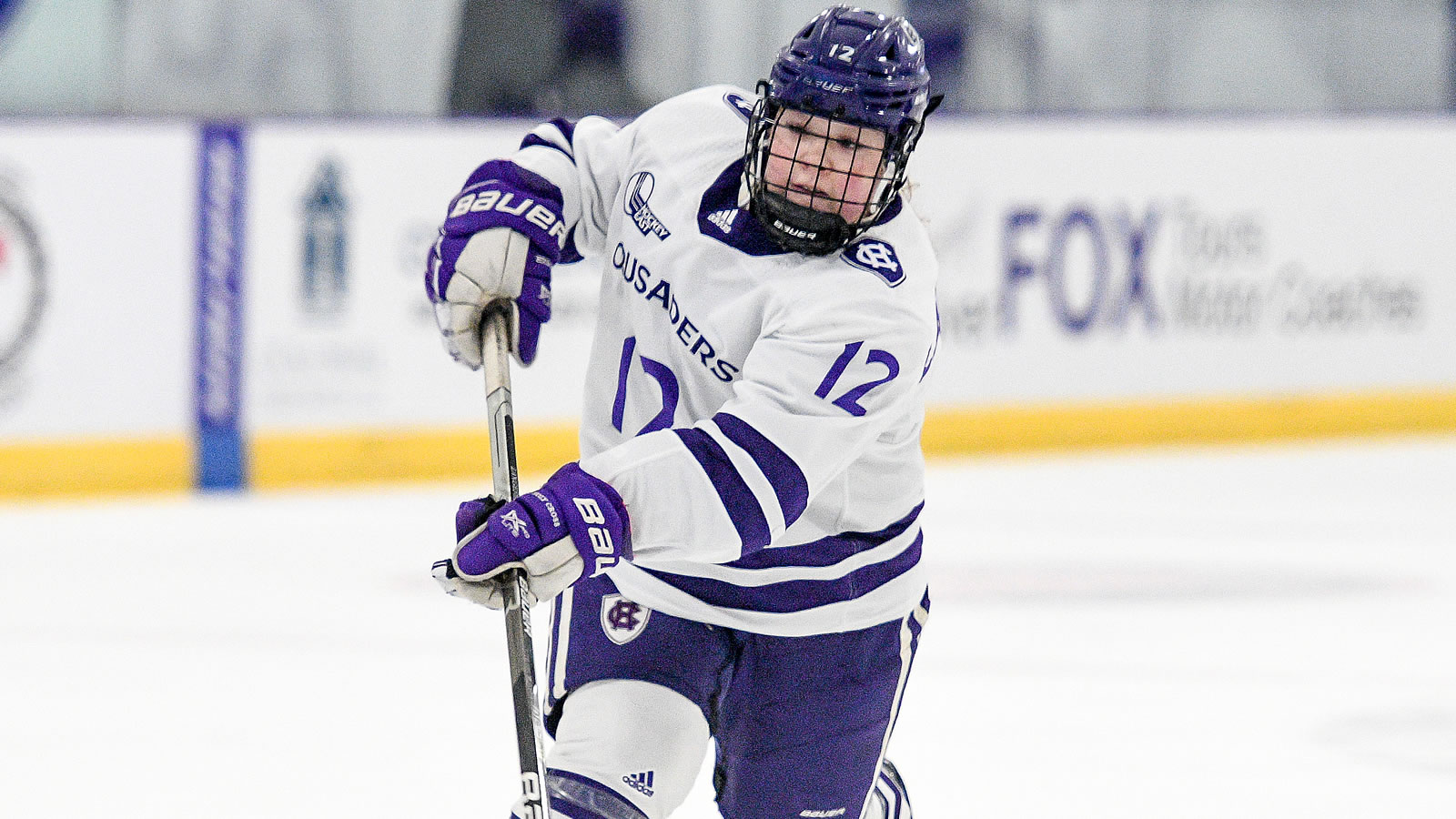 Kailey Langefels - Holy Cross
Kailey Langefels (Sr., D; Minnetonka, Minn.) tallied two assists on two power-play goals in a 5-1 win over Merrimack. She added two blocked shots. She now has five assists in her last six games, helping the Crusaders to a 3-3-0 record in that span.

---
STOP IT GOALTENDER OF THE WEEK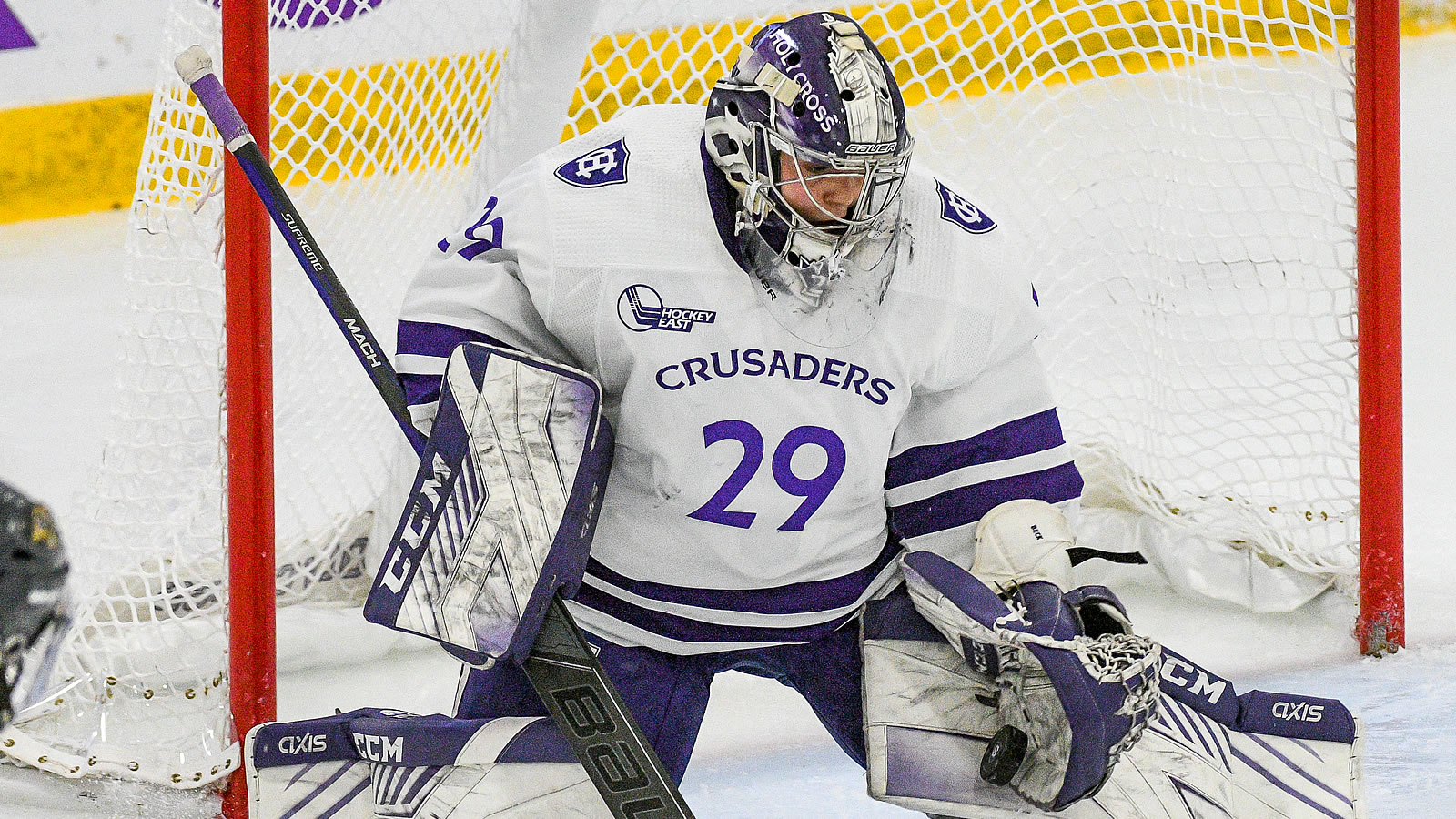 Madison Beck - Holy Cross
Madison Beck (Jr., G; Lunenburg, N.S.) posted 28 saves, including 13 in the third period alone to backbone Holy Cross to a 5-1 victory at Merrimack on Saturday.

---
HOCKEY EAST TOP PERFORMERS
Julia Nearis, BU (Sr., F; Beverly, Mass.) Tallied two goals and an assist in BU's seven-point (1-0-2) week in league play. She had the game-tying goal and the shoot-out winner at Maine on Friday and scored a power-play goal in eventual shootout win over #13 Providence on Tuesday. She also assisted on the game-winner on Saturday at UNH.
Brooke Disher, BU (Fr., D; Fort St. John, B.C.) Scored a goal and added an assist in a 3-1 win at UNH on Saturday. She also picked up an assist in shootout win at Maine on Friday to finish with a plus-two rating on the week.
Andrea Brändli, BU (Gr., G; Kloten, Switzerland) Posted a 1.44 goals-against average and .959 save percentage in two starts. Her play helped BU earn a shootout win over #13 Providence and a road win over UNH.
Jada Habisch, UConn (Jr., F; Buffalo, Minn.) Scored two goals in a 3-1 win over No. 15 Boston College on Tuesday.
Christina Walker, UConn (Fr., F; Burlington, Ont.) Dished out an assist in a 2-2 draw against No. 13 Providence.
Ainsley Svetek, UConn (Sr., D; Burlington, Ont.) Finished a 1-0-1 weekend against a pair of ranked opponents with plus-three rating and six blocked shots while anchoring a defensive unit that gave up just three total goals.
Megan Warrener, UConn (So., G; Stony Creek, Ont.) Made 32 saves while only allowing one goal in a win at No. 15 Boston College Tuesday night. Warrener finished with a .970 save percentage in the win.
Sofia Smithson, HC (Sr., F; Windsor, Ont.) Registered a four-assist weekend for the Crusaders in a split weekend. She earned her first at No. 11 Vermont on Friday night in front of 2,210 fans. The following day, she tallied three more on the to help the Crusaders to a 5-1 win, including setting up the game-winning goal.
Alexia Moreau, HC (Fr., F; Lousieville, Que.) Tallied the first assist of her career on a breakaway goal in a 5-1 win at Merrimack on Saturday. She later posted the final goal of the game, marking the sixth of her rookie season.
Emma Lange, Maine (Gr., D; Goshen, Conn.) Registered two assists in a 1-0-1 weekend, dishing out one helper in each game for the Black Bears.
Anna LaRose, Maine (Jr., G; Albertville, Minn.) Started both games for the Black Bears in a 1-0-1 weekend, stopping 27 shots in a 3-3 draw with Boston University before stopping 36 in a 2-1 overtime win over No. 15 Boston College.
Calli Hogarth, MC (Fr., G; Barrie, Ont.) Made 40 saves in Merrimack's 3-1 setback to Northeastern on Friday, allowing just two goals.
Sophie Melsness, MC (Fr., F; Plymouth, Minn.) Scored her first collegiate goal on Friday.
Marina Alvarez, UNH (So., D; Center Moriches, N.Y.) Recorded two points with a goal and an assist, and she finished the weekend with a plus-one rating.
Ava Boutilier, UNH (Gr., G; Charlottetown, P.E.I.) Made 30 saves to backbone UNH to a 5-3 victory against 15th-ranked Boston College. She stopped 13 of 14 shots in the second period and 10 of 11 shots in the final frame. Boutilier kept the Eagles scoreless on a pair of power plays with a total of two saves on the penalty kill.
Katy Knoll, NU (Sr., F; Amherst, N.Y.) Posted back-to-back game-winning goals to lead Northeastern to road victories over Merrimack and No. 11/12 Vermont. Knoll scored on the power-play against Merrimack for the game-winner. She followed up that performance with a short-handed game-winner against the Catamounts and tacked on an assist.
Megan Carter, NU (Sr., D; Milton, Ont.) Posted an assist and four blocks to help lead Northeastern to a 2-0-0 weekend against Merrimack and Maine. Carter now has 14 points in just 18 games played to sit second overall in Hockey East among defenders.
Lauren DeBlois, PC (Sr., D; Lewiston, Maine) Secured three points (1g, 2a) over the course of two games, both ties, last week. DeBlois scored a goal and an assist on Tuesday as well as another assist on Friday night.