WAKEFIELD, Mass. - The Hockey East Association today announced the 2020-21 Pro Ambitions All-Rookie Team and five other season-long awards as voted by the women's league's 10 head coaches as part of the celebration of the 19th annual Hockey East Tournament.
The 2020-21 Pro Ambitions All-Rookie Team consists of eight players and includes goaltenders Tia Chan (Hamilton, Ont./UConn) and Jessie McPherson (Chatham, Ont./Vermont), a duo of Providence defenders in Brooke Becker (Orchard Park, N.Y.) and Claire Tyo (Massena, N.Y.), and forwards Jada Habisch (Buffalo, Minn./UConn), Nicole Kelly (Brantford, Ont./New Hampshire), Gaby Roy (Marshfield, Mass./Boston College), and Millie Sirum (Oslo, Norway/Holy Cross.)
Also recognized for her effort in the 2020-21 campaign is Northeastern senior Skylar Fontaine (East Greenwich, R.I.), selected as Hockey East's best defenseman for the second straight season. Fontaine became the first Husky to win the award since its inception in 2009-10 last year.
New Hampshire junior Lindsay Dumond (Hampton, N.H.) has been honored as the best defensive forward during the regular season, becoming the first Wildcat so honored since the award was first bestowed after the 2009-10 season.
Vermont senior forward Olivia Kilberg (Edina, Minn.) was awarded the conference's sportsmanship award. Kilberg has played 115 games in a Catamounts sweater and has committed zero penalties in the past three years. She had just six penalty minutes during her freshman campaign.
Two statistical awards were also formally announced, as Alina Mueller (Winterthur, Switzerland) was the league's top scorer (9g, 22a, 31p) for the second straight season while her teammate, goaltender Aerin Frankel (Briarcliff Manor, N.Y.), earned the title of PNC Bank Three Stars Award winner. Frankel accumulated the highest total of points from first, second, and third star accolades during Hockey East league games over the course of the regular season.
The 2021 Women's Tournament continues with quarterfinals on Sunday, February 28 at the campus of the higher seeds. Semifinals are slated to take place on Wednesday, March 3 with the championship game held on Saturday, March 6 to determine the winner of the 2021 Bertagna Trophy and an automatic berth into the National Championship Tournament. For a full schedule and television information, visit HockeyEastOnline.com.
Hockey East will announce the 2020-21 All-Star Teams tomorrow, Saturday, February 27 at 11:00 a.m. ahead of the quarterfinals on Sunday. The league will then announce finalists for the Player, Rookie, and Coach of the Year awards on Monday, March 1 at 1:00 p.m. The winners of those awards will then be revealed prior to the semifinals on Wednesday, March 3.
---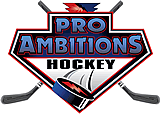 Pro Ambitions All-Rookie Team
G: Tia Chan, UConn
G: Jessie McPherson, Vermont
D: Brooke Becker, Providence
D: Claire Tyo, Providence
F: Jada Habisch, UConn
F: Nicole Kelly, New Hampshire
F: Gaby Roy, Boston College
F: Millie Sirum, Holy Cross

---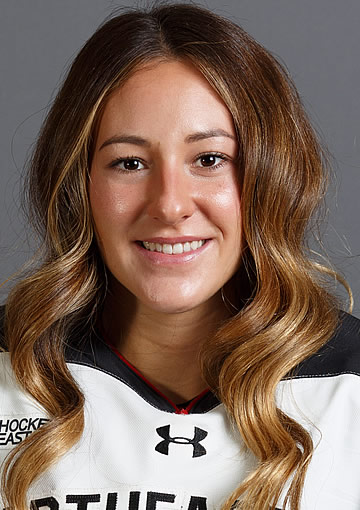 Best Defenseman Award
Skylar Fontaine, Northeastern *
(Sr., East Greenwich, R.I.)

Runner-up:
Cayla Barnes, Boston College
(Jr., Eastvale, Calif.)

---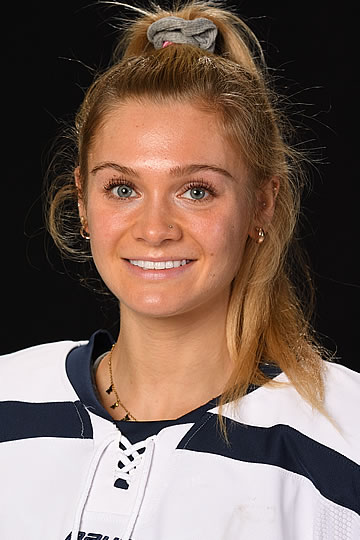 Best Defensive Forward Award
Lindsey Dumond, New Hampshire
(Jr., Hampton, N.H.)

Runner-up:
Chloé Aurard, Northeastern
(Jr., Villard-de-Lans, France)

---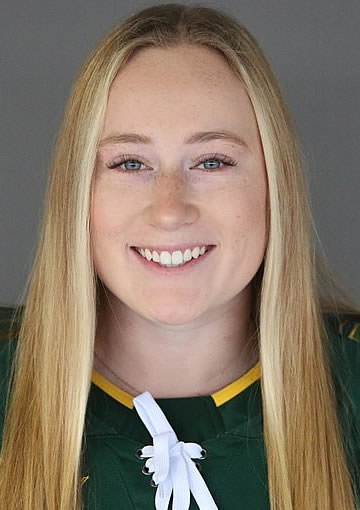 Sportsmanship Award
Olivia Kilberg, Vermont
(Sr., F; Edina, Minn.)

Runner-up:
Julia MacLean, Merrimack
(Jr., D; Medfield, Mass.)

---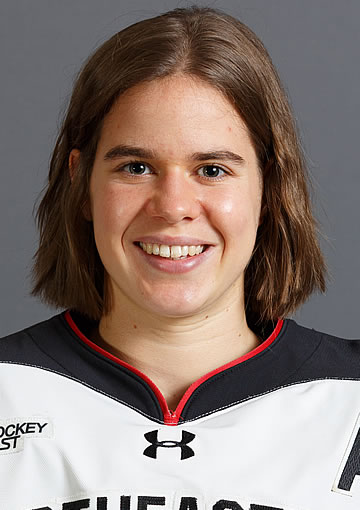 Hockey East Scoring Champion
Alina Mueller, Northeastern
(Jr., F; Winterthur, Switzerland)
9g, 22a, 31p

Runners-up:
Chloé Aurard, Northeastern
(Jr., F; Villard-de-Lans, France)
13g, 8a, 21p

Skylar Fontaine, Northeastern
(Sr., East Greenwich, R.I.)
9g, 12a, 21p

---

PNC Bank Three Stars Award
Aerin Frankel, Northeastern
(Sr., G; Briarcliff Manor, N.Y.)

Runner-up:
Alina Mueller, Northeastern
(Jr., F; Winterthur, Switzerland)

---
* denotes unanimous selection