WHEA HEADLINES
Hockey East regular-season champion and No. 1 Northeastern (23- 5-5/21-3-3 WHEA) will play host to No. 8 Vermont (10-18-6/8-15-4 WHEA) at Matthe ws Arena as the Huskies earn hosting duties for the seventh time in a row dating back t o 2013. The Huskies claimed the regular season crown for just the second time in pr ogram history in 2019 after winning their first Bertagna Trophy as WHEA Tournament cha mpions in 2018. Northeastern has advanced to the semifinals each year since 2011. Ver mont secured a spot in the playoffs on the season's final day, claiming a 2-2 tie at Maine to claim its seventh all-time playoff appearance. It marks just the second time thes e two programs have faced in the playoffs, after a 2013 quarterfinal match up that ended i n a 5-1 Northeastern win.
No. 2 Boston College (23-10-1/19-7-1 WHEA) welcomes No. 7 UConn (14-16-4/9-14-4 WHEA) to Conte Forum to begin their best-of-three series on Fri day. Boston College and UConn have met three times previously in the WHEA Tournament, a ll three coming in the semifinals. Most recently, the Eagles and Huskies clashed in the 2018 semifinals, a 4-2 UConn victory, after BC won the previous two meetings in the WH EA Tournament. Last season, UConn advanced all the way to the championship game as the seven seed, the first team do achieve that feat in league history. The Eagles sw ept the 2018-19 regular season series, 3-0-0.
No. 3 Boston University (19-7-8/15-6-6 WHEA) will entertain No. 6 New Hampshire (13- 15-6/10-14-3 WHEA) at Walter Brown Arena as the Terriers look t o return to the semifinals after falling in the quarterfinal round on the road last season. All time, BU owns a 4-2 record against the Wildcats in the WHEA Tournament. During the regular season, Boston University staked a 2-0-1 mark over the New Hampshire. New Hamp shire looks to return to the semifinals for the first time since 2010.
No. 4 Providence (22-10-2/16-9-2 WHEA) draws No. 5 Merrimack (1 6-11-7/12-10-5 WHEA) to Schneider Arena for the first playoff meeting between t he two programs. The Friars won the season series over the Warriors, 2-0-1. Providen ce last appeared in the semifinals in 2013 while Merrimack is making just its second pos tseason appearance (2017) and in search of its first playoff win. If the Friars adv ance, they will play in their home rink as Schneider Arena hosts the 2019 WHEA Championship, March 9-10.
Tickets to the 2019 Women's Hockey East Championship hosted by Providence College are now on sale. Fans can purchase adult tickets online at Friars.com/tickets for the semifinals on Saturday, March 9, and for the championship on Sunday, March 10 or by calling 401-865-4672.

---
WOMEN'S HOCKEY EAST PLAYER OF THE WEEK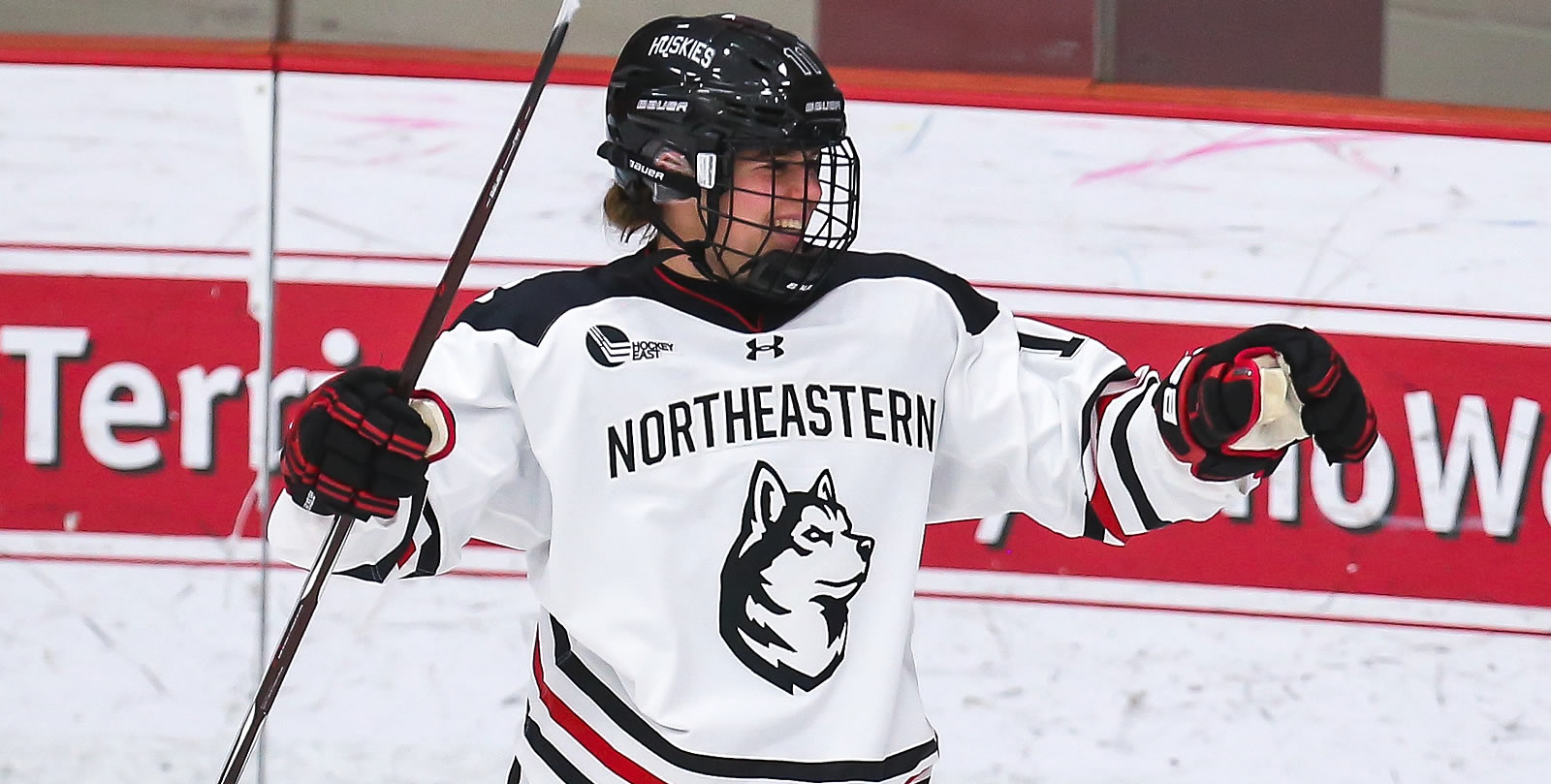 Alina Mueller - Northestern
Alina Mueller (Winterthur, Switzerland) lead the league with five points (3g, 2a) in two games, helping Northeastern to a 1-0-1 mark against Merrimack. She posted her first career four-point game (2g, 2a) in a 4-4 tie on Saturday.

---
PRO AMBITIONS ROOKIE OF THE WEEK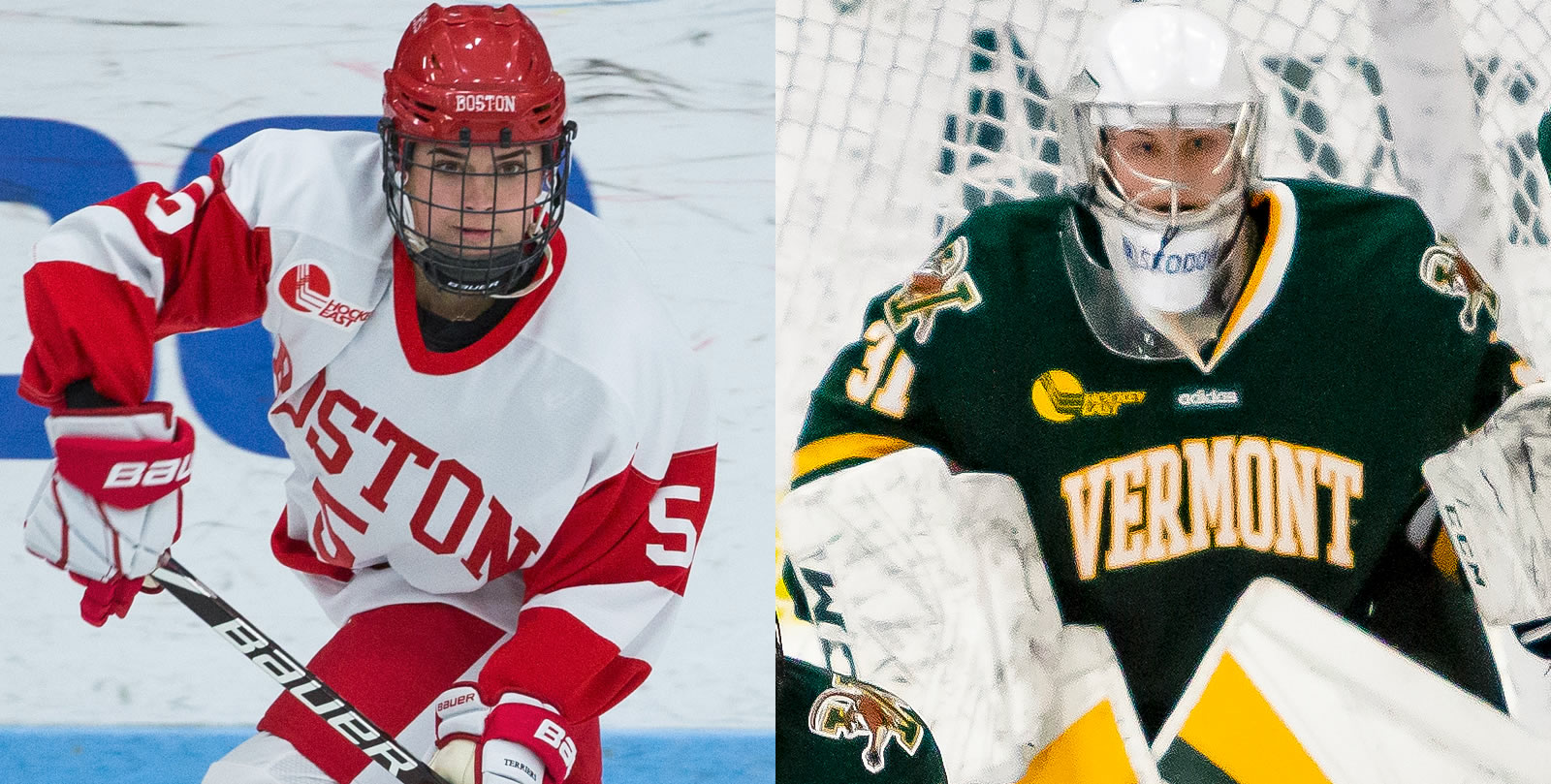 Courtney Correia - Boston University
Courtney Correia (Whitby, Ont.) found the back of the net in the Terriers' 3-1 win at UConn on Friday for what proved to be the game-winning strike.

Blanka Skodova - Vermont
Blanka Skodova (Sternberk, Czech Republic) kicked out 20 of 22 shots she saw on Saturday to preserve a 2-2 tie on the road at Maine, giving Vermont the point it needed to clinch a playoff spot.

---
WOMEN'S HOCKEY EAST DEFENSIVE PLAYER OF THE WEEK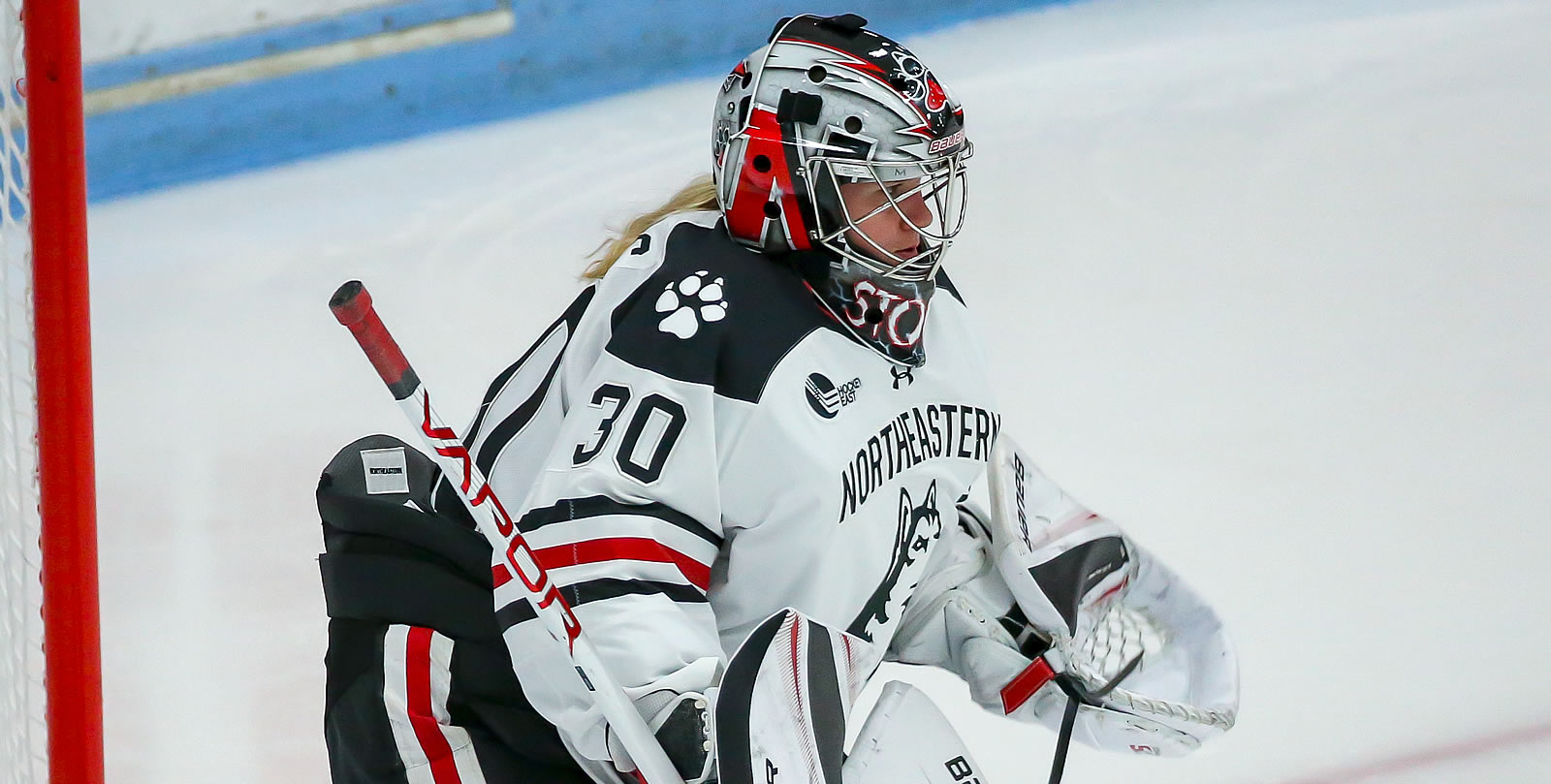 Brianna Storms - Northeastern
Brianna Storms (Sabin, Minn.), in the first start of her four-year career, pitched a 21-save shutout on Senior Day in a 3-0 win over Merrimack on Friday. After serving as Northeastern's third-string goaltender for her entire career, Storms stopped 10 shots across the final two frames to preserve her first NCAA shutout.

---
WOMEN'S HOCKEY EAST TOP PERFORMERS
Lindsay Agnew, BC (Jr., F; Oakville, Ont.) Scored her conference-leading fourth shorthanded goal of the season on Saturday at New Hampshire. She totaled six shots on goal in the 3-3 tie.
Kali Flanagan, BC (Sr., D; Burlington, Mass.) Netted a goal and added one assist in Boston College's 3-3 tie at UNH.
Abby Cook, BU (Jr., D; Kelowna, B.C.) Picked up an assist in each of the Terriers' two games last weekend, each time setting up the game's opening tally.
Corinne Schroeder, BU (So., G; Elm Creek, Man.) Made a league-high 62 saves in two games last weekend, including 35 saves in a 3-1 triumph at UConn on Friday. Twenty of her 35 saves in that game came in the third period. Schroeder then made 27 saves in a 2-1 defeat to Providence.
Samantha Ridgewell, MC (Sr., G; Outlook, Sask.) Pitched her fourth 40+ save game of the season in the Warriors' season finale, a 4-4 draw with #3 Northeastern.
Taylor Wenczkowski, UNH (Jr., F; Rochester, N.H.) Potted her 20th goal of the season over the weekend, becoming the first Wildcat to reach the 20-goal plateau since 2016-17.
Paige Rynne, UNH (Fr., F; Ancaster, Ont.) Found the back of the net to knot New Hampshire and Boston College at two goals apiece on Saturday. The eventual draw lifted New Hampshire to the sixth seed of the WHEA Tournament.
Kyra Smith, UNH (Sr., G; Littleton, Colo.) Stopped 31 shots from #7 Boston College in an eventual 3-3 tie on Saturday. She kicked out four saves in overtime to preserve the tie and secure the sixth seed in the WHEA Tournament.
Christina Putigna, PC (Sr., F; Grimsby, Ont.) Picked up four points (2g, 2a) in a two-win weekend for the Friars, netting a goal and adding an assist in both the 3-0 win over Holy Cross and a 2-1 win over Boston University.
Madison Myers, PC (Sr., G; Colchester, Vt.) earned her fifth shutout of the year in a 28-save outing at Holy Cross and allowed just one goal and made 25 saves the next day in a 2-1 win at Boston University. She stopped 53 shots on the weekend.