Thursday, November 23, 2017
Hockey East Weekend Preview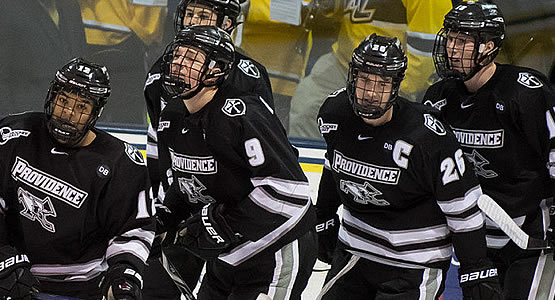 Providence College and the University of Maine will participate in the third annual Friendship Four Tournament in Belfast, Northern Ireland this weekend
#10 Providence vs. Maine/#5 Clarkson or RPI - Fri. 11/24, Sat. 11/25 in Belfast, Northern Ireland
- Providence College and the University of Maine will participate in the third annual Friendship Four Tournament in Belfast, Northern Ireland this weekend, joining ECAC foes Clarkson and RPI.
- Hockey East has claimed the Belpot Trophy in each of the first two iterations, as Vermont won the unique cowbell trophy last year after UMass Lowell captured the inaugural title in 2015.

#19 Boston University vs. #7 Cornell - Sat. 11/25 at Madison Square Garden
- Boston University and Cornell renew their rivalry at the sixth iteration of Red Hot Hockey at Madison Square Garden Saturday night. The Terriers are undefeated in the series, carrying a 3-0-2 record. This year marks the 10th anniversary of the first Red Hot Hockey and is BU's 14th time competing on the ice at Madison Square Garden.
- The Big Red will be Boston University's fourth contest against a top-10 opponent this season. The Terriers have shutout two of their previous three top-10 ranked foes, blanking then-#6 Providence and then-#8 New Hampshire earlier in November.

#13 New Hampshire vs. Yale - Sat. 11/25 at Yale
- New Hampshire breaks from league competition for a one-game road trip to Yale, having gone on a run of 1-3-1 in its last five, all against Hockey East opponents. The last time the two teams met was October 28, 2006, a 4-3 Yale win in overtime. UNH boasts an all-time record of 17-12-0.
- It is the first of two near-holiday tilts against Yale on this year's schedule for the Wildcats, as the two programs will meet again December 30 at the Ledyard Bank Classic at Dartmouth.
- In non-conference play this season, the Wildcats boast a 3-1-0 mark, sweeping Colgate and splitting a series with Colorado College October 13-21.

#14 Boston College vs. Harvard - Fri. 11/24 at BC
- The Eagles will put their seven-game winning streak, all in league play, on the line Friday night against Beanpot rival Harvard. Jerry York's team boasts wins in 12 of their last 14 meetings with Harvard. All-time, Boston College is 6-3-0 against the Crimson at Kelley Rink and 74-46-5 overall.
- Boston College's seven-game win streak has put the Eagles in first place in the conference and marks the longest unbeaten run for the program since October 16 - November 13, 2016 (9-0-1).
- Sophomore goaltender Joseph Woll (St. Louis, Mo.) stopped 50 shots against the league's top two offenses last week, allowing just three goals total to New Hampshire and Northeastern in a pair of victories. His performance earned him the Hockey East Defensive Player of the Week award on November 20.

Massachusetts vs. Quinnipiac - Fri. 11/24 at QU, Sat. 11/25 at UMass
- The Massachusetts Minutemen (5-6-0, 2-3-0 HEA) have a chance this weekend to surpass their win total from all of 2016-17 in head coach Greg Carvel's second year behind the bench.
- Last season, UMass and Quinnipiac squared off in a one-game set in Connecticut in an eventual 3-2 Bobcats win. The two programs then traveled to Belfast, Northern Ireland to compete in the Friendship Four Tournament.
- Last time out, UMass earned a weekend split against then-#8 Providence. In the first game, a 5-2 win, 11 different skaters found the score sheet for the Minutemen. Graduate student Niko Rufo (Stoneham, Mass.) scored a goal against his former team in that outing.

UConn vs. RIT - Sat. 11/25 at UConn
- The Huskies snapped a six-game winless streak with a 4-1 triumph at Vermont Tuesday night. Sophomore netminder Adam Huska (Zvolen, Slovakia) made a season-high 39 saves to earn the win, UConn's first at Gutterson Fieldhouse since January 6, 1965.
- UConn welcomes former Atlantic Hockey rival RIT to the XL Center in Hartford for a one-game stint Saturday afternoon. While RIT holds an all-time record of 14-8-2 over UConn, the teams skated to a 1-1 draw last season. The game was Huska's NCAA debut that saw him make 36 saves.

Vermont vs. Dartmouth - Sat. 11/25 at Dartmouth
- Vermont looks to snap a four-game skid dating back to November 4. The game marks one of two contests against Hockey East opponents for Dartmouth, as New Hampshire travels to face its in-state rival for the Ledyard Bank Classic on December 29-30.
- Vermont and Dartmouth are former ECAC Hockey rivals. All-time, the Catamounts are 49-23-6 against the Big Green, including a 23- 15-3 mark in Hanover. The last time out was a 5-2 Catamounts victory on November 15, 2016.