Wednesday, March 15, 2017
Hockey East Names 2016-17 Pro Ambitions All-Rookie Team
Nine Other Award Winners Announced for 2016-17 Season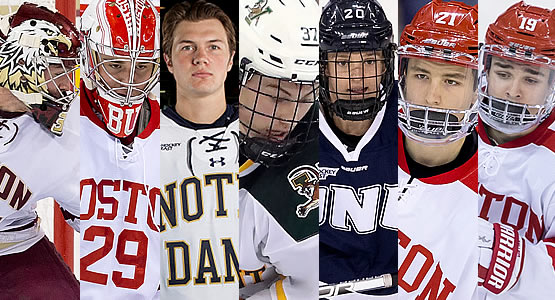 Hockey East Names 2016-17 Pro Ambitions All-Rookie Team
WAKEFIELD, Mass. - The Hockey East Association today announced the 2016-17 Pro Ambitions All-Rookie Team and seven other season- long awards as voted by the league's 12 head coaches in advance of the 2017 Hockey East Championship, March 17 and 18, at TD Garden. The honorees will be recognized at Thursday night's annual awards banquet.
The 2016-17 Pro Ambitions All-Rookie Team consists of seven players and includes goaltenders Joseph Woll (St. Louis, Mo./Boston College) and Jake Oettinger (Lakeville, Minn./Boston University), defenseman Andrew Peeke (Parkland, Fla./Notre Dame), and forwards Ross Colton (Robbinsville, N.J./Vermont), Patrick Grasso (Ankeny, Iowa/New Hampshire), Patrick Harper (New Canaan, Conn./Boston University), and Clayton Keller (Swansea, Ill./Boston University).
Also set to be recognized at Thursday night's ceremonies will be a pair of defensive awards, as Notre Dame sophomore Dennis Gilbert (Buffalo, N.Y.) has been named the '47 Brand Best Defensive Defenseman and Boston College senior Austin Cangelosi (Estero, Fla.) was voted as the Gladiator Custom Mouthguards Best Defensive Forward. Three statistical award champions will also be acknowledged, including the league's top scorer, New Hampshire senior forward Tyler Kelleher (Longmeadow, Mass.), the Stop It Goaltending Hockey East Goaltending Champion, Merrimack junior Collin Delia (Rancho Cucamonga, Calif.) and the ARMY ROTC Three Stars Award winners, given to three champions this year as Notre Dame junior forward Anders Bjork (Mequon, Wis.), Keller, and Kelleher each earned the same amount of points from being named one of the ARMY ROTC Three Stars of the Game after each league contest. Hockey East's two sportsmanship awards will be bestowed upon UMass Lowell senior forward Joe Gambardella (Staten Island, N.Y.), just the second player to be honored with the Len Ceglarski Sportsmanship Award two years in a row, and Notre Dame Fighting Irish, who will be acknowledged with the Charlie Holt Team Sportsmanship Award for accruing the fewest penalty minutes in Hockey East games.
The 33rd Hockey East Tournament championship will take place this weekend, Friday, March 17, and Saturday, March 18, at the TD Garden in Boston. No. 1 UMass Lowell will square off with No. 4 Notre Dame Friday at 5 p.m., while No. 2 Boston University and No. 3 Boston College take the ice at 8 p.m. The winners advance to Saturday's championship tilt at 7 p.m. Fans can purchase tickets online at Ticketmaster.com or by calling 800-745-3000.
2017 Pro Ambitions All-Rookie Team

Goalie
Joseph Woll
Boston College

Goalie
Jake Oettinger
Boston University

Defense
Andrew Peeke
Notre Dame

Forward
Ross Colton
Vermont

Forward
Patrick Grasso
New Hampshire

Forward
Patrick Harper
Boston University

Forward
Clayton Keller *
Boston University
* denotes unanimous selection
Pro Ambitions All-Rookie Team
G: Joseph Woll – Boston College
G: Jake Oettinger – Boston University
D: Andrew Peeke – Notre Dame
F: Ross Colton – Vermont
F: Patrick Grasso – New Hampshire
F: Patrick Harper – Boston University
F: Clayton Keller – Boston University *
* denotes unanimous selection