Tuesday, September 27, 2016
Conference Season Set to Kick Off October 1; League Play Begins Oct. 25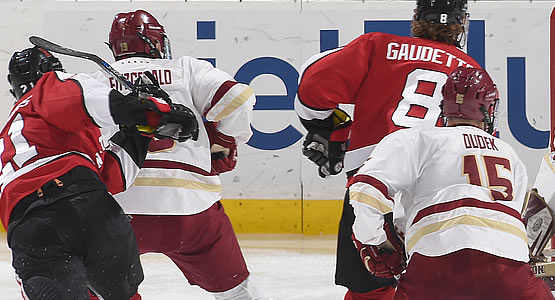 Conference Season Set to Kick Off October 1; League Play Begins Oct. 25
WAKEFIELD, Mass. - The Hockey East Association unveiled the 2016-17 men's composite schedule today at the league's annual media day at TD Garden. Each of the 12 member institutions will play 22 league contests as well as several featured non-conference tilts and tournaments. A full schedule can be found on the following pages.
Hockey East teams begin play Saturday, October 1 when six schools play in exhibition contests. Regul ar season play begins Friday, October 8 before the conference schedule opens two weeks late r on Tuesday, October 25 when Boston University travels to Merrimack.
Several special events highlight the season schedule in 2016-17 , including the fourth iteration of Frozen Fenway on January 7 and 14. Boston University and Massachusetts and Boston College and Providence square off on the first Saturday of 2017 while New Hampshire and Northeas tern and UConn and Maine take to the outdoor rink the following weekend.
Further, Massachusetts and Vermont will travel to Belfast, Northern Ireland over Thanksgiving weekend to compete in the second annual Friendship Four Tournament, alongside ECAC Hockey's St. Lawrence and Quinnipiac.
The Hockey East season will culminate at TD Garden once again, with the 33rd annual Hockey East Tournament returning to the Garden ice March 17-18. Tickets for the conference championship will go on sale in October.