Wednesday, March 16, 2016
Hockey East Names 2015-16 Pro Ambitions All-Rookie Team
Six Other Award Winners Announced For 2015-16 Season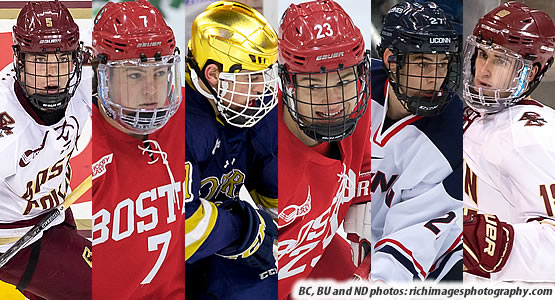 Hockey East Names 2015-16 Pro Ambitions All-Rookie Team
WAKEFIELD, Mass. - The Hockey East Association announced the 2015-16 Pro Ambitions All-Rookie Team and seven other season-long awards as voted by the league's 12 head coaches Wednesday afternoon ahead of the 2016 Hockey East Championship, March 18 and 19 at TD Garden. The recipients will be recognized tomorrow night at the annual awards banquet at the Royal Sonesta Hotel in Cambridge, Massachusetts, hosted by ESPN's John Buccigross.
The 2015-16 Pro Ambitions All-Rookie Team consists of six skaters, including defensemen Casey Fitzgerald (North Reading, Mass./ Boston College), Charlie McAvoy (Long Beach, N.Y./Boston University), and Bobby Nardella (Rosemont, Ill./Notre Dame) and forwards Jakob Forsbacka Karlsson (Stockholm, Sweden/Boston University), Max Letunov (Moscow, Russia/UConn), and Colin White (Hanover, Mass./Boston College).
Also set to be recognized at Thursday's banquet will be Boston College junior defenseman Steve Santini (Mahopac, N.Y.), as the Old Time Hockey Best Defensive Defenseman, Notre Dame senior forward Sam Herr (Hindsale, Ill.) as the Gladiator Custom Mouthguards Best Defensive Forward, UMass Lowell junior forward Joe Gambardella (Staten Island, N.Y.) as the Len Ceglarski Sportsmanship Award winner, New Hampshire sophomore forward Andrew Poturalski (Williamsville, N.Y.) as the Hockey East scoring champion, and UMass Lowell senior goaltender Kevin Boyle (Manalapan, N..J.) as the Army ROTC Three Stars Award winner and the Stop It Goaltending Champion as the statistical leader among netminders. Additionally, Northeastern University will be presented with the Charlie Holt Team Sportsmanship Award, given to the team with the fewest penalty minutes in Hockey East play.
Providence, UMass Lowell, Boston College, and Northeastern are set to face off in the Hockey East semifinals Friday (March 18) at TD Garden at 5 p.m. and 8 p.m. The winners will advance to the 32nd annual Hockey East championship Saturday night (March 19) at 7 p.m. Across New England, the New England Sports Network will produce and air the Hockey East championship weekend from TD Garden once again. The first semifinal will game will be shown on NESN in its entirety beginning at 5 p.m., while the second semifinal begins at 8 p.m. on NESN and NESNplus before moving exclusively to NESNplus at 9 p.m. The title game is set to be played at 7 p.m. Saturday night and shown on NESN. Across the country, NBCSN will also show all three games in over eight hours of coverage on the weekend.
Tickets for the 2016 Hockey East Championship Tournament at the TD Garden on are sale now at the TD Garden Box Office. Tickets can also be purchased on line at www.ticketmaster.com or by calling TicketMaster at (800) 745-3000.
2016 Pro Ambitions All-Rookie Team

Defense
Casey Fitzgerald
Boston College
(N. Reading, Mass.)

Defense
Charlie McAvoy
Boston University
(Long Beach, N.Y.)

Defense
Bobby Nardella
Notre Dame
(Rosemont, Ill.)

Forward
Jakob Forsbacka Karlsson
Boston University
(Stockholm, Sweden)

Forward
Max Letunov
(Moscow, Russia)
UConn

Forward
Colin White
Boston College
(Hanover, Mass.)
Pro Ambitions All-Rookie Team
D: Casey Fitzgerald, BC (N. Reading, Mass.)
D: Charlie McAvoy, BU (Long Beach, N.Y.)
D: Bobby Nardella, ND (Rosemont, Ill.)
F: Jakob Forsbacka Karlsson, BU
(Stockholm, Sweden)
F: Max Letunov, UConn (Moscow, Russia)
F: Colin White, BC (Hanover, Mass.)