HOCKEY EAST HEADLINES
Boston University claimed its 11th Hockey East regular season crown Friday night in Jay Pandolfo's first year as bench boss of the Terriers. Freshman defenseman Lane Hutson ended the year with 34 points (9g, 25a) in 24 league games, becoming the first-ever defenseman to lead Hockey East in scoring in the league's 39-year history.
The 38th Hockey East Men's Tournament kicks off Wednesday night with three Opening Round games. Boston College will host UMass on NESN+, Vermont travels to Maine, and New Hampshire visits Providence on ESPN+. All games drop the puck at 7:00pm.
One quarterfinal is already set, as UConn will face off with UMass Lowell on Saturday, March 11. The programs split a weekend series on Nov. 18-19, the home team winning each outing. It is UConn's fourth quarterfinal appearance after the Huskies advanced to TD Garden or the first time in program history in 2022, falling in the championship game in overtime to UMass.
The tournament will reseed after the opening round, with the lowest remaining seed playing at Boston University at 4:30pm on Saturday, the second lowest remaining team skating at Lawler Rink against Merrimack at 7:30pm, and the final team playing at Northeastern at 7:00pm.
The Hockey East semifinals are set tentatively set for 4:00pm and 7:30pm on Friday, March 17 at TD Garden in Boston, while the 38th championship game will be played Saturday, March 18 at 7:00pm. All three games will air live on NESN. Tickets are available via the host institution for each on-campus game while championship tickets can be purchased at TDGarden.com/HockeyEast.

---
HOCKEY EAST CO-PLAYERS OF THE WEEK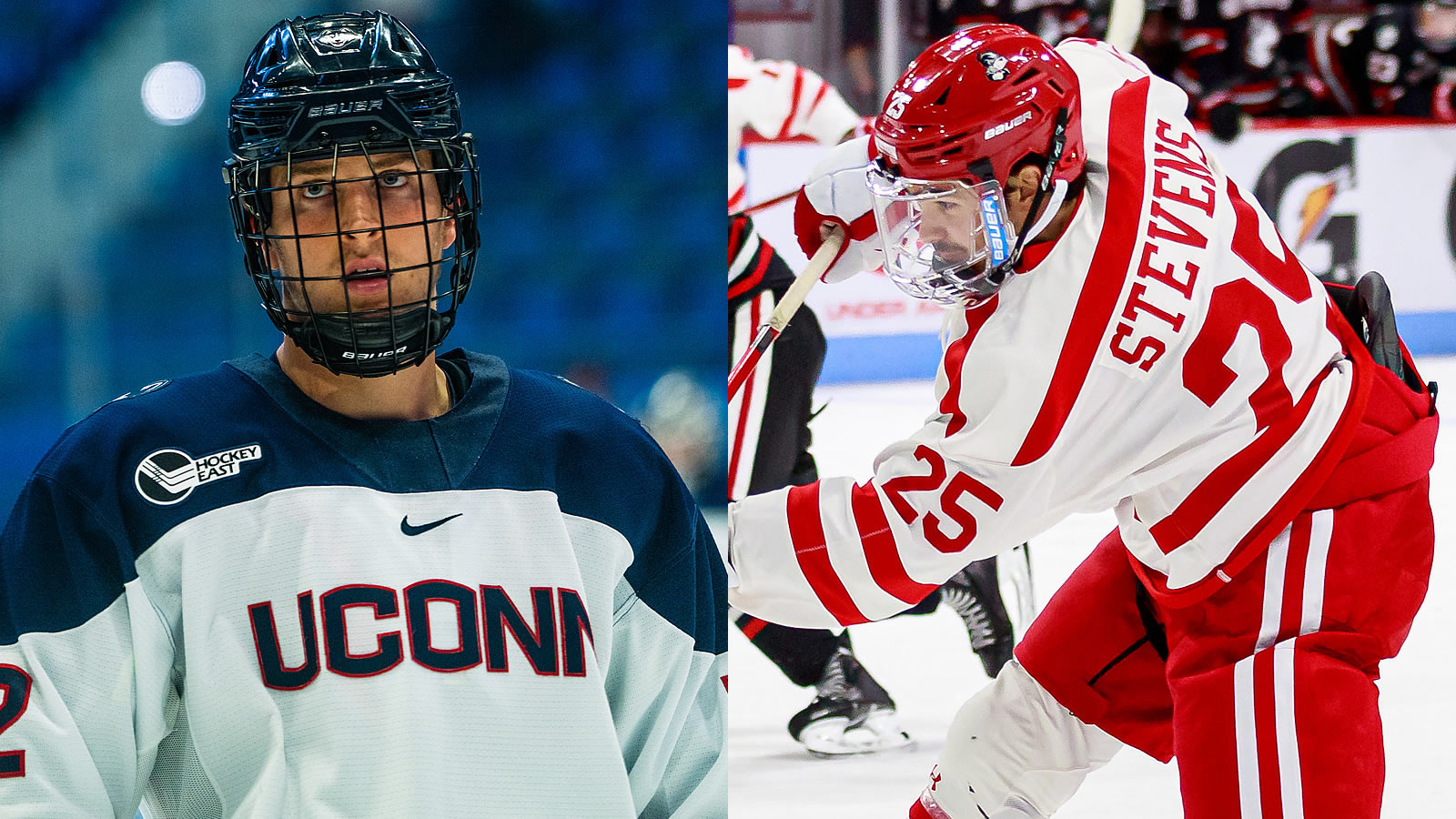 Justin Pearson - UConn
Sam Stevens - Boston University
Justin Pearson (Gr., F; Nashua, N.H.), in a must-win game for UConn to secure home ice in the Hockey East Quarterfinals, capped senior night at Toscano Family Ice Forum with a hat trick and one assist for four points in a 6-5 victory over Boston College.
Sam Stevens, BU (Sr., F; Montreal, Que.) Tallied two points in each Terrier win this weekend, including a goal in a 2-0 triumph at Providence on Saturday. He assisted on both game-winning goals against the Friars and finished the weekend with one goal and three assists.

---
PRO AMBITIONS ROOKIE OF THE WEEK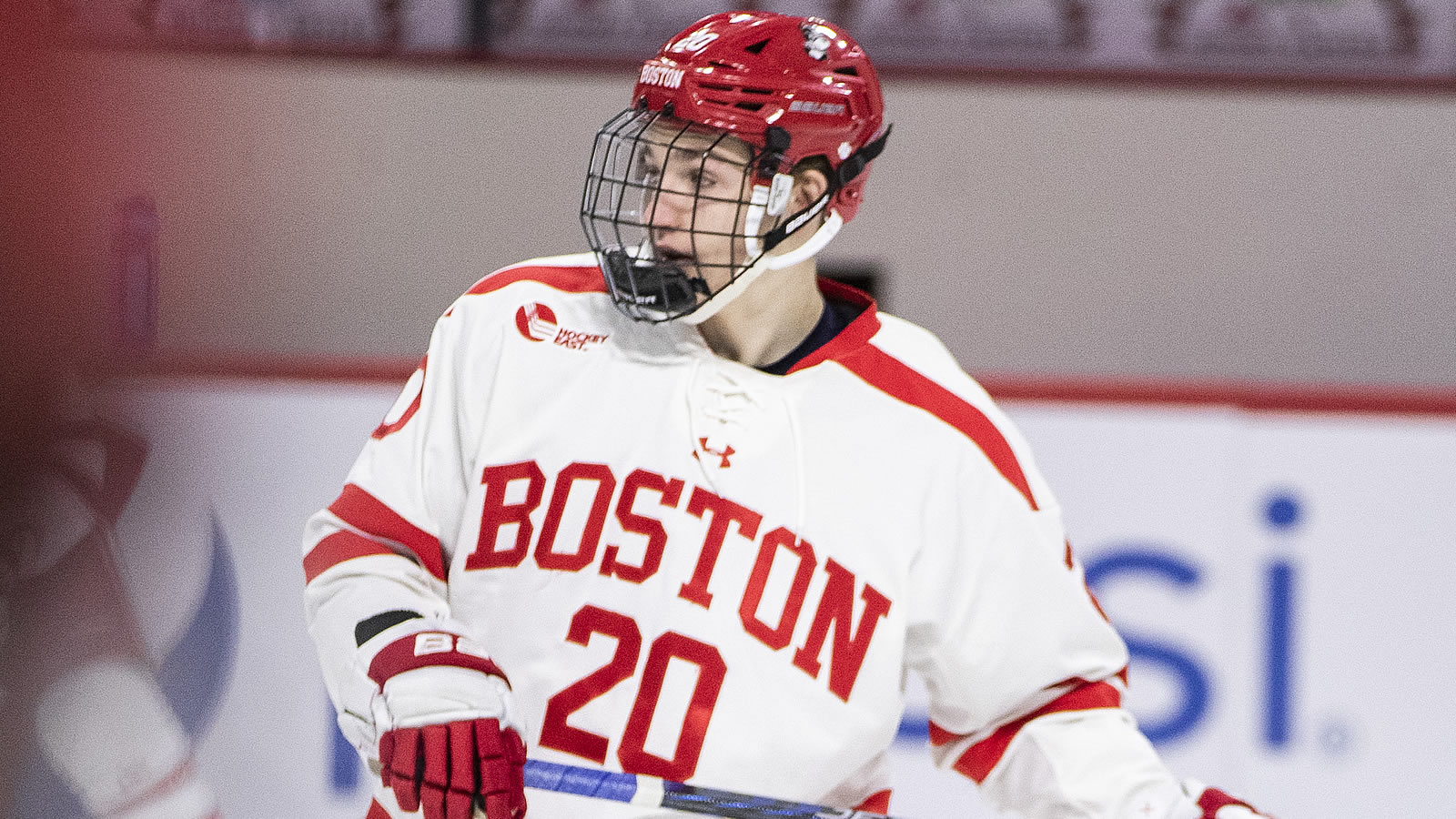 Lane Hutson - Boston University
Lane Hutson (Fr., D; North Barrington, Ill.) notched two goals in Friday's 6-4 win over Providence before assisting on both goals in a 2-0 road victory on Saturday. Hutson became the first defender in the history of Hockey East to lead the league in conference scoring and the first freshman to do so since Jack Eichel in 2014-15.

---
ARMY ROTC DEFENDER OF THE WEEK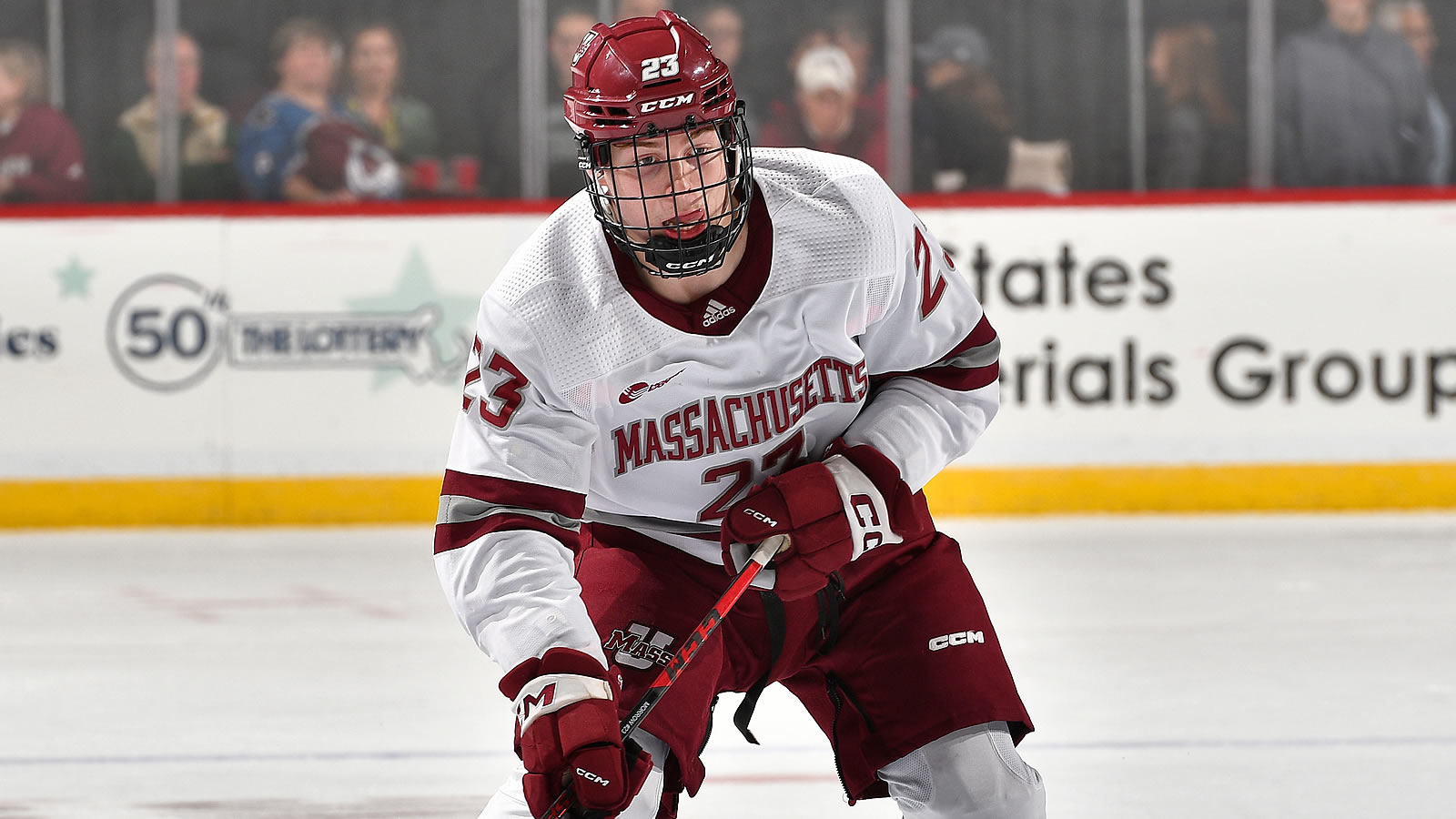 Scott Morrow - Massachusetts
Scott Morrow (So., D; Darien, Conn.) posted a power-play goal and an assist in back-to-back nights for four points in a weekend sweep of Maine, UMass' first road sweep of the Black Bears since 2010. He added four blocked shots in the sweep. His four points brought his season total to 31, joining UMass Hall of Famer Thomas Poeck as the only Minutemen blueliners in program history to post multiple seasons with at least 30 points overall.

---
STOP IT GOALTENDER OF THE WEEK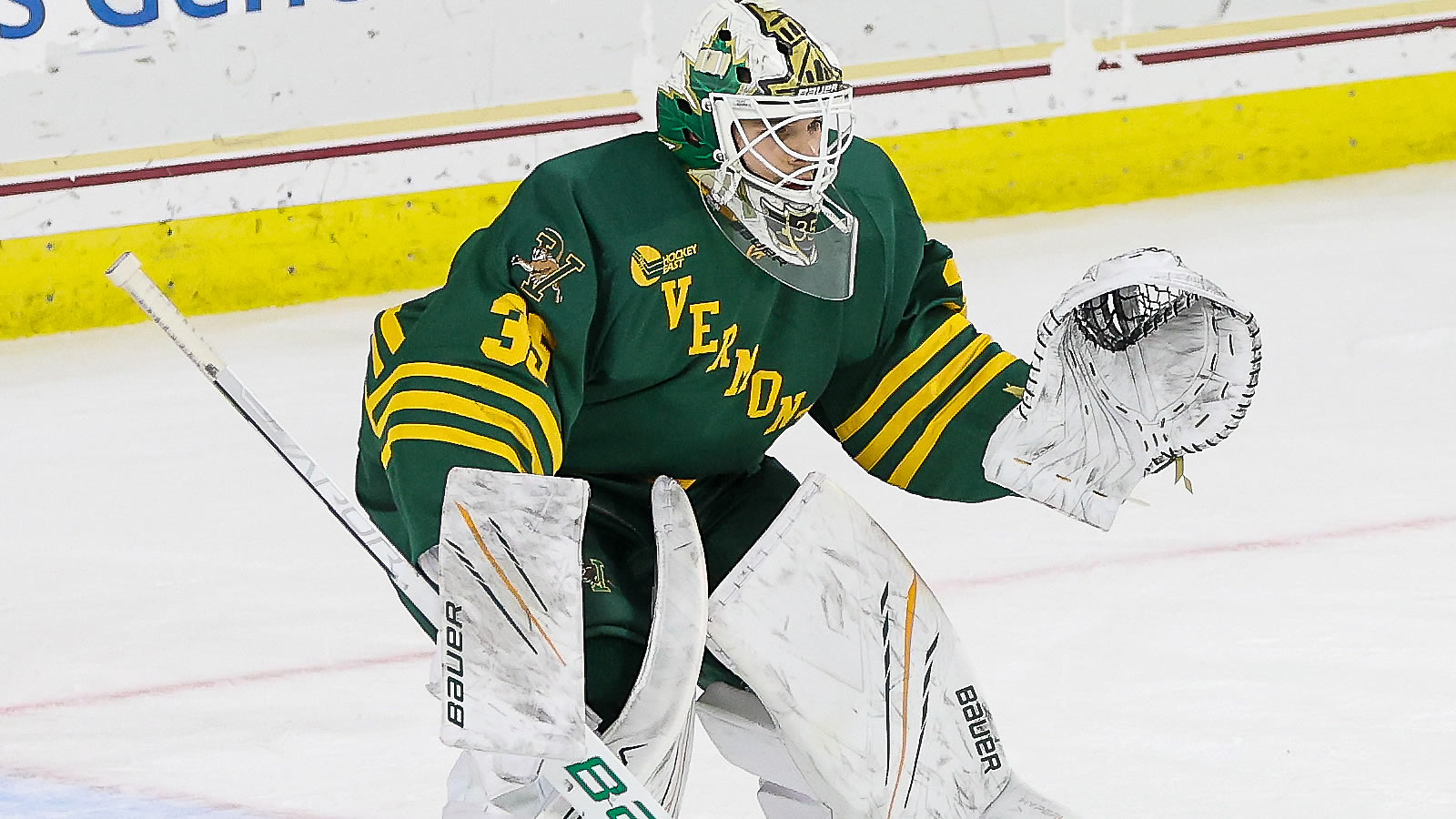 Gabe Carriere - Vermont
Gabe Carriere (Jr., G; Ottawa, Ont.) made 35 saves in a 3-2 road win at New Hampshire on Thursday, holding back a Wildcats' team that was on a 4-1-2 stretch since the month of February. Carriere improved to 8-12-3 on the year with the victory.

---
HOCKEY EAST TOP PERFORMERS
Aidan Hreschuk, BC (So., D; Long Beach, Calif.) Scored a goal and added two assists in a weekend split with UConn. He had the primary assist on the game-tying goal Friday night at BC.
Quinn Hutson, BU (Fr., F; North Barrington, Ill.) Registered two goals in the Terriers' 6-4 win over Providence on Friday night that secured the Hockey East regular season crown.
Drew Commesso, BU (Jr., G; Norwell, Mass.) Turned aside all 39 shots he faced in a 2-0 win at Providence on Saturday. Commesso finished the weekend with a .938 save percentage, the best save percentage by any league goalie who played in two games. This was Commesso's second straight road shutout and his second shutout on the year.
Samu Salminen, UConn (Fr., F; Helsinki, Finland) Posted one goal and two assists for three points in a split weekend with Boston College. He won 54% of faceoffs in the two outings.
Lynden Breen, ME (Jr., F; Grand Bay-Westfield, N.B.) Scored two goals Friday night and added two assists on Saturday night for a four-point weekend. He helped Maine secure the six-seed in the Hockey East Tournament.
Jakub Sirota, ME (Gr., D; Prerov, Czechia) Scored a goal and added an assist for a two-point outing on Saturday night. During the night's Senior Night celebration, Sirota proposed to his longtime girlfriend, Dominika Ivanicka.
Cal Kiefiuk, UMass (Sr., F; Macomb, Mich.) Had a four-point weekend to help UMass to its first road sweep of Maine since 2010. The senior logged a goal and an assist in Friday's 5-2 victory and followed up with second multi-goal game of his career in a 4-2 win over the Black Bears, scoring twice in the contest.
Brian Chambers, UML (Sr., F; Weymouth, Mass.) Returned to the lineup for the first time since Feb. 4 to help the River Hawks split the weekend with Northeastern. He scored two goals and added assist to end the weekend with a plus-one rating as well as four shots on goal.
Owen Fowler, UML (Fr., F; Tewksbury, Mass.) Earned two assists in the River Hawks' weekend split with the Huskies, adding two blocks and six shots on goal.
Gabe Blanchard, UML (So., D; East Aurora, N.Y.) Exploded offensively last weekend with a career-best three points off two goals and one assist to help the River Hawks split with Northeastern and earn the fifth seed in the Hockey East Tournament. He had a hand in every goal in the River Hawks' 3-1 win over the Huskies Friday night on home ice, scoring on his lone shot on goal and dishing out a pair of helpers. He finished the weekend with one block and a plus-two rating.
Dillan Bentley, UML (Fr., F; Peoria, Ill.) Dished out two assists and logged five shots last weekend against Northeastern.
Ottoville Leppanen, MC (Gr., F; Espoo, Finland) Registered two assists in a 4-1 win over Vermont on Saturday, securing the No. 2 seed for Merrimack, the highest-ever finish in Hockey East.
Matt Copponi, MC (So., F; Mansfield, Mass.) Tallied two helpers in a 4-1 win over Vermont on Saturday, pushing his point streak to six games (5g, 3a).
Justin Hryckowian, NU (So., F; Ile Bizard, Que.) Had one goal and two assists as part of a three-point night in a 7-3 win over UMass Lowell on Saturday. He tallied six shots and 21 faceoff wins and leads the conference with 319 faceoff wins.
Hunter McDonald, NU (Fr., D; Fairport, N.Y.) Handed out a pair of assists in the Huskies' 7-3 win over UML on Saturday and finished with a plus-one rating. He added a blocked shot and currently leads the conference in with 59 total blocks this season
Devon Levi, NU (Jr., G; Dollard-des-Ormeaux, Que.) Kicked out 57 saves in a weekend split, including a 40-save night in a victory over UMass Lowell on Saturday. It was his 14th win of the season (T-1 in the conference) and the junior now leads Hockey East in GAA (1.81), shutouts (6), saves (752), save percentage (.947) and minutes played (1393:01).