HOCKEY EAST HEADLINES
Hockey East is set to enjoy 12 games on NESN and NESN+ this week, including both the men's and women's Beanpot games. The unprecedented coverage of the final weeks of the season is part of the new multi-year agreements between Hockey East and NESN.
Northeastern downed Boston University, 3-1, to advance to its fifth consecutive Beanpot title game. The Huskies take on Harvard next Monday at TD Garden. Boston College is set to compete in the consolation game against Boston University.
New Hampshire toppled a pair of nationally-ranked league rivals over the weekend, improving to 4-2-0 in the Wildcats' last six outings against ranked foes. Captain Chase Stevenson racked up four points (2g, 2a) and factored in on both game-winning goals to lead UNH to five points in league play.
Maine is 6-4-1 in its last 11 outings dating back to Dec. 31, 2022. The Black Bears have picked up 11 points in Hockey East play in that span.
Providence and Massachusetts both snapped winless streaks last weekend, the Friars downing Vermont, 3-1, after falling to UMass on Friday, 3-2. The Minutemen got 43 saves from sophomore goaltender Luke Pavicich in a 3-2 road win Friday. Providence defender Max Crozier factored in on all three goals in the win at Vermont Sunday.

---
HOCKEY EAST PLAYER OF THE WEEK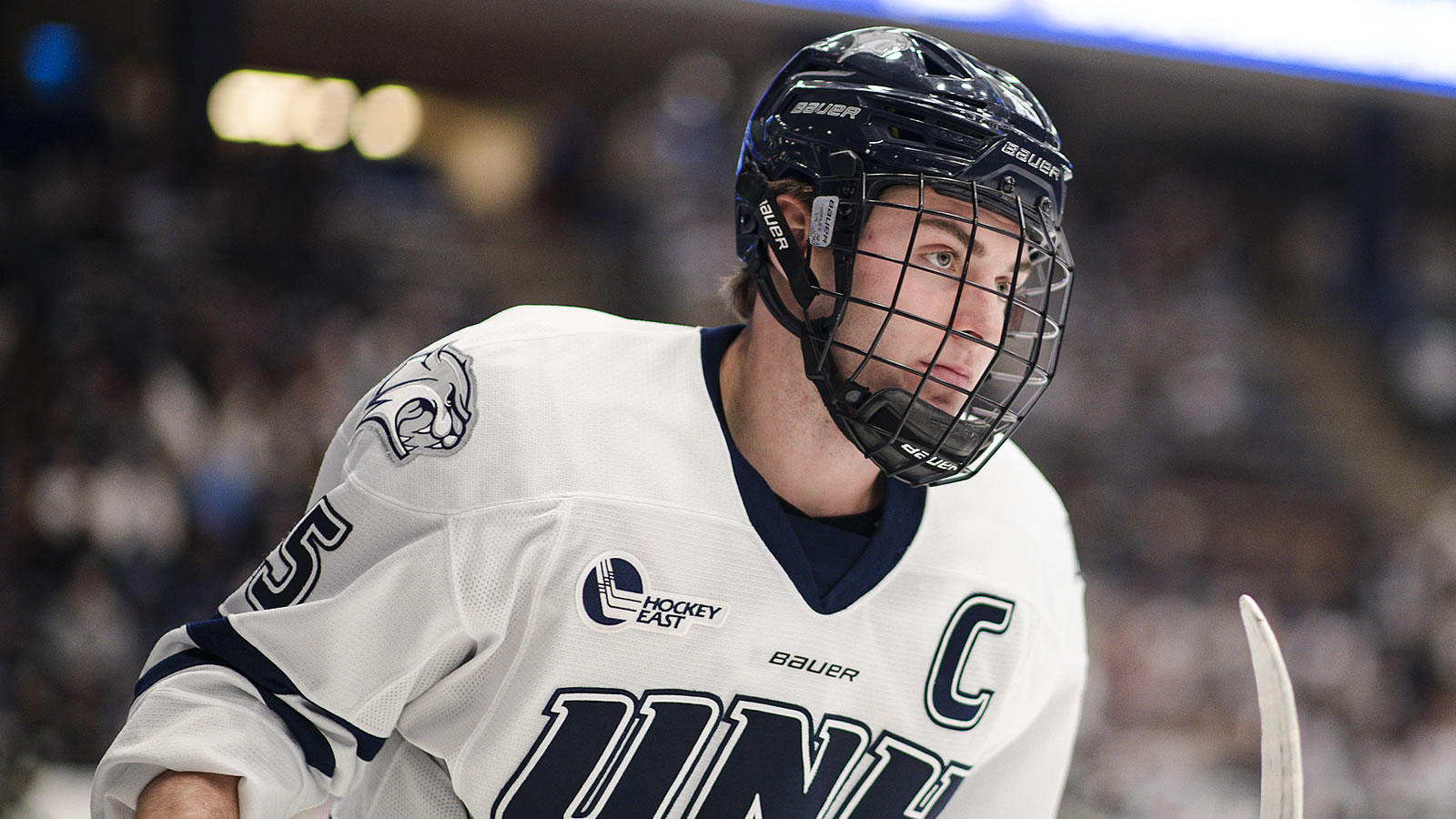 Chase Stevenson - New Hampshire
Chase Stevenson (Sr., F; West Kelowna, B.C.) posted two goals and two assists for four points as the Wildcats went 2-0-0 on the week with wins over two nationally ranked teams. He tallied two helpers, including one on the game-winning goal, as UNH defeated No. 15 Merrimack, 3-2, in overtime on Friday. With the game tied at 3-3 in the third period at No. 16 UMass Lowell, Stevenson scored two goals over 16 seconds to secure a 5-4 win.

---
PRO AMBITIONS ROOKIE OF THE WEEK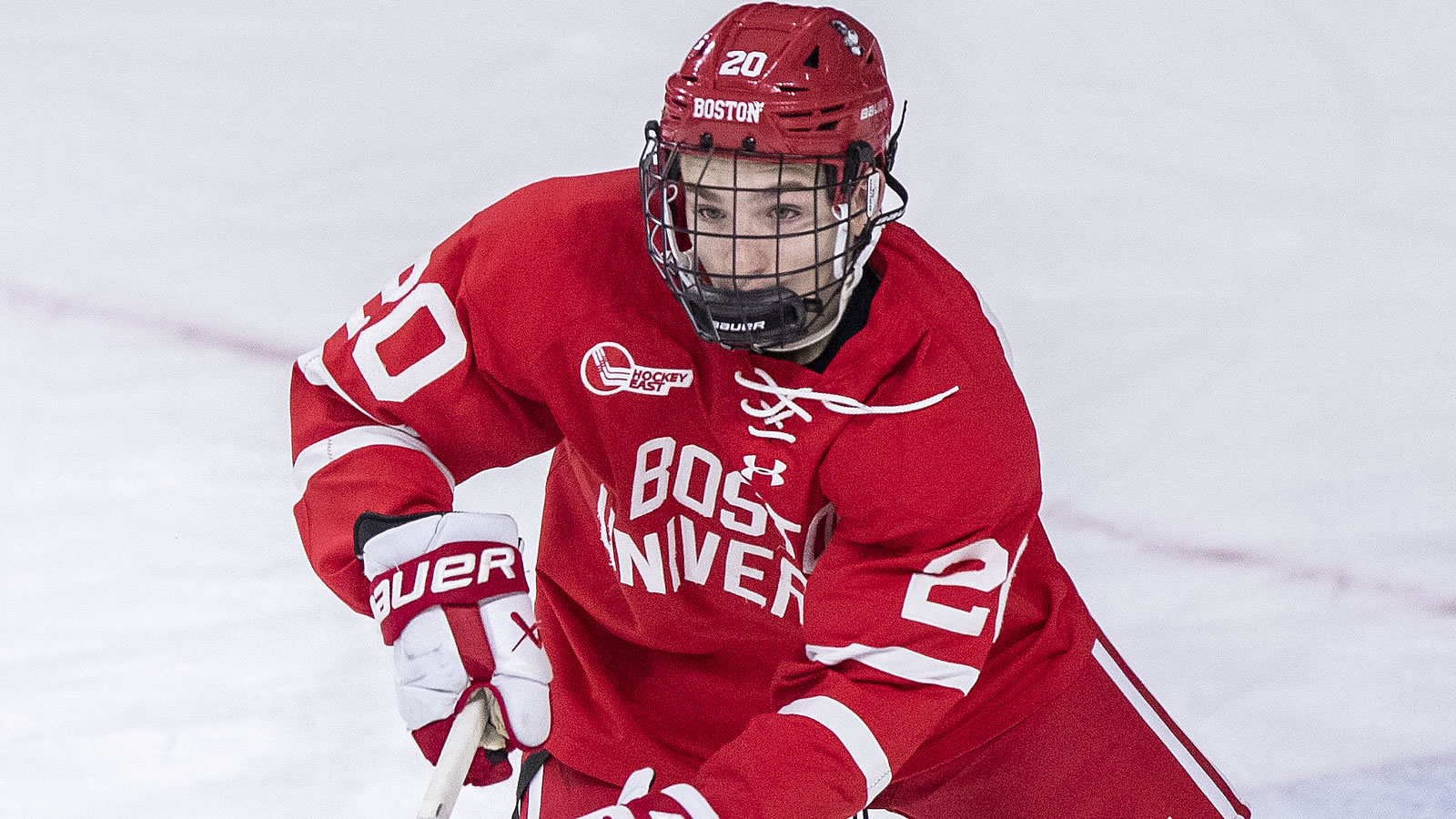 Lane Hutson - Boston University
Lane Hutson (Fr., D; North Barrington, Ill.) became just the third league player to record four assists in one game this season with his excellent performance in the Terriers' 5-3 win at Maine on Friday. Three of Hutson's helpers were primary assists, including his last one which came about after sustained possession in the Maine zone. Hutson has now recorded at least two assists in five straight games and is on a 10-game point streak. He leads all NCAA defensemen in points (35) and assists (26).

---
ARMY ROTC CO-DEFENDERS OF THE WEEK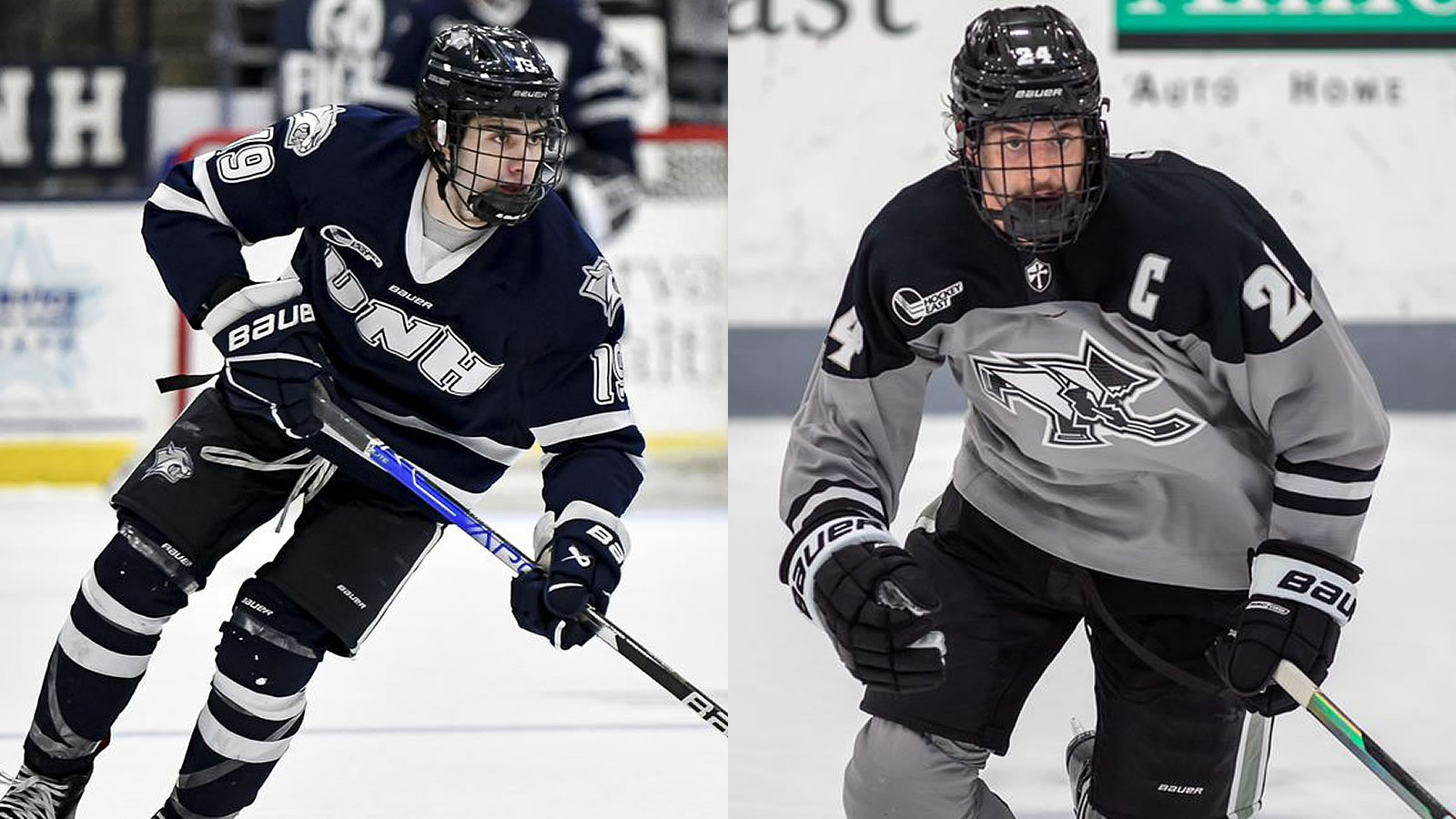 Damien Carfagna - New Hampshire
Max Crozier - Providence
Damien Carfagna (Fr., D; Wood Ridge, N.J.) scored three goals for three points as UNH went 2-0-0 on the week with wins over two nationally ranked Hockey East programs. He netted his first collegiate game-win- ning goal in overtime in a 3-2 win against No. 15 Merrimack on Friday. He followed up that performance with two tallies as UNH won at No. 16 UMass Lowell, 5-4, on Saturday.
Max Crozier, PC (Sr., D; Calgary, Alta.) Finished the weekend with a goal and two assists with a plus-two rating over two games. He factored in on all of Providence's three goals in the Friars' win over Vermont on Sunday.

---
STOP IT GOALTENDER OF THE WEEK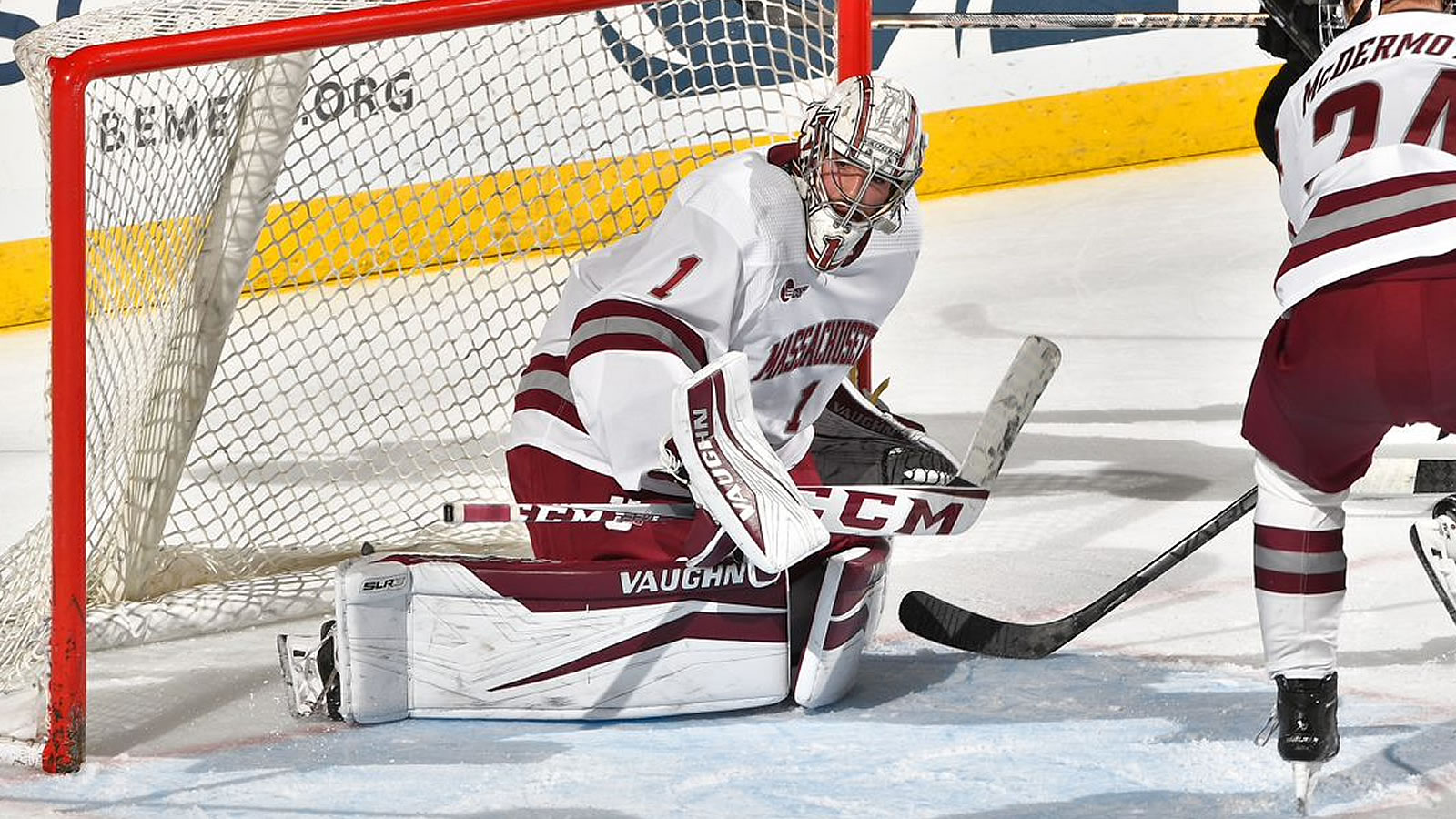 Luke Pavicich - Massachusetts
Luke Pavicich (So., G; Clarence Center, N.Y.) made 43 saves on Friday in a 3-2 road in at Providence, including 19 in the third period alone. He made double digit stops in each of the three periods to help UMass snap a six-game skid.

---
HOCKEY EAST TOP PERFORMERS
Wilmer Skoog, BU (Sr., F; Tyreso, Sweden) Scored a highlight-reel backhand goal midway through the third period to break a 3-3 tie in the Terriers' 5-3 win at Maine on Friday. Skoog also assisted on Matt Brown's first-period strike to complete a two-point night. Skoog was a team-high plus-four for the Terriers and tied for the team lead with three shots on goal.
Jeremy Wilmer, BU (Fr., F; Rockville Centre, N.Y.) Lit the lamp and had a primary assist in the Terriers' 5-3 win at Maine on Friday. Wilmer extended his point streak to six games (6g, 3a) and has now scored a goal in four straight games.
Drew Commesso, BU (Jr., G; Norwell, Mass.) Made 12 of his 25 saves in the first period to help backstop BU to a 5-3 win at Maine. Only one of the goals he allowed came at even strength and he made a significant glove save in the third period just moments before the game-winning goal.
Hudson Schandor, UConn (Jr., F; North Vancouver, B.C.) Scored two goals, including the game-winning goal with just eight seconds left in overtime and added an assist for three points in Friday's night win at Northeastern.
Matthew Wood, UConn (Fr., F; Nanaimo, B.C.) Notched two points on a goal and an assist in a 4-3 overtime win at Northeastern on Friday.
Jake Flynn, UConn (Sr., D; Bridgewater, Mass.) In Friday's 4-3 overtime win at Northeastern, Flynn scored one goal while adding an assist on the game-winning goal. He finished with a plus-two rating and blocked two shots.
Logan Terness, UConn (So., G; Burnaby, B.C.) Saved 36 total shots in the overtime victory over Northeastern while allowing three goals.
Lynden Breen, Maine (Jr., F; Grand Bay-Westfield, N.B.) In a split weekend for Maine, Breen scored three goals and assisted on Sunday night's overtime winner. The forward scored two shorthanded goals on Sunday during the same penalty kill. It was just the fifth time in Maine program history that a player had scored two shorthanded goals in one game. Breen is now riding a seven-game point streak (7g, 4a) and has goals in six of those outings.
Filip Fornaa Svensson, UML (Gr., F; Linkoping, Sweden) Picked up three points (1g, 2a) across the River Hawks' two- game slate this weekend. He scored the equalizer in Friday night's stalemate with Boston College to force overtime before converting in the shootout to allow the River Hawks to claim the extra point. He put up a goal and an assist against UNH the next night to end the weekend with a cumulative plus-three rating, seven shots on net and one block.
Scout Truman, UML (Fr., F: Lethbridge, Alta.) Tallied a goal in both games this weekend for the River Hawks to bring his season total to seven goals and four assists for 11 points. Collected a plus-one rating and three shots across his two games.
Jon McDonald, UML (Gr., D; Livonia, Mich.) Played an instrumental role on the River Hawks penalty kill this weekend, helping them execute a flawless performance to keep Boston College's second-best PP unit in the conference scoreless in UML's 2-2 tie against the Eagles. He returned Saturday to score a goal and dish out an assist against UNH and ended the weekend with two blocks to his credit.
Alex Jefferies, MC (Jr., F; Lunenburg, Mass.) Scored twice, one in each game of a weekend set against UNH and Maine. He's now scored in his last four games.
Nikolai Jenson, UNH (Jr., D; Cold Spring, Minn.) Posted one goal and two assists for three points. He scored the first goal of the game in the 3-2 OT win over No. 15 Merrimack, while he posted two assists for two points as UNH defeated No. 16 UMass Lowell, 5-4. He also tied for the third on the team with two blocks on the week.
David Fessenden, UNH (Sr., G; Parker, Colo.) Made 29 saves and only allowed two goals as UNH defeated No. 15 Merrimack, 3-2, in overtime on Friday. He posted a 1.96 goals against average and a .935 save percentage.