HOCKEY EAST HEADLINES
The Army ROTC Hockey East Standings remain tight after a weekend of shake ups. The top four teams are separated by just four points, while spots two through six are just two games apart, as are teams that occupy spots five through seven.
Boston University's offense exploded in a sweep of Maine, scoring 14 goals in the two-game set. The Terriers are now 9-2-0 in their last 11 dating back to the start of December. First year head coach Jay Pandolfo's team now sits just two points out of first place with a game in hand over current top dog Northeastern.
Vermont took a 1-0-1 record and five of six league points on the road at No. 18 Boston College, the best showing in program history in Chestnut Hill. The Catamounts scored all four goals on the weekend on the power play and are now two points out of eighth place.
UMass Lowell swept New Hampshire in dramatic fashion, securing a 6-2 win on Friday before launching a come-from-behind victory for a 3-2 overtime win on Saturday. The River Hawks have won four of their last five and are five points out of fourth place with a game in hand on Merrimack.
Northeastern has won four in a row, all in league play, and five of their last seven to launch into first place in the Army ROTC Hockey East Standings. Devon Levi has claimed back-to-back Stop It Goaltending Goaltender of the Week nods, winning all four of his most recent starts while allowing five goals and making 129 saves.

---
HOCKEY EAST CO-PLAYERS OF THE WEEK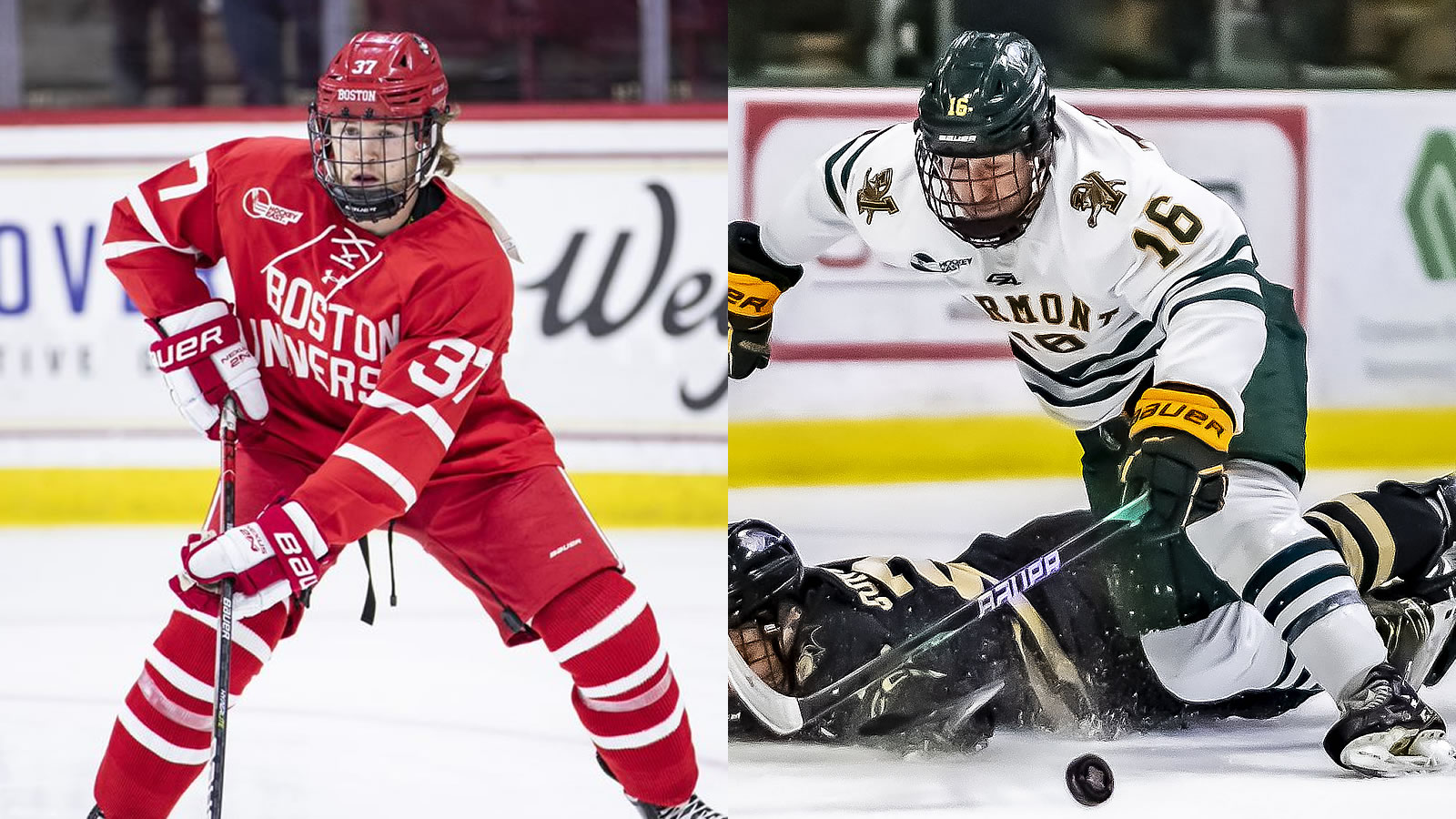 Matt Brown - Boston University
Will Zapernick - Vermont
Matt Brown (Sr., F; Wood Ridge, N.J.) led Hockey East with six points and tied for the league lead with two goals and four assists in the Terriers' weekend sweep of Maine. His output included his third four-point effort of the season on Saturday, as he factored on all four of the Terriers first-period goals (1g, 3a). He had the game-winning goal and added an assist in Friday's win and led Hockey East as a plus-four for the weekend.
Will Zapernick (Jr., F; Edmonton, Alta.) registered three points (2g, 1a) all on the power-play on Satuday night as the Catamounts completed just their second-ever undefeated road trip at No. 18 Boston College. His efforts led to Vermont's 3-2 win at Conte Forum.

---
PRO AMBITIONS ROOKIE OF THE WEEK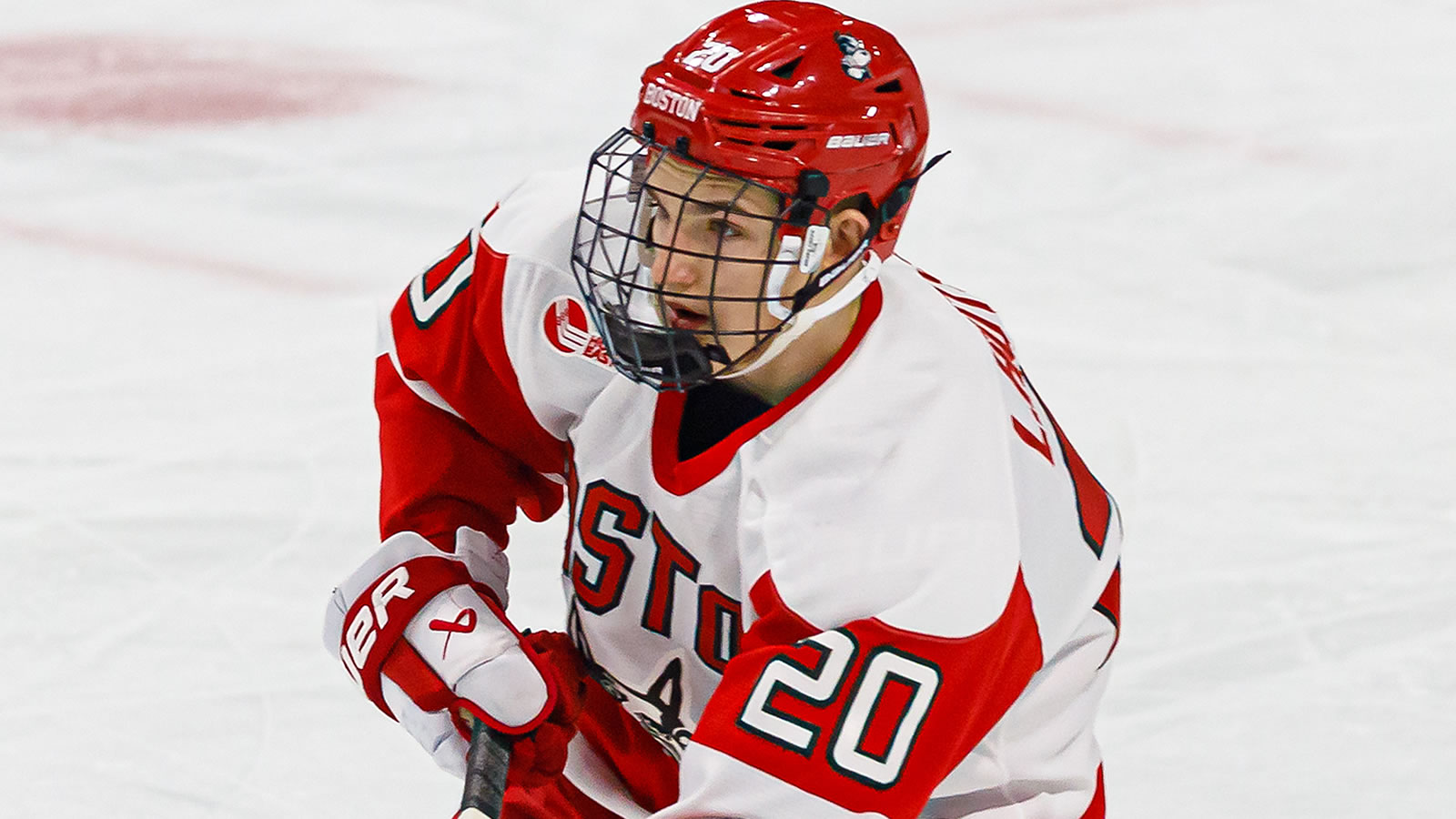 Lane Hutson - Boston University
Lane Hutson (Fr., D; North Barrington, Ill.) led all league defenders in points (5) and assists (4), with his four helpers tied for the overall league lead. Hutson had two primary assists on Friday before lighting the lamp and adding two more primary assists on Saturday.

---
ARMY ROTC DEFENDER OF THE WEEK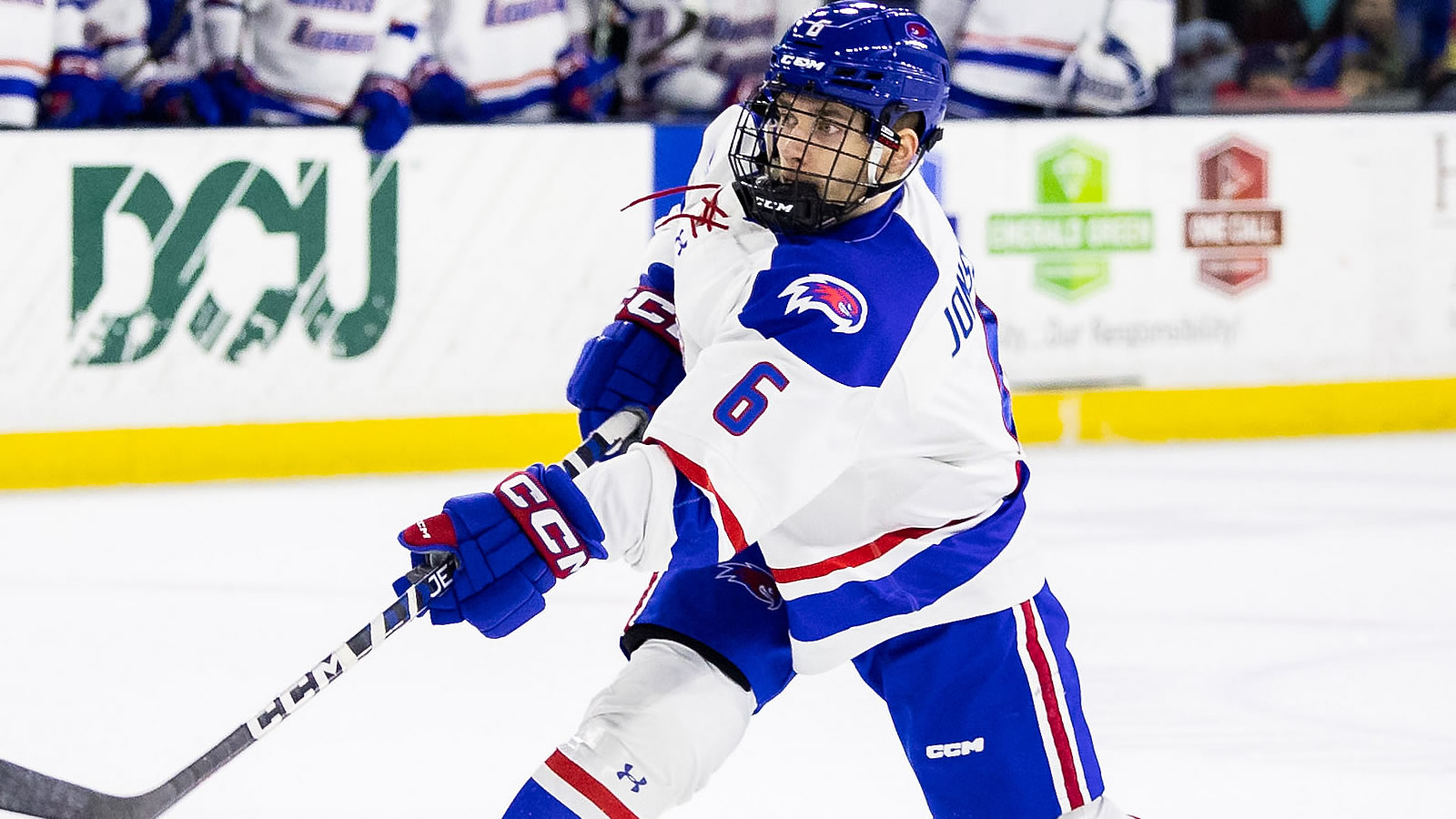 Isac Jonsson - UMass Lowell
Isac Jonsson (So., D; Angelholm, Sweden) had a career-weekend against UNH, finishing with two goals, two assists, and a plus-two rating to help the River Hawks sweep the series. He had the game-winning goal on the power-play and an assist in Friday's 6-2 win and added another goal and an assist in the River Hawks come-from-behind victory over the Wildcats on Saturday.

---
STOP IT GOALTENDER OF THE WEEK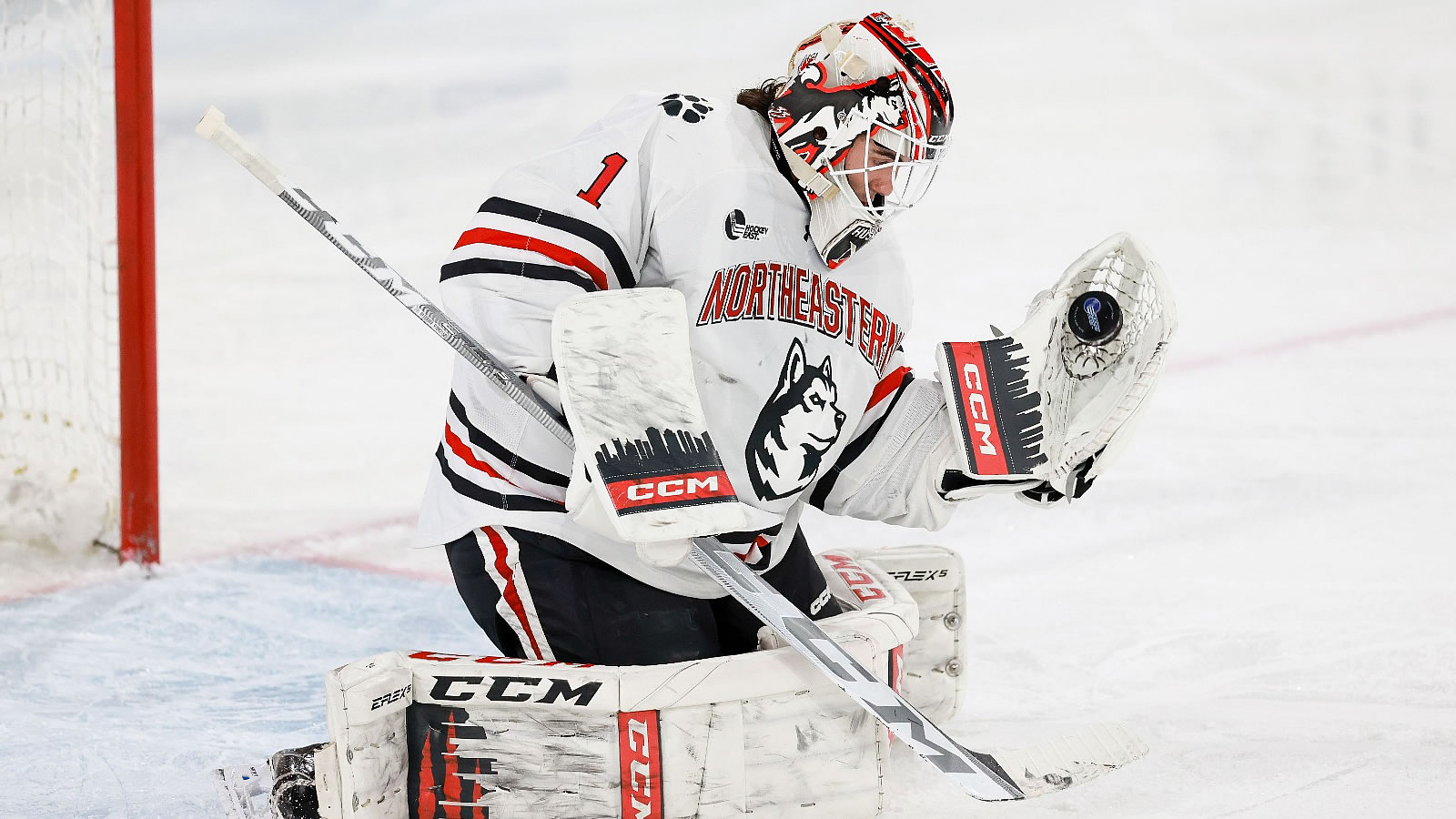 Devon Levi - Northeastern
Devon Levi (Jr., G; Dollard-des-Ormeaux, Que.) Won each of his two starts against No. 11 Merrimack, allowing just one goal and making 70 saves to improve to 12-8-3 with four shutouts on the year. In Friday's 5-1 win, he stopped 33 shots and denied all five power play opportunities for the opposition. He stopped 37 the next night in a 1-0 win. His play has lifted Northeastern in sole possession of first place in the Army ROTC Hockey East Standings.

---
HOCKEY EAST TOP PERFORMERS
Jeremy Wilmer, BU (Fr., F; Rockville Centre, N.Y.) Finished the weekend with four points on two goals and two assists in a sweep of Maine. He notched two goals and added an assist for three points in Saturday's victory. Wilmer also assisted on the opening goal in Friday's win. Saturday was Wilmer's third three-point effort of the season.
Hudson Schandor, UConn (Jr., F; North Vancouver, B.C.) Played a vital role in a weekend sweep of UMass, finishing with two goals and one assist. Schandor scored the opening goal at UMass and then tied the game late on Friday night to force overtime. He finished as a plus-three on the weekend while also winning 54% of faceoffs.
Matthew Wood, UConn (Fr., F; Nanaimo, B.C.) Dished out two assists and finished as a plus-two in a weekend sweep of UMass. He set up the eventual game-winning goal on Saturday.
John Spetz, UConn (Jr., D; Oak Ridge, N.J.) Contributed ones assist and three blocked shots helping UConn come away with a pair of wins over UMass.
Logan Terness, UConn (So., G; Burnaby, B.C.) Allowed one goal and made 16 saves to help the Huskies complete the sweep of UMass on Saturday. Terness finished the game with a .941 save percentage
Jake Stella, UML (Sr., F; Karlstad, Sweden) Posted four-points (1g, 3a), two blocks and a combined plus-four rating across two games to help the River Hawks sweep a home-and-home series against New Hampshire. He dished out an assist and registered two blocks on Friday in the River Hawks 6-2 win and had a goal and two assists in Saturday's come-from-behind win on the road. He scored the game-winning goal with just 51 seconds in overtime to help secure the weekend sweep.
Zachary Borgiel, MC (Jr., G; Fort Gratiot, Mich.) Allowed just one goal and made 23 saves in a 1-0 setback at Northeastern on Saturday night.
Aidan McDonough, NU (Sr., F; Milton, Mass.) Enjoyed a three-point (2g, 1a) weekend in a sweep of No. 11 Merrimack. He tacked on two points (1g, 1a) in Friday's 5-1 win before rocketing the game-winning goal into the net on Saturday with just 1:32 remaining in regulation. He finished with seven shots on net and a plus-three rating.
Jayden Struble, NU (Sr., D; Cumberland, R.I.) Registered three assists in a sweep of No. 11 Merrimack, including setting up the game-winning goal in Saturday's 1-0 victory. He finished the weekend as a plus-four with three blocks.
Eric Gotz, UVM (Gr., D; Hermantown, Minn.) Had two assists on the weekend as UVM earned five league points in a weekend set with No. 18 Boston College. The Catamounts held the Eagles to one even strength goal in the series. He also blocked four shots over the course of the weekend.
Gabe Carriere, UVM (Jr., G; Ottawa, Ont.) Made 34 saves and allowed just one goal, a power-play strike, in a 1-1 draw with Boston College. He made two stops in the shootout to deliver an extra league point for Vermont.