HOCKEY EAST HEADLINES
The Friendship Four Tournament returns to Belfast, Northern Ireland this weekend for the first time since 2019. All four games will air on NESN. The high-profile tournament is the first and only NCAA hockey tournament to take place outside of the United States. Massachusetts and UMass Lowell will join Quinnipiac and Darthmouth in a battle for the 2022 Belpot Trophy. UMass Lowell is a former champion, winning the inaugural outing in 2015.
Boston College took a 3-2 mid-week win over No. 13/14 UMass Lowell on Tuesday. Oskar Jellvik scored his first career goal on the power play in the third period for the game-winner. He has a point in seven of his first nine NCAA games (1g, 6a).
#17/15 Merrimack earned a 3-0 victory at Sacred Heart on Thursday night off the back of a 21-save shutout from Hugo Ollas. Ollas has now allowed just two goals in his las four outings and has pitched back-to-back shutouts.
#9/11 Boston University and #16/18 Northeastern battled to a weekend split series, with the Huskies taking four of six points from the Terriers. Freshman blueliner Lane Hutson proved to be the difference maker again on Saturday night, setting up the game-tying goal in the third period before netting the overtime dagger. The night prior, Devon Levi earned his third shutout of the season with a 41-save performance in a 2-0 win.
#10/9 Providence swept Vermont in a hard-fought two game set at home. Brett Berard racked up four points, one goal and one assist in each victory, to lead the conference in scoring last weekend. Max Crozier proved the overtime hero in Saturday's 4-3 win, netting the decisive tally with 2:00 left in the extra frame

---
HOCKEY EAST PLAYER OF THE WEEK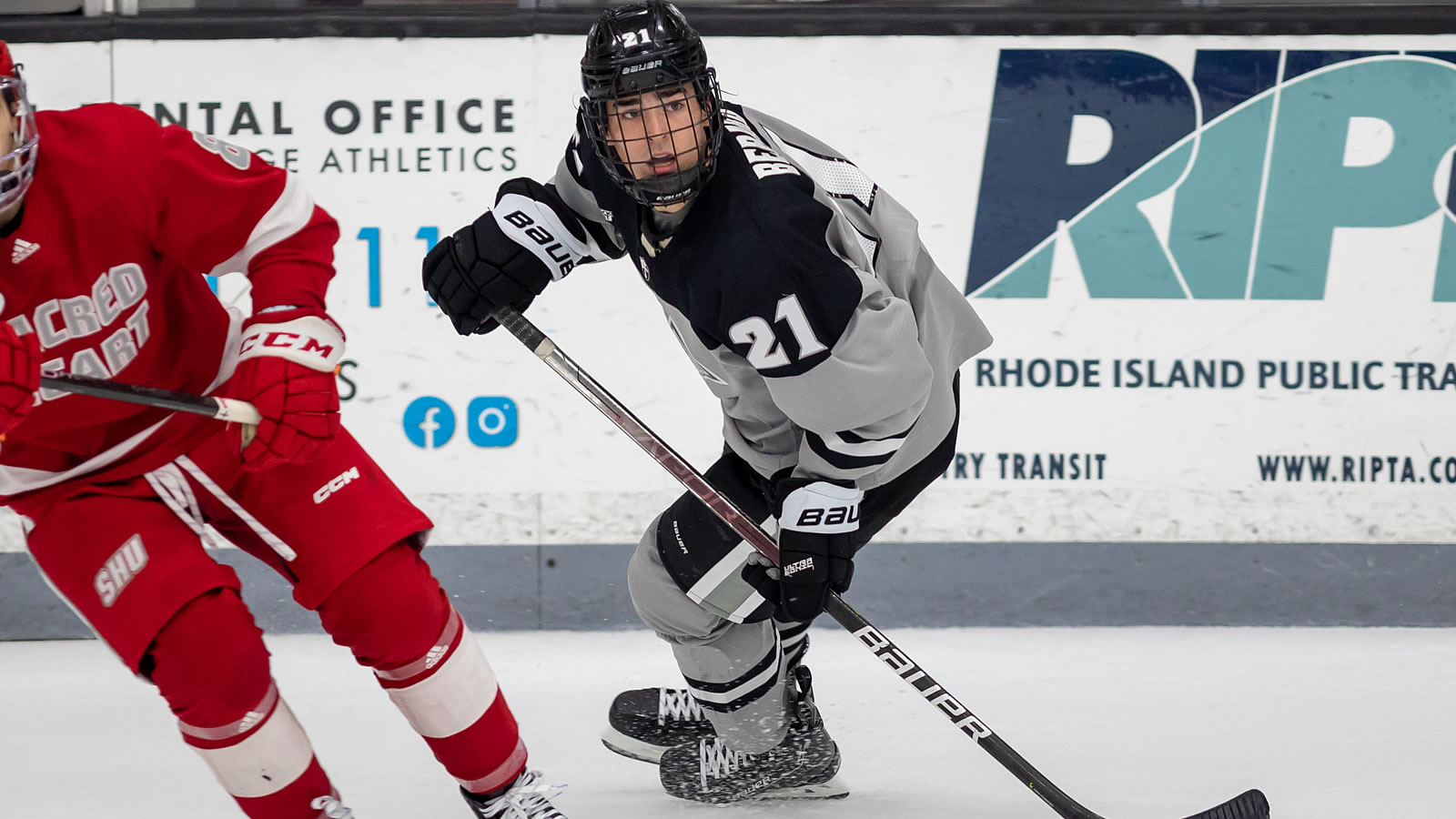 Brett Berard - Providence
Brett Berard (Jr., F; East Greenwich, R.I.) led all Hockey East players with four points this week, tallying a goal and an assist in each of two wins over Vermont last weekend. He tallied the game-winning goal on Friday and finished with a plus-four rating overall for the week. He now has six goals and five assists in six games in the month of November, posting multi-point games in five of those six games.

---
PRO AMBITIONS ROOKIE OF THE WEEK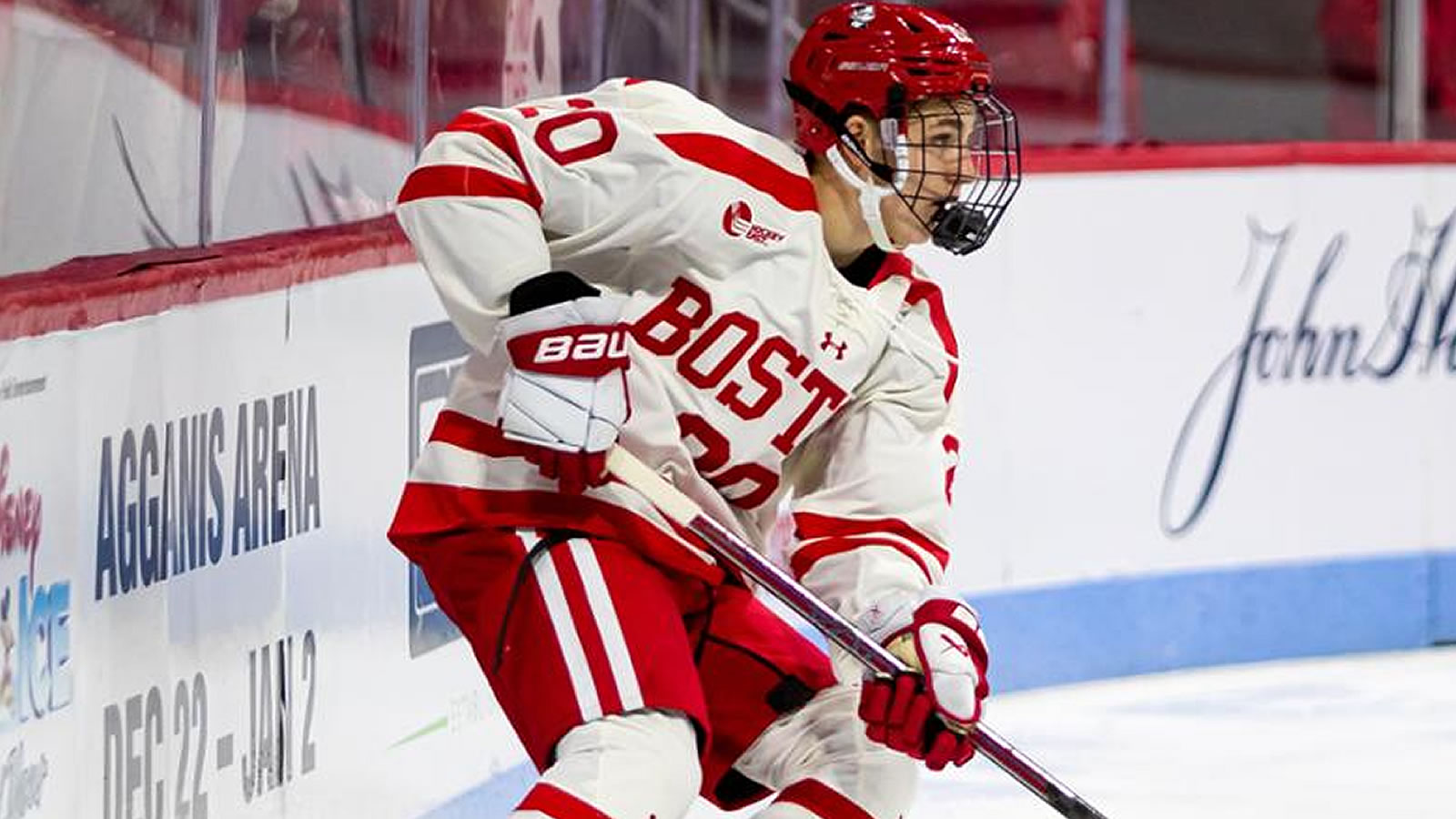 Lane Hutson - Boston University
Lane Hutson (Fr., D; North Barrington, Ill.) was the overtime hero for the Terriers on Saturday, as his highlight-reel goal lifted BU to a 4-3 victory at Northeastern. Hutson also assisted on Ryan Greene's third-period equalizer that forced the extra frame.

---
ARMY ROTC DEFENDER OF THE WEEK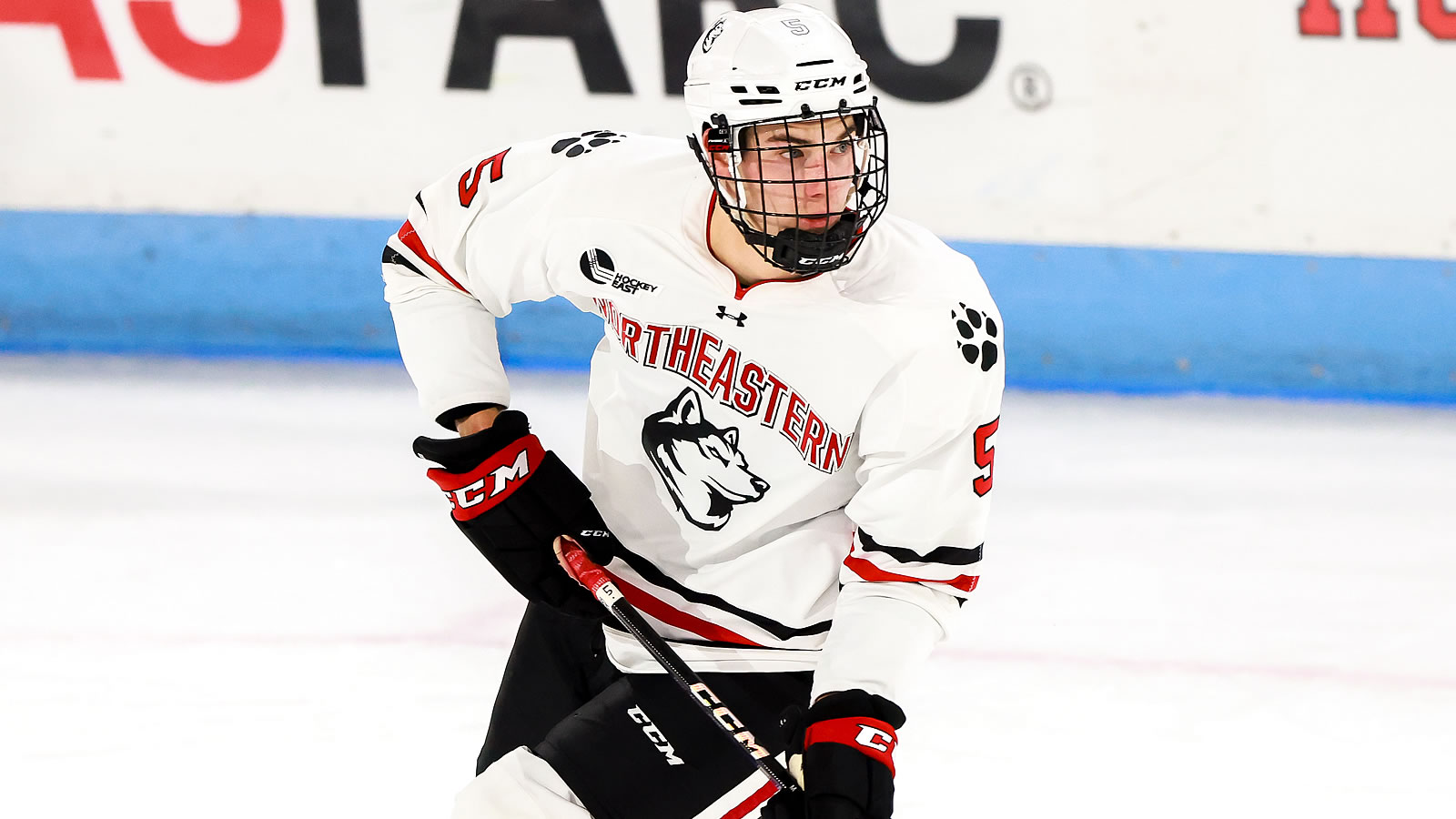 Hunter McDonald - Northeastern
Hunter McDonald (Fr., D; Fairport, N.Y.) recorded an assist for Huskies to help give them a 3-2 advantage in game two of a weekend split against No. 9 Boston University. He lead both teams with nine blocked shots, including a career-high (eight) in the 2-0 shutout over the Terriers, where also got his first-career start.

---
STOP IT GOALTENDER OF THE WEEK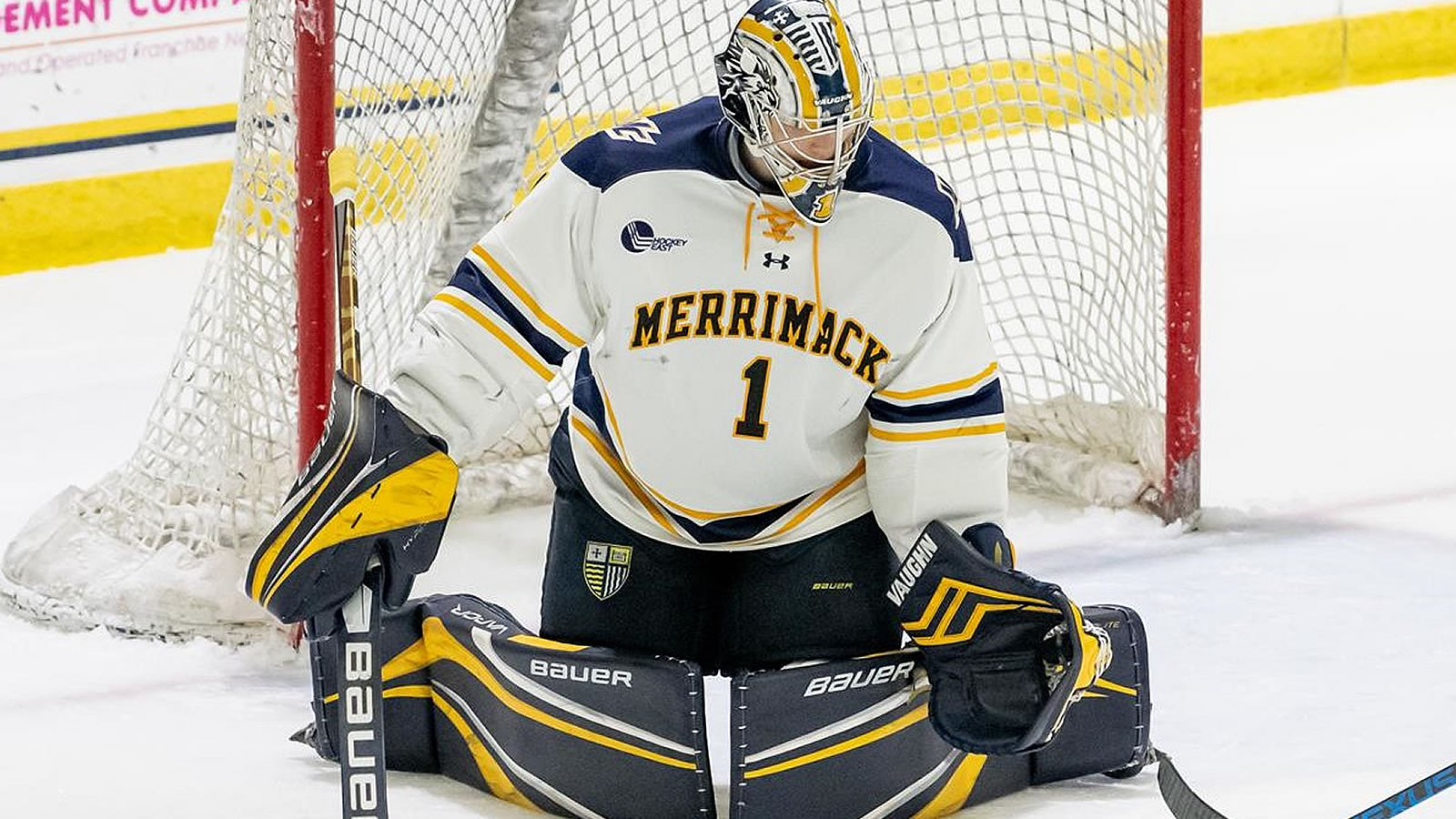 Hugo Ollas - Merrimack
Hugo Ollas (So., G; Linkoping, Sweden) posted 21 saves in a 3-0 win over Sacred Heart on Thursday, earning his second consecutive blank sheet after stopping all 33 shots he faced from Maine on Nov. 11. He has allowed just two goals in his last 243:00 of work.

---
HOCKEY EAST TOP PERFORMERS
Oskar Jellvik, BC (Fr., F; Taby, Sweden) Scored his first career goal on the power play in the third period for the game-winner against No. 13 UMass Lowell on Tuesday night at Kelley Rink. He has a point in seven of his first nine NCAA games (1g, 6a).
Domenick Fensore, BU (Sr., D; Thronwood, N.Y.) Was a force all over the ice this weekend, but particularly in Saturday's overtime win. He scored the opening goal and the set up the game-tying goal with a great zone entry before sliding the perfect pass to Ryan Greene. Fensore generated eight shots on the weekend and was a plus-3 on Saturday with four shots on goal.
Drew Commesso, BU (Jr., G; Norwell, Mass.) Gave up just one goal in Friday's 2-0 defeat, keeping the Terriers in the game with his terrific play. He was even better on Saturday, especially in OT. He made five of his 30 saves in the extra session, including one on a Jayden Struble breakaway chance.
Ryan Tverberg, UConn (Jr., F; Richmond Hill, Ont.) Finished a split weekend with #13 UMass Lowell with one goal and two assists.
Tristan Fraser, UConn (Fr., F; West Vancouver, B.C.) Dished out two assists, finishing with a plus-two rating while winning 58.6% of his faceoffs taken.
Arsenii Sergeev, UConn (Fr., G; Yaroslavl, Russia) Made 37 total saves while allowing only two goals to backbone UConn to a 4-2 victory over #13 UMass Lowell.
Kenny Connors, UMass (Fr., F; Glen Mills, Pa.) Opened the scoring for UMass and assisted the game winner on the power play as the Minutemen erased a 2-0 deficit on the road at New Hampshire to rally for a 4-2 victory on Friday. It Marked Connors' sixth multi-point game of the season and he is currently tied for the team lead in scoring with 13 points on five goals and eight assists. Was named the game's second star.
Zach Kaiser, UML (Sr., F; Orangeville, Ont.) Scored a point in each of the River Hawks three games last week to extend his active point streak to five-straight games (3g, 2a). Opened the weekend with a goal on the road at Boston College in a 3-2 setback. Added an assist on Friday in the team's 3-2 win over No. 7/8 UConn before tallying a goal in the team's 4-2 loss to the Huskies on the road Saturday night. He added one block and a plus-two rating across the three-game stretch.
Matt Copponi, MC (So., F; Mansfield, Mass.) Scored the game-winning goal on the power play in a 3-0 win over Sacred Heart.
Nikita Borodayenko, MC (Fr., F; Dmitrov, Russia) Recorded his first collegiate point assisting on Mark Hillier's goal, in Merrimack's 3-0 win vs Sacred Heart on Thursday.
Devon Levi, NU (Jr., G; Dollard-des-Ormeau, Que.) Finished the weekend against No. 9 Boston University with 69 total saves through 120:38 minutes of action. In game one, he tallied his third shutout of the season, making 41 saves in the 2-0 road victory. In game two, he made 28 saves in a 4-3 setback for a weekend split with the Terriers, allowing no goals on all eight of the Terriers power-play goals throughout the weekend.
Max Crozier, PC (Sr., D; Calgary, Alta.) Tallied the game-winning goal in overtime in the Friars' 4-3 win over Vermont on Saturday. He finished the weekend with a plus-two rating and two blocked shots.