HOCKEY EAST HEADLINES
In one of the wildest finishes to the Hockey East Men's Regular Season in recent memory, Northeastern claimed its first-ever regular season crown on a dramatic evening Saturday night. The Huskies needed a win in regulation and help to win the title outright, and battled Merrimack to a scoreless stalemate for 59:51 of regulation before Aidan McDonough found the back of the net to give his team a 1-0 win. The victory, coupled with Boston College sweeping Massachusetts in regulation, handed the Huskies the top seed in the Hockey East Men's Tournament.
Boston College swept Massachusetts in a two-game set to secure the eight seed in postseason, earning the right to host New Hampshire in an opening round game Wednesday night. Patrick Giles scored two goals, including the game-winner, Saturday night in Amherst while Jack McBain potted a goal in each outing to run his goal streak to six games.
UMass Lowell took all six points from New Hampshire in a weekend sweep, earning enough to tie for second place in the Army ROTC Hockey East Standings and take the three seed in the postseason. Carl Berglund had four poitns while Owen Savory made 50 saves, including a 23-stop shutout on Saturday in a 1-0 win.
UConn split a weekend series with Vermont, hanging on to claim the four seed and earn a home playoff game against Boston University on March 12. Darion Hanson earned his first shutout as a Husky, needing to make 12 saves to blank Vermont in Saturday's 4-0 win. It was his eighth career shutout.

---
HOCKEY EAST PLAYER OF THE WEEK
Carl Berglund - UMass Lowell
Carl Berglund (Jr., F; Hammaro, Sweden) led the River Hawks to a week- end sweep over UNH with four points in two games off a goal and three assists. On Friday, Berglund dished out a season-high three assists to help lift UMass Lowell to a 6-3 decision on the road, He returned to the ice Sat- urday to score the lone goal in the River Hawks' 1-0 win over UNH to close out the regular season and added a block and plus-one rating to his statline for the weekend. Berglund finished the regular season with a team-best 19 assists and tied for first on the team in points with 26.

---
PRO AMBITIONS ROOKIE OF THE WEEK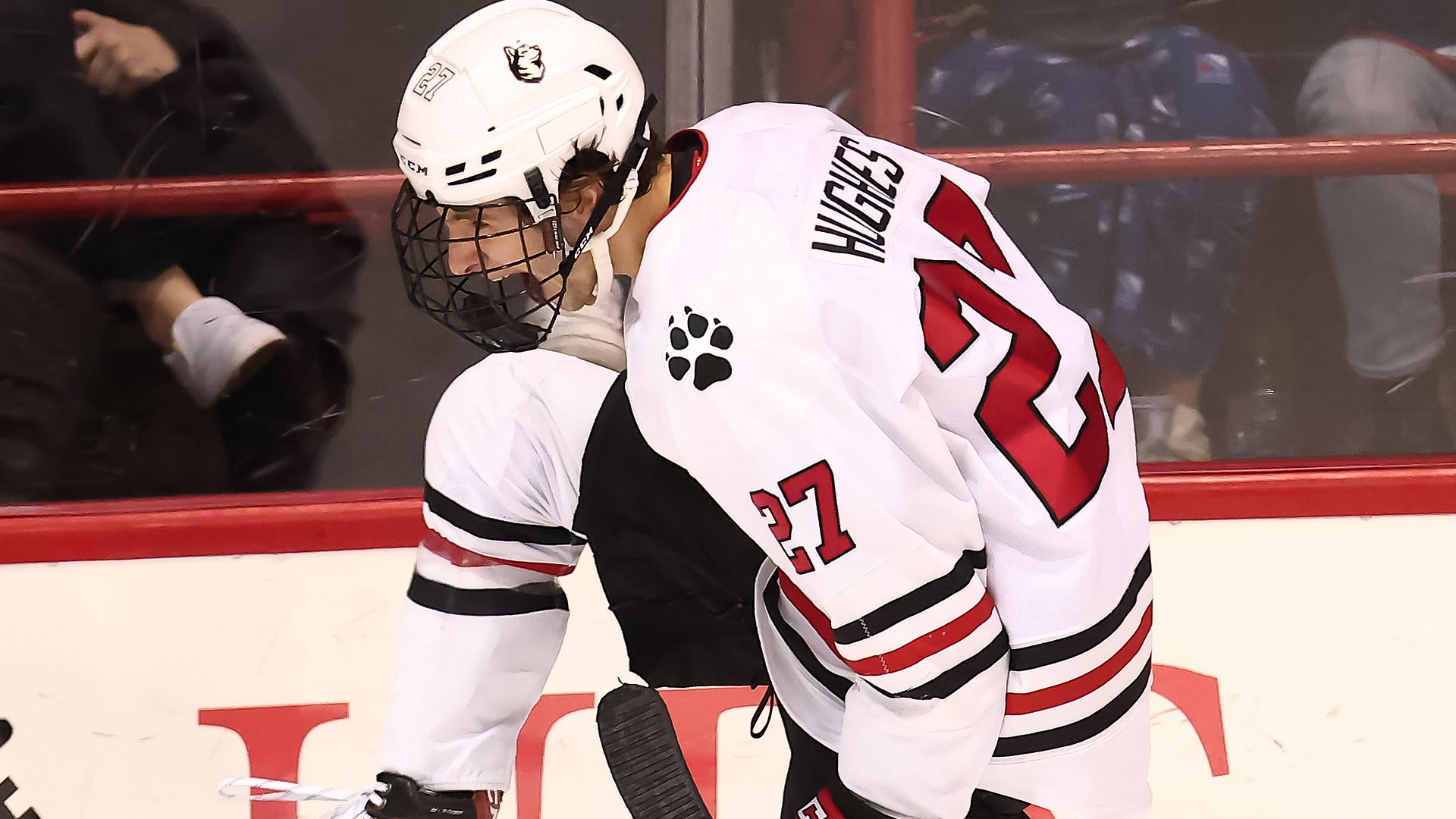 Jack Hughes - Northeastern
Jack Hughes (Fr., F; Westwood, Mass.) racked up four points (1g, 3a) including the lone assist on the game-winning and Hockey East regular season-clinching goal on Saturday in a 1-0 road win at Merrimack. Hughes found Aidan McDonough in the slot for a one-timer with 9 seconds remaining in regulation to give the Huskies the win and the top seed in the Hockey East Tournament. He also assisted on the game-winning goal the night before in a 6-1 win, setting Northeastern up for its historic win the next night.

---
HOCKEY EAST DEFENDER OF THE WEEK
John Spetz - UConn
John Spetz (So., D; Oak Ridge, N.J.) had a goal and an assist on the weekend against Vermont. Spetz picked up an assist in Friday's loss, as Artem Shlaine got a tip-in goal on a Spetz slap shot. Saturday, Spetz found the game-winner, scoring on a 5-on-3 power play early in the first period, a goal that proved to be crucial to UConn securing the four seed in the Hockey East Tournament.

---
HOCKEY EAST GOALTENDER OF THE WEEK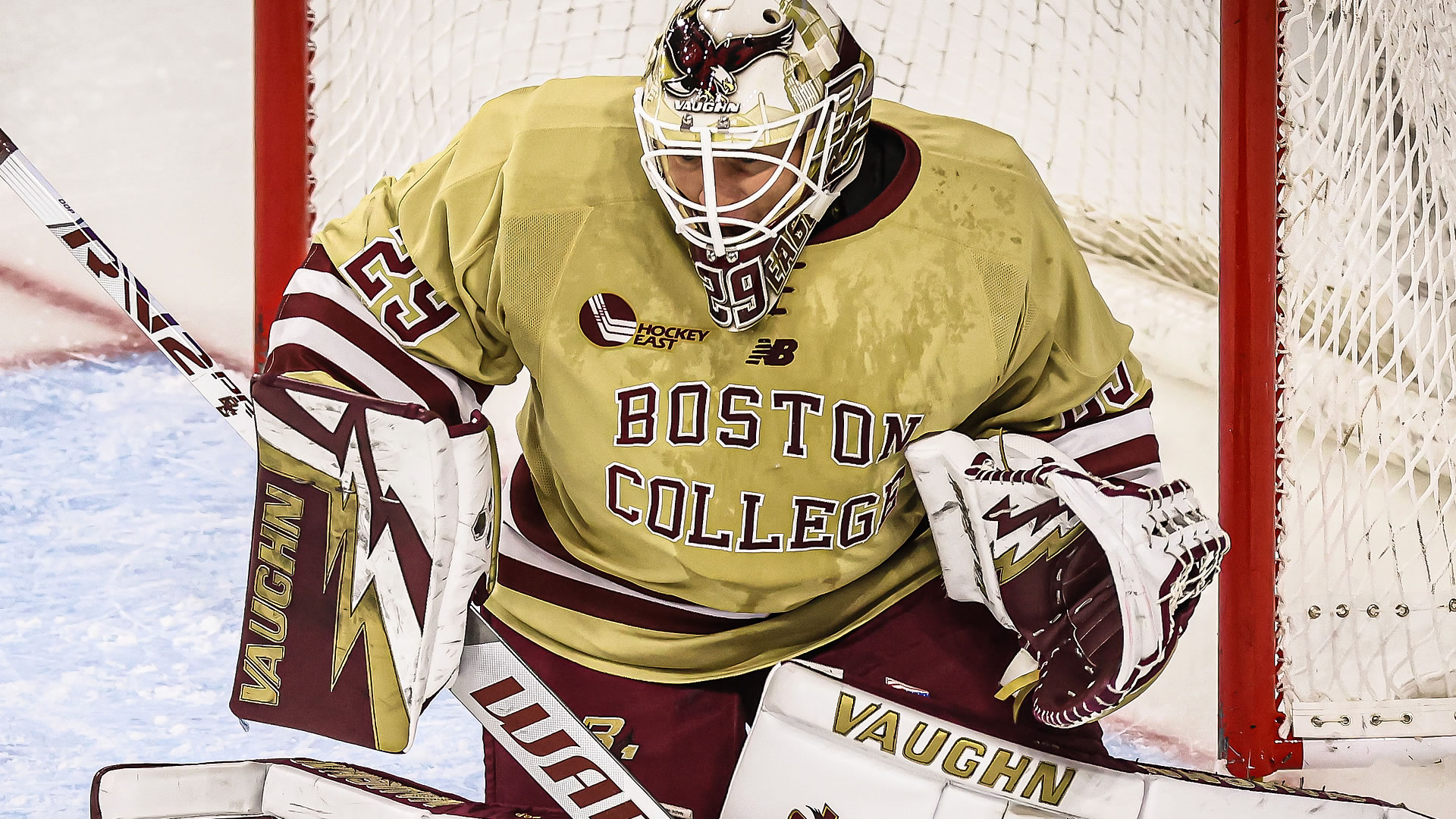 Eric Dop - Boston College
Eric Dop (Gr., G; Lewis Center, Ohio) led Hockey East last weekend with 67 saves in two wins. He tied his season-high with 42 saves on the road at Massachusetts on Saturday, backboning the Eagles to a 4-3 win and a weekend sweep of the Minutemen. The graduate goalie kicked out 25 shots the night before in a 2-1 victory at Conte Forum on Senior Night, including several crucial saves that secured the win and the eight seed in the Hockey East Tournament for Boston College.

---
HOCKEY EAST TOP PERFORMERS
Patrick Giles, BC (Sr., F; Chevy Chase, Md.) Scored twice and added an assist in a 4-3 win at Massachusetts on Saturday night, helping the Eagles to a sweep of the Minutemen and the eight seed in the Hockey East Tournament. Giles' night included the unassisted game-winning strike with 3:22 remaining in regulation.
Wilmer Skoog, BU (Jr., F; Tyreso, Sweden) Finished the weekend with four points, including a two-goal, one-assist effort in a 5-1 victory on Friday. Skoog capped the weekend with his second lacrosse goal of the season on Saturday. Skoog has lit the lamp in four straight games and now leads BU with 15 goals.
Ty Gallagher, BU (Fr., D; Clarkston, Mich.) Netted the Terriers' opening goal in their 5-1 win at Maine on Friday night.
Carter Turnbull, UC (Sr., F; Nanaimo, B.C.) Scored a goal in both ends of UConn's weekend series with Vermont over the weekend. He netted a power-play tally in a Friday night setback and had his 11th goal of the season in Saturday's shutout win that lifted the Huskies to the fourth seed in the Hockey East Tournament.
Darion Hanson, UC (Gr., G: East Bethel, Minn.) Earned his first shutout as a Husky, needing to make 12 saves to blank Vermont in Saturday's 4-0 win. It was his eighth career shutout.
Brehdan Engum, UML (So., D; Burnsville, Minn.) Dished out a primary assist in Saturday's 1-0 win to help the River Hawks' secure a weekend sweep over UNH. He added a block and a plus-four rating to his stat line to end the weekend.
Owen Savory, UML (Sr., G; Cambridge, Ont.) Backboned the River Hawks to a weekend sweep over UNH to close out the regular season. He made 50 saves and allowed just three goals in the two-game series, including stopping 27 shots on Friday in a 6-3 road victory at UNH. He returned to the ice on Saturday to make 23 stops and pick up his fifth shutout of the season and tenth of his career.
Aidan McDonough, NU (Jr., F; Milton, Mass.) Was one of two Huskies to tally three points on the weekend, with one goal and two assists. His assists came in game one of the Merrimack series, and his goal at 19:50.4 into the third period in game two won the Huskies their first ever Hockey East regular season title with a 1-0 win over Merrimack on Saturday. He's now second in the NCAA with 23 goals, first in Hockey East. It was his fifth game-winning goal of the year.
Jayden Struble, NU (Jr., D; Cumberland, R.I.) Notched a three-point effort against Merrimack in game one of the weekend split with a late goal, and two key assists that helped the Huskies score five unanswered goals in the second and third periods.
Devon Levi, NU (So, G; Dollard-Des-Ormeaux, Que.) In three appearances this week, went 2-1-0, allowing just two goals and making 85 saves. Finished the week with a .977 save% and 0.67 GAA, with one shutout, his 10th of the season. He got wins 19 and 20 on the year, which ties him for fourth all-time among Northeastern netminders in single-season wins.