HOCKEY EAST HEADLINES
Entering the final week of regular season play, no seeding has been determined in the Army ROTC Hockey East Standings. Only one team, UMass, as secured a bye into the quarterfinals while three teams, including Northeastern and Merrimack, remain mathematically alive for the regular season crown.
Massachusetts secured a bye into the Hockey East Tournament Quarterfinals with a sweep of Vermont. The Minutemen were led by a three-point weekend from freshman defenseman Scott Morrow (2g, 1a) and four points (1g, 3a) from Bobby Trivigno.
Northeastern remains in striking distance of UMass, trailing by just five points with a game in hand on the Minutemen. Devon Levi stopped 100 of 103 shots he faced in a crucial sweep of UConn. Aidan McDonough scored seven points (4g, 3a) to power the Husky offense.
Merrimack kept pace with Massachusetts and Northeastern with a win of its own over New Hampshire, a 4-3 win on Saturday. Liam Walsh, January's Player of the Week, tied his single game career-high with a trio of points, including the game-winning goal and two assists.
Boston College and Boston University renewed the Battle of Comm. Ave Saturday and Sunday, splitting a home-and-home series. The Terriers were victorious on Saturday, 6-3, thanks in part to Wilmer Skoog. Skoog scored a goal in both games this past weekend and now leads BU with 12 goals and is second on the squad with 26 points. The next day, the Eagles' Eric Dop stopped a career-high 42 shots in a tight 2-1 victory at Conte Forum. Jack McBain scored three times on the weekend in his first two games back from Olympic duty with Team Canada.

---
HOCKEY EAST PLAYER OF THE WEEK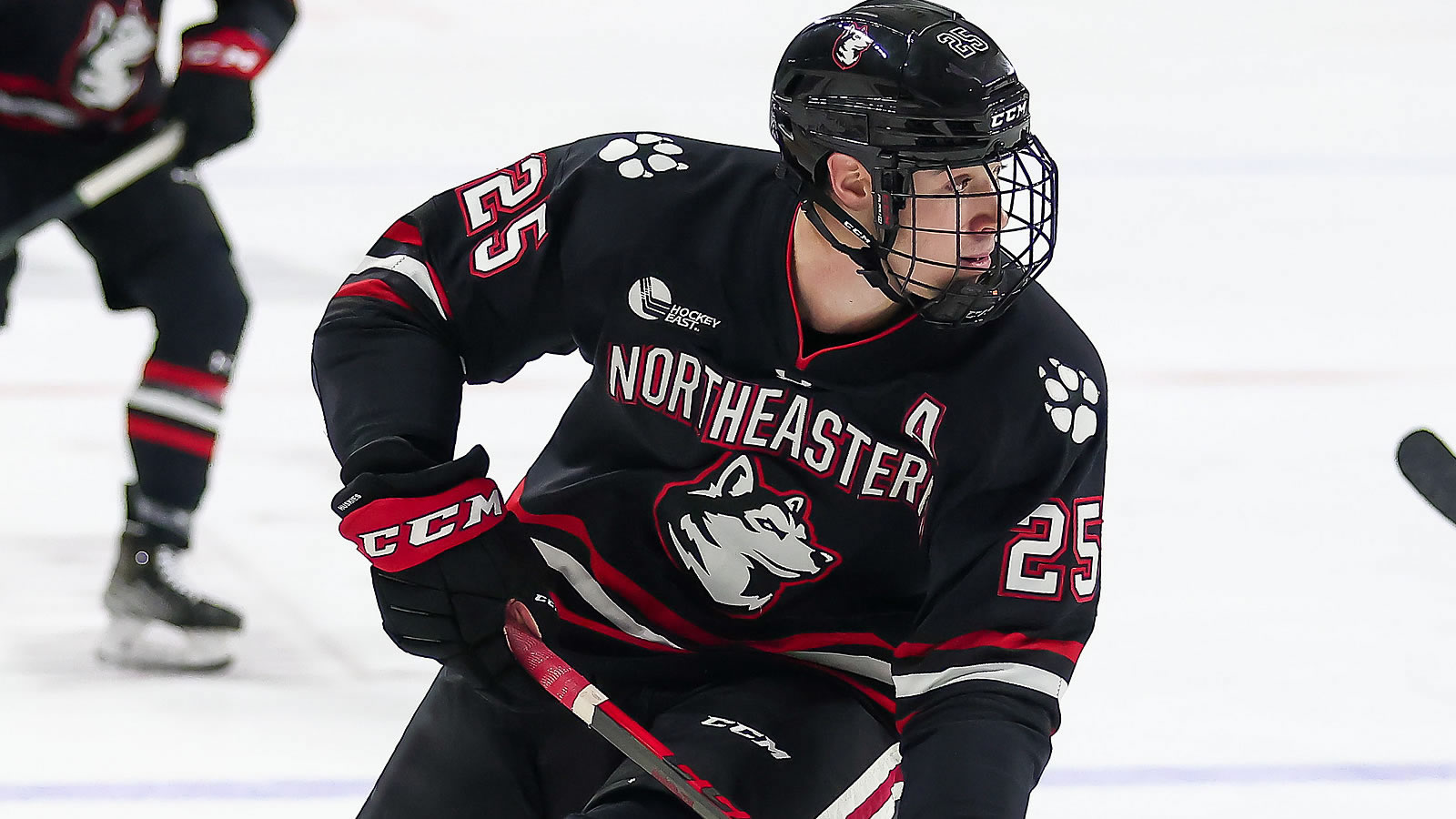 Aidan McDonough - Northeastern
Aidan McDonough (Jr., F; Milton, Mass.) racked up seven points on the weekend (4g, 3a) to help power Northeastern to a crucial sweep of UConn in Hockey East play. The junior forward netted a goal and two assists, including on the game-winning goal, in a 3-1 win on Friday. He then exploded for a hat trick, including potting the game-winning goal, and another helper in a 5-2 come-from-behind road win Saturday.

---
PRO AMBITIONS ROOKIE OF THE WEEK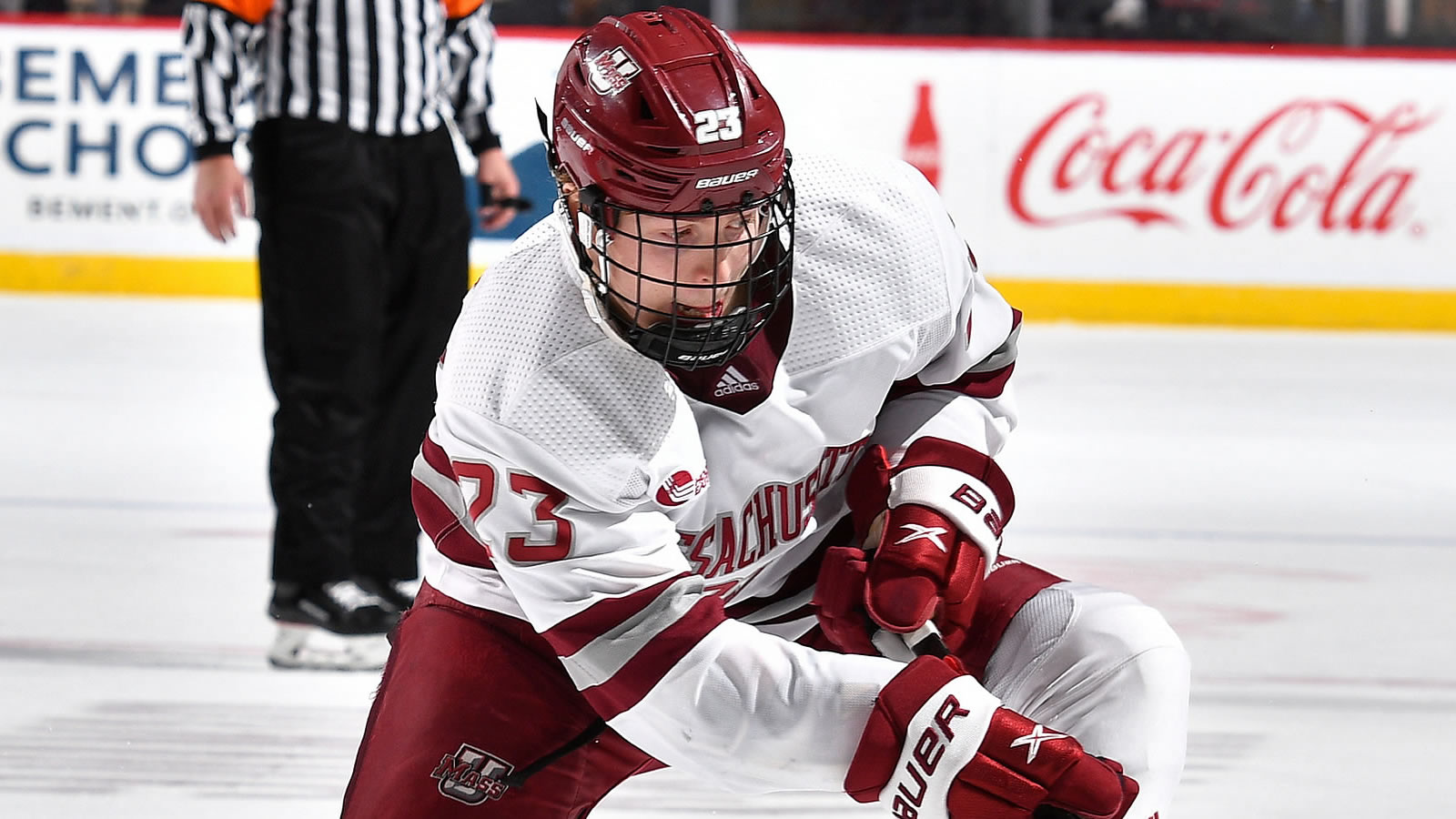 Scott Morrow - Massachusetts
Scott Morrow (Fr., D; Darien, Conn.) had a three-point weekend in the road sweep of UVM, scoring his 11th and 12th goals of the season and adding an assist, with one of the two tallies coming on the power play. The three points brought his total to 30 points on the season, making him just the fourth defenseman in program history to reach the 30-point plateau (joining Cale Makar, Thomas Poeck (2x) and Justin Braun) and first to do so as a freshman. His 12 goals currently ranks as the fifth-highest total by a defenseman in a single-season in program history.

---
HOCKEY EAST DEFENDER OF THE WEEK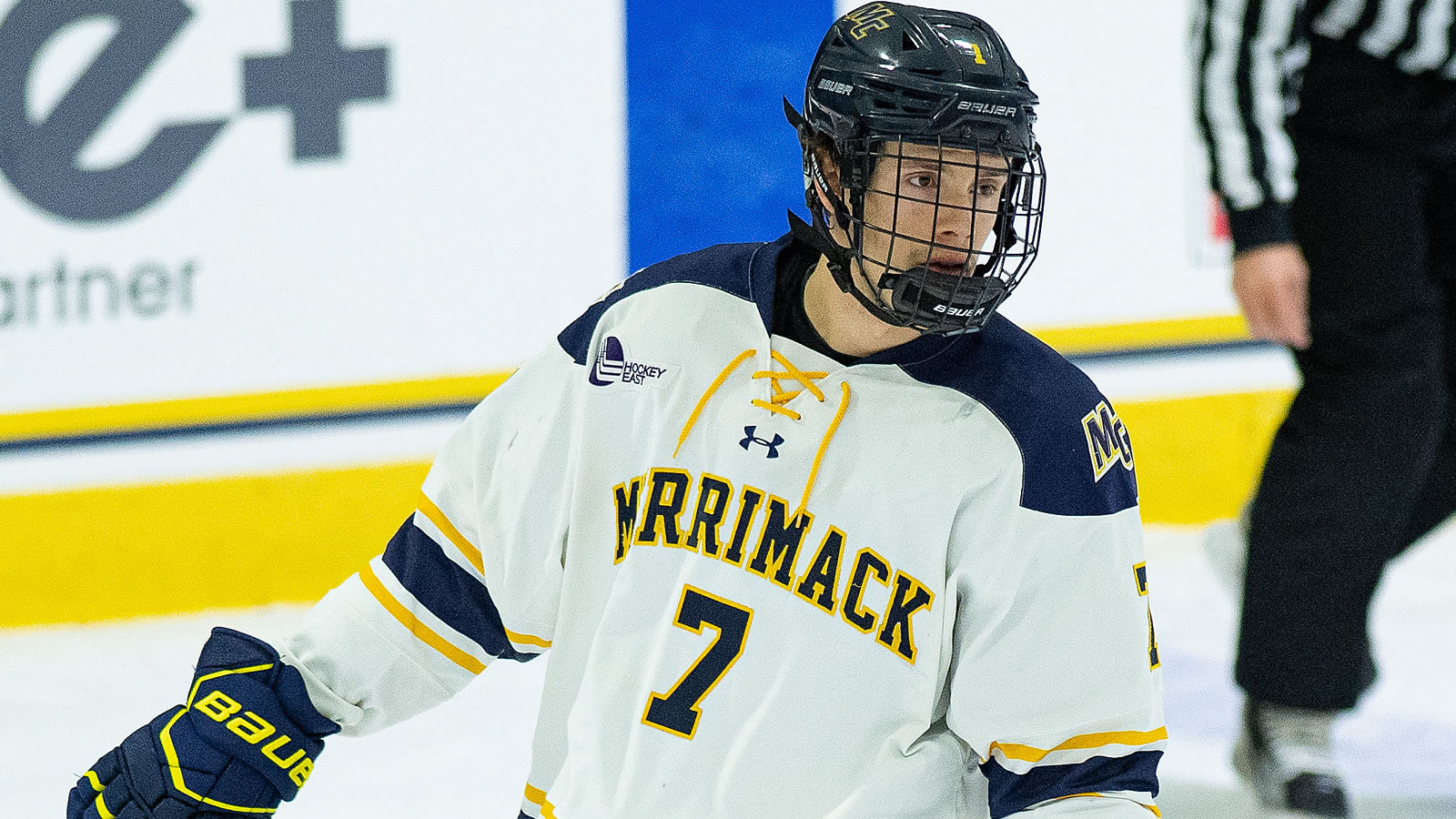 Zach Uens - Merrimack
Zach Uens (Jr., D; Belleville, Ont.) collected his second multi-point game of the year with a pair of helpers Saturday at UNH, setting up two key goals just 1:20 apart in the third period to give Merrimack a 4-2 lead in an eventual 4-3 victory. He is currently riding a five-game point streak with six assists in that span and has helped the Warriors to a 12-3-0 record in their last 15 outings since January 1.

---
HOCKEY EAST GOALTENDER OF THE WEEK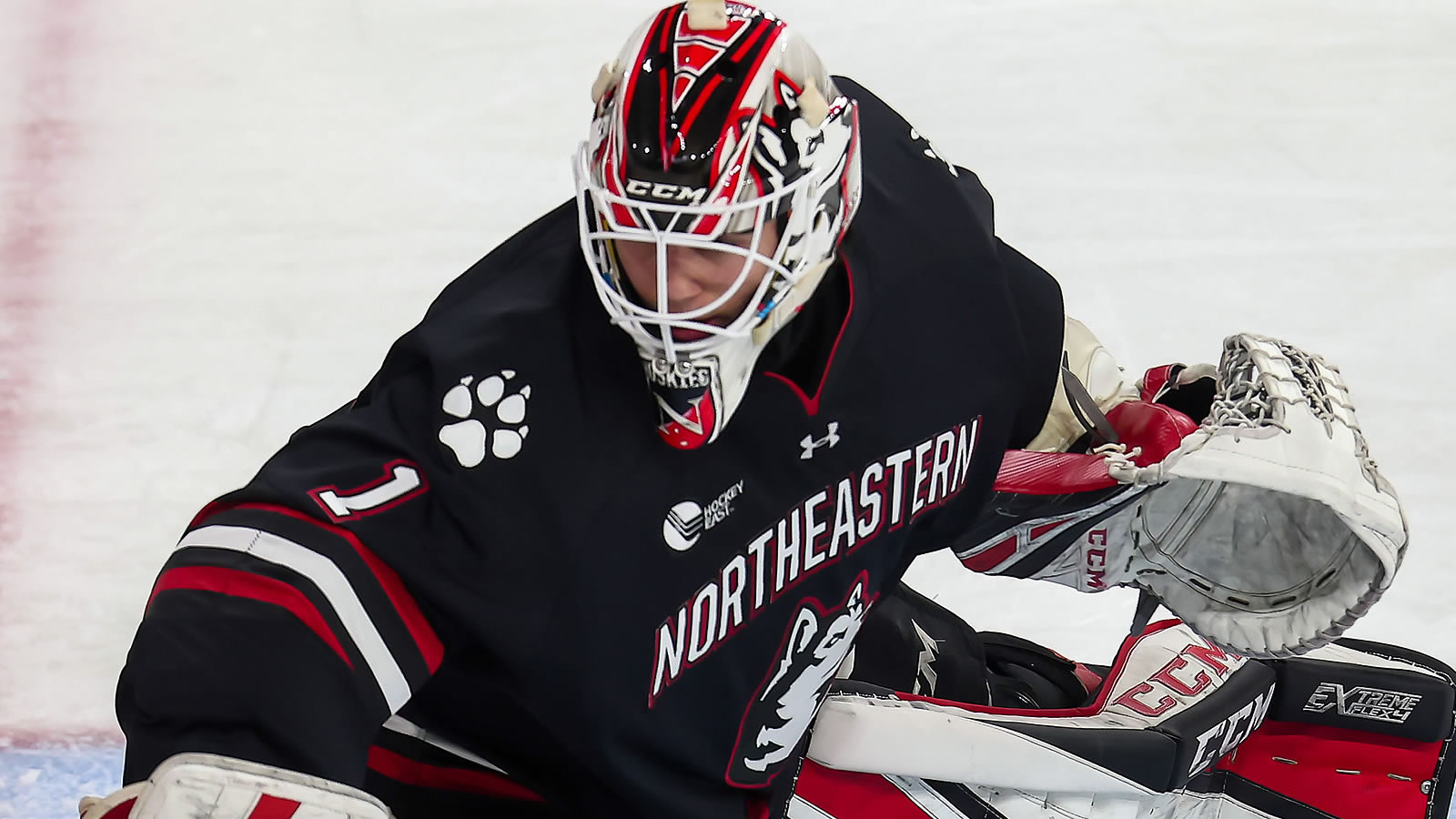 Devon Levi - Northeastern
Devon Levi (So., G; Dollard-Des-Ormeaux, Que.) stopped 100 of the 103 shots he faced in two games last weekend as he took the Northeastern net for the first time since returning from Team Canada. He backstopped the Huskies to a crucial six conference points in a 2-0-0 sweep of UConn. On Friday night, Levi tied the school record for saves in a single game at 60, stopping all but one of UConn's 61 attempts and denying the Huskies all game until less than two minutes remained in the third period. He finished game two with 40 saves in a 5-2 win.

---
HOCKEY EAST TOP PERFORMERS
Jack McBain, BC (Sr., F; Toronto, Ont.) In his first games with Boston College since Dec. 30-31 after skating with Team Canada at the Olympics, he scored three goals to help power the Boston College offense to a weekend split with Boston University. The senior now has goals in four-straight outings, including three multi-goal games.
Eric Dop, BC (Gr., G; Lewis Center, Ohio) Made a career-high 42 saves Sunday afternoon against rival Boston University, backboning the Eagles to a 2-1 victory and snapping the Terriers' eight-game point streak. He stopped all 14 shots he faced in the third period to preserve the victory and kicked out 18 of 19 in the first period. The lone goal came on a broken play while the Eagles were shorthanded, 4-on-3.
Wilmer Skoog, BU (Jr., F; Tyreso, Sweden) Scored a goal in both games this past weekend and now leads BU with 12 goals and is second on the squad with 26 points. His goal in Saturday's win was another highlight-reel play, springing a long breakaway with several dekes before potting the puck.
Brian Carrabes, BU (Fr., F: North Andover, Mass.) Lit the lamp in the Terriers' 6-3 win over BC on Saturday and finished the weekend as a plus-one.
Domenick Fensore, BU (Jr., D; Thornwood, N.Y.) Matched a career-high with three assists on Saturday in a 6-3 win over BC. Fensore then assisted on the Terriers' lone goal the next day. He also blocked two shots and was a plus-1. Fensore leads BU with 25 assists and 29 points.
Reed Lebster, UMass (Jr., F; Grand Rapids, Mich.) Put up four points on the weekend to help UMass sweep Vermont on the road and secure home ice in the Hockey East Quarterfinals on March 12. Hes scored a goal in Friday's 5-1 win and followed up with a career-high three-point effort in Saturday's 8-2 triumph with a goal and two assists.
Nick Austin, UML (Gr., D; St. Louis Park, Minn.) Dished out three assists in the River Hawks 5-1 victory over LIU on Friday night, which marked a season and career-best for the defenseman. His three-point outing marked the most single-game points tallied by a defenseman this season and he currently leads all River Hawk blueliners with 15 points. He finished the weekend with a plus-one rating.
Liam Walsh, MC (Jr., F; Bridgeville, Pa.) Tied his single game career-high with a trio of points Saturday night in the Warriors' 4-3 win at New Hampshire. He assisted on two goals, including Ben Brar's third period-power play goal, then scored the game-winner early in the third.
Jayden Struble, NU (Jr., D; Cumberland, R.I.) Was the top point-getter from the blue line for the Huskies as he tallied an assist in each win over UConn.
Robert Cronin, UNH (Fr., Forward, Plymouth, Mass.) Posted one goal and one assist for two points against Merrimack in UNH's lone game of the week. He tallied an assist on the first goal of the game and netted the last goal of the contest to cut the Merrimack lead to 4-3.
Brett Berard, PC (So., F; East Greenwich, R.I.) Registered four points on three goals and an assist in the Friars' weekend sweep over Maine. The sophomore scored twice on Saturday night, including a highlight-reel overtime goal. Berard finished the week with eight shots on goal, a plus-two rating and three blocks.
Max Crozier, PC (Jr., D; Calgary, Alta.) Recorded the game-tying goal in the third period of the Friars' from-behind win on Saturday night and added two assists in Providence's 4-2 win on Friday night. He finished the week with seven shots on goal and a plus-three rating.