From players who go into college with a four-year plan firmly in mind, to those who are chomping at the bit to sign an entry-level contract and everything in between, it's clear there's no one road map with the perfect college plan for an athlete. So much goes into a decision to stay in school or head to the pros, and this season added another twist: a global pandemic that prematurely shuttered college sports seasons. With teams prevented from defending tournament championships and competing for national championships, would that shift the mindset of the nation's most elite on-campus talent?
With all the uncertainty out there, here's an inside look at four player's decisions to come back for another season in Hockey East.
---
Logan Hutsko (Sr., F) & Alex Newhook (So., F) - Boston College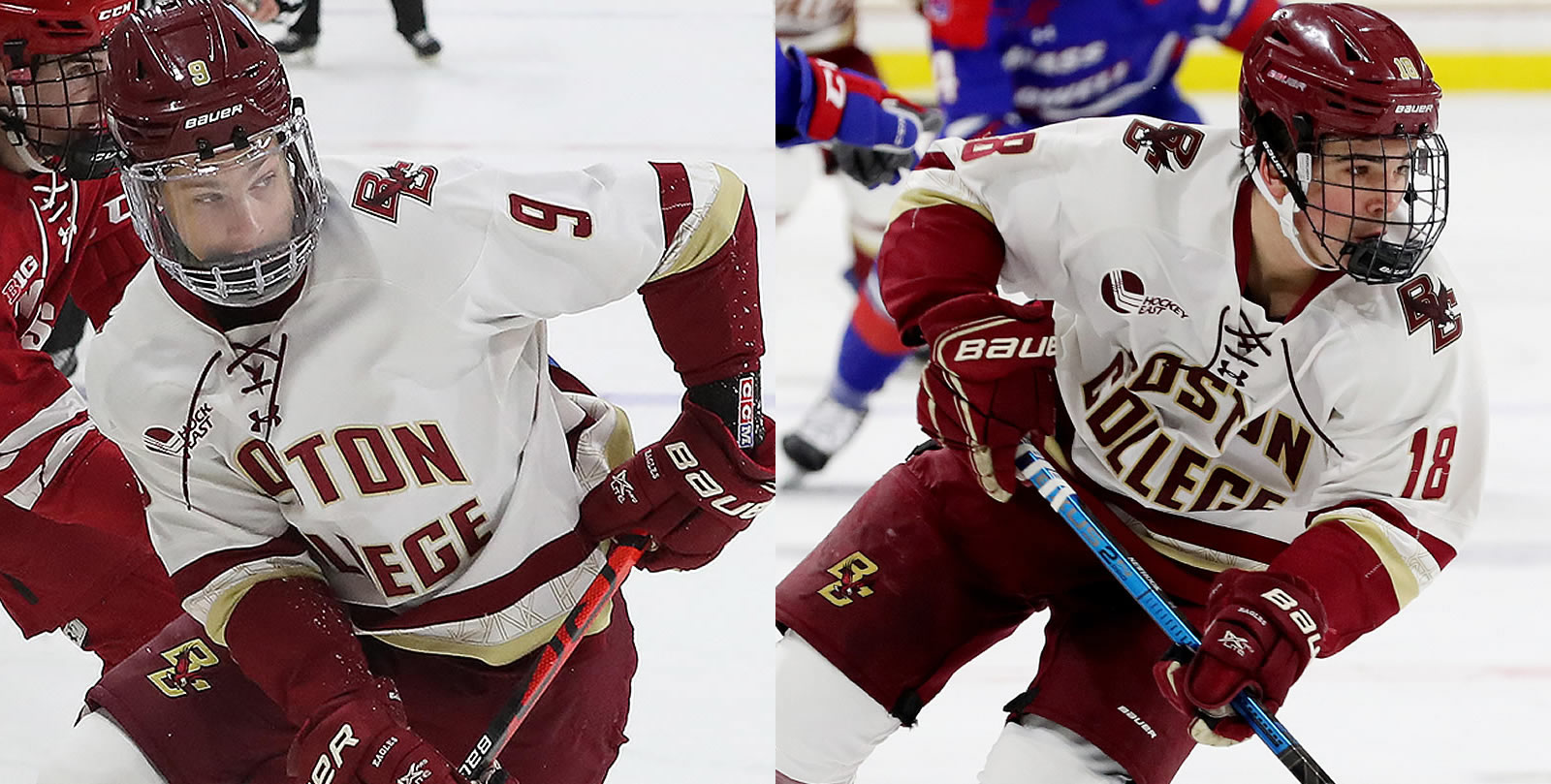 One of BC's best goal-scorers, Logan Hutsko heads into the 2020-21 season facing more uncertainty than just the COVID-19 pandemic, as he is now without All-Star linemates David Cotton and Julius Mattila, who graduated in 2020. Hutsko excelled playing alongside the two since midway through his freshman season, peaking with a 19-goal season during his junior year. Fourteen of his 33 points last season came on goals where all three linemates registered points.
Now that Cotton and Mattila have been lost to the cap and gown, Hutsko is the lone remaining member of BC's top line and must acclimate himself to new forwards ahead of his senior season. Even so, his bonds with returning teammates made it an easy decision to stay.
"I'm really close with a lot of the guys on the team. And with the way everything ended it just didn't feel right [to leave]."
In 2015, Hutsko suffered a broken neck while taking a faceoff during practice while he was playing with USA Hockey's National Team Development Program. Three years later, during the 2019 Hockey East Championship, Hutsko collided with two players and hit his head on the ice. He was stretchered off in a tense moment, but luckily avoided another serious injury.
The injury history was in the back of his mind when it came time to decide whether or not to return to BC for his senior year and graduate, but it wasn't the main factor in his decision.
"This was about my teammates, my coaches and just having such a great situation at BC that I wanted to be back."
Hutsko was part of a tight-knit and talented team last season, one that included many highly-touted newcomers.
When Alex Newhook, Matt Boldy, and Spencer Knight were each selected in the first round of the 2019 NHL Entry Draft, they became just the fifth trio of incoming freshmen in college hockey history to earn such a distinction. With such a loaded class, a one-and-done wouldn't have come as a surprise, and, as the season progressed, Newhook emerged as one of the most elite players in all of college hockey.
In the second half of the 2019-20 season, Newhook recorded 30 points, getting on the score sheet in 17 of BC's final 19 games. With 20 points in nine February games, he won National Player and Rookie of the Month. Among other accolades, Newhook was the first BC freshman since Colin White to post a 40-plus point season, and he became the first Eagle to win the Tim Taylor Award as the National Rookie of the Year.
Of course, the nationwide sports shutdown changed a lot, but a red-hot Newhook potentially joining a banged-up Avalanche for a postseason run wasn't out of the question in early March before the NHL's season pause.
Then, on March 20, a week after Boston College's first round matchup with Providence was cancelled, Ryan Clark of The Athletic reported that Newhook would be returning to the Heights for his sophomore season.
While his plan had always been to stay a minimum of two years, Newhook says that not having the opportunity to compete for a National Championship this season only made the possibility of returning more intriguing. He also credits the Avalanche for being supportive of whichever path he chose.
"I'm in a great situation with a great organization in Colorado. They have a great reputation of development with their prospects, especially those who are in college. They don't seem to rush guys."
Despite playing different positions, Newhook's college trajectory is quite similar to that of UMass' Cale Makar. Another Hockey East first round selection by the Avalanche, Makar returned for his sophomore season; one Hobey Baker and a National Championship appearance later, it's safe to say things turned out pretty well for all parties involved. Already a Hobey Baker front-runner in 2020-21, Newhook has the skill and teammates to bring the Eagles home a National Championship for the first time since 2012.
---
Marc Del Gaizo (Jr., D) & Zac Jones (So., D) - UMass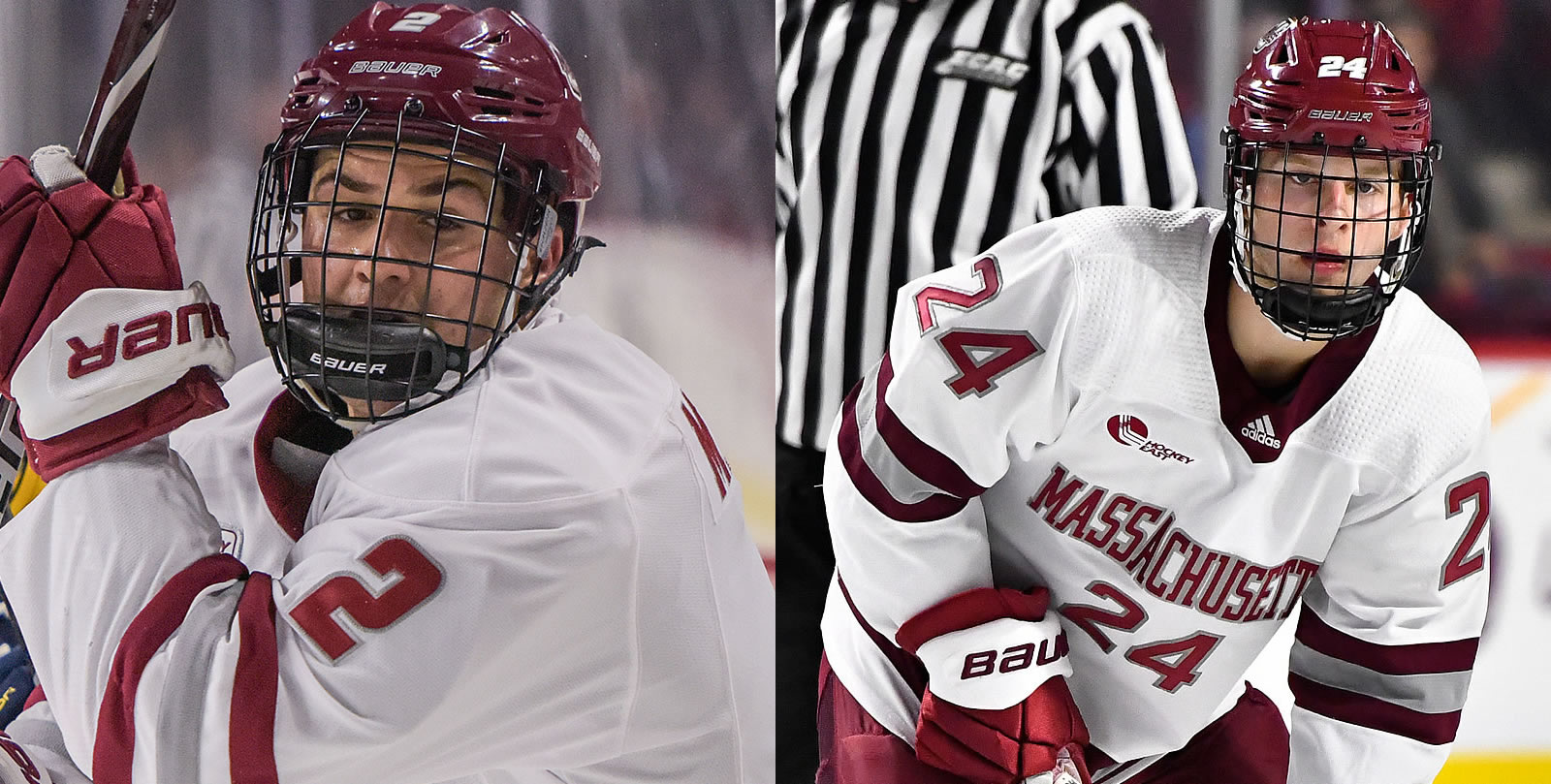 Zac Jones had big shoes to fill on the UMass blueline. The third round selection out of Glen Allen, Virginia joined a UMass team fresh off a 31-10-0 season that saw the Minutemen reach the National Championship game for the first time in program history. UMass also lost Cale Makar after the sophomore chose to forgo his final two years of eligibility to join the Colorado Avalanche for the 2019 Stanley Cup Playoffs after capturing the Hobey Baker Award.
In his first season in Amherst, Jones delivered, even outpacing Makar's first year totals. He finished with 23 points, including 20 assists, making him the first UMass freshman to reach that assist total. For comparison, Makar had 16 assists during his freshman season.
Despite his record-breaking success, Jones isn't focused on signing with the New York Rangers just yet.
"I love UMass. I don't see a reason for leaving when I'm not 100 percent ready to play professional hockey," Jones said.
Skating alongside Makar as a freshman, Marc Del Gaizo registered 29 points during the 2019-20 season and scored arguably the biggest goal in program history when he sent UMass to the National Championship with an overtime winner against Denver.
His sophomore season was riddled with injuries, but he averaged a similar point-per game pace when healthy. Still, he wants to come back to play at least another full season of college hockey.
"I feel like I can grow a lot more," Del Gaizo said.
Neither player was incredibly highly regarded entering high school, but both have developed into college stars and professional prospects under Head Coach Greg Carvel at UMass. They are integral pieces of the fabric defining UMass' college hockey ascendence, and they've loved every minute of the Hockey East experience.
"Hockey East is just awesome. Everyone is so close, just a bus ride away. The camaraderie and rivalries between the schools is cool," Del Gaizo said.
UMass came tantalizingly close to reaching the top of the mountain during Del Gaizo's freshman year, losing to Minnesota Duluth in the National Championship game. Last season, the Minutemen never got the chance to take another crack at the big title. In 2020, the goal is clear: win.
"I want to win a National Championship. I want to win a Hockey East Championship. If it takes four years to do it, I'll stay for four years," Jones said.