Vermont Defeated By Quinnipiac, 4-1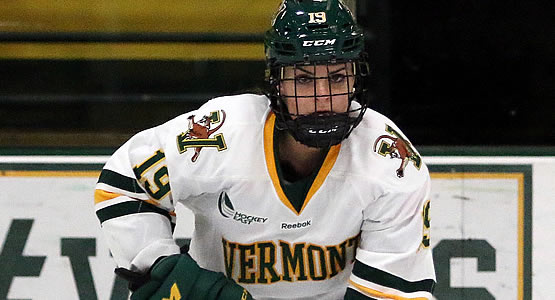 Freshman forward Val Caldwell scored a goal for the Catamounts
| | | | | | | |
| --- | --- | --- | --- | --- | --- | --- |
| Prd | Time | Team | Score | Type | Scored By | Assists |
| 1st | 14:28 | QUI | 1-0 | PP | Anna Kilponen (1) | MacKenzie Lancaster/1, Alicia Barry/1 |
| 2nd | 15:18 | QUI | 2-0 | EV GW | Brooke Bonsteel (1) | Laura Lundblad/1 |
| 2nd | 15:53 | VER | 1-2 | EV | Val Caldwell (2) | Allie Granato/1, Olivia Kilberg/2 |
| 3rd | 10:06 | QUI | 3-1 | PP | Brooke Bonsteel (2) | Randi Marcon/1, MacKenzie Lancaster/2 |
| 3rd | 19:14 | QUI | 4-1 | EV EN | Sarah-Ève Coutu-Godbout (3) | - |
| | | | | |
| --- | --- | --- | --- | --- |
| Scoring | 1st | 2nd | 3rd | Final |
| Vermont | 0 | 1 | 0 | 1 |
| Quinnipiac | 1 | 1 | 2 | 4 |
| | | | | |
| --- | --- | --- | --- | --- |
| Shots on Goal | 1st | 2nd | 3rd | SOG |
| Vermont | 8 | 4 | 4 | 16 |
| Quinnipiac | 10 | 14 | 16 | 40 |
| | | | |
| --- | --- | --- | --- |
| Team Stats and Records | PP | PIM | SHGF |
| Vermont (2-2-0) | 0/2 | 4/8 | 0 |
| Quinnipiac (3-2-0) | 2/4 | 2/4 | 0 |
| | | | | | | |
| --- | --- | --- | --- | --- | --- | --- |
| Vermont Goaltending | MIN | GA | 1 | 2 | 3 | Saves |
| Sydney Scobee (L, 1-1-0) | 59:17 | 3 | 9 | 13 | 14 | 36 |
| Empty Net | 0:43 | 1 | | | | |
| | | | | | | |
| --- | --- | --- | --- | --- | --- | --- |
| Quinnipiac Goaltending | MIN | GA | 1 | 2 | 3 | Saves |
| Abbie Ives (W, 3-2-0) | 60:00 | 1 | 8 | 3 | 4 | 15 |
HAMDEN, Conn. - Sydney Scobee stopped 36 shots and Val Caldwell scored the lone goal for the Vermont Catamounts as they fell to the Quinnipiac Bobcats in the opening game of a non-conference weekend series at the TD Bank Sports Center on Friday night.
The Catamounts move to 2-2-0 (1-1-0 HEA) with the loss, while the Bobcats improve to 3-2-0 (0-0-0 ECAC) and a perfect 2-0-0 at home.
"After coming out and playing a very good first period we really let Quinnipiac dictate the pace of play," said head coach Jim Plumer. "It was a very disappointing second and third period in terms of our ability to manage the puck. We've got to play smart hockey to be successful."
Quinnipiac opened the scoring late in the first period on a power play goal by Anna Kilponen. The Bobcats pressured Vermont with several scoring chances on the man-advantage until Kenzie Lancaster found Kilponen waiting at the point. Kilponen turned and fired a shot through traffic to beat a screened Scobee for the first power play marker allowed by the Catamounts in the 2017-18 campaign.
The Bobcats added a second less than five minutes into the middle frame. Laura Lundblad won the faceoff to the left of the Vermont goal by pushing the puck through the Catamounts' center. Brooke Bonsteel picked up the puck and forced a shot under the pads of Scobee to put Quinnipiac up 2-0.
In a matter of 35 seconds, the Catamounts cut the lead in half thanks to Caldwell's goal. Olivia Kilberg pressured Abbie Ives (15 saves), who attempted to play the puck from behind her net before turning it over to Allie Granato. The forward tried to jam the puck into the open net but was blocked by a Quinnipiac defender, who slid in front of the shot. Caldwell pounced and slapped the rebound into the empty net for the rookie's second tally of the season.
The Bobcats' power play unit answered midway through the third with its second conversion of the night for a 3-1 lead. Lancaster wired a shot that was turned away by Scobee to Randi Marcon, who was waiting near the Catamounts' goal. Marcon batted the rebound opportunity for another Scobee save, but Bonsteel was there for the second-chance opportunity to collect her second tally of the night.
Sarah-Eve Coutu-Godbout sealed the win for Quinnipiac with an empty-net goal in the final minute of regulation. Ève-Audrey Picard led the Catamounts with six shots on goal for the night.
Vermont returns to action Saturday (Oct. 14) to finish the weekend series at Quinnipiac. Puck drop is set for 7:30 p.m. and all the action will air live on ESPN3 and the WatchESPN app.