Saturday, November 11, 2017
Vermont Shut Out By Clarkson, 4-0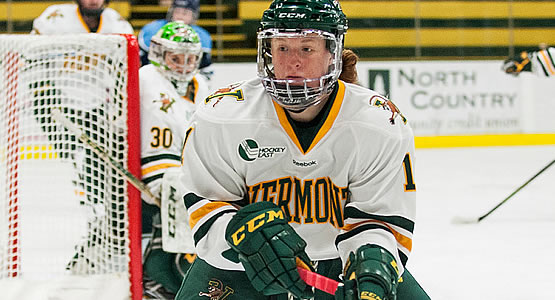 Vermont senior defenseman Katherine Pate (pictured)
| | | | | | | |
| --- | --- | --- | --- | --- | --- | --- |
| Prd | Time | Team | Score | Type | Scored By | Assists |
| 2nd | 2:27 | CLK | 1-0 | PP GW | Rhyen McGill (4) | Loren Gabel/12, Savannah Harmon/9 |
| 2nd | 15:15 | CLK | 2-0 | PP | Michaela PejzlovŠ (10) | Savannah Harmon/10, Loren Gabel/13 |
| 3rd | 8:04 | CLK | 3-0 | PP | Rhyen McGill (5) | Michaela PejzlovŠ/8, Loren Gabel/14 |
| 3rd | 13:02 | CLK | 4-0 | EV | Loren Gabel (12) | Kelly Mariani/4, Emma Keenan/4 |
| | | | | |
| --- | --- | --- | --- | --- |
| Scoring | 1st | 2nd | 3rd | Final |
| Vermont | 0 | 0 | 0 | 0 |
| Clarkson | 0 | 2 | 2 | 4 |
| | | | | |
| --- | --- | --- | --- | --- |
| Shots on Goal | 1st | 2nd | 3rd | SOG |
| Vermont | 5 | 4 | 7 | 16 |
| Clarkson | 17 | 17 | 16 | 50 |
| | | | |
| --- | --- | --- | --- |
| Team Stats and Records | PP | PIM | SHGF |
| Vermont (5-7-1) | 0/3 | 7/14 | 0 |
| Clarkson (11-2-1) | 3/6 | 4/8 | 0 |
| | | | | | | |
| --- | --- | --- | --- | --- | --- | --- |
| Vermont Goaltending | MIN | GA | 1 | 2 | 3 | Saves |
| Sydney Scobee (L, 4-4-1) | 60:00 | 4 | 17 | 15 | 14 | 46 |
| | | | | | | |
| --- | --- | --- | --- | --- | --- | --- |
| Clarkson Goaltending | MIN | GA | 1 | 2 | 3 | Saves |
| Shea Tiley (W, 11-2-1) | 59:16 | 0 | 5 | 4 | 7 | 16 |
| Empty Net | 0:44 | 0 | | | | |
POTSDAM, N.Y. - Sydney Scobee set a new career-high with 46 saves on Saturday afternoon, but third-ranked Clarkson (11-2-1, 3-1-0 ECAC) defeated Vermont (5-7-1, 3-4-1 HEA) 4-0 on home ice to split the weekend series with the Catamounts.
"Credit to Clarkson today as they played like champs," Head Coach Jim Plumer said. "Outside of Scobee we just didn't play sharply with them today. At even strength we had success this weekend and we quite simply need to be more disciplined to stay out of the box."
Neither Vermont nor Clarkson found the back of the net in a fast-paced first period. »ve-Audrey Picard had the best Catamount chance about halfway through after turning a Golden Knight turnover into a breakaway against Shea Tiley (16 saves).
Vermont killed Clarkson's only power play of the period late in the frame. Scobee stopped all 17 shots she faced and Tiley finished with five saves in the period.
Clarkson struck 2:27 into the second period on a Rhyen McGill power play goal. The Golden Knights netted their second power play goal of the period when Michaela Pejzlova put a rebound past Scobee with 4:45 remaining. Both goals were assisted by Loren Gabel and Savannah Harmon.
McGill added her second goal on a 5-on-3 advantage eight minutes into the third and Gabel picked up her third point of the game to add another with 6:58 remaining to give Clarkson two more. The Catamounts failed to capitalize on their third power play of the game just just over five minutes remaining and Vermont fell by a final score of 4-0.
UVM returns to Hockey East play next weekend at Gutterson Fieldhouse with a pair against Boston University. Game one is scheduled for Friday, Nov. 17 at 7 p.m. with game two at 4 p.m. on Saturday, Nov. 18.