Foley's Three Points Lead Providence Past New Hampshire, 5-2
Junior forward Erik Foley posts two goals and assist for Friars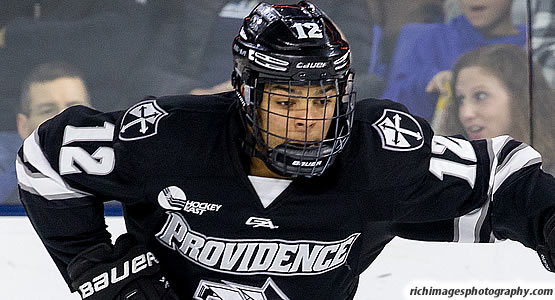 Junior forward Erik Foley scored two goals and an assist for the Friars
| | | | | | | |
| --- | --- | --- | --- | --- | --- | --- |
| Prd | Time | Team | Score | Type | Scored By | Assists |
| 1st | 1:01 | PRV | 1-0 | EV | Kasper Björkqvist (6) | Jacob Bryson/10 |
| 1st | 17:52 | UNH | 1-1 | EV | Brendan van Riemsdyk (5) | Liam Blackburn/6, Charlie Kelleher/7 |
| 2nd | 0:40 | PRV | 2-1 | EV | Erik Foley (8) | - |
| 2nd | 19:20 | PRV | 3-1 | EV GW | Vimal Sukumaran (4) | Erik Foley/9 |
| 3rd | 4:03 | PRV | 4-1 | EV EA DP | Erik Foley (9) | Jacob Bryson/11, Brian Pinho/7 |
| 3rd | 11:44 | UNH | 2-4 | EV | Marcus Vela (3) | Max Gildon/6, Cameron Marks/4 |
| 3rd | 16:17 | PRV | 5-2 | EV | Vimal Sukumaran (5) | Robbie Hennessey/3, Shane Kavanagh/2 |
| | | | | |
| --- | --- | --- | --- | --- |
| Scoring | 1st | 2nd | 3rd | Final |
| New Hampshire | 1 | 0 | 1 | 2 |
| Providence | 1 | 2 | 2 | 5 |
| | | | | |
| --- | --- | --- | --- | --- |
| Shots on Goal | 1st | 2nd | 3rd | SOG |
| New Hampshire | 9 | 4 | 9 | 22 |
| Providence | 10 | 15 | 13 | 38 |
| | | | |
| --- | --- | --- | --- |
| Team Stats and Records | PP | PIM | SHGF |
| New Hampshire (7-5-1) | 0/2 | 6/20 | 0 |
| Providence (9-5-1) | 0/4 | 3/6 | 0 |
| | | | | | | |
| --- | --- | --- | --- | --- | --- | --- |
| New Hampshire Goaltending | MIN | GA | 1 | 2 | 3 | Saves |
| Daniel Tirone (L, 7-5-1) | 43:58 | 4 | 9 | 13 | 4 | 26 |
| Mike Robinson | 15:47 | 1 | 0 | 0 | 7 | 7 |
| Empty Net | 0:15 | 0 | | | | |
| | | | | | | |
| --- | --- | --- | --- | --- | --- | --- |
| Providence Goaltending | MIN | GA | 1 | 2 | 3 | Saves |
| Hayden Hawkey (W, 9-5-0) | 59:55 | 2 | 8 | 4 | 8 | 20 |
| Empty Net | 0:05 | 0 | | | | |
PROVIDENCE, R.I. - Erik Foley and Vimal Sukumaran each recorded two goals as the No. 9 Providence College men's hockey team cruised to a 5-2 win over No. 13/14 New Hampshire in a key Hockey East contest on Friday night at Schneider Arena.
SCORE
No. 9 Providence - 5 | No. 13/14 New Hampshire - 2
RECORDS
Providence - 9-5-1 (6-3-1 HEA) | New Hampshire - 7-5-1 (3-4-1 HEA)
VENUE
Schneider Arena - Providence, R.I.
GOALIES
Hawkey (PC) - 20 saves
Tirone (UNH) - 26 saves; Robinson - 7 saves
NOTES
- The Friars jumped on the board early just 1:01 into the contest as Kasper Björkqvist notched his sixth goal of the season and first goal in five games on a coast-to-coast rush.
- Jacob Bryson recorded his team-leading 10th assist of the season on the play.
- Providence jumped out to a 5-0 lead in shots before the Wildcats outshot the Friars by a 9-4 margin to conclude the first period.
- Hayden Hawkey made multiple key saves in the first period, none better than a point-blank stop on UNH's Jason Salvaggio.
- Foley gave the Friars a 2-1 lead just 40 seconds into the second period after intercepting a pass in the Wildcats' zone and firing a wrister past Tirone.
- Sukumaran notched his fourth of the season after a shot that whistled over the blocker of Tirone with 40 seconds remaining in the period.
- Foley added his second of the evening on a delayed penalty 4:03 into the third period with Brandon Duhaime setting the screen in front for his team-leading ninth goal of the season.
- The Wildcats cut the deficit to 4-2 at the 11:44 mark on a strike from Marcus Vela.
- Sukumaran rounded out the scoring at 16:17 with his fifth of the season off of assists by Robbie Hennessey and Shane Kavanagh.
- Foley now has 14 points in his last seven games (6-8-14) after a three-point performance on Friday night.
- Brian Pinho extended his point streak to six games (3-5-8) with an assist on Friday.
- Providence's unbeaten streak in Hockey East games was extended to five games (4-0-1).
- The Friars' three-game winning streak over New Hampshire is the longest streak over the Wildcats since 1992.
- Bryson finished the night at +5, while defense partner Tommy Davis finished at +4.
HOW THEY SCORED
1-0 (PC) - 1:01/1st - EV - Kasper Björkqvist (Bryson) - Coast-to-coast rush and net drive on the backhand past Tirone.
1-1 (UNH) - 17:52/1st - EV - Brendan van Riemsdyk (Blackburn, Kelleher) - Centering feed from behind the net out front to van Riemsdyk for a one-timer.
2-1 (PC) - 0:40/2nd - EV - Erik Foley - Intercepted a pass in the UNH zone and wristed a shot inside the far post.
3-1 (PC) - 19:40/2nd - EV - Vimal Sukumaran (Foley) - Snap shot over the blocker of Tirone from the top of the circles.
4-1 (PC) - 4:03/3rd - DP - Erik Foley (Bryson, Pinho) - Whirl-around shot from the half wall through a screen.
4-2 (UNH) - 11:44/3rd - EV - Marcus Vela (Gildon, Marks) - Wrist shot from the top of the circles over the blocker of Hawkey.
5-2 (PC) - 16:17/3rd - EV - Vimal Sukumaran (Hennessey, Kavanagh) - Hennessey centered it to Sukumaran at the top of the crease and he swept a shot through the five-hole of Robinson.
PC GAME HIGHS
Goals: Foley, Sukumaran (2)
Assists: Bryson (2)
Points: Foley (3)
Shots: Conway, Foley (5)
POWER PLAYS
Providence - 0/4
New Hampshire - 0/2
SHOTS
Providence - 38
New Hampshire - 22
UP NEXT
The Friars and Wildcats will conclude their regular season series tomorrow night at the Whittemore Center in Durham, N.H.