Wednesday, February 14, 2018
Fossier Sends Maine Past New Hampshire In Overtime, 4-3
Sophomore forward Mitchell Fossier scores two goals for Black Bears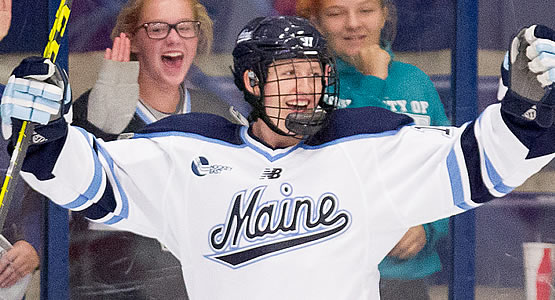 Sophomore forward Mitchell Fossier scored two goals for the Black Bears
| | | | | | | |
| --- | --- | --- | --- | --- | --- | --- |
| Prd | Time | Team | Score | Type | Scored By | Assists |
| 1st | 0:28 | MNE | 1-0 | EV | Keith Muehlbauer (2) | Nolan Vesey/10, Brendan Robbins/8 |
| 1st | 1:06 | UNH | 1-1 | EV | Jason Salvaggio (8) | Eric MacAdams/2 |
| 1st | 17:09 | UNH | 2-1 | EV | Liam Blackburn (8) | Shane Eiserman/5, Benton Maass/13 |
| 2nd | 11:14 | UNH | 3-1 | EV | Anthony Wyse (5) | Charlie Kelleher/14, Ara Nazarian/13 |
| 3rd | 13:24 | MNE | 2-3 | EV | Cédric Lacroix (4) | Ryan Smith/2, Patrick Shea/9 |
| 3rd | 15:14 | MNE | 3-3 | EV | Mitchell Fossier (10) | Alexis Binner/7, Tim Doherty/10 |
| OT | 4:39 | MNE | 4-3 | EV GW | Mitchell Fossier (11) | Eduards Tralmaks/14, Tim Doherty/11 |
| | | | | | |
| --- | --- | --- | --- | --- | --- |
| Scoring | 1st | 2nd | 3rd | OT | Final |
| Maine | 1 | 0 | 2 | 1 | 4 |
| New Hampshire | 2 | 1 | 0 | 0 | 3 |
| | | | | | |
| --- | --- | --- | --- | --- | --- |
| Shots on Goal | 1st | 2nd | 3rd | OT | SOG |
| Maine | 11 | 11 | 18 | 3 | 43 |
| New Hampshire | 18 | 8 | 12 | 2 | 40 |
| | | | |
| --- | --- | --- | --- |
| Team Stats and Records | PP | PIM | SHGF |
| Maine (16-11-4) | 0/5 | 5/10 | 0 |
| New Hampshire (10-15-6) | 0/3 | 7/14 | 0 |
| | | | | | | | |
| --- | --- | --- | --- | --- | --- | --- | --- |
| Maine Goaltending | MIN | GA | 1 | 2 | 3 | OT | Saves |
| Jeremy Swayman (W, 13-7-3) | 64:39 | 3 | 16 | 7 | 12 | 2 | 37 |
| | | | | | | | |
| --- | --- | --- | --- | --- | --- | --- | --- |
| New Hampshire Goaltending | MIN | GA | 1 | 2 | 3 | OT | Saves |
| Daniel Tirone (L, 10-13-6) | 64:39 | 4 | 10 | 11 | 16 | 2 | 39 |
DURHAM, N.H. - With 21 seconds left in overtime, Mitchell Fossier scored the game-winning goal for the Black Bears as the University of New Hampshire men's hockey team fell to Maine, 4-3, at the Whittemore Center on Wednesday.
Senior forward Jason Salvaggio (Hanson, Mass.), sophomore forward Liam Blackburn (Prince George, British Columbia) and sophomore defenseman Anthony Wyse (Newton, Mass.) provided the Wildcats' three goals.
The Wildcats will head to North Andover, Mass., on Friday, Feb. 16 to take on Merrimack at 7:00 p.m. The next home game will be Senior Night at the Whittemore Center versus Northeastern on Saturday, Feb. 24. The fourth Coach Umile commemorative pin will be given away at the game and there will be dollar hot dogs. Tickets can be purchased at the Whittemore Center Box Office, online at UNHWildcats.com or by calling 603-862-4000.
Score: Maine 4, New Hampshire 3
Records: UNH (10-15-6, 5-11-5 HEA); Maine (16-11-4, 10-8-3 HEA)
Location: Durham, N.H. (Whittemore Center)
Date: Wednesday, Feb. 14, 2018
Time: 7:00 p.m.
Attendance: 5,143
HOW IT HAPPENED:
- Maine got the contest off to a quick start at just 28 seconds after the opening face-off with a goal on a wrist shot from Keith Muehlbauer from just behind the right circle. The goal was assisted by Nolan Vesey and Brendan Robbins.
- UNH quickly answered just 38 seconds later when Salvaggio scored right off a rebound from freshman Eric MacAdams (Salem, Mass.), tying the game at 1-1.
- UNH kept the action going at 17:09 in the first period with a goal by Blackburn who knocked in a rebound from a wraparound shot by senior Shane Eiserman (Newburyport, Mass.).
- UNH took a 3-1 lead at 11:14 of the second period when Wyse scored a backhand goal assisted by freshman Charlie Kelleher (Longmeadow, Mass.) and junior Ara Nazarian (Boxford, Mass.).
- Maine answered in the third period at 14:24 when Cedric Lacroix tipped in a rebound from Ryan Smith assisted by Patrick Shea.
- Maine tied the game when Fossier scored from the right circle assisted by Alexis Binner and Tim Doherty at 15:14 into the third period, tying the game 3-3.
- In the final seconds of overtime, Fossier finished the game, scoring off his own rebound at 4:39 into overtime.
INSIDE THE NUMBERS:
- The Black Bears outshot the Wildcats 43-40.
- Senior goaltender Danny Tirone (Trumbull, Conn.) made 39 saves, while Maine's Jeremy Swayman made 37.
- The Black Bears went 0-5 on the power play, while the Wildcats went 0-3.
BEYOND THE BOXSCORE:
- Salvaggio has posted seven goals and four assists for 11 points over his nine games versus Maine.
- Nazarian is on a three-game point scoring streak with two goals and two assists for four points.