Saturday, December 16, 2017
Northeastern And Merrimack Play To 1-1 Tie
Junior forward Adam Gaudette scores game-tying goal for Huskies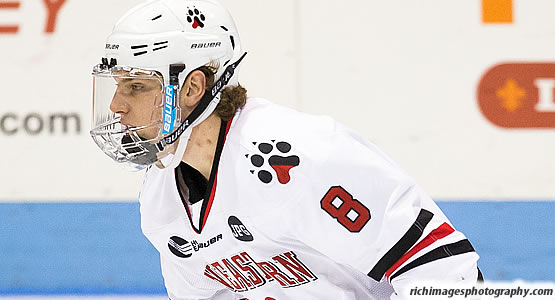 Junior forward Adam Gaudette scored the game-tying goal for the Huskies
| | | | | | | |
| --- | --- | --- | --- | --- | --- | --- |
| Prd | Time | Team | Score | Type | Scored By | Assists |
| 1st | 14:41 | MER | 1-0 | EV | Jace Hennig (7) | Brett Seney/11 |
| 2nd | 13:08 | NOE | 1-1 | PP GT | Adam Gaudette (12) | Nolan Stevens/7, Jeremy Davies/13 |
| | | | | | |
| --- | --- | --- | --- | --- | --- |
| Scoring | 1st | 2nd | 3rd | OT | Final |
| Northeastern | 0 | 1 | 0 | 0 | 1 |
| Merrimack | 1 | 0 | 0 | 0 | 1 |
| | | | | | |
| --- | --- | --- | --- | --- | --- |
| Shots on Goal | 1st | 2nd | 3rd | OT | SOG |
| Northeastern | 5 | 10 | 16 | 2 | 33 |
| Merrimack | 7 | 10 | 9 | 4 | 30 |
| | | | |
| --- | --- | --- | --- |
| Team Stats and Records | PP | PIM | SHGF |
| Northeastern (10-5-2) | 1/3 | 3/6 | 0 |
| Merrimack (4-9-4) | 0/3 | 3/6 | 0 |
| | | | | | | | |
| --- | --- | --- | --- | --- | --- | --- | --- |
| Northeastern Goaltending | MIN | GA | 1 | 2 | 3 | OT | Saves |
| Cayden Primeau (T, 6-3-2) | 65:00 | 1 | 6 | 10 | 9 | 4 | 29 |
| | | | | | | | |
| --- | --- | --- | --- | --- | --- | --- | --- |
| Merrimack Goaltending | MIN | GA | 1 | 2 | 3 | OT | Saves |
| Craig Pantano (T, 4-4-2) | 65:00 | 1 | 5 | 9 | 16 | 2 | 32 |
NORTH ANDOVER, Mass. - The Merrimack College men's ice hockey team secured a point in the league standings with a hard-fought 1-1 tie against eighth-ranked Northeastern University on Saturday at Lawler Rink. The Warriors closed the first half 2-0-1 in their last three games and will now break for 13 days before traveling to Colorado for a pair of non-conference games.
The Basics
Score: Merrimack 1, Northeastern 1 (F/OT)
Records: Merrimack (4-9-4, 2-6-2 HEA) | #8 Northeastern (10-5-2, 8-3-1 HEA)
Location: Lawler Rink | Durham, N.H.
Attendance: 2408
Game Duration: 2:12
Rapid Recap
- A quick-moving first period featured 12 combined shots (7-5 Merrimack) and just one power play (Northeastern), but it was the hosts that broke through late in the frame, as senior Jace Hennig sent the Warriors into the first intermission with a 1-0 lead.
- Northeastern notched the only game of the second period while on its third power play, as a very even middle frame saw both sides put 10 shots on net.
- The Huskies outshot Merrimack by a 16-9 margin in the third but could not solve junior Craig Pantano; the Warriors had the period's only power play late in regulation, but Northeastern would stave off the man advantage to send the contest to overtime.
- Merrimack outshot Northeastern by a 4-2 margin in the extra session, but the game would ultimately end in a 1-1 deadlock.
Scoring Summaries
Goal #1 (MC, 1-0): Senior Jace Hennig put Merrimack in front with his seventh goal of the year at 14:41 of the first. Following a faceoff win from classmate Brett Seney, Hennig received the draw and used a quick snap shot to beat NU goaltender Cayden Primeau five-hole.
Goal #2 (NU, 1-1): Northeastern's Adam Gaudette tied the game with the Huskies on the power play 13:08 into the second period. Jeremy Davies intercepted the puck at the left point, brought it in and centered for Nolan Stevens, whose one-timer went wide. Gaudette, however, was stationed at the weak side post and batted in the rebound out of midair.
Notes and Notables
- Merrimack is now unbeaten in its last three games, moving to 2-0-1 since Dec. 8 after an 0-3-1 stretch. It is the longest unbeaten streak for the team this season.
- Merrimack snapped a six-game losing streak to Northeastern, although the Huskies are still unbeaten in their last seven (6-0-1) against the Warriors. The all-time series now stands at 42-57-10.
- Northeastern held a slim 33-30 edge in shots on goal after a seven-shot advantage (16-9) in the third period alone.
- Pantano turned away 32 shots while Primeau denied 29, as the former moved to 4-4-2 on the season.
- Northeastern had the game's only power play goal and finished 1-for-3 with the man advantage, while Merrimack went 0-for-3 on the power play.
- Merrimack was held to under three goals for the 11th time this season and moved to 0-9-2 in those situations. The Warriors are now just 1-2-4 when scoring first in games, as well.
Merrimack Lineup
Hennig | Seney | Irvine
Petti | L. Larsson | McBride
Babcock | Bales | Tavernier
Coomes | A. Larsson | McKay
Bell | Kolquist
Biega | Titcomb
Dockery | Kovacevic
Pantano
Vogler
Halladay
Up Next
Merrimack will break for the finals and the holidays before returning to action with a two-game trip out in Colorado to take on the defending national champion University of Denver, as well as a matchup with Colorado College, on Dec. 29-30.