Saturday, November 11, 2017
Boston College Sweeps Weekend Series With 5-1 Win At Vermont
Freshman forward Christopher Grando has two goals and assist for Eagles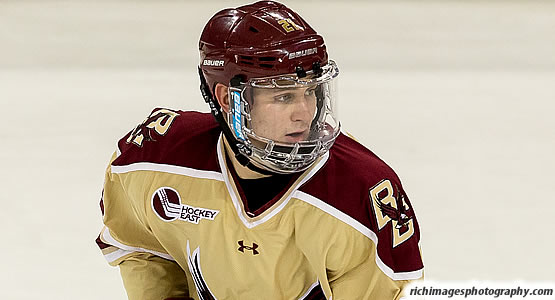 Freshman forward Christopher Grando had two goals and an assist for the Eagles
| | | | | | | |
| --- | --- | --- | --- | --- | --- | --- |
| Prd | Time | Team | Score | Type | Scored By | Assists |
| 1st | 11:26 | VER | 1-0 | PP | Ross Colton (8) | Matt O'Donnell/4 |
| 2nd | 8:39 | BC | 1-1 | EV | Graham McPhee (3) | JD Dudek/4, Christopher Brown/3 |
| 2nd | 9:52 | BC | 2-1 | SH GW | Christopher Grando (4) | Kevin Lohan/1, Ryan Edquist/1 |
| 2nd | 14:58 | BC | 3-1 | EV | Jacob Tortora (2) | Christopher Grando/4, JD Dudek/5 |
| 3rd | 8:15 | BC | 4-1 | PP | Christopher Brown (4) | Graham McPhee/5, Casey Fitzgerald/5 |
| 3rd | 12:19 | BC | 5-1 | EV | Christopher Grando (5) | Logan Hutsko/7, Aapeli Räsänen/5 |
| | | | | |
| --- | --- | --- | --- | --- |
| Scoring | 1st | 2nd | 3rd | Final |
| Boston College | 0 | 3 | 2 | 5 |
| Vermont | 1 | 0 | 0 | 1 |
| | | | | |
| --- | --- | --- | --- | --- |
| Shots on Goal | 1st | 2nd | 3rd | SOG |
| Boston College | 6 | 12 | 16 | 34 |
| Vermont | 12 | 8 | 4 | 24 |
| | | | |
| --- | --- | --- | --- |
| Team Stats and Records | PP | PIM | SHGF |
| Boston College (6-5-1) | 1/4 | 7/14 | 1 |
| Vermont (3-7-1) | 1/4 | 7/14 | 0 |
| | | | | | | |
| --- | --- | --- | --- | --- | --- | --- |
| Boston College Goaltending | MIN | GA | 1 | 2 | 3 | Saves |
| Ryan Edquist (W, 2-1-0) | 59:54 | 1 | 11 | 8 | 4 | 23 |
| Empty Net | 0:06 | 0 | | | | |
| | | | | | | |
| --- | --- | --- | --- | --- | --- | --- |
| Vermont Goaltending | MIN | GA | 1 | 2 | 3 | Saves |
| Stefanos Lekkas (L, 3-7-1) | 59:52 | 5 | 6 | 9 | 14 | 29 |
| Empty Net | 0:08 | 0 | | | | |
BURLINGTON, Vt. - Vermont took a 1-0 lead into the first intermission, but Boston College scored five unanswered goals for a 5-1 Hockey East victory on Military Appreciation Night Presented by Milton CAT Saturday at sold out Gutterson Fieldhouse.
The Eagles posted their fifth straight win and improved to 6-5-1 (6-1-0 HEA), while the Catamounts dropped to 3-7-1 (1-3-1 HEA).
Ross Colton began the scoring at 11:26 of the first period with his fifth power play goal of the season to tie the national lead. Matt O'Donnell hit Colton with an outlet pass, and the sophomore forward gained the BC line before snapping a shot high glove side to beat Ryan Edquist (23 saves). It was Colton's eighth goal of the season, which is tied for first overall in Hockey East.
Boston College equalized at the 8:40 mark of the second period when Graham McPhee buried a rebound from the low slot after an attempt from JD Dudek. The Eagles took the lead for good 1:12 later on a shorthanded goal from Christopher Grando, who followed his own shot on a partial breakaway from the right wing.
Jacob Tortora added an insurance tally with five minutes left in the middle frame, finishing a back door feed from Grando at the right post following a 2-on-1.
Christopher Brown provided the fourth Eagle goal at 8:15 of the third, punching a shot into the upper right corner of the UVM net. Grando then converted an open rebound at 12:19 to cap the scoring with his second of the night.
Stefanos Lekkas closed the contest with 29 saves, while Colton posted a team-high six shots on goal.
Vermont is back in action next Friday (Nov. 17) with a road contest against Northeastern at 7 p.m. The league matchup will be televised live on NESN, and pre-game radio coverage begins at 6:30 p.m. on WVMT 620-AM and CatamounTV.com.
NOTE: The Catamounts wore special camouflage jerseys on Saturday that are currently being auctioned off at UVMathletics.com/Auctions. The auction runs until Monday, Nov. 20 at 7 p.m., and all proceeds benefit the Vermont Veterans Fund.