Grando's Overtime Goal Lifts Boston College Past Merrimack, 4-3
Freshman forward Christopher Grando scores in overtime for Eagles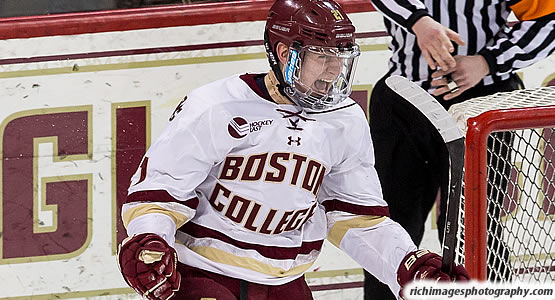 Freshman forward Christopher Grando scored in overtime for the Eagles
| | | | | | | |
| --- | --- | --- | --- | --- | --- | --- |
| Prd | Time | Team | Score | Type | Scored By | Assists |
| 2nd | 12:02 | BC | 1-0 | EV | Mike Booth (1) | Logan Hutsko/18, Michael Kim/14 |
| 2nd | 15:20 | BC | 2-0 | EV | JD Dudek (7) | Christopher Grando/12 |
| 2nd | 15:39 | MER | 1-2 | EV | Alfred Larsson (3) | Johnathan Kovacevic/15, Logan Coomes/7 |
| 2nd | 19:33.7 | MER | 2-2 | PP | Ludvig Larsson (13) | Sami Tavernier/13, Jared Kolquist/20 |
| 3rd | 4:14 | BC | 3-2 | EV | Julius Mattila (12) | Logan Hutsko/19, Michael Kim/15 |
| 3rd | 15:05 | MER | 3-3 | EV | Tyler Irvine (5) | Alfred Larsson/8, Logan Coomes/8 |
| OT | 4:20 | BC | 4-3 | SH GW | Christopher Grando (6) | Connor Moore/12 |
| | | | | | |
| --- | --- | --- | --- | --- | --- |
| Scoring | 1st | 2nd | 3rd | OT | Final |
| Merrimack | 0 | 2 | 1 | 0 | 3 |
| Boston College | 0 | 2 | 1 | 1 | 4 |
| | | | | | |
| --- | --- | --- | --- | --- | --- |
| Shots on Goal | 1st | 2nd | 3rd | OT | SOG |
| Merrimack | 9 | 13 | 9 | 2 | 33 |
| Boston College | 5 | 8 | 7 | 2 | 22 |
| | | | |
| --- | --- | --- | --- |
| Team Stats and Records | PP | PIM | SHGF |
| Merrimack (12-21-4) | 1/3 | 0/0 | 0 |
| Boston College (20-13-3) | 0/0 | 3/6 | 1 |
| | | | | | | | |
| --- | --- | --- | --- | --- | --- | --- | --- |
| Merrimack Goaltending | MIN | GA | 1 | 2 | 3 | OT | Saves |
| Craig Pantano (L, 11-14-2) | 64:20 | 4 | 5 | 6 | 6 | 1 | 18 |
| | | | | | | | |
| --- | --- | --- | --- | --- | --- | --- | --- |
| Boston College Goaltending | MIN | GA | 1 | 2 | 3 | OT | Saves |
| Joseph Woll (W, 17-10-2) | 64:20 | 3 | 9 | 11 | 8 | 2 | 30 |
CHESTNUT HILL, Mass. - Four minutes and twenty second into overtime, sophomore Connor Moore jostled a puck loose and rookie Christopher Grando did the rest to send No. 1-seed Boston College back to TD Garden for its 24th Hockey East semifinals appearance after sweeping No. 10-seed Merrimack in a 4-3 victory on Saturday night at Kelley Rink.
Merrimack things up with 4:55 to play in regulation to force the extra frame, but Grando's overtime heroics at the 4:20 mark ended the quarterfinals playoff series right there to send the Eagles back to Causeway Street.
With the sweep of the Warriors, Boston College finds itself in a 5 p.m. tilt against archrival No. 4-seed Boston University on Friday, March 16 at TD Garden. It marks the second-straight season the Battle of Comm Ave. will unfold in the Hockey East semifinals. Last season, the Eagles skated past the Terriers, 3-2, in the 2017 Hockey East semis.
Sophomore Mike Booth, junior JD Dudek and second-year forward Julius Mattila also found the back of the net while sophomore goaltender Joseph Woll stopped 30-of-33 Merrimack attempts to up his playoff record to 5-1.
The Eagles move to 3-1-3 in overtime affairs this season.
SCORE
No. 10-seed Merrimack - 3 / No. 1-seed Boston College - 4 (OT)
LOCATION
Kelley Rink / Chestnut Hill, Mass.
PLAYOFF PICTURE
2018 Hockey East Quarterfinals (Best-of-Three) - BC Wins, 2-0
RECORDS
Merrmimack (12-21-4 / 7-15-2 HEA) / No. 19 Boston College (20-13-3 / 18-6-0 HEA)
INSIDE THE HOCKEY EAST NUMBERS
- Boston College owns an overall record of 70-31-2 (.689) in the Hockey East tournament. The Eagles have posted an overall record of 42-18-1 (.697) in the quarterfinal round of play.
- Jerry York is 60-19-1 (.756) in 80 conference postseason contests.
- The 2018 Hockey East Tournament marks the Eagles' 14th occasion they are the No. 1 seed in the postseason conference tournament. As the conference's team to beat in the playoffs, Boston College has mounted a 31-10 record as the top-ranked club.
In all, Boston College possesses a 12-1 advantage in postseason action against the Warriors, including a 10-1 mark in quarterfinals matchups. This marks the fifth quarterfinals matchup with Merrimack as BC swept the Warriors in 2003 (4-1 & 2-1), 2001 (1-0 & 5-1) and 1997 (7-6 & 4-3) and went three games against MC in 1990 (3-1, 3-6 & 8-5). Boston College has outscored Merrimack, 52-27, in quarterfinals matchups. Head coach Jerry York is 10-0 against Merrimack in Hockey East postseason meetings.
- Saturday's overtime game marks the Eagles' first OT outings since game three of the Vermont quarterfinals series in 2016. BC is now 4-1 in Hockey East quarterfinals series and has won the last four. In all, BC is 10-4-1 in Hockey East overtime series.
BC HIGHLIGHTS & GAME NOTES
- Freshman winger Christopher Grando scored his first goal in 23 games and it was a big one as the Islip, N.Y. native scored the overtime winner 4:20 into the session. It marked the first-year forward's first goal since his two-goal showing at Vermont on Nov. 11. The tally stands as his sixth of the season (6-11-17) and his third game-winning goal of the year. Oddly enough, Grando's last goal was an overtime short-handed game winner as well. Grando has accounted for two short-handed goals on the season as the rookie notched his first point as an Eagle in postseason play. Grando also assisted on JD Dudek's goal to account for his third multi-point showing of the season.
- Sophomore forward Mike Booth curbed his goal-scoring draught this season by opening the scoring for the Eagles in the second period. The Cary, Ill. native netted his first goal for the Eagles since scoring one at Maine on Nov. 5, 2016. It marks the second-year center's third-career goal and eighth point (3-5-8) in the maroon and gold in 51 career games.
- Junior forward JD Dudek scored his second goal in four outings to up his total to seven on the year. The Auburn, N.H. native has logged 18 points (7-11-18) in 35 games this season.
- Junior forward Julius Mattila scored his first goal since returning back to the lineup from illness early in the third period on Saturday night. The Tampere, Finland native's goal was a big one as it stood as gave BC an extra boost to start the third period. In the last four games Mattila's dressed, he has scored as many goals.
- After a two-game scoring draught, Logan Hutsko returned to the scoring sheet, including a pair of assists in game two against Merrimack. The Tampa, Fla. native is the first Eagle to crack the 30-point plateau this season as he has accumulated 31 points (12-19-31) in 36 outings this year. The freshman phenom leads the Eagles in multi-point games this season with eight.
- Junior captain Michael Kim notched his fifth multi-point performance of the season with a pair of assists in game two, marking his first since recorded a career-best three helpers on Feb. 23 against Maine. The Toronto native reached the 20-point plateau (5-15-20) and has now reached that mark in consecutive seasons as an Eagle.
- With Grando's short-handed goal, the Eagles are now tied with Canisius, Niagara, St. Cloud State and Yale for the second-most shorties on the season with seven (7). Northern Michigan leads the way with nine (9) thus far.
- Boston College has now won 20 games in a season for the ninth time in a row which marks the third-longest streak in college hockey behind Denver (17) and North Dakota (16).
GOAL DESCRIPTIONS
FIRST GOAL (1-0 - Boston College) - SECOND PERIOD - Mike Booth - 12:02 - EVEN STRENGTH
• Boston College drew first blood past the halfway mark of regulation on a dump and chase goal capped off by Mike Booth. Booth won a face off in the Eagles' end back to Michael Kim behind the near circle. Kim flipped the puck deep down the sheet and Logan Hutsko gave chase to it. Hutsko won the battle in Merrimack's near corner and flipped it over to Booth on the near wall. Booth raced around the left dot and potted a low wrister from the slot at 12:02 for the 1-0 BC advantage.
SECOND GOAL (2-0 - Boston College) - SECOND PERIOD - Mike Booth - 15:20 - EVEN STRENGTH
• The Eagles doubled their lead just over three minutes later after some heavy forechecking from BC. Merrimack looked to clear the zone but the puck was fumbled a bit along the near wall. Christopher Grando swooped and induced the turnover and JD Dudek took care of the rest. Already in momentum, Dudek corralled the loose disc, took two strides and pumped it past Warriors' goaltender Craig Pantano at 15:20 of the second period.
THIRD GOAL (2-1 - Merrimack) - SECOND PERIOD - Johnathan Kovacevic - 15:39 - EVEN STRENGTH
• Merrimack stopped the bleeding quickly after Dudek's tally 19 seconds later on a play in front. Alfred Larsson got the puck out from behind the Eagles' net to Logan Coomes on the near side. Coomes managed to sneak it back to the point for Johnathan Kovacevic to blast it back towards the net as the puck pinballed around and finally trickled over the goal line at 15:39 of the second period to make it 2-1.
FOURTH GOAL (2-2 - Merrimack) - SECOND PERIOD - Ludvig Larsson - 19:34 - POWER PLAY
• With 26 seconds to play in the second, Merrimack cashed in on the first power play of the game at 19:34 off of a David Cotton coughing call. Jared Kolquist generated the scoring play by deferring to Sami Tavernier atop the right circle. Tavernier let a blast loose towards the crease right where Ludvig Larsson was stationed. Larsson redirected the blast up high over Joseph Woll's shoulder to tie it up late in the second, 2-2, on the power play marker.
FIFTH GOAL (3-2 - Boston College) - THIRD PERIOD - Julius Mattila - 4:14 - EVEN STRENGTH
• Boston College regained the lead in the opening minutes of the third after Kim generated a two-on-one play with a strong clearing pass from Merrimack's end. Kim connected with Hutsko in the neutral zone after he blew past an off-kilter Merrimack defenseman. Julius Mattia joined the play down the right side and Hutsko perfectly timed the pass to Mattila for the tap in on the near side at 4:14 to reclaim the advantage, 3-2.
SIXTH GOAL (3-3 - Merrimack) - THIRD PERIOD - Tyler Irvine - 15:05 - EVEN STRENGTH
• Just under the five-minute mark, the Warriors buttoned things up against on a bang-bang play in front. Coomes had the puck within the blue line and quickly handed it up to Larsson on the left dot. Tyler Irvine was in perfect position with an open look in the slot and Larsson completed the play with tape-to-tape pass. Irvine beat Woll before he could reposition to make it 3-3 at 15:05 of the third period.
SEVENTH GOAL (4-3 - Boston College) - OVERTIME - Christopher Grando - 4:20 - SHORT-HANDED
• Casey Fitzgerald was cited for hooking at 3:15 of the overtime session but a heads-up play in the neutral zone by sophomore Connor Moore jostled a Merrimack charge loose right to Grando. With the puck floating back towards the red line, Grando scooped it up, charged towards Pantano and pitchforked it with the backhand through Pantano's legs to walk the Eagles off in victorious overtime fashion, 4-3, at 4:20 in overtime.
BOSTON COLLEGE GAME LEADERS
Points: Christopher Grando(1 - 1 - 2) / Michael Kim (0 - 2 - 2) / Logan Hutsko (0 - 2 - 2)
Goals: Christopher Grando(1 - 1 - 2) / Mike Booth (1 - 0 - 1) / JD Dudek Mike Booth (1 - 0 - 1) / Julius Mattila Mike Booth (1 - 0 - 1)
Assists: Michael Kim (0 - 2 - 2) / Logan Hutsko (0 - 2 - 2)
Shots: Julius Mattila ( 5 )
Faceoffs: JD Dudek (12 - of - 23)
SPECIAL TEAMS
Merrimack: 1 - for - 3
Boston College: 0 - for - 0
PENALTIES
Merrimack: 0 - for - 0
Boston College: 3 - for - 6
BOSTON COLLEGE LINES
Cotton - Jul. Mattila - Hutsko
Grando -Dudek- Tortora
Brown - Räsänen - Greco
Carreau - Booth - Walker
Jes. Mattila - Moore
Karow - Fitzgerald
Kim - Lohan
Woll
Edquist
Milosz
UP NEXT
Boston College will head to TD Garden to take on archrival Boston University on Friday, March 16 at 5 p.m. It marks the Eagles' 24th showing in the Hockey East semifinal contest. Friday's Battle of Comm Ave. will be available on NESN.