Sunday, November 13, 2016
Zink's Three Assists Help UMass Lowell Past Maine, 4-1
Senior defenseman Dylan Zink registers three assists for River Hawks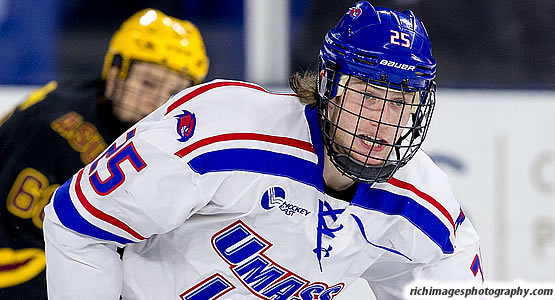 Senior defenseman Dylan Zink registered three assists for the River Hawks
| | | | | | | |
| --- | --- | --- | --- | --- | --- | --- |
| Prd | Time | Team | Score | Type | Scored By | Assists |
| 1st | 5:34 | UML | 1-0 | EV | Ryan Lohin (2) | Dylan Zink/9, Tyler Mueller/2 |
| 1st | 13:05 | UML | 2-0 | EV GW | John Edwardh (6) | C.J. Smith/8, Joe Gambardella/10 |
| 2nd | 12:59 | UML | 3-0 | PP | Joe Gambardella (7) | Dylan Zink/10, Michael Kapla/8 |
| 2nd | 15:24 | MNE | 1-3 | EV | Dane Gibson (3) | Cam Brown/9, Blaine Byron/6 |
| 3rd | 5:30 | UML | 4-1 | PP | Jake Kamrass (6) | Dylan Zink/11, Ryan Lohin/6 |
| | | | | |
| --- | --- | --- | --- | --- |
| Scoring | 1st | 2nd | 3rd | Final |
| Maine | 0 | 1 | 0 | 1 |
| UMass Lowell | 2 | 1 | 1 | 4 |
| | | | | |
| --- | --- | --- | --- | --- |
| Shots on Goal | 1st | 2nd | 3rd | SOG |
| Maine | 4 | 5 | 12 | 21 |
| UMass Lowell | 13 | 10 | 6 | 29 |
| | | | |
| --- | --- | --- | --- |
| Team Stats and Records | PP | PIM | SHGF |
| Maine (4-6-2) | 0/9 | 7/14 | 0 |
| UMass Lowell (7-3-2) | 2/7 | 9/18 | 0 |
| | | | | | | |
| --- | --- | --- | --- | --- | --- | --- |
| Maine Goaltending | MIN | GA | 1 | 2 | 3 | Saves |
| Rob McGovern (L, 4-4-2) | 59:34 | 4 | 11 | 9 | 5 | 25 |
| Empty Net | 0:26 | 0 | | | | |
| | | | | | | |
| --- | --- | --- | --- | --- | --- | --- |
| UMass Lowell Goaltending | MIN | GA | 1 | 2 | 3 | Saves |
| Tyler Wall (W, 7-2-1) | 60:00 | 1 | 4 | 4 | 12 | 20 |
LOWELL, Mass. - Four different goal scorers emerged as the UMass Lowell men's hockey team soared into a 4-1 victory against Maine (4-6-2, 1-3-0 HEA) in Hockey East action Sunday afternoon in front of 4,931 fans at the Tsongas Center.
"You always want to leave the weekend on a good note and we did that today," said Head Coach Norm Bazin. "We are happy to get the split in Hockey East after dropping the first one. They are an excellent hockey team and I am very proud of our effort tonight."
Defenseman Dylan Zink (Madison, Wis.) posted a game-high three points, on three assists, while goaltender Tyler Wall (Leamington, Ont.) made 20 saves as UMass Lowell improves to 7-3-2 overall and 3-1-0 in conference play.
Forwards Ryan Lohin (Chadds Ford, Pa.) and John Edwardh (Calgary, Alberta) gave the River Hawks an early 2-0 advantage in the first frame. Lohin's slap shot at 5:34 broke open the scoring in a contest that would see four UMass Lowell goals. Edwardh soon added another tally to the scoreboard as the River Hawks stretched their lead by one to make it a 2-0 game with 40 minutes left to play.
UMass Lowell outshot the Black Bears 13-4 in the period while successfully killing off their lone penalty kill opportunity.
The River Hawks kept the momentum churning as forward Joe Gambardella (Staten Island, N.Y.) added to the home team's lead, 3-0, with a power play goal midway through the second. In the same period, Maine's Dane Gibson spoiled Wall's chance at a shut out after sending a shot past Wall and into the back of the net to cut the deficit to 3-1.
Forward Jake Kamrass (Atlanta, Ga.) notched the final periods lone goal with 15 minutes left in regulation, helping the River Hawks glide into a final 4-1 victory.
UMass Lowell is back in action next week as the team continues Hockey East play with a two-game set at Notre Dame on Thursday, November 17 and Friday Nov. 18, beginning at 7:30 p.m.