Saturday, November 26, 2016
New Hampshire Defeated By Cornell, 3-1, At Madison Square Garden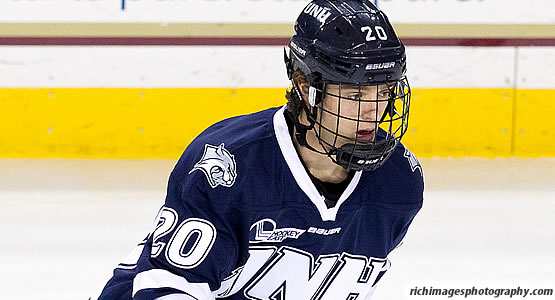 Freshman forward Patrick Grasso scored a goal for the Wildcats
| | | | | | | |
| --- | --- | --- | --- | --- | --- | --- |
| Prd | Time | Team | Score | Type | Scored By | Assists |
| 1st | 5:06 | UNH | 1-0 | EV | Patrick Grasso (11) | Brendan van Riemsdyk/7, Matias Cleland/14 |
| 1st | 11:59 | COR | 1-1 | PP | Trevor Yates (4) | Patrick McCarron/6 |
| 2nd | 16:47 | COR | 2-1 | EV GW | Noah Bauld (1) | Matthew Nuttle/1, Dan Wedman/1 |
| 3rd | 12:46 | COR | 3-1 | PS | Alex Rauter (3) | - |
| | | | | |
| --- | --- | --- | --- | --- |
| Scoring | 1st | 2nd | 3rd | Final |
| New Hampshire | 1 | 0 | 0 | 1 |
| Cornell | 1 | 1 | 1 | 3 |
| | | | | |
| --- | --- | --- | --- | --- |
| Shots on Goal | 1st | 2nd | 3rd | SOG |
| New Hampshire | 10 | 14 | 6 | 30 |
| Cornell | 12 | 7 | 10 | 29 |
| | | | |
| --- | --- | --- | --- |
| Team Stats and Records | PP | PIM | SHGF |
| New Hampshire (6-6-2) | 0/7 | 7/14 | 0 |
| Cornell (4-3-1) | 1/6 | 7/14 | 0 |
| | | | | | | |
| --- | --- | --- | --- | --- | --- | --- |
| New Hampshire Goaltending | MIN | GA | 1 | 2 | 3 | Saves |
| Daniel Tirone (L, 6-4-2) | 58:58 | 3 | 11 | 6 | 9 | 26 |
| Empty Net | 1:02 | 0 | | | | |
| | | | | | | |
| --- | --- | --- | --- | --- | --- | --- |
| Cornell Goaltending | MIN | GA | 1 | 2 | 3 | Saves |
| Mitch Gillam (W, 4-3-1) | 59:37 | 1 | 9 | 14 | 6 | 29 |
| Empty Net | 0:23 | 0 | | | | |
NEW YORK - The University of New Hampshire men's hockey team fell by a score of 3-1 to Cornell University Saturday night at Madison Square Garden in New York, N.Y.
GAME INFORMATION
Date: November 26, 2016 (8:07 p.m.)
Score: Cornell 3, New Hampshire 1
New Records: Cornell (4-3-1, 3-2-1 ECAC) // New Hampshire (6-6-2, 3-1-1 HEA)
Location: Madison Square Garden (New York, N.Y.)
Goal Scorers:
New Hampshire - Patrick Grasso (van Riemsdyk, Cleland) - 5:06 - First Period
Cornell - Trevor Yates (McCarron) - 11:59 - First Period (ppg) // Noah Bauld (Nuttle, Wedman) - 16:47 - Second Period // Alex Rauter (penalty shot) - 12:46 - Third Period
Goaltenders:
UNH - Danny Tirone (6-4-2) - 26 saves (11 | 6 | 9) - 58:58 in net
Cornell - Mitch Gillam (4-3-1) - 29 saves (9 | 14 | 6) 59:37 in net
Next Home Game: Friday, Dec. 2, 2016 vs. Maine (7:00 p.m.)
WHAT HAPPENED
The Wildcats struck first at 5:06 of the first period as freshman forward Patrick Grasso (Ankeny, Iowa) notched his 11th goal of the season. Senior captain Matias Cleland (Longmont, Colo.) dished a pass to freshman Brendan van Riemsdyk (Middletown, N.J.). He found Grasso inside the faceoff circle to the left of Big Red netminder Mitch Gillam. Grasso fired a shot from his knees that squeaked past Gillam and into the net.
The Big Red tied the score at 11:59 of the first stanza with a goal by Trevor Yates. Patrick McCarron tallied the assist on the play as he fired a shot in on net that was initially saved by UNH netminder Danny Tirone (Trumbull, Conn.), but Yates got the rebound and put it away.
CU gained a 2-1 lead with 3:13 left in the second period on a deflection goal by Noah Bauld. Dan Wedman swung the puck along the point from left to right to Matt Nuttle. He then fired the puck on net that took a deflection off the stick of Bauld and into the net.
Cornell gained a 3-1 lead with 7:14 left in the third period on a penalty shot by Alex Rauter.
PENALTIES
New Hampshire: 7 penalties - 14 minutes
Cornell: 7 penalties - 14 minutes
SPECIAL TEAMS New Hampshire: 0-for-6
Cornell: 1-for-6
NEW HAMPSHIRE LEADERS
Points: Patrick Grasso (1), Brendan van Riemsdyk (1), Matias Cleland (1)
Goals: Grasso (1)
Assists: van Riemsdyk (1), Cleland (1)
CORNELL LEADERS
Points: Trevor Yates (1), Patrick McCarron (1), Noah Bauld (1), Matt Nuttle (1), Dan Wedman (1), Alex Rauter (1)
Goals: - Yates (1), Bauld (1), Rauter (1)
Assists: - McCarron (1), Nuttle (1), Wedman (1)​