Saturday, October 15, 2016
UConn Skates To 1-1 Tie At RIT
Junior forward Kasperi Ojantakanen scores goal for Huskies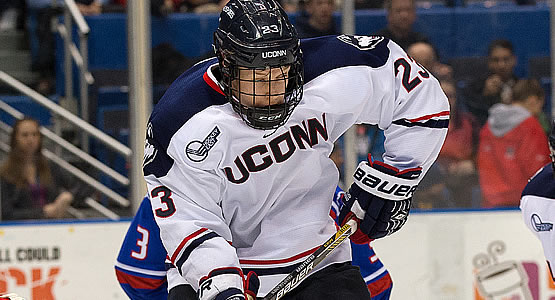 Junior forward Kasperi Ojantakanen scored a goal for the Huskies
| | | | | | | |
| --- | --- | --- | --- | --- | --- | --- |
| Prd | Time | Team | Score | Type | Scored By | Assists |
| 3rd | 5:46 | CON | 1-0 | EV | Kasperi Ojantakanen (1) | Derek Pratt/1, Wyatt Newpower/1 |
| 3rd | 11:31 | RIT | 1-1 | EV GT | Chase Norrish (2) | Brady Norrish/3, Myles Powell/3 |
| | | | | | |
| --- | --- | --- | --- | --- | --- |
| Scoring | 1st | 2nd | 3rd | OT | Final |
| Connecticut | 0 | 0 | 1 | 0 | 1 |
| RIT | 0 | 0 | 1 | 0 | 1 |
| | | | | | |
| --- | --- | --- | --- | --- | --- |
| Shots on Goal | 1st | 2nd | 3rd | OT | SOG |
| Connecticut | 8 | 6 | 7 | 1 | 22 |
| RIT | 13 | 13 | 6 | 5 | 37 |
| | | | |
| --- | --- | --- | --- |
| Team Stats and Records | PP | PIM | SHGF |
| Connecticut (2-0-2) | 0/4 | 6/12 | 0 |
| RIT (1-1-1) | 0/6 | 5/10 | 0 |
| | | | | | | | |
| --- | --- | --- | --- | --- | --- | --- | --- |
| Connecticut Goaltending | MIN | GA | 1 | 2 | 3 | OT | Saves |
| Adam Huska (T, 0-0-1) | 65:00 | 1 | 13 | 13 | 5 | 5 | 36 |
| | | | | | | | |
| --- | --- | --- | --- | --- | --- | --- | --- |
| RIT Goaltending | MIN | GA | 1 | 2 | 3 | OT | Saves |
| Mike Rotolo (T, 1-1-1) | 65:00 | 1 | 8 | 6 | 6 | 1 | 21 |
ROCHESTER, N.Y. - UConn freshman goaltender Adam Huska (Zvolen, Slovakia) made his collegiate debut Saturday night and turned in a 36-save performance to help lead the Huskies to a 1-1 tie with RIT in front of a sold out crowd of 10,556 at the BlueCross Arena. The Huskies remain unbeaten this season and are now 2-0-2 on the year. RIT is now 1-1-1.
After two scoreless periods, UConn jumped in front at 5:43 on junior Kasperi Ojantakanen's (Helsinki, Finland) first goal of the season. Ojantakanen redirected a shot from classmate Derek Pratt (Mount Hermon, Mass.) in front.
The Tigers found the tying goal at 11:31 as Chase Norrish blasted a one-timer past Huska from the top of the right circle, his second on the season. From there, both goaltenders returned to form and kept the game scoreless the rest of the way.
RIT held a 37-22 edge in the shots department while neither team was able to convert on a power play. The Huskies finished 0-for-4 while RIT was 0-for-7 with the extra skater. The UConn defense blocked 25 shots on the night. RIT's goaltender Mike Rotolo made 21 saves on the night.
NOTES:
Ojantakanen scored his first goal in 29 games, dating back to last season's home opener, a 5-1 win over Arizona State nearly one year from today (10/16/15).
The Huskies are 0-3-1 all-time in Blue Cross Arena. UConn lost in the AHA Semifinals in 2007 (3-1 vs. Army), 2011 (4-2 vs. RIT) and 2013 (4-1 vs. Mercyhurst).
UConn is no 10-19-2 all-time against RIT.
UConn is now 1-3-1 against Atlantic Hockey since leaving the league after the 2013-14 season. The Huskies will face-off with their former league twice more this season when they host AIC (10/21) and Sacred Heart (11/26).
After Saturday's games, Hockey East is now 1-4-2 against Atlantic Hockey this season.
1st Period:
Both teams skated to a scoreless first period with RIT holding a 13-8 edge on shots. UConn freshman goaltender Adam Huska made his first collegiate start and kept RIT off the board in his first 20 minutes of action.
2nd Period:
RIT outshot the Huskies again in the second period, 13-6, but neither team could crack the scoring column.
Huska's best save, maybe of the night, came on the Tigers' power play with 5:12 to play. RIT's Brody Vallette let loose a one-timer from the right circle and Huska just got over to make a pad save on an otherwise open net.
UConn's defense blocked 15 shots in front of Huska in the second period.
3rd Period:
The Huskies ended the scoreless tie at 5:36 as Ojantakanen picked-up his first goal of the season. Pratt got a shot off from just outside the left circle that was deflected by Ojantakanen in traffic in front of Rotolo and in. Wyatt Newpower (Hugo, Minn.) was credited with the second assist.
RIT tied the game at 11:31 with the Norrish brothers combining for a one-time blast. Brad Norrish fed his brother Chase across ice just outside the right circle and he buried a one-time rocket, his second on the year.
The Tigers got loose for a 3-on-1 with under a minute to play, but Huska denied Caleb Cameron's from the left circle to keep it tied.
UConn's Newpower was called for kneeing with 5.3 seconds left, giving RIT a power play into overtime.
The Huskies held a 7-6 edge on shots in the third.
OT:
The Huskies killed off 1:55 of a RIT power play to open the overtime.
RIT finished with a 5-1 edge on shots in the extra session.
Up Next:
UConn returns to Connecticut and will travel to Hamden on Wednesday, Oct. 19 to face instate rival and No. 3 ranked Quinnipiac.