Saturday, October 15, 2016
Kelleher Sends New Hampshire Past Clarkson, 5-3
Senior forward Tyler Kelleher has two goals and two assists for Wildcats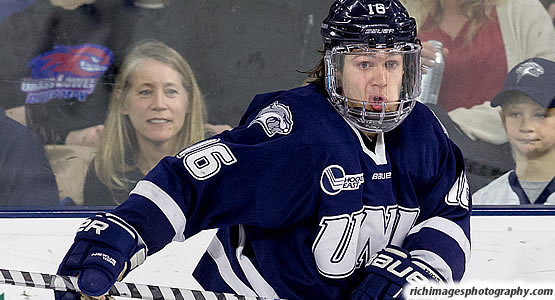 Senior forward Tyler Kelleher had two goals and two assists for the Wildcats
| | | | | | | |
| --- | --- | --- | --- | --- | --- | --- |
| Prd | Time | Team | Score | Type | Scored By | Assists |
| 1st | 1:34 | CLK | 1-0 | EV | Troy Josephs (1) | Perry D'Arrisso/2, Aaron Thow/1 |
| 1st | 9:52 | CLK | 2-0 | EV | Juho Jokiharju (2) | Devin Brosseau/3 |
| 1st | 13:51 | UNH | 1-2 | PP | Patrick Grasso (2) | Tyler Kelleher/1, Matias Cleland/2 |
| 2nd | 9:49 | UNH | 2-2 | EV | Dylan Maller (1) | Jason Salvaggio/2, Tyler Kelleher/2 |
| 2nd | 10:59 | CLK | 3-2 | EV | Juho Jokiharju (3) | Nico Sturm/2, Devin Brosseau/4 |
| 2nd | 16:10 | UNH | 3-3 | EV | Patrick Grasso (3) | Liam Blackburn/1 |
| 3rd | 18:21 | UNH | 4-3 | EV GW | Tyler Kelleher (2) | Jason Salvaggio/3 |
| 3rd | 19:28 | UNH | 5-3 | EV EN | Tyler Kelleher (3) | Matias Cleland/3 |
| | | | | |
| --- | --- | --- | --- | --- |
| Scoring | 1st | 2nd | 3rd | Final |
| New Hampshire | 1 | 2 | 2 | 5 |
| Clarkson | 2 | 1 | 0 | 3 |
| | | | | |
| --- | --- | --- | --- | --- |
| Shots on Goal | 1st | 2nd | 3rd | SOG |
| New Hampshire | 6 | 13 | 13 | 32 |
| Clarkson | 6 | 16 | 10 | 32 |
| | | | |
| --- | --- | --- | --- |
| Team Stats and Records | PP | PIM | SHGF |
| New Hampshire (1-2-0) | 1/5 | 7/14 | 0 |
| Clarkson (2-2-0) | 0/6 | 6/12 | 0 |
| | | | | | | |
| --- | --- | --- | --- | --- | --- | --- |
| New Hampshire Goaltending | MIN | GA | 1 | 2 | 3 | Saves |
| Daniel Tirone (W, 1-1-0) | 60:00 | 3 | 4 | 15 | 10 | 29 |
| | | | | | | |
| --- | --- | --- | --- | --- | --- | --- |
| Clarkson Goaltending | MIN | GA | 1 | 2 | 3 | Saves |
| Jake Kielly (L, 2-2-0) | 59:08 | 4 | 5 | 11 | 11 | 27 |
| Empty Net | 0:52 | 1 | | | | |
POTSDAM, N.Y. - Senior forward Tyler Kelleher scored with 1:39 remaining in the third period and added an empty-netter to lift New Hampshire to a come-from-behind 4-3 win against Clarkson on Saturday at Cheel Arena.
GAME INFORMATION
Date: October 15, 2016 (7:00 p.m.)
Score: University of New Hampshire 5, Clarkson University 3
New Records: New Hampshire (1-2-0, 0-0-0 HE) // Clarkson (2-2-0, 0-0-0 ECAC)
Location: Cheel Arena (Potsdam, N.Y.)
Goal Scorers: New Hampshire - Tyler Kelleher (2), Patrick Grasso (2), Dylan Maller (1); Clarkson - Juho Hokiharju (2), Troy Josephs,
Goaltenders: UNH - Danny Tirone (1-1-0) 29 saves (4 | 15 | 10 - 60:00); Clarkson- Jake Kielly (2-1-0) 27 saves (5 |11 | 11 - 59:08)
Next Game: Saturday, Oct. 22, 2016 vs. Colorado College (7:00 p.m.)
WHAT HAPPENED
The Golden Knights jumped out to a 2-0 lead om the first period with goals by Josephs at 1:34 of the period and Jokiharju with one at 9:52.
Patrick Grasso (Ankeny, Iowa) got the 'Cats on the board at 13:51 of the first period with a power play goal. The play started with Matias Cleland (Longmont, Colo.) sliding a pass over to Tyler Kelleher (Longmeadow, Mass.) at the top of the faceoff circle. He sent a pass to Grasso who skated in along the redline and jammed the puck past Clarkson netminder Jake Kielly.
Dylan Maller (Parkland, Fla.) recorded the first goal of his career at 9:49 of the second period as he flung a wrister from the top of the slot past Kielly. Jason Salvaggio (Hanson, Mass.) took a shot that was saved by Kielly, and Kelleher sent the puck out to Maller for the assists.
Clarkson regained the lead at 10:59 of the second stanza as Jokiharju notched his second goal of the game. The Wildcats remained resilient as Grasso scored his second goal of the game and third of the weekend at 16:10. Liam Blackburn (Prince George, British Columbia) recorded his first collegiate point on the play with an assist.
In the third period, Kelleher scored his first goal of the game, which would prove to be the game winner, at with 1:39 left in regulation. Salvaggio got his second assist of the game on the play. With 32 seconds left, Kelleher put the game away with an empty net goal from the UNH zone.
PENALTIES
New Hampshire: 7 penalties - 14 minutes
Clarkson: 6 penalties - 12 minutes
SPECIAL TEAMS
New Hampshire: 1-for-5
Clarkson: 0-for-6
NEW HAMPSHIRE LEADERS
Points: Tyler Kelleher (4)
Goals: Patrick Grasso (2), Tyler Kelleher (2)
Assists: Tyler Kelleher (2), Jason Salvaggio (2)
Shots: Tyler Kelleher (6)
CLARKSON LEADERS
Points: Juho Jokiharju (2), Devin Brosseau (2)
Goals: Juho Jokiharu (2), Troy Josephs (1)
Assists: Devin Brosseau (2)