Saturday, October 22, 2016
UMass Lowell Edged By Clarkson, 4-3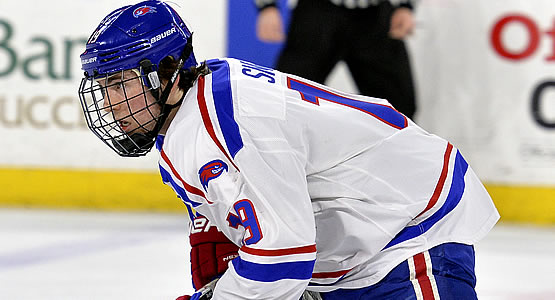 Junior forward C.J. Smith scored two goals for the River Hawks
| | | | | | | |
| --- | --- | --- | --- | --- | --- | --- |
| Prd | Time | Team | Score | Type | Scored By | Assists |
| 1st | 2:46 | UML | 1-0 | PP | C.J. Smith (3) | Mattias Göransson/3, John Edwardh/3 |
| 1st | 7:39 | UML | 2-0 | EV | Kenny Hausinger (1) | Ryan Lohin/3, Gage Hough/1 |
| 2nd | 6:31 | CLK | 1-2 | EV | Devin Brosseau (1) | Sam Vigneault/3 |
| 2nd | 14:52 | CLK | 2-2 | EV | Jordan Boucher (3) | Brett Gervais/2, Nic Pierog/3 |
| 3rd | 2:30 | CLK | 3-2 | PP | A.J. Fossen (2) | Jordan Boucher/1, Sam Vigneault/4 |
| 3rd | 11:31 | UML | 3-3 | EV | C.J. Smith (4) | Mattias Göransson/4, Michael Kapla/5 |
| 3rd | 15:56 | CLK | 4-3 | PP GW | James de Haas (1) | Kelly Summers/2, A.J. Fossen/1 |
| | | | | |
| --- | --- | --- | --- | --- |
| Scoring | 1st | 2nd | 3rd | Final |
| Clarkson | 0 | 2 | 2 | 4 |
| UMass Lowell | 2 | 0 | 1 | 3 |
| | | | | |
| --- | --- | --- | --- | --- |
| Shots on Goal | 1st | 2nd | 3rd | SOG |
| Clarkson | 8 | 9 | 8 | 25 |
| UMass Lowell | 16 | 6 | 9 | 31 |
| | | | |
| --- | --- | --- | --- |
| Team Stats and Records | PP | PIM | SHGF |
| Clarkson (3-2-1) | 2/4 | 7/14 | 0 |
| UMass Lowell (3-1-2) | 1/6 | 5/10 | 0 |
| | | | | | | |
| --- | --- | --- | --- | --- | --- | --- |
| Clarkson Goaltending | MIN | GA | 1 | 2 | 3 | Saves |
| Jake Kielly (W, 3-2-1) | 60:00 | 3 | 14 | 6 | 8 | 28 |
| | | | | | | |
| --- | --- | --- | --- | --- | --- | --- |
| UMass Lowell Goaltending | MIN | GA | 1 | 2 | 3 | Saves |
| Tyler Wall (L, 3-1-1) | 59:15 | 4 | 8 | 7 | 6 | 21 |
| Empty Net | 0:45 | 0 | | | | |
LOWELL, Mass. - Junior forward C.J. Smith's (Des Moines, Iowa) two-goal night was not enough as the UMass Lowell hockey team (3-1-2) faced a 4-3 setback against Clarkson (3-2-1) Saturday night in front of 5,688 fans at the Tsongas Center on Homecoming weekend.
"I thought it was a good hockey game tonight," said Head Coach Norm Bazin. "We played well the first period, while they played better in the second and the third period was back and forth. There were some mistakes made at critical times and they took advantage of it and scored on the power play to win the game."
Despite outshooting their opponents, 31-25, in the contest, the River Hawks suffered their first loss of the season behind freshman goaltender Tyler Wall's (Leamington, Ont.) 21 saves.
After finding the back of the net twice in the first period, the River Hawks created a two-goal buffer for themselves after the first twenty minutes of play.
Smith put his team on the board at 2:46 in the opening frame on a man up advantage. When an initial shot by freshman defenseman Mattias Goransson (Slottsbron, Sweden) caused a scramble in front of the net, Smith came out on top after tapping home the loose rebound for the 1-0 edge. UMass Lowell saw their lead extend to 2-0 five minutes later when freshman forward Kenny Hausinger (Anchorage, Alaska) boasted his first career point with a one timer past the Clarkson goalkeeper.
Clarkson retaliated with a pair of goals themselves in the second period. Forward Devin Brosseau cut the deficit to one with a tally at 6:31 in the frame while his teammate netted the equalizer, 2-2, with a wrist shot from the right hand side.
With a power play goal in the opening three minutes of the final period, the Golden Knights grabbed their first lead of the night, 3-2.
The home team would not trail for long thanks to Smith who rung top self to post his second tally of the contest. Clarkson would eventually seal the deal with a late power play goal by James de Haas that propelled the Golden Knights to a final 4-3 victory.
The River Hawks return to action when the squad hits the road for a two-game series at Nebraska Omaha on Friday, October 28 and Saturday, Oct. 29. Both contests are slated to begin at 8 p.m. (ET).