Boston University Notches 4-1 Win Over Maine
Sophomore forward Bobo Carpenter and freshman forward Clayton Keller each score goal and assist for Terriers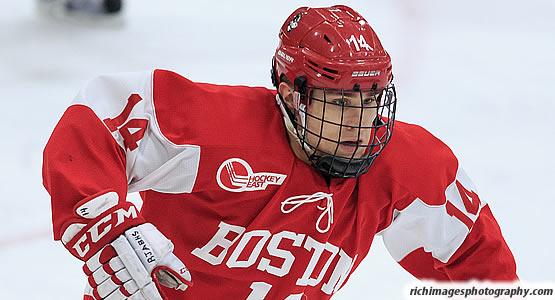 Sophomore forward Bobo Carpenter had a goal and an assist for the Terriers
| | | | | | | |
| --- | --- | --- | --- | --- | --- | --- |
| Prd | Time | Team | Score | Type | Scored By | Assists |
| 1st | 18:44 | MNE | 1-0 | PP | Nolan Vesey (7) | Blaine Byron/14, Cam Brown/23 |
| 2nd | 18:28 | BU | 1-1 | EV | Clayton Keller (9) | Brandon Hickey/8, Bobo Carpenter/10 |
| 3rd | 12:10 | BU | 2-1 | PP GW | Bobo Carpenter (7) | Dante Fabbro/6, Chad Krys/4 |
| 3rd | 14:00 | BU | 3-1 | PP | Jordan Greenway (7) | Jakob Forsbacka Karlsson/13, Clayton Keller/11 |
| 3rd | 15:08 | BU | 4-1 | EV | Nikolas Olsson (3) | Ryan Cloonan/2, Nick Roberto/6 |
| | | | | |
| --- | --- | --- | --- | --- |
| Scoring | 1st | 2nd | 3rd | Final |
| Maine | 1 | 0 | 0 | 1 |
| Boston University | 0 | 1 | 3 | 4 |
| | | | | |
| --- | --- | --- | --- | --- |
| Shots on Goal | 1st | 2nd | 3rd | SOG |
| Maine | 6 | 4 | 4 | 14 |
| Boston University | 10 | 11 | 20 | 41 |
| | | | |
| --- | --- | --- | --- |
| Team Stats and Records | PP | PIM | SHGF |
| Maine (8-12-3) | 1/3 | 10/20 | 0 |
| Boston University (15-5-2) | 2/7 | 5/10 | 0 |
| | | | | | | |
| --- | --- | --- | --- | --- | --- | --- |
| Maine Goaltending | MIN | GA | 1 | 2 | 3 | Saves |
| Rob McGovern (L, 7-8-3) | 60:00 | 4 | 10 | 10 | 17 | 37 |
| | | | | | | |
| --- | --- | --- | --- | --- | --- | --- |
| Boston University Goaltending | MIN | GA | 1 | 2 | 3 | Saves |
| Jake Oettinger (W, 12-5-2) | 59:55 | 1 | 5 | 4 | 4 | 13 |
| Empty Net | 0:05 | 0 | | | | |
BOSTON - The No. 3/4 Boston University men's ice hockey team scored three goals in under three minutes late in regulation to break a deadlock and post a 4-1 victory over Maine on Friday evening at Agganis Arena. The result pushed the Terriers' win streak to seven games.
THE RUNDOWN
Final Score: #3/4 Boston University 4, Maine 1
Records: BU (15-5-2, 8-2-2 Hockey East), Maine (8-12-3, 2-8-1 Hockey East)
Location: Agganis Arena - Boston, Mass.
HOW IT HAPPENED
- Maine scored late in the opening period on a power play and kept the Terriers off the board until freshman Clayton Keller made it a 1-1 contest at 18:28 of the second.
- With just under eight minutes left in regulation, sophomore Bobo Carpenter scored the game winner off a one-timer above the left circle on a power play.
- Sophomore Jordan Greenway added another power-play marker at the 16-minute mark and junior Nikolas Olsson made it a 4-1 contest just over a minute later with a tally at the goalmouth.
- The Black Bears' lone goal came after an attempt from the left point by Blaine Byron went off a BU stick and then bounced off the stick of Nolan Vesey and in with the visitors skating on a man advantage.
GAME NOTES
- The Terriers allowed a season-low 14 shots and recorded 41 of their own.
- BU is now 9-1-1 over its past 11 games and owner of a seven-game win streak.
- The Terriers have gone three full games without allowing an even-strength goal.
- Keller extended his point streak to nine games (6g, 9a) while Greenway pushed his to seven (1g, 7a).
- Freshman Jake Oettinger picked up the win in goal with a 13-save performance.
- Rob McGovern turned aside 37 BU shots in the Maine net.
- BU went 2-of-7 on the power play and killed off two of Maine's three chances.
NEXT UP
- The Terriers and Black Bears now head north for the back half the weekend home-and-home series in Orono.
- Game time at Alfond Arena is set for 7:30 p.m. It will be broadcast live on Fox Sports Atlantic.