White's Three Points Lead Boston College Past Colorado College, 4-1
Sophomore forward Colin White scores two goals and assist for Eagles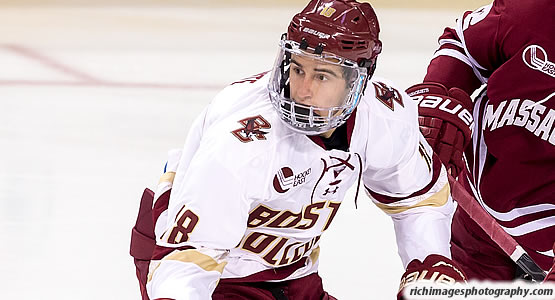 Sophomore forward Colin White had two goals and an assist for the Eagles
| | | | | | | |
| --- | --- | --- | --- | --- | --- | --- |
| Prd | Time | Team | Score | Type | Scored By | Assists |
| 1st | 5:30 | CC | 1-0 | PP | Nick Halloran (2) | Branden Makara/2, Teemu Kivihalme/1 |
| 1st | 6:36 | BC | 1-1 | PP | Colin White (2) | Ryan Fitzgerald/3, Casey Fitzgerald/2 |
| 1st | 18:20 | BC | 2-1 | PP GW | Casey Fitzgerald (1) | Colin White/1, Michael Kim/3 |
| 2nd | 5:00 | BC | 3-1 | EV | Jesper Mattila (1) | Zach Walker/1, Mike Booth/1 |
| 2nd | 12:51 | BC | 4-1 | EV | Colin White (3) | Scott Savage/1, Michael Campoli/1 |
| | | | | |
| --- | --- | --- | --- | --- |
| Scoring | 1st | 2nd | 3rd | Final |
| Colorado College | 1 | 0 | 0 | 1 |
| Boston College | 2 | 2 | 0 | 4 |
| | | | | |
| --- | --- | --- | --- | --- |
| Shots on Goal | 1st | 2nd | 3rd | SOG |
| Colorado College | 8 | 6 | 10 | 24 |
| Boston College | 12 | 13 | 9 | 34 |
| | | | |
| --- | --- | --- | --- |
| Team Stats and Records | PP | PIM | SHGF |
| Colorado College (1-4-0) | 1/9 | 10/28 | 0 |
| Boston College (3-2-0) | 2/8 | 11/30 | 0 |
| | | | | | | |
| --- | --- | --- | --- | --- | --- | --- |
| Colorado College Goaltending | MIN | GA | 1 | 2 | 3 | Saves |
| Alex Leclerc (L, 1-4-0) | 32:46 | 4 | 10 | 11 | 0 | 21 |
| Derek Shatzer | 27:09 | 0 | 0 | 0 | 9 | 9 |
| Empty Net | 0:05 | 0 | | | | |
| | | | | | | |
| --- | --- | --- | --- | --- | --- | --- |
| Boston College Goaltending | MIN | GA | 1 | 2 | 3 | Saves |
| Ryan Edquist (W, 1-0-0) | 59:41 | 1 | 7 | 6 | 10 | 23 |
| Empty Net | 0:19 | 0 | | | | |
CHESTNUT HILL, Mass. - Sophomore forward Colin White scored two goals and added an assist to lead Boston College to Friday evening's 4-1 win against Colorado College at Kelley Rink.
SCORE
Colorado College - 1 / No. 10 Boston College - 4
LOCATION
Kelley Rink / Chestnut Hill, Mass.
RECORDS
Colorado College (1-4-0) / No. 10 Boston College - (3-2-0)
BC HIGHLIGHTS & GAME NOTES
- Colin White scored Boston College's first power play goal of the season, ending a drought of 23 opportunities. White's power play goal is the fifth of his career. Casey Fitzgerald followed suit later in the first period, counting for his fourth power play tally in the maroon and gold.
- Colin White added his second goal late in the second period, marking his fourth-career multi-goal performance. The Hanover, Mass., native netted a hat trick against Providence on Jan. 8, 2016. White finished with three points (2-1-3), accounting for his 13th-career mutli-point game.
- Jesper Mattila scored his first collegiate goal in Boston College's home opener while Mike Booth and Zach Walker each picked up their first points as Eagles with the assist on his tally.
- Sophomore defenseman Casey Fitzgerald's power play goal was accompanied by an assist, marking his sixth-career multi-point performance as an Eagle.
- Ryan Edquist earned his first-career start as an Eagle in Boston College's home opener. The Lakeville, Minn. Native stopped 23 shots in his debut.
- Boston College has outscored Colorado College, 18-3, in its last four meetings against the Tigers.
- Dating back to 2007-08, Boston College is now 8-1-1 in home openers. Under head coach Jerry York, the Eagles are 15-7-1.
GOAL DESCRIPTIONS
FIRST GOAL (1-0 - CC) FIRST PERIOD - Nick Halloran - 5:30 - EVEN STRENGTH
- Colorado College attacked first after the Eagles committed a pair of power plays early on to start. BC killed off a Scott Savage elbowing call but the Tigers pounced on a too many men call at 5:30 of the first. Teemu Kivihalme broke up a play in the neutral zone off to Branden Makara on the blue line. Nick Halloran followed and Makara dropped it off behind for the snapshot screen. Halloran used Makara to block out Ryan Edquist and Halloran whizzed it top shelf for the opening score.
SECOND GOAL (1-1 - BC) FIRST PERIOD - Colin White -6:36 - POWER PLAY
- CC's Cole Josefchak was called for interference 13 seconds after the Tigers' tally and Colin White made them pay off a rebound at 6:36. Casey Fitzgerald cycled up top and connected with brother, Ryan Fitzgerald, for the one timer on the right dot. Fitzgerald's rip sailed just wide and bounced off the backboards where Colin White was waiting to stuff in the carom off the far post to tie it up, 1-1, on the power play.
THIRD GOAL (2-1 - BC) FIRST PERIOD - Casey Fitzgerald - 18:20 - POWER PLAY
- Boston College lit the lamp with the extra attacker once again, taking advantage of a Trey Bradley hooking call late in the third. The Eagles executed the cycle perfectly as C. Fitzgerald finished off the play in the right circle. Michael Kim bounced it down to Colin White on the far boards and White pierced CC's penalty kill with a pass through the zone. C. Fitzgerald gathered it and beat Tigers' netminder Alex Leclerc with a quick wrister through traffic at 18:20 to claim a 2-1 lead.
FOURTH GOAL (3-1 - BC) SECOND PERIOD - Jesper Mattila - 5:00 - EVEN STRENGTH
- Jesper Mattila tallied his first-career goal five minutes into the second stanza on a snipe from beyond the left circle to extend BC's lead, 3-1. Mike Booth and Zach Walker also picked up their first-career points with the work in BC's end. Booth dug the puck out behind BC's end out to Walker on the half wall. Walker connected with Jes. Mattila in stride with a no-look pass in the flank and Mattila drove it into Colorado College's end. With CC's Max St. Pierre in his face, Jes. Mattila let a hard wrister go on top of the left circle and it duped Leclerc for the two-goal lead.
FIFTH GOAL (4-1 - BC) SECOND PERIOD - Colin White - 12:51 - EVEN STRENGTH
- The Eagles attacked in transition again as Colin White lit the lamp once again to finish off the scoring play at 12:51. Michael Campoli broke up a play in the corner and Scott Savage was on the wall and sent the loose puck out to White already in motion. Savage's home-run pass led White perfectly and set him up for the score. White raced through the neutral zone, eluded his defender, and made a nifty move around Leclerc for the 4-1 lead. White's goal chased Leclerc out of the net for Derek Shatzer.
BOSTON COLLEGE GAME LEADERS
Points: Colin White (2 - 1 - 3)
Goals: Colin White (2 - 1 - 3)
Assists: Scott Savage (0 - 1 - 1) / Michael Kim (0 - 1 - 1) / Casey Fitzgerald (0 - 1 - 1) / Mike Booth (0 - 1 - 1) / Zach Walker (0 - 1 - 1) / Ryan Fitzgerald (0 - 1 - 1)
Shots: Colin White (7)
Faceoffs Won: Austin Cangelosi (17 - of - 24)
SPECIAL TEAMS
Colorado College: 2 - for - 7
Boston College: 1 - for - 9
PENALTIES
Colorado College: 10 - of - 28
Boston College: 11 - of - 30
BOSTON COLLEGE LINES
R. Fitzgerald - White - Dudek
Cotton - Cangelosi - Brown
Gaudreau - Greco - Calnan
McPhee - Booth - Walker
Jes. Mattila - Moore
Campoli - Savage
Kim - C. Fitzgerald
Edquist
Woll
Milosz
UP NEXT
Boston College returns to the road tomorrow night when the Eagles take on Holy Cross at the DCU Center in Worcester. Game time is schedule for 7 p.m. on Saturday, Oct. 22.