Friday, November 20, 2015
Providence College Skates Past Northeastern, 5-2
Senior forward Mark Jankowski scores two goals for Friars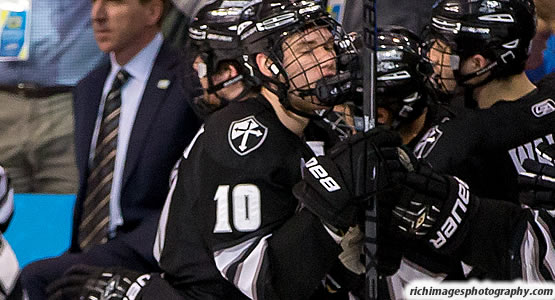 Senior forward Mark Jankowski scored two goals for the Friars
| | | | | | | |
| --- | --- | --- | --- | --- | --- | --- |
| Prd | Time | Team | Score | Type | Scored By | Assists |
| 1st | 3:47 | PRV | 1-0 | PP | Mark Jankowski (5) | Nick Saracino/8, Jake Walman/6 |
| 1st | 15:14 | NOE | 1-1 | PP | Garret Cockerill (3) | John Stevens/3, Zach Aston-Reese/7 |
| 2nd | 4:19 | NOE | 2-1 | EV | Zach Aston-Reese (2) | - |
| 2nd | 6:14 | PRV | 2-2 | EV | John Gilmour (3) | Brandon Tanev/4, Bryan Lemos/3 |
| 2nd | 18:29 | PRV | 3-2 | PP GW | Mark Jankowski (6) | Jake Walman/7, Nick Saracino/9 |
| 3rd | 2:17 | PRV | 4-2 | EV | Robbie Hennessey (2) | Ryan Tait/2, Niko Rufo/1 |
| 3rd | 11:50 | PRV | 5-2 | EV | Ryan Tait (4) | Nick Saracino/10, Kyle McKenzie/2 |
| | | | | |
| --- | --- | --- | --- | --- |
| Scoring | 1st | 2nd | 3rd | Final |
| Northeastern | 1 | 1 | 0 | 2 |
| Providence | 1 | 2 | 2 | 5 |
| | | | | |
| --- | --- | --- | --- | --- |
| Shots on Goal | 1st | 2nd | 3rd | SOG |
| Northeastern | 8 | 6 | 9 | 23 |
| Providence | 8 | 11 | 10 | 29 |
| | | | |
| --- | --- | --- | --- |
| Team Stats and Records | PP | PIM | SHGF |
| Northeastern (1-9-2) | 1/4 | 7/14 | 0 |
| Providence (7-0-3) | 2/6 | 6/23 | 0 |
| | | | | | | |
| --- | --- | --- | --- | --- | --- | --- |
| Northeastern Goaltending | MIN | GA | 1 | 2 | 3 | Saves |
| Ryan Ruck (L, 0-6-1) | 60:00 | 5 | 7 | 9 | 8 | 24 |
| | | | | | | |
| --- | --- | --- | --- | --- | --- | --- |
| Providence Goaltending | MIN | GA | 1 | 2 | 3 | Saves |
| Nick Ellis (W, 6-0-3) | 60:00 | 2 | 7 | 5 | 9 | 21 |
PROVIDENCE, R.I. - Led by three assists by Nick Saracino and two goals from Mark Jankowski, the top-ranked Providence College men's hockey team skated to a 5-2 triumph over Northeastern on Friday night at Schneider Arena.
With the win, Providence improves to 7-0-3 (1-0-2 HEA) and has now began a season with a 10-game unbeaten streak, the longest such streak in school history. Dating back to last season's NCAA Tournament run, the Friars have now gone unbeaten in 14 consecutive games (11-0-3). Providence and Quinnipiac are the only remaining unbeaten schools in Division I hockey after the Bobcats earned a 1-1 tie versus Clarkson on Friday.
Nick Ellis improved his record to 6-0-3 in turning away 21 shots, while NU goaltender Ryan Ruck made 24 saves for the visiting Huskies to drop to 0-6-1. Northeastern dropped to 1-9-2 and 0-5-2 in Hockey East play with the loss.
The Friars wasted no time in finding the back of the net on Friday night, as they cashed in with an early power play goal to grab a 1-0 lead. Jake Walman's wrister through traffic caused a scrum in front of NU goaltender Ryan Ruck, with Nick Saracino jamming away before Mark Jankowski came in to clean up the rebound just 3:47 into the game.
Undeterred, the Huskies responded with a power play goal of their own off the stick of Garrett Cockerill at 15:14 as his wrister through traffic sound a seam past Ellis and the Friar defense. John Gilmour appeared poised to re-gain the lead for the hosts, but his shot found the crossbar with the Friars looking to convert on a 5-on-3 late in the period.
The Huskies grabbed a lead 4:19 into the second after Zach Aston-Reese beat Ellis after a giveaway in the Friars' end. Providence didn't waste time in responding as John Gilmour snuck a shot through screens by Brandon Tanev and Bryan Lemos just 1:55 later to knot the game at two.
After a superb kill of a five-minute major assessed to Anthony Florentino, Providence regained momentum and the lead at the 18:29 mark of the second when Jankowski notched his second power play goal of the game and sixth of the season on assists from Walman and Saracino.
Just 2:17 into the third, the Friars registered an insurance goal from sophomore Robbie Hennessey after a brilliant centering feed from freshman Ryan Tait to make it a 4-2 game. Tait then found the back of the net himself off a slick feed through the seam from Saracino, notching Friars' fifth goal of the night with 8:10 remaining.
Providence and Northeastern will resume the home-and-home series with a game at NU's Matthews Arena tomorrow night (Nov. 21) at 7:30 p.m.
HOW THEY SCORED:
1-0 (PC) Power play goal scored by Mark Jankowski (Saracino, Walman): Scrum in the crease, Jankowski put home a loose puck.
1-1 (NU) Power play goal scored by Garrett Cockerill (J. Stevens, Aston-Reese): Wrister from the top of the circles through a screen.
2-1 (NU) Goal scored by Zach Aston-Reese: Off a turnover, wheeled around the top of the circle and beat Ellis short side.
2-2 (PC) Goal scored by John Gilmour (Tanev, Lemos): Wrister from the point through traffic.
3-2 (PC) Power play goal scored by Mark Jankowski (Walman, Saracino): Wrist shot from the top of the right circle.
4-2 (PC) Goal scored by Robbie Hennessey (Tait, Rufo): Centering pass from Tait, tap-in by Hennessey at the post.
5-2 (PC) Goal scored by Ryan Tait (Saracino, McKenzie): Feed from Saracino into the seam, Tait backhands over the shoulder of Ruck.
NOTES:
The Friars are now unbeaten in their last 14 games (11-0-3) dating back to last season, which is a new school record and also set a school record for a 10-game unbeaten streak to begin a season, shattering the previous record of nine back in 1990 ... Saracino is now three points shy of the 100-point plateau and recorded his second three-assist contest in 2015-16 ... Saracino, Jankowski, Walman, and Tait all notched multi-point efforts ... Junior Niko Rufo earned his first point of the year on Hennessey's goal ... Jankowski is now tied for the national lead with five power play goals ... Walman continues to lead the nation's defensemen with 16 points after two helpers tonight ... Power Plays: Providence - 2/6, Northeastern 1/4 ... official shots on goal: Providence 29, Northeastern 23 ... Attendance: 3,030.​