Petersen's 49 Saves Give Notre Dame 1-1 Tie At Denver
Sophomore goaltender Cal Petersen stops 49 shots for Fighting Irish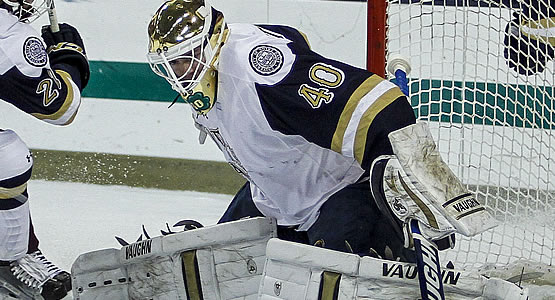 Sophomore goaltender Cal Petersen made 49 saves for the Fighting Irish
| | | | | | | |
| --- | --- | --- | --- | --- | --- | --- |
| Prd | Time | Team | Score | Type | Scored By | Assists |
| 1st | 13:07 | NDM | 1-0 | EV | Connor Hurley (3) | Andy Ryan/6, Luke Ripley/4 |
| 3rd | 6:45 | DEN | 1-1 | EV GT | Trevor Moore (3) | Dylan Gambrell/10 |
| | | | | | |
| --- | --- | --- | --- | --- | --- |
| Scoring | 1st | 2nd | 3rd | OT | Final |
| Notre Dame | 1 | 0 | 0 | 0 | 1 |
| Denver | 0 | 0 | 1 | 0 | 1 |
| | | | | | |
| --- | --- | --- | --- | --- | --- |
| Shots on Goal | 1st | 2nd | 3rd | OT | SOG |
| Notre Dame | 6 | 4 | 15 | 2 | 27 |
| Denver | 16 | 23 | 9 | 2 | 50 |
| | | | |
| --- | --- | --- | --- |
| Team Stats and Records | PP | PIM | SHGF |
| Notre Dame (9-4-5) | 0/1 | 5/21 | 0 |
| Denver (7-7-3) | 0/4 | 1/2 | 0 |
| | | | | | | | |
| --- | --- | --- | --- | --- | --- | --- | --- |
| Notre Dame Goaltending | MIN | GA | 1 | 2 | 3 | OT | Saves |
| Cal Petersen (T, 9-4-5) | 64:49 | 1 | 16 | 23 | 8 | 2 | 49 |
| Empty Net | 0:11 | 0 | | | | | |
| | | | | | | | |
| --- | --- | --- | --- | --- | --- | --- | --- |
| Denver Goaltending | MIN | GA | 1 | 2 | 3 | OT | Saves |
| Tanner Jaillet (T, 3-3-3) | 65:00 | 1 | 5 | 4 | 15 | 2 | 26 |
DENVER, Colo. - Fighting Irish goaltender Cal Petersen turned in a 49-save performance as the No. 16 Notre Dame hockey team skated to a 1-1 overtime tie with No. 17 Denver on Friday night at Magness Arena.
With the tie, Notre Dame (9-4-5, 6-1-2 HEA) moved its unbeaten streak to five games (4-0-1), while Denver is now 7-7-3 on the season.
Connor Hurley staked Notre Dame to a 1-0 lead AT 13:07 of the first period when he scored his third goal of the season.
Petersen stood tall in the first, stopping all 16 Pioneer shots he faced, including a big blocker save on a Danton Heinen breakaway chance just over five minutes into the contest.
Denver goaltender Tanner Jaillet also had a highlight reel save in the first period when he dove back across his crease to deny Sam Herr on a shorthanded bid following a rebound in the slot.
Just over five minutes into the second period, Petersen made another breakaway stop, this time gloving aside Trevor Moore's attempt after Denver's quick pass in transition took advantage of an Irish line change.
Petersen's impressive play continued when Notre Dame had to kill off 6:54 of consecutive Denver power-play time midway through the period, including a blocker save on a Heinen one-timer.
Petersen totaled 23 saves in the second period as the Irish took a 1-0 lead to the locker room after two periods of play.
But Denver's Trevor Moore tied the score at 1-1 at 6:45 of the third period.
With the game tied Notre Dame generated more chances as the third period wore on and forced Jaillet into making 15 stops in the frame, including saves on chances for Hurley and Steven Fogarty from in close with under eight minutes remaining.' With just under five minutes left in regulation, Petersen made another big save on Moore to keep the score tied at 1-1.
Neither team could find the back of the net in the traditional five minute overtime period of five-on-five, though each team put two shots on goal and the game ended as an official 1-1 tie.
The Pioneers finished the night 0-for-4 on the power play, while the Irish were 0-for-1. Jaillet totaled 27 saves, while Petersen had 49.
The teams then played an action-packed five minutes of 3-on-3, consistent with the NCHC's overtime protocol for the 2015-16 season. But again, it was Petersen and Jaillet who starred in the frame and the game moved to a sudden death shootout.
To cap off his night, Petersen stopped both Denver shooters he faced in the shootout, stopping Moore and Heinen. DiPauli then won the exhibition portion of the night for the Irish with a deke and wrist shot that beat Jaillet high.
The Irish and Pioneers will close out their two-game series tomorrow night (Jan. 2) at Magness Arena. Puck drop is slated for 9:05 p.m. (ET) and the game will be televised by Root Sports Rocky Mountain (DirecTV 683).
Goals
-- Notre Dame took a 1-0 lead at 13:07 of the first period when Connor Hurley threw the puck on net from a tight angle and notched his third goal of the season as the puck got between Denver goaltender Tanner Jaillet's left pad and the inside of the post. Andy Ryan and Luke Ripley assisted on the play.
-- At 6:45 of the third period, Denver tied it at 1-1 on a Trevor Moore goal. Moore skated around the back of the net with the puck on his back hand, shifted to shield the puck from a Notre Dame defenseman and shot a forehand wrist shot high past Petersen for his third goal of the season.
Notes
-- Notre Dame moved its unbeaten streak to five games (4-0-1).
-- Cal Petersen made his 18th-consecutive start in the Irish goal to open the 2015-16 season.
-- Petersen's 23 saves in the second marked his highest single period career total (his previous high was 22 saves in 1st period vs. BC 2/28/15).
-- Officially, Petersen posted 49 saves, his third-highest single game total in an Irish uniform. With the additional overtime stats added in, Petersen finished with 55 saves (unofficial).
-- Sophomore forward Anders Bjork (17 GP, 5-11-16) is currently playing for the U.S. National Junior Team that is competing in the 2016 International Ice Hockey Federation World Junior Championship in Helsinki, Finland. Team USA, which also includes Irish coordinator of hockey operations, Nick Siergiej and Notre Dame Equipment Specialist Dave Gilbert, will take on the Czech Republic in a Quarterfinal game on Saturday, Jan. 2 (1:00 p.m. ET).
-- Denver Head Coach Jim Montgomery began his college coaching career as an assistant coach at Notre Dame for Irish Head Coach Jeff Jackson during the 2005-06 season, which was Jackson's first season behind the Notre Dame bench.