Boston University Falls To Denver, 7-2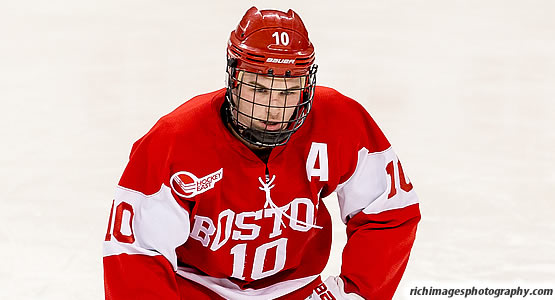 Senior forward Danny O'Regan scored a goal for the Terriers
| | | | | | | |
| --- | --- | --- | --- | --- | --- | --- |
| Prd | Time | Team | Score | Type | Scored By | Assists |
| 1st | 13:49 | DEN | 1-0 | EV | Blake Hillman (2) | Evan Janssen/6, Troy Terry/9 |
| 1st | 17:40 | DEN | 2-0 | EV | Dylan Gambrell (16) | Danton Heinen/24 |
| 2nd | 0:24 | DEN | 3-0 | PP GW | Will Butcher (7) | Danton Heinen/25, Troy Terry/10 |
| 2nd | 2:58 | DEN | 4-0 | EV | Matt Marcinew (11) | Jarid Lukosevicius/4 |
| 2nd | 15:48 | DEN | 5-0 | EV | Evan Janssen (5) | Troy Terry/11, Quentin Shore/12 |
| 3rd | 3:23 | DEN | 6-0 | PP | Will Butcher (8) | Danton Heinen/26, Quentin Shore/13 |
| 3rd | 12:45 | BU | 1-6 | EV | Danny O'Regan (17) | Jakob Forsbacka Karlsson/20, Charlie McAvoy/22 |
| 3rd | 14:07 | DEN | 7-1 | EV | Trevor Moore (10) | Nolan Zajac/17, Quentin Shore/14 |
| 3rd | 19:45.3 | BU | 2-7 | EV | Mike Moran (5) | Matt Grzelcyk/13, Jordan Greenway/21 |
| | | | | |
| --- | --- | --- | --- | --- |
| Scoring | 1st | 2nd | 3rd | Final |
| Boston University | 0 | 0 | 2 | 2 |
| Denver | 2 | 3 | 2 | 7 |
| | | | | |
| --- | --- | --- | --- | --- |
| Shots on Goal | 1st | 2nd | 3rd | SOG |
| Boston University | 10 | 6 | 5 | 21 |
| Denver | 10 | 11 | 4 | 25 |
| | | | |
| --- | --- | --- | --- |
| Team Stats and Records | PP | PIM | SHGF |
| Boston University (21-13-5) | 0/2 | 4/11 | 0 |
| Denver (24-9-6) | 2/4 | 2/4 | 0 |
| | | | | | | |
| --- | --- | --- | --- | --- | --- | --- |
| Boston University Goaltending | MIN | GA | 1 | 2 | 3 | Saves |
| Sean Maguire (L, 13-9-1) | 22:58 | 4 | 8 | 1 | 0 | 9 |
| Connor LaCouvee | 37:02 | 3 | 0 | 7 | 2 | 9 |
| | | | | | | |
| --- | --- | --- | --- | --- | --- | --- |
| Denver Goaltending | MIN | GA | 1 | 2 | 3 | Saves |
| Tanner Jaillet (W, 16-4-5) | 60:00 | 2 | 10 | 6 | 3 | 19 |
SAINT PAUL, Minn. - The No. 11/12 Boston University men's ice hockey team had its season come to an end on Saturday evening as No. 7 Denver posted a 7-2 victory in the opening round of the NCAA West Regional at the Xcel Energy Center.
The Terriers finish the year with a record of 21-13-5 after making back-to-back NCAA appearances for the first time in nine years. Denver (24-9-6) advances to face Ferris State, a 5-4 upset winner in overtime against second-ranked St. Cloud State, in Sunday's regional final.
Seniors Danny O'Regan and Mike Moran recorded goals in their final game in a BU uniform. Classmate Matt Grzelcyk and freshmen Jakob Forsbacka Karlsson, Jordan Greenway and Charlie McAvoy each picked up an assist.
The Pioneers posted two goals in the opening period and then scored a power-play goal 24 seconds into the second to start pulling away. Tallies at 2:48 and 15:48 of the middle stanza gave Denver a 5-0 cushion.
After the Pioneers made it a 6-0 lead early in the third, O'Regan got the Terriers on the board with his team-leading 17th goal of the season. Denver tacked on one more moments after the O'Regan goal before Moran deflected a puck in with 15 seconds remaining to create the 7-2 final.
Junior Will Butcher scored two goals and freshman Troy Terry, sophomore Danton Heinen and senior Quentin Shore each tallied three assists. Junior Evan Janssen had a two-point night with a goal and an assist.
Senior Sean Maguire allowed four goals on 13 shots before being replaced by sophomore Connor LaCouvee, who also registered nine saves. Sophomore Tanner Jaillet made 19 stops for Denver.
The Pioneers held a 25-21 shot advantage and scored on two of four power-play opportunities, including a five-minute major. BU came up empty on its pair of chances with the man advantage.
Saturday's game marked the end of the road for BU's six-member senior class of Grzelcyk, Maguire, Moran, O'Regan, Matt Lane and Ahti Oksanen. During their time on Comm. Ave., they helped the Terriers claim the 2015 Hockey East regular-season and tournament titles, advance to the 2015 NCAA title game and also earn the program's 30th Beanpot crown.
O'Regan finished his career with a point per game average, tallying 154 points (66g, 88a) in 154 contests. He never missed a game over his four years and his point total ranks tied for 15th all-time at BU.