Demko, Boston College Shut Out Wisconsin, 5-0
Junior goaltender Thatcher Demko makes 20 saves for Eagles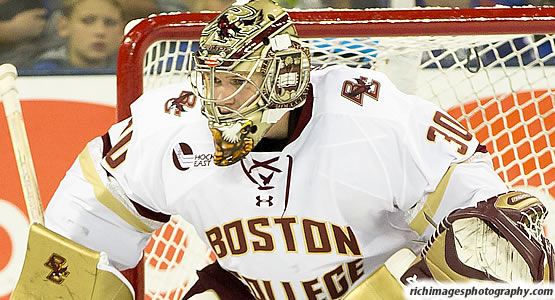 Junior goaltender Thatcher Demko made 20 saves for the Eagles
| | | | | | | |
| --- | --- | --- | --- | --- | --- | --- |
| Prd | Time | Team | Score | Type | Scored By | Assists |
| 1st | 0:12 | BC | 1-0 | EV GW | Austin Cangelosi (1) | Chris Calnan/1, Miles Wood/3 |
| 1st | 4:39 | BC | 2-0 | SH | Teddy Doherty (1) | - |
| 2nd | 6:50 | BC | 3-0 | EV | Ryan Fitzgerald (1) | Adam Gilmour/1, Casey Fitzgerald/2 |
| 2nd | 16:05 | BC | 4-0 | EV | Austin Cangelosi (2) | Miles Wood/4, Chris Calnan/2 |
| 2nd | 16:45 | BC | 5-0 | EV | Colin White (1) | Ryan Fitzgerald/1, Josh Couturier/1 |
| 3rd | 3:12 | BC | 6-0 | PP | Colin White (2) | Ryan Fitzgerald/2, Casey Fitzgerald/3 |
| | | | | |
| --- | --- | --- | --- | --- |
| Scoring | 1st | 2nd | 3rd | Final |
| Wisconsin | 0 | 0 | 0 | 0 |
| Boston College | 2 | 3 | 1 | 6 |
| | | | | |
| --- | --- | --- | --- | --- |
| Shots on Goal | 1st | 2nd | 3rd | SOG |
| Wisconsin | 4 | 10 | 6 | 20 |
| Boston College | 11 | 7 | 9 | 27 |
| | | | |
| --- | --- | --- | --- |
| Team Stats and Records | PP | PIM | SHGF |
| Wisconsin (0-1-2) | 0/4 | 9/26 | 0 |
| Boston College (2-1-0) | 1/5 | 6/23 | 1 |
| | | | | | | |
| --- | --- | --- | --- | --- | --- | --- |
| Wisconsin Goaltending | MIN | GA | 1 | 2 | 3 | Saves |
| Adam Miller (L, 0-1-1) | 4:39 | 2 | 2 | 0 | 0 | 2 |
| Matt Jurusik | 55:21 | 4 | 7 | 4 | 8 | 19 |
| | | | | | | |
| --- | --- | --- | --- | --- | --- | --- |
| Boston College Goaltending | MIN | GA | 1 | 2 | 3 | Saves |
| Thatcher Demko (W, 2-1-0) | 60:00 | 0 | 4 | 10 | 6 | 20 |
CHESTNUT HILL, Mass. - Junior Thatcher Demko stopped 20 shots while junior Austin Cangelosi and freshman Colin White each scored twice to lead Boston College to a 5-0 win against Wisconsin on Friday at Kelley Rink.
GAME INFORMATION
Score: Wisconsin 0 // No. 4 Boston College 6
Records: Wisconsin (0-1-2, 0-0-0 Big Ten) // No. 4 Boston College (2-1-0, 0-0-0 HEA)
Location: Kelly Rink at Conte Forum // Chestnut Hill, Mass.
Attendance: 5,615
Length of Game: 2:24
BC Starters: Wood (LW) - Cangelosi (C) - Calnan (RW) - McCoshen (LD) - Casey Fitzgerald (RD) - Demko (G)
WISC Starters: Kunin (LW) - Hughes (C) - Soleway (RW) - Wittchow (LD) - Davison (RD) - Miller (G)
BC HIGHLIGHTS AND GAME NOTES
The last time Boston College shutout its opponent in the home opener was on Oct. 20, 2012, against Northeastern. Parker Milner stopped 26 pucks in that shutout.
Junior Thatcher Demko earned his fourth-career shutout as an Eagle, stopping 20 shots in the win. It marks Demko's first shutout since blanking the Fighting Irish at Notre Dame on Feb. 27, 2015, with 35 saves. Demko also shutout Providence (30 saves) on Jan. 31, 2014 and UMass Lowell (33 saves) on Feb. 21, 2014.
Austin Cangelosi enjoys playing against Wisconsin. The Estero, Fla., native has only one other career two-goal game. That outing occurred against Wisconsin when he was a freshman on Oct. 18, 2013.
Cangelosi scored 12 seconds into the game for Boston College - the last time an Eagle scored that quickly in a game was when Matt Price scored 11 seconds into the game against Northeastern on March 7, 2008.
Rookie Colin White scored his first two goals as an Eagle, including BC's lone power play goal of the night. The Hanover, Mass., native accounted for Boston College's first 5-on-3 tally of the season.
Teddy Doherty scored his first goal of the season of the short-handed variety. It marks the Eagles first short-handed strike of the season and the first of his career.
Ryan Fitzgerald logged his fifth-career three-point performance with his first points of the season with a goal and a pair of helpers. The North Reading, Mass. last turned in three points when he scored a hat trick against UConn on Jan. 24, 2015.
Rookies Miles Wood (0-2-2) and Casey Fitzgerald (0-2-2) have now logged multi-point performances in two of their first three outings as Eagles.
Chris Calnan turned in his second-career two-assist night and first since a pair against Michigan on Dec. 13, 2014.
Miles Wood leads the Eagles in points with five (1-4-5) through three games. Casey Fitzgerald owns the club's best plus/minus at +5 thus far.
Boston College is now 14-9 all-time against Wisconsin and has outscored the Badgers, 20-2, in their last three meetings.
TURNING POINT
Austin Cangelosi set the tone early with a goal 12 seconds into the contest and Tedy Doherty followed suit by tossing in a short-handed goal from the red line. The Eagles built momentum from that point on and never looked back. The BC blue line surrendered only 20 shots on net, all of which Thatcher Demko thwarted.
HOW IT HAPPENED
The Eagles wasted no time setting the precedent, lighting the lamp 12 seconds in after winning the draw and swooping back into the zone in transition. Miles Wood pushed the puck out of the zone to Chris Calnan on the flank. Calnan rifled a wrist shot from the point and bounced it between the circles where Austin Cangelosi was in position to clean it up for the quick 1-0 attack.
Boston College benefitted from a fortuitous bounce down a skater at 4:39 of the first period when Teddy Doherty found the back of the net from no-mans land. Steve Santini was whistled for roughing at 3:49 and Doherty stripped the puck at the red line and threw it at Wisconsin netminder Adam Miller a few exchanges later. The puck careened through the air and duped Miller for a 2-0 lead on a short-handed marker.
Following BC's short-handed tally, head coach Mike Eaves lifted Miller from between the pipes and deferred to first-year goaltender Matt Jurusik.
Wisconsin started off with pressure on Demko early in the early goings to start the second period, but the Eagles quickly negated that with strong cycling in the Badgers' end moments later.
Casey Fitzgerald accepted a hand off from brother, Ryan, and rimmed it down behind the net to Adam Gilmour. Ryan Fitzgerald cut back through the slot and accepted a precise feed from Gilmour on the doorstep and potted it shortside on Jurusick at 6:50 for the three-goal cushion.
As the second stanza waned on, the Eagles offense stayed on the throttle and added a couple late at 16:05 and 16:45.
Cangelosi's forecheck paid off after stripping Tim Davison at Wisconsin's own blue line. Cangelosi immediately relayed the puck to the middle of the ice to Miles Wood and tossed Wood's one-timer feed right back past Jurusik to give Boston College the 4-0 advantage.
Just 40 seconds later, the Eagles perfectly executed in transition. Josh Couturier cleared the puck out to R. Fitzgerald in the flat. Colin White wheeled around and corralled Fitzgerald's pass right on the blue line to stay onsides. With a Badger in his face, White deked the defenseman and wired a wristshot past Jurusik from the right circle at 16:45 for a 5-0 buffer heading into the second intermission.
White netted his second of the night and first-career power play tally during a 5-on-3 situation at 3:12 of the third frame. After Kevin Schulze (interference) and Eddie Wittchow (high-sticking) went off at 1:19 and 3:04, respectively, the Eagles utilized a tic-tac-toe play for their sixth goal. C. Fitzgerald fed R. Fitzgerald on the right dot who quickly shifted it to White for the one-timer in the slot for the 6-0 lead.
Thatcher Demko preserved his shutout in the final minute with a late bid by UW's Grant Besse.
BOSTON COLLEGE LEADERS
Points: R. Fitzgerald (1 goal - 2 assists)
Goals: Cangelosi (2 goals), White (2 goals)
Assists: C. Fitzgerald (2 assists), Fitzgerald (2 assists), Calnan (2 assists), Wood (2 assists)
Shots: White (5)
Faceoffs Won: Zach Sanford (13-for-24)
WISCONSIN LEADERS
Points: n/a
Goals: n/a
Assists: n/a
Shots: Linhardt (3), Schulze (3)
Faceoffs Won: Matt Ustaski (10-for-16)
SPECIAL TEAMS
Boston College: 1-for-6
Wisconsin: 0-for-4
PENALTIES
Boston College: 6 penalties - 23 minutes
Wisconsin: 9 penalties - 26 minutes
UP NEXT
The Eagles return to the road before and head West to Colorado Springs for a pair against the Tigers of Colorado College on Friday, Oct. 23 and Saturday, Oct. 24. Boston College will drop the puck against CC at 7:30 p.m. local (9:30 p.m. EST) on Friday and 7 p.m. local (9 p.m. EST) to close out on Saturday. Upon conclusion of that series, the Eagles will settle into a five-game home stand spanning from Oct. 30 to Nov. 13.