Demko Makes 28 Saves To Backstop Boston College to 4-0 Win At Notre Dame
Junior goaltender Thatcher Demko records eighth shutout of season with 28 saves for Eagles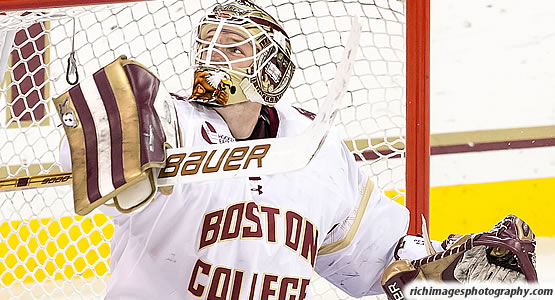 Junior goaltender Thatcher Demko made 28 saves for the Eagles
| | | | | | | |
| --- | --- | --- | --- | --- | --- | --- |
| Prd | Time | Team | Score | Type | Scored By | Assists |
| 1st | 0:16 | BC | 1-0 | EV GW | Austin Cangelosi (11) | Steve Santini/10, Scott Savage/10 |
| 1st | 12:55 | BC | 2-0 | EV | Colin White (15) | Miles Wood/17, Adam Gilmour/7 |
| 2nd | 14:58 | BC | 3-0 | EV | Adam Gilmour (7) | Miles Wood/18, Ian McCoshen/9 |
| 2nd | 17:42 | BC | 4-0 | PP | Zach Sanford (7) | Alex Tuch/10, Colin White/18 |
| | | | | |
| --- | --- | --- | --- | --- |
| Scoring | 1st | 2nd | 3rd | Final |
| Boston College | 2 | 2 | 0 | 4 |
| Notre Dame | 0 | 0 | 0 | 0 |
| | | | | |
| --- | --- | --- | --- | --- |
| Shots on Goal | 1st | 2nd | 3rd | SOG |
| Boston College | 11 | 18 | 10 | 39 |
| Notre Dame | 14 | 5 | 9 | 28 |
| | | | |
| --- | --- | --- | --- |
| Team Stats and Records | PP | PIM | SHGF |
| Boston College (17-4-4) | 1/5 | 5/10 | 0 |
| Notre Dame (14-5-7) | 0/5 | 7/22 | 0 |
| | | | | | | |
| --- | --- | --- | --- | --- | --- | --- |
| Boston College Goaltending | MIN | GA | 1 | 2 | 3 | Saves |
| Thatcher Demko (W, 16-4-3) | 60:00 | 0 | 14 | 5 | 9 | 28 |
| | | | | | | |
| --- | --- | --- | --- | --- | --- | --- |
| Notre Dame Goaltending | MIN | GA | 1 | 2 | 3 | Saves |
| Cal Petersen (L, 14-5-7) | 60:00 | 4 | 9 | 16 | 10 | 35 |
NOTRE DAME, Ind. -- Behind goaltender Thatcher Demko's 28 saves, fifth-ranked Boston College snapped ninth-ranked Notre Dame's 12-game unbeaten streak with a 4-0 win on Friday night at the Compton Family Ice Arena (5,372).
Boston College jumped out to a 1-0 lead 16 seconds into the game on an Austin Cangelosi goal and Demko did the rest, finishing with 28 saves to earn his eighth shutout of the season.
"My concern going into the game has been stressing all week (the importance of) being emotionally in control," Head Coach Jeff Jackson said after the game. "Because we are a younger group, I think that was a factor. We were just too amped up, and I think things just spiraled."
With the loss, Notre Dame's 12-game unbeaten streak was halted at 12 games (9-0-3) and the Irish are now 14-5-7 on the season (10-2-1 HEA).
"Hopefully we learn some things from this," Jackson added. "The kids had a pretty good streak. I don't think anyone expected them to be where they are, and we have to get back to work. We have two points on the line for next Friday night (at Vermont)."
Boston College (17-4-4, 10-1-4 HEA) went on to add a goal by Colin White midway through the first to make it a 2-0 lead after a period of play.
Five minutes into the second period, Demko made a point blank stop on Dylan Malmquist, who was setup by Steven Fogarty from behind the net.
At the 12:00 mark of the second, Petersen denied a great chance by Ryan Fitzgerald, who went in all alone on Notre Dame's sophomore goaltender.
An Adam Gilmour goal at 14:58 of the second followed by a Zach Sanford 5-on-3 power-play tally three minutes later sealed the win for the Eagles.
After time expired in the second, Petersen denied a penalty shot attempt by Colin White, marking his second penalty shot save against White in two games against the Eagles this season.
Petersen finished with 35 saves in the game, including 16 during a busy second period.
Notre Dame was 0-for-5 on the power play, while Boston College finished 1-for-5.
As part of Notre Dame's annual military appreciation night, the Irish wore special warm-up jerseys that will be auctioned off to benefit Defending the Blue Line (UND.com/auctions) and the game began with a ceremonial puck drop performed by an EOD bomb robot.
Notre Dame is now off until next weekend's trip to Burlington, Vermont to face the Catamounts on Feb. 5-6.
Goals
-- Boston College took a 1-0 lead just 16 seconds into the game on an Austin Cangelosi goal. Steve Santini fired a shot that went wide of the goal and kicked out in front to Cangelosi, who snuck the puck inside the post for his 11th goal of the season. Scott Savage also assisted on the play.
-- The Eagles made it a 2-0 lead at 12:55 of the first period when Colin White finished off a two-on-one chance down low that Adam Gilmour and Miles Wood earned assists on.
-- Boston College made it a 3-0 game at 14:58 of the second period when Adam Gilmour snapped a shot from the top of the face-off circle past Petersen for his seventh goal of the season. Wood took a stretch pass from Ian McCoshen and got it to Gilmour at the offensive blue line to start the play and earn the assists.
-- Boston College moved it to 4-0 when it converted on a 5-on-3 power-play chance. Zach Sanford finished off an extended passing sequence, with Alex Tuch and Colin White earning the assists.
Notes
-- Notre Dame's unbeaten streak was snapped at 12 games (9-0-3), which was the fifth-longest unbeaten mark in program history and its longest such streak since going 17-0-3 from Oct. 31-Jan. 17, 2009.
-- Cal Petersen made his 26th-consecutive start in the Notre Dame goal this season and his 39th in a row dating back to the 2014-15 season.
-- Coupled with a 4-3 win by the Irish at Boston College on Dec. 10, the teams split the season series.