Saturday, February 21, 2015
Merrimack And Vermont Battle to 0-0 Deadlock
MC's Rasmus Tirronen makes 49 saves while UVM's Mike Santaguida stops 17 shots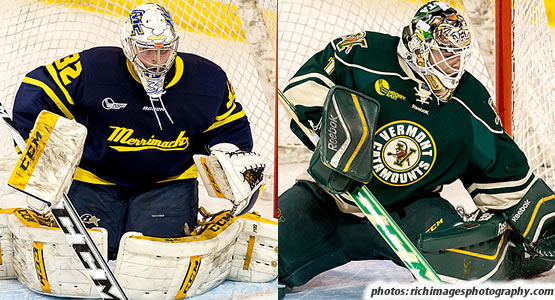 Merrimack's Rasmus Tirronen made 49 saves while Vermont's Mike Santaguida stopped 17 shots
| | | | | | | |
| --- | --- | --- | --- | --- | --- | --- |
| Prd | Time | Team | Score | Type | Scored By | Assists |
| | | | | | |
| --- | --- | --- | --- | --- | --- |
| Scoring | 1st | 2nd | 3rd | OT | Final |
| Merrimack | 0 | 0 | 0 | 0 | 0 |
| Vermont | 0 | 0 | 0 | 0 | 0 |
| | | | | | |
| --- | --- | --- | --- | --- | --- |
| Shots on Goal | 1st | 2nd | 3rd | OT | SOG |
| Merrimack | 8 | 4 | 4 | 1 | 17 |
| Vermont | 13 | 19 | 16 | 1 | 49 |
| | | | |
| --- | --- | --- | --- |
| Team Stats and Records | PP | PIM | SHGF |
| Merrimack (14-14-4) | 0/4 | 4/11 | 0 |
| Vermont (18-11-3) | 0/3 | 5/10 | 0 |
| | | | | | | | |
| --- | --- | --- | --- | --- | --- | --- | --- |
| Merrimack Goaltending | MIN | GA | 1 | 2 | 3 | OT | Saves |
| Rasmus Tirronen (T, 10-10-3) | 65:00 | 0 | 13 | 19 | 16 | 1 | 49 |
| | | | | | | | |
| --- | --- | --- | --- | --- | --- | --- | --- |
| Vermont Goaltending | MIN | GA | 1 | 2 | 3 | OT | Saves |
| Mike Santaguida (T, 7-6-1) | 65:00 | 0 | 8 | 4 | 4 | 1 | 17 |
BURLINGTON, Vt. - No. 18 Vermont and Merrimack skated to a scoreless tie on Senior Night at Gutterson Fieldhouse on Saturday as the Catamounts took three points from the Hockey East weekend series.
The Catamounts pushed their record to 18-11-3 (10-8-2 HEA), while the Warriors moved to 14-14-4 (5-12-3 HEA). UVM posted a season-high 49 shots on goal and won the shot battle by 32.
Vermont remained in a tie for sixth place with Northeastern in the league standings with 22 points, just one point behind a three-way tie for third.
Mike Santaguida and Rasmus Tirronen combined to stop all 66 shots on the night for a pair of shutouts.
"Our kids left it all out there tonight. Tirronen was fantastic as Michael was as well," said head coach Kevin Sneddon. "It was hard to find space out there, that's for sure. We played six periods of really, really hard hockey this weekend. This is something we can build on. We have a huge weekend coming up and we'll need some rest after this."
UVM held a 13-8 shot advantage in the first period, but Santaguida and Tirronen combined to stop all 21 shots they faced. Both teams were unsuccessful on their only power play chance in the first, but Merrimack began the middle frame with the man advantage.
Vermont killed off the power play to begin the second and nearly took the lead after a Brett Seney penalty at the 6:59 mark. Brendan Bradley picked up a rebound in the slot and fired a shot toward the right post, but Tirronen made an acrobatic glove save to keep the game scoreless.
Bradley had another opportunity later in the same power play, but the sophomore spun a shot through the crease behind Tirronen and missed the net wide right.
Santaguida made his best stop of the frame on Brian Christie, coming out to challenge the forward's slap shot from the left circle with a pad save. UVM out-shot MC 19-4 in the middle frame but the teams remained tied entering the third.
Vermont kept the pressure high in the third period, out-shooting Merrimack 16-4, but Tirronen shut the door to send the game to overtime.
The Warriors took a penalty with 1:32 left in the extra session and blocked two shots to preserve the tie. Clayton Jardine blocked a Mike Paliotta point shot, and Dan Kolomatis turned aside an Alexx Privitera one-timer in the final minute.
Before the game, UVM held a ceremony to honor its five-member senior class: Jake Fallon, Nick Luukko, Colin Markison, Mike Paliotta, and Kyle Reynolds. The class has combined to skate in more than 550 games with nearly 275 career points, and helped lead Vermont to its sixth NCAA Tournament appearance last season.
Vermont closes the regular season next weekend with a trip to Tsongas Center to face No. 16 UMass Lowell on Friday (Feb. 27) at 7:15 p.m. and Saturday (Feb. 28) at 7 p.m. Pre-game radio coverage begins 30 minutes prior to faceoff each night on WVMT 620-AM and SportsJuice.com, and pay-per-view video is available via GoRiverHawks.TV.