Boston University Sweeps Series With 5-0 Win Over Merrimack
Freshman forward Jack Eichel posts three assists for Terriers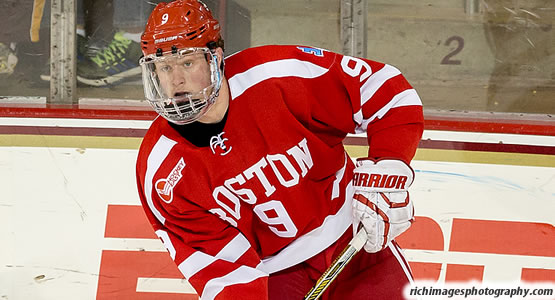 Freshman forward Jack Eichel had three assists for the Terriers
| | | | | | | |
| --- | --- | --- | --- | --- | --- | --- |
| Prd | Time | Team | Score | Type | Scored By | Assists |
| 2nd | 4:11 | BU | 1-0 | SH GW | Cason Hohmann (7) | Jack Eichel/39, Matt O'Connor/2 |
| 2nd | 5:42 | BU | 2-0 | PP | Ahti Oksanen (23) | Evan Rodrigues/36, Danny O'Regan/23 |
| 2nd | 17:40 | BU | 3-0 | EV | Danny O'Regan (21) | Brandon Fortunato/16, Jack Eichel/40 |
| 3rd | 15:39 | BU | 4-0 | SH EN | Matt Grzelcyk (9) | Jack Eichel/41 |
| 3rd | 19:35 | BU | 5-0 | SH EN | Cason Hohmann (8) | Brien Diffley/8 |
| | | | | |
| --- | --- | --- | --- | --- |
| Scoring | 1st | 2nd | 3rd | Final |
| Merrimack | 0 | 0 | 0 | 0 |
| Boston University | 0 | 3 | 2 | 5 |
| | | | | |
| --- | --- | --- | --- | --- |
| Shots on Goal | 1st | 2nd | 3rd | SOG |
| Merrimack | 9 | 2 | 16 | 27 |
| Boston University | 18 | 24 | 13 | 55 |
| | | | |
| --- | --- | --- | --- |
| Team Stats and Records | PP | PIM | SHGF |
| Merrimack (16-18-4) | 0/6 | 11/38 | 0 |
| Boston University (23-7-5) | 1/6 | 11/38 | 3 |
| | | | | | | |
| --- | --- | --- | --- | --- | --- | --- |
| Merrimack Goaltending | MIN | GA | 1 | 2 | 3 | Saves |
| Rasmus Tirronen (L, 12-14-3) | 56:30 | 3 | 18 | 21 | 11 | 50 |
| Empty Net | 3:30 | 2 | | | | |
| | | | | | | |
| --- | --- | --- | --- | --- | --- | --- |
| Boston University Goaltending | MIN | GA | 1 | 2 | 3 | Saves |
| Matt O'Connor (W, 20-3-4) | 58:58 | 0 | 9 | 2 | 15 | 26 |
| Anthony Moccia | 1:02 | 0 | 0 | 0 | 1 | 1 |
BOSTON, Mass. - The top-seeded Boston University men's ice hockey team punched its ticket to Hockey East's championship weekend with a 5-0 victory over 11th-seeded Merrimack on Saturday at Agganis Arena.
The shutout victory completed a quarterfinal sweep of the Warriors and allowed the third-ranked Terriers to become the first team in the nation to secure a spot in its conference semifinals.
After a scoreless first period, BU found the back of the net three times in the second period before tacking on a pair of shorthanded empty-netters late in regulation to improve to 23-7-5 on the year.
Senior Cason Hohmann scored two goals and freshman Jack Eichel collected a trio of assists.
Junior goaltender Matt O'Connor stopped all 26 shots he faced before graduate student Anthony Moccia saved the lone shot he saw in the final 1:02 to complete the shutout.
The Terriers (23-7-5) will await the results of the other series to find out their opponent in the semifinals, which will take place on Friday (March 20) at 5 and 8 p.m. at TD Garden.
BU scored three different ways in the second period to give O'Connor all the support he would need. The Terriers held a commanding 24-2 shot advantage in the frame.
Eichel and Hohmann teamed up on a 2-on-1 shorthanded rush to open the scoring, as Eichel skated up the right side before faking a pass and finding Hohmann above the far post, where he knocked the puck past Merrimack netminder Rasmus Tirronen at the 4:11 mark of the second.
A minute-and-a-half later, the lead was doubled on a power play. Senior Evan Rodrigues took a pass from junior Danny O'Regan in the high slot and sent it towards the net. The puck went off junior Ahti Oksanen's leg and in at 5:42. It was Oksanen's league-leading 23rd goal of the season.
After combining for just 11 shots through the first two periods, Merrimack mustered 16 shots on goal in the third, but could not get on the board.
BU committed two late penalties and the Warriors pulled Tirronen each time to gain a 6-on-4 advantage. The Terriers converted on the empty net both times, however, beginning with a long attempt by junior Matt Grzelcyk off a defensive zone faceoff that went off the boards and in. That goal extended Grzelcyk's point streak to nine games.
Hohmann put the finishing touches on the win with 25 seconds left to play when he scored on the open net on an assist from freshman Brien Diffley.
The Terriers went 1-for-6 on the power play and killed off all six of the Warriors' chances with the man advantage. Merrimack (16-18-4) got a 50-save effort from Tirronen.
BU has now advanced to the league semifinals 12 of the past 14 seasons.