Tuesday, February 23, 2010
ATKINSON HAT TRICK HELPS BOSTON COLLEGE DEFEAT MERRIMACK, 7-0
BC sophomore forward Cam Atkinson now has 21 goals on the season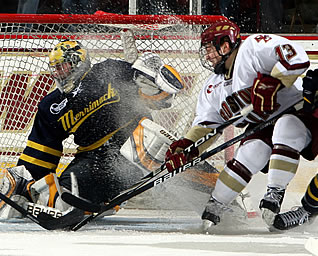 BC's Cam Atkinson scores one of his three goals
CHESTNUT HILL, Mass. - Sophomore Cam Atkinson registered a hat trick to lead Boston College to a 7-0 Hockey East win over Merrimack before 2,816 fans in Kelley Rink.
Atkinson's line - joined by juniors Joe Whitney and Brian Gibbons - totaled eight points. Gibbons registered one goal and one assist, while Whitney had three assists.
BC tallied three special-teams goals - one in each period. The Eagles totaled seven goals for the second consecutive game. It also was the second straight game in which a BC player recorded a hat trick. Gibbons scored three goals against Northeastern just two days earlier.
BC led 4-0 after one period, before adding one goal in the middle period and two goals in the third period.
Freshman Parker Milner made 17 saves in 55:12 to earn his eighth win of the season. Sophomore Chris Venti made three stops in the final 4:48.
Atkinson opened the scoring at 8:24 and freshman Steven Whitney doubled the margin just 69 seconds later. Gibbons gave BC a 3-0 lead at 11:19, and senior Matt Price netted a shorthanded goal at 18:31.
Atkinson scored the Eagles' fifth and sixth goals - the first on the power play at 16:57 of the second period and the next at 3:04 of the final period. Sophomore Jimmy Hayes scored on the power play at 10:57.
Merrimack sophomore Joe Cannata made 12 saves in the first period. Senior Andrew Braithwaite stopped 23 shots in the final 40:00.