TERRIERS CLINCH SECOND PLACE WITH 2-0 WIN OVER FRIARS
Karson Gillespie makes 33 saves for Terriers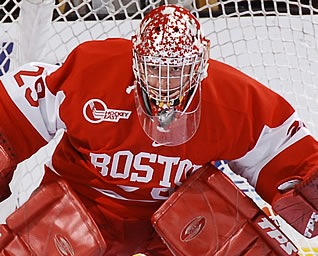 Karson Gillespie posted the shutout with 33 saves
BOSTON, Mass. - Senior Karson Gillespie turned in a 33-save shutout and freshmen Joe Pereira and Nick Bonino each scored a goal, leading the No. 16 Boston University men's ice hockey team to a 2-0 victory over No. 17/15 Providence on Friday evening at Agganis Arena. The win allows the Terriers to clinch the No. 2 seed for the Hockey East playoffs.
BU, which is 9-1 in its last 10 games, closes out the regular season with a record of 17-15-4 with a 15-9-3 conference mark. Providence falls to 14-15-5 overall and an even 11-11-5 in league play.
The victory extended the Terriers' home winning streak to six games, their longest since moving into Agganis Arena in January 2005, as the team last won six consecutive home games in 2000.
The Terriers held the Friars scoreless for the second consecutive night, but it was not easy, as Gillespie made 15 of his saves in the third period alone to preserve his third career shutout. Providence held a 33-17 advantage in shots.
Pereira opened the scoring with his fourth goal of the year on a nifty backhand at 6:26 of the first off a pass from junior Jason Lawrence. Lawrence intercepted a puck that was wrapped along the back boards of the zone by a Friar defender and found Pereira, whose shot eluded Providence netminder Tyler Sims before getting a piece of the right pipe and finding the back of the net.
Bonino made it a two-goal game on a power-play tally at 1:33 of the middle period. The freshman potted his 15th goal of the season when he skated through the inner edge of the right circle after receiving a pass from junior Matt Gilroy and beat Sims. Freshman Colin Wilson also assisted on the play.
The Terriers' penalty kill was a perfect 0-for-7 on the night, while the team's power play was 1-of-6.
Two saves in Gillespie's performance were on 2-on-1 breakaways by the Friars, including a shorthanded offer in the first and an incredible glove save in the third.
The Terriers will face either Northeastern or UMass Lowell in next weekend's best-of-three quarterfinal round.