Monday, February 13, 2017
Weekly Release: Deraney Becomes Winningest Coach In League History With 154th Victory
- Northeastern Triumphs over Boston College for First Time Since 2013, Clinches Home Ice
- Boston College Captures Beanpot Title For Second Straight Year
- Merrimack and Maine Continue Push for Final Playoff Spot In Last Week of Play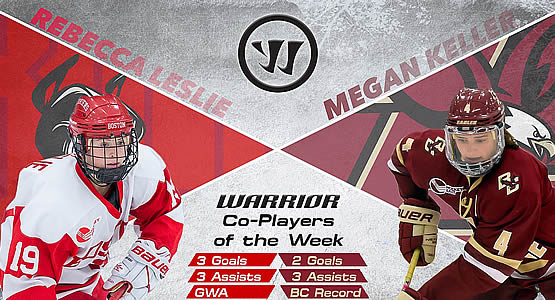 Warrior Hockey Co-Players of the Week Rebecca Leslie of Boston University and Megan Keller of Boston College
AROUND HOCKEY EAST: With his 154th career victory in Women's Hockey East play coming in a 4-3 overtime win at Merrimack on Sunday, Providence Head Coach Bob Deraney became the winningest coach in WHEA league history, surpassing former New Hampshire bench boss Brian McCloskey. Current Boston College Head Coach Katie Crowley sits third on the list with 152 wins, while Boston University's Brian Durocher boasts 148 career victories and Northeastern's Dave Flint has triumphed 108 times in league games. Deraney's Friars came back from a 3-0 deficit to earn the overtime win after two final-frame goals from Cassidy Carels (Bruxelles, Man.). Madison Sansone (Lockport, N.Y.) also tallied three points (1g, 2a), including the game-tying goal with just 1:08 left in regulation. Providence also skated to a 2-2 tie at Vermont Friday, where Carels set up the game-tying goal with less than one second remaining on the clock. Vermont saw goals from Rachael Ade (Davenport, Fla.) and Victoria Andreakos (Aurora, Ont.) ... Northeastern earned its first win over Boston College since 2013 Friday afternoon, taking a 2-1 decision in Chestnut Hill. With the win, the Huskies secured home ice in the quarterfinal round of the Women's Hockey East Tournament ... On Tuesday, Boston College captured its second consecutive Beanpot championship, downing Northeastern at Matthews Arena, 2-1. The Eagles used third-period goals from both Kristyn Capizzano (Oakville, Ont.) and Erin Connolly (South Boston, Mass.) to power past the league rival Huskies. After dropping Friday's contest, the Eagles exploded for seven goals Sunday against Vermont, led by five points (2g, 3a) from Megan Keller (Farmington Hills, Mich.) and four points (1g, 3a) from Andie Anastos (Farmington Hills, Mich.) ... Boston University skated to a 6-6 stalemate with Harvard in the Beanpot consolation game Tuesday before sweeping New Hampshire for four points in league play that vaulted the Terriers in to third place in the WHEA standings. No player in the NCAA had more goals or points than Rebecca Leslie (Ottawa, Ont.) last week for BU, as she found the back of the net in each of her three outings and added a trio of assists. Each of her tallies came when the game was tied, helping her team to an undefeated 2-0-1 week ... UConn traveled to Maine for a two-game set, coming away with a series split with the Black Bears. The Huskies took the first game, 2-1, on Friday night. Rebecca Lindblad (Winnetka, Ill.) netted both goals for UConn in that contest, first opening the scoring on the power-play in the first and putting the Huskies ahead for good at 17:41 of the second stanza after Brooke Stacey (Kahanawake, Que.) evened things up for Maine at one apiece. The next day, Black Bears' rookie netminder Carly Jackson (Amherst, Nova Scotia) made 27 saves to pick up the first shutout of her young career in a 1-0 triumph. Stacey again netted the only Black Bear goal of the outing ... Tickets to the 15th annual Women's Hockey East championship weekend, set for March 4 and 5 at Boston University's Walter Brown Arena, are on sale now. To purchase tickets, please call TicketMaster at 1-800-745-3000 or visit the Agganis Arena Box office.
---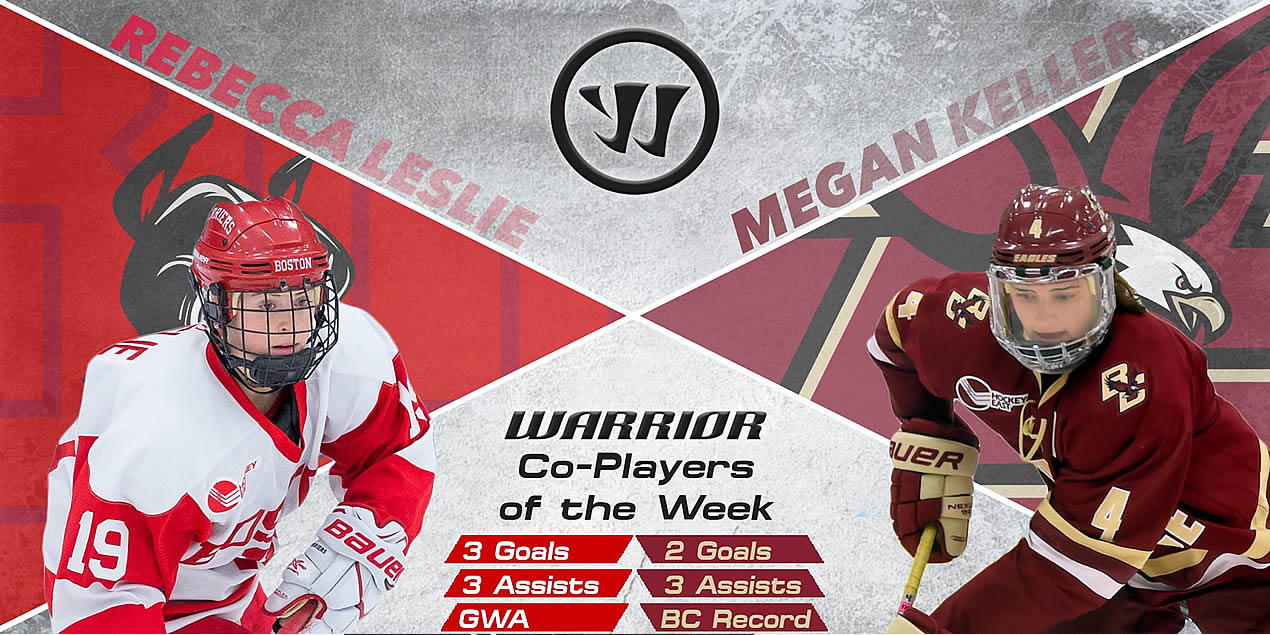 REBECCA LESLIE - BOSTON UNIVERSITY
MEGAN KELLER - BOSTON COLLEGE

Rebecca Leslie (Ottawa, Ont.) led the NCAA with three goals and six assists in a 2-0-1 week for the Terriers. Each of the junior forward's three tallies broke a tie game and her three-point outing Saturday secured a series sweep and four points in league play.

Megan Keller (Farmington Hills, Mich.) enjoyed a five-point (2g, 3a) day against Vermont in a 7-1 win to claim the BC career scoring record for a defenseman with 105 points (23g, 82a). She also blocked a career-high eight shots in the Beanpot title win.
---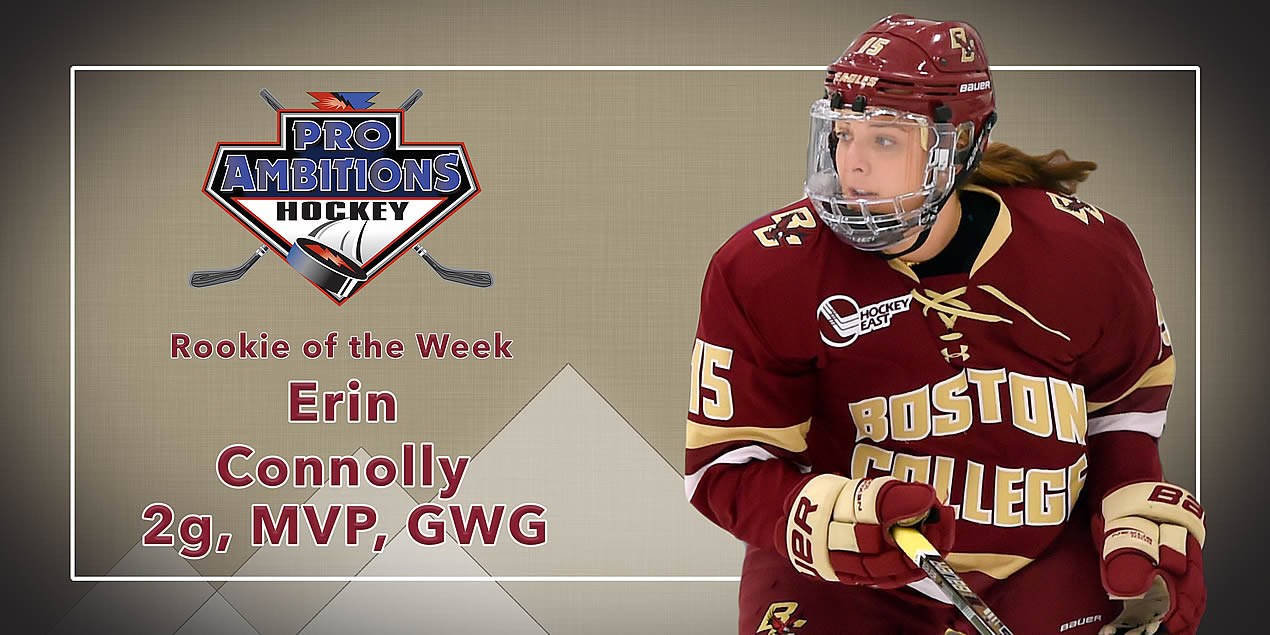 ERIN CONNOLLY - BOSTON COLLEGE

Erin Connolly (South Boston, Mass.) potted the Beanpot-winning goal and earned tournament MVP honors for her efforts across the two-game tournament (1g, 2a). She also scored a goal Sunday against Vermont to finish with two goals and 11 shots on net.
---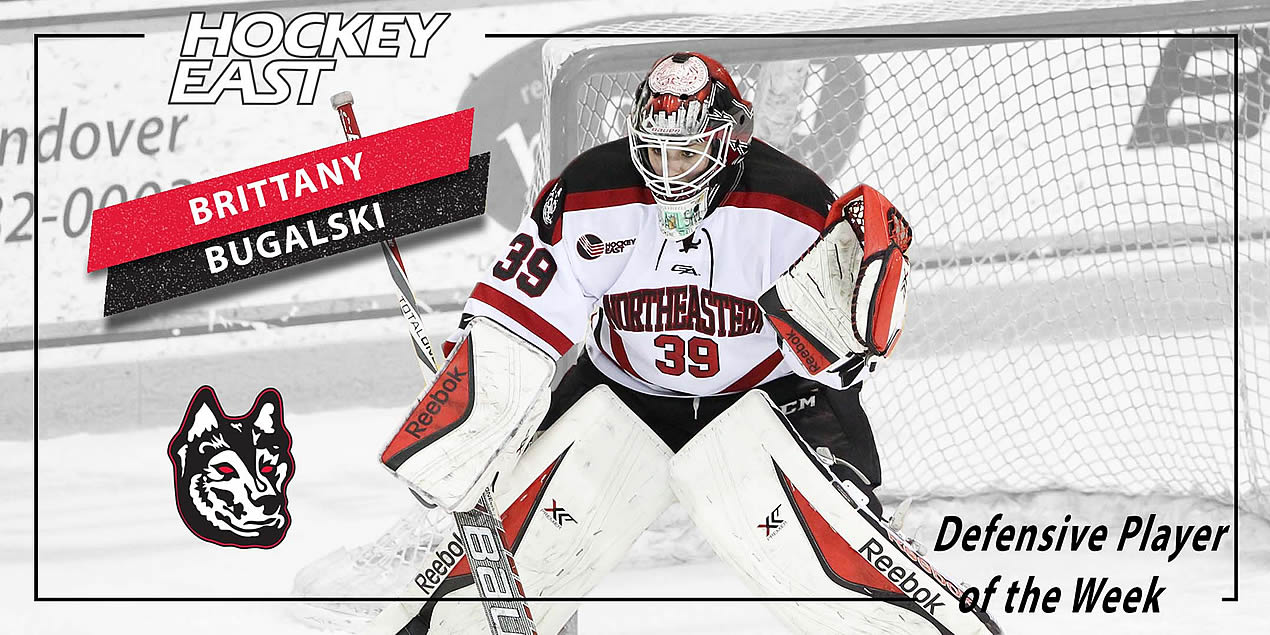 BRITTANY BUGALSKI - NORTHEASTERN

Brittany Bugalski (Boynton Beach, Fla.) Stopped a career-high 46 saves to lift NU to its first win over BC since 2013 in a 2-1 victory Friday afternoon that snapped a 63-game home unbeaten streak for the Eagles. She also stopped 22 shots in the Beanpot final and earned the Bertagna Award as the tournament's top goaltender, making 50 saves and picking up a .943 save percentage in two games.
---
HOCKEY EAST WEEKLY TOP PERFORMERS
Andie Anastos, BC (Sr., F; Farmington Hills, Mich.) Compiled five points (1g, 4a) in a 2-1-0 week that included a Beanpot championship. Dished out the primary helper on the Beanpot winning goal and had a four-point day in a 7-1 over Vermont.
Alexis Crossley, BU (Sr., D; Cole Harbour, N.S.) Collected a goal and an assist, including Saturday's decisive tally, to help sweep UNH.
Abby Cook, BU (Fr., D; Kelowna, B.C.) had three points (1g, 2a) to lead all league rookies last week in a two-game sweep of New Hampshire. The first-year skater also led all league blueliners with a plus-four rating, one power-play assist, and was on the ice for eight Terriers goals through three games last weekend.
Rebecca Lindblad, UConn (So., F; Winnetka, Ill.) Scored both Huskies' goals in a 2-1 win over Maine Friday.
Annie Belanger, UConn (Jr., G; Sherbrooke, Que.) Racked up 61 saves in a 1-1-0 weekend against Maine, making 26 in a 2-1 win and 35 in a 1-0 setback.
Andrea Renner, NU (Fr., F; Arlington Heights, Ill.) Netted her first NCAA game-winning goal to power the Huskies over the Eagles Friday and had an assist in Tuesday's Beanpot final.
Madison Sansone, PC (Jr., F; Lockport, N.Y.) Tallied three points (1g, 2a) to spark a four-goal comeback at Merrimack, including the game-tying goal with just 1:08 left in regulation.
Meaghan Rickard, PC (Fr., F; Coventry, R.I.) Posted one goal and two assists on the weekend, including a helper on the overtime goal Sunday in a 4-3 win at MC.
Madison Myers, PC (So., G; Colchester, Vt.) Earned three points in a 1-0-1 weekend, stopping 20 shots in a 2-2 tie and making 34 stops Sunday.
Rachael Ade, UVM (Sr., D; Davenport, Fla.) Scored for the third straight game Feb. 10 against Providence, an eventual 2-2 draw.
Ève-Audrey Picard, UVM (Fr., F; Longueuil, Que.) Set up Ade's goal Friday to open the scoring.
Madison Litchfield, UVM (Sr., G; Williston, Vt.) Stopped a season-high 38 pucks in a 2-2 stalemate against Providence Friday.
---