Monday, September 21, 2015
Nancy Marrapese-Burrell Named Joe Concannon Award Winner
Boston Globe Reporter Is 24th Recipient of Prestigious Award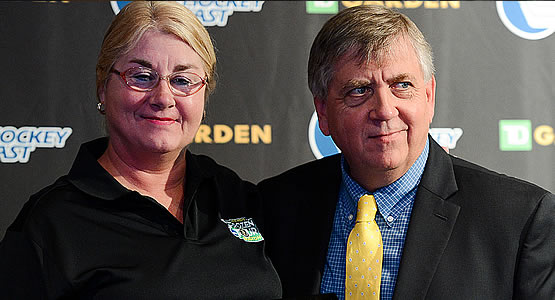 Nancy Marrapese-Burrell Is 24th Recipient of Prestigious Award
WAKEFIELD, Mass. - Nancy Marrapese-Burrell has been named the recipient of the prestigious Joe Concannon Media Award, Hockey East Commissioner Joe Bertagna announced today from the league's annual media day at TD Garden. She becomes the third representative of the Globe staf f to win the award, and the first since the late Joe Concannon was named the recipient in 1998.
"This is so fitting that Nancy is being honored in this way ," said Bertagna. "She would be a perfect candidate for this award in any year, given the way she has covered college hockey over the years. But this year, as she leaves her beat, what a perfect send-off from those of us who have been the beneficiaries of her work. On a personal level, I will miss working with her and seeing her at our games."
Marrapese-Burrell covered hockey for The Boston Globe since 1987, just two years after the creation of the Hockey East Association. Hired by the prestigious Massachusetts paper in March of 1987, Marrapese-Burrell was the first female staff member of the Globe to be assigned the Boston Bruins beat, covering the pro team for over two decades from 1990-2006.
In 2006, Marrapese-Burrell took over the NCAA Division 1 men's college hockey beat, which lasted through the 2014-15 season. Over her 28-year career at the Globe, Marrapese-Burrell covered the Stanley Cup Final for several years, as well as a Super Bowl and the Boston Marathon.
Marrapese-Burrell covered the NCAA Frozen Four during a period of time that was dominated by New England schools, and Hockey East in particular, where she saw Boston College, Boston University and, most recently, Providence College capture national championships.
ABOUT THE JOE CONCANNON HOCKEY EAST MEDIA AWARD: The prestigious honor, named in 2001 in memory of long-time Boston Globe sportswriter Joe Concannon, is bestowed annually upon a member of the media who has demonstrated a superior body of work in covering and promoting the Hockey East Association over an extended period of time.
Hockey East Media Award History

1992
Larry Mahoney, Bangor Daily News
1993
Bob Whitelaw, New England Sports Network
1994
Bob Monahan, Boston Globe
1995
John Connolly, Boston Herald
1996
Charles Scoggins, Lowell Sun
1997
Bob Norton, New England Sports Network
1998
Joe Concannon, Boston Globe
1999
Dick Osborne, UNH Sports Network
2000
Bill Doherty, Huskies Radio
2001
Dave Hendrickson, U.S. College Hockey Online
2002
Roger Brown, Portsmouth Herald
2003
Bernie Corbett, Giant Sports Associates
2004
Rob Rudnick, Huskies Radio
2005
Eric Frede, NESN / CodRock Media
2006
Dan Hannigan, Maine Radio / CodRock Media
2007
Allen Lessels, New Hampshire Union Leader
2008
Mike Logan, Providence College Radio
2009
Bob Ellis, UMass Lowell Radio
2010
Brock Hines, UMass Sports Network
2011
Mike Machnik, Merrimack Radio, CHN & USCHO
2012
Jim Connelly, U.S. College Hockey Online (USCHO)
2013
Dan Parkhurst, UNH Radio/TV & Merrimack Radio
2014
Pete Webster, UNH Wildcat Sports Radio Network
2015
Nancy Marrapese-Burrell, The Boston Globe