Saturday, September 29, 2018
Merrimack Sweeps Union With 4-1 Win
Senior forward Katelyn Rae scores two goals for Warriors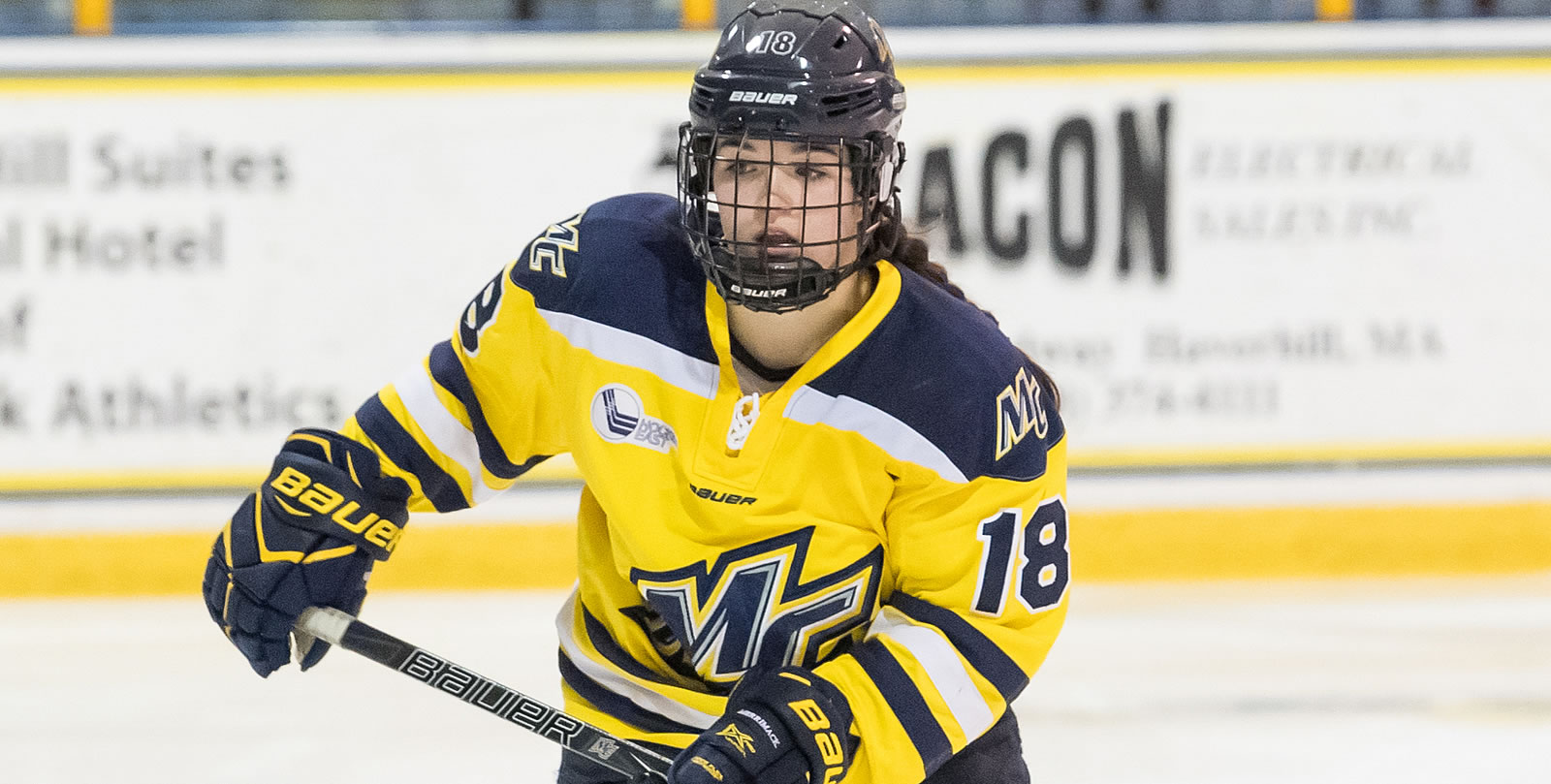 Senior forward Katelyn Rae scored two goals for the Warriors
NORTH ANDOVER, Mass. - The Merrimack College women's ice hockey program concluded their season series against Union Saturday, September 29, with a 4-1 home victory to improve to 2-0-0.

The Basics
Score: Merrimack 4, Union 1 Records: Merrimack (2-0-0) | Union (0-2-0) Location: Lawler Rink | North Andover, Mass.

Scoring Summaries
Goal #1 (MC 1-0) - Senior Katelyn Rae continued her hot start, using just a minute and four seconds to give the Warriors a 1-0 lead. Freshman Gabby Jones picked up her first collegiate point after finding Rae just outside the crease on a backdoor cut, and the easy finish put Merrimack on the board.
Goal #2 (UNION 1-1) - The Dutchmen put their first goal of the season in with five minutes left in the first, when a neutral zone turnover led to a scoring opportunity. After the initial shot was blocked, Alli First found it on her stick at the top of the slot, and buried it to level the score.
Goal #3 (MC 2-1) - Halfway through the second period, senior Mikyla Grant-Mentis took another feed from Jones to retake the lead. Jones had the puck just behind the net, and slid a perfect pass to Grant-Mentis in the slot for the one-timer.
Goal #4 (MC 3-1) - Freshman Kiki Roust picked up her first career point on an assist to extend the Warriors' lead. A pass from just inside the blue line found Rae, who turned in from the left face-off circle and fired a backhand missile through the five-hole.
Goal #5 (MC 4-1) - Grant-Mentis capped off the afternoon with an empty-net goal after a Jones turnover and feed gave her a sheet of empty ice.

Notes and Numbers
- Eight Merrimack players have tallied at least one point through the opening two games, with three players sitting at three points (Rae, Grant-Mentis, Jones).
- Seven goals through the first two games is the most in any season-opening series in program history.
- Senior Samantha Ridgewell holds a .981 save percentage, allowing just one goal while stopping 52 shots.
- Goaltenders: Samantha Ridgewell (26 saves, 2-0-0) // Amelia Murray (37 saves, 0-1-0)
- Power Plays: Merrimack (0-2) | Union (0-2)
- Shots on Goal (MC-UN): 7-12 // 20-5 // 14-7 //- 41-27

Up Next
Merrimack takes its first road trip of the year Friday, October 5, as it plays the first of two games against Penn State. Puck drop is slated for 6 p.m.