Northeastern Edges Maine In WHEA Semifinals, 2-1
Freshman goaltender Aerin Frankel makes 24 saves for Huskies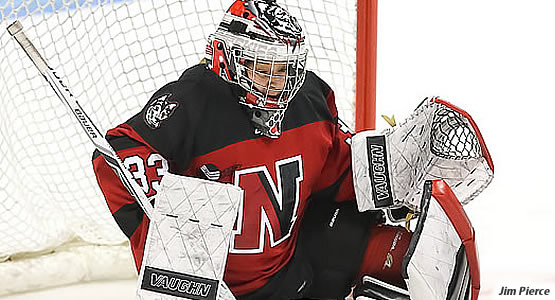 Freshman goaltender Aerin Frankel made 24 saves for the Huskies
| | | | | | | |
| --- | --- | --- | --- | --- | --- | --- |
| Prd | Time | Team | Score | Type | Scored By | Assists |
| 1st | 3:06 | MNE | 1-0 | EV | Daria Tereshkina (5) | Tereza Vanišová/30, Brittany Colton/3 |
| 1st | 19:49.2 | NOE | 1-1 | EV | Veronika Pettey (10) | Andrea Renner/5, Lauren Kelly/8 |
| 3rd | 5:27 | NOE | 2-1 | EV GW | Matti Hartman (8) | McKenna Brand/19, Denisa Křížová/18 |
| | | | | |
| --- | --- | --- | --- | --- |
| Scoring | 1st | 2nd | 3rd | Final |
| Maine | 1 | 0 | 0 | 1 |
| Northeastern | 1 | 0 | 1 | 2 |
| | | | | |
| --- | --- | --- | --- | --- |
| Shots on Goal | 1st | 2nd | 3rd | SOG |
| Maine | 5 | 5 | 15 | 25 |
| Northeastern | 6 | 15 | 6 | 27 |
| | | | |
| --- | --- | --- | --- |
| Team Stats and Records | PP | PIM | SHGF |
| Maine (19-14-5) | 0/3 | 5/10 | 0 |
| Northeastern (18-16-3) | 0/5 | 3/6 | 0 |
| | | | | | | |
| --- | --- | --- | --- | --- | --- | --- |
| Maine Goaltending | MIN | GA | 1 | 2 | 3 | Saves |
| Carly Jackson (L, 17-12-5) | 57:48 | 2 | 5 | 15 | 5 | 25 |
| Empty Net | 2:12 | 0 | | | | |
| | | | | | | |
| --- | --- | --- | --- | --- | --- | --- |
| Northeastern Goaltending | MIN | GA | 1 | 2 | 3 | Saves |
| Aerin Frankel (W, 9-7-2) | 60:00 | 1 | 4 | 5 | 15 | 24 |
BOSTON, Mass. - Freshman Aerin Frankel stopped 24 shots, including 15 in the third period, to lead the Northeastern women's ice hockey team (18-16-5) past No. 10 Maine on Saturday night in the Hockey East semifinals at Matthews Arena, 2-1.
The victory sends the Huskies into the Hockey East championship game for the second straight season and fourth time in team history. Northeastern will meet Connecticut, the No. 7 seed in the tournament, on Sunday in the conference championship game (1:30 p.m., NESNplus) with the Bertagna Trophy and Hockey's East automatic bid into the NCAA tournament up for grabs.
Frankel was solid from start to finish, bouncing back from an early 1-0 deficit with 24 straight stops to finish the game. After Maine drew first blood three minutes into the game on a one-timer goal off the stick of Daria Tereshkina off a feed from Tereza Vanisova, Northeastern struck back with 10.8 seconds to go in the opening frame on Veronika Pettey's fifth of the season when she was sprung from the penalty box in on a breakaway to beat Maine netminder Carly Jackson five-hole.
The score remained that way until five minutes into the third period with Matti Hartman broke the deadlock, ripping home a rebound on the doorstep following an initial shot from McKenna Brand off a feed from Denisa Krizova.
The Northeastern defense took over from there, keeping the Black Bear press at bay with 15 saves and four shot blocks in the final 20 minutes, and successfully killed off a penalty to Hartman with less than two minutes to play in regulation.
The Huskies were a perfect 3-of-3 on the penalty kill while the Maine PK also did its job with five successful kills.