Saturday, November 4, 2017
Merrimack College Shut Out By Union College, 2-0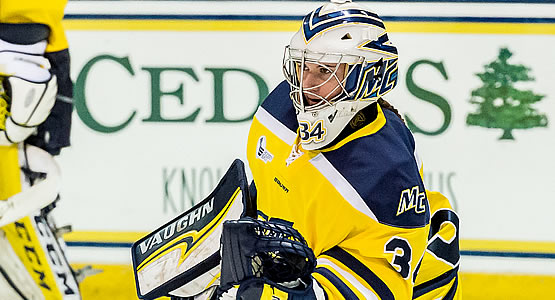 Junior goaltender Samantha Ridgewell made 18 saves for the Warriors
| | | | | | | |
| --- | --- | --- | --- | --- | --- | --- |
| Prd | Time | Team | Score | Type | Scored By | Assists |
| 1st | 14:40 | UNI | 1-0 | PP GW | Hannah Schultz (3) | Katie Laughlin/1, Caitlyn McLaren/2 |
| 3rd | 12:52 | UNI | 2-0 | EV | Helen Markovic (3) | Haley Shugart/2 |
| | | | | |
| --- | --- | --- | --- | --- |
| Scoring | 1st | 2nd | 3rd | Final |
| Merrimack | 0 | 0 | 0 | 0 |
| Union | 1 | 0 | 1 | 2 |
| | | | | |
| --- | --- | --- | --- | --- |
| Shots on Goal | 1st | 2nd | 3rd | SOG |
| Merrimack | 12 | 17 | 11 | 40 |
| Union | 8 | 5 | 7 | 20 |
| | | | |
| --- | --- | --- | --- |
| Team Stats and Records | PP | PIM | SHGF |
| Merrimack (4-7-2) | 0/3 | 3/6 | 0 |
| Union (3-6-1) | 1/3 | 3/6 | 0 |
| | | | | | | |
| --- | --- | --- | --- | --- | --- | --- |
| Merrimack Goaltending | MIN | GA | 1 | 2 | 3 | Saves |
| Samantha Ridgewell (L, 1-5-1) | 58:04 | 2 | 7 | 5 | 6 | 18 |
| Empty Net | 1:56 | 0 | | | | |
| | | | | | | |
| --- | --- | --- | --- | --- | --- | --- |
| Union Goaltending | MIN | GA | 1 | 2 | 3 | Saves |
| Coco Francis (W, 3-1-1) | 60:00 | 0 | 12 | 17 | 11 | 40 |
SCHENECTADY, N.Y. - The Merrimack College women's ice hockey team could not complete the weekend series sweep of Union, as the Dutchwomen won, 2-0, on Saturday afternoon in non-conference play from Frank L. Messa Rink.
The Basics
Score: Merrimack 0, Union (N.Y.) 2 | Final
Records: Merrimack (4-7-2, 1-3-1 WHEA) // Union (3-6-1, 2-0-0 ECAC)
Location: Frank L. Messa Rink | Schenectady, N.Y.
Rapid Recap:
- The Warriors controlled play early in the first period, along with a power-play chance. They were able to get three shots on net during the penalty, but could not find the back of the net. It was a power-play goal by the Dutchwomen at 14:40 that started the scoring.
- The second period saw 22 shots combined. The Warriors had 17 shots on net, with one going off the pipe on a shot by junior Paige Voight (St. Michael, Minn.) midway through the period. However, the teams went into the intermission the same as the first, with Union ahead 1-0.
- Merrimack had the chances in the third period, with an 11-7 edge in shots, but Union scored with 7:08 remaining. A late power-play chance for the Warriors with 1:56 left saw just one shot land on net.
Scoring Summaries
- Union jumped out to a 1-0 lead on the power play at 14:40 of the first. After a shot from the point, the puck was loose in front and Hannah Schultz was there to put the puck in the net.
- Union extended its lead at the 12:52 mark of the third period. Haley Shugart found Helen Markovic in front of the net, for the one-timer to make it 2-0 in favor of the home team.
Notes and Notables
- The Warriors won 30 face-offs, including 12 by junior Madison Morey (Fairbanks, Alaska)
- Merrimack a 40-20 shot advantage over the Dutchwomen. It was the sixth game that the Warriors outshot their opponent this year.
- Junior Jessica Bonfe (Woodbury, Minn.) led the team with six shots on net, while sophomore ( Mikyla Grant-Mentis (Brampton, Ontario) put five on goal.
- Goaltenders: L- Junior Samantha Ridgewell (Outlook, Saskatchewan) (18 Saves, 1-5-1) // W- Coco Francis (40 Saves, 3-1-1)
- Power Plays: Merrimack (0-3) | Union (1-3)
- SOG (MC-UC): 12-8 |17-5 | 11-7 | 40-20
Up Next
The Warriors will face Hockey East foe, Northeastern for a home-and-home series beginning on Friday, Nov. 10th in Boston. Puck drop for both games is 2 p.m.