Saturday, December 30, 2017
Boston University Defeated By Princeton, 4-1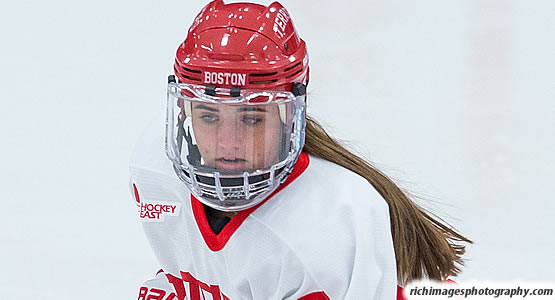 Sophomore defenseman Breanna Scarpaci scored a goal for the Terriers
| | | | | | | |
| --- | --- | --- | --- | --- | --- | --- |
| Prd | Time | Team | Score | Type | Scored By | Assists |
| 2nd | 15:17 | PRN | 1-0 | PP | Carly Bullock (9) | Stephanie Sucharda/11, Claire Thompson/4 |
| 2nd | 15:57 | BU | 1-1 | EV | Breanna Scarpaci (1) | Reagan Rust/8, Rachel Allen/1 |
| 2nd | 17:41 | PRN | 2-1 | EV GW | Claire Thompson (5) | Keiko DeClerck/1, Kiersten Falck/10 |
| 3rd | 5:20 | PRN | 3-1 | EV | Amanda Harris (3) | Kiersten Falck/11, Sarah Verbeek/2 |
| 3rd | 10:29 | PRN | 4-1 | SH | Keiko DeClerck (6) | - |
| | | | | |
| --- | --- | --- | --- | --- |
| Scoring | 1st | 2nd | 3rd | Final |
| Boston University | 0 | 1 | 0 | 1 |
| Princeton | 0 | 2 | 2 | 4 |
| | | | | |
| --- | --- | --- | --- | --- |
| Shots on Goal | 1st | 2nd | 3rd | SOG |
| Boston University | 3 | 6 | 14 | 23 |
| Princeton | 10 | 10 | 18 | 38 |
| | | | |
| --- | --- | --- | --- |
| Team Stats and Records | PP | PIM | SHGF |
| Boston University (7-10-3) | 0/2 | 4/8 | 0 |
| Princeton (5-9-3) | 1/4 | 2/4 | 1 |
| | | | | | | |
| --- | --- | --- | --- | --- | --- | --- |
| Boston University Goaltending | MIN | GA | 1 | 2 | 3 | Saves |
| Corinne Schroeder (L, 7-3-2) | 60:00 | 4 | 10 | 8 | 16 | 34 |
| | | | | | | |
| --- | --- | --- | --- | --- | --- | --- |
| Princeton Goaltending | MIN | GA | 1 | 2 | 3 | Saves |
| Steph Neatby (W, 3-7-3) | 60:00 | 1 | 3 | 5 | 14 | 22 |
PRINCETON, N.J. - Sophomore Breanna Scarpaci scored her first goal of the season, but the Boston University women's ice hockey team suffered a 4-1 setback at Princeton on Saturday afternoon at Hobey Baker Rink.
HOW IT HAPPENED
- Princeton opened the scoring with a power-play marker at 15:17 of the second stanza.
- The Terriers answered just 40 seconds later with Scarpaci's first goal of the season. Freshman Rachel Allen began the sequence by dishing the puck behind the net to junior Reagan Rust. Rust cut to the front of the cage and got the puck to Scarpaci, who beat Steph Neatby (21 saves) with a shot to the glove side.
- The Tigers took a 2-1 lead into the third period before extending their advantage to 3-1 with 14:40 left in the final frame.
- Princeton scored a shorthanded goal at 10:29 of the third period to make it 4-1.
SCARPACI STRIKES FOR THE TERRIERS
- Scarpaci notched her second career goal on Saturday with her second-period marker.
- Her first collegiate goal came at Merrimack on Nov. 18, 2016.
- She now has six career points (2g, 4a) as a Terrier.
A FIRST FOR ALLEN
- Allen collected her first collegiate assist with her helper on Scarpaci's strike.
- Every current Terrier newcomer has now recorded at least one point this season.
GAME NOTES
- Rust and sophomore Katie Shannahan skated at forward on Saturday; both are regularly on the Terrier blue line.
- Freshman Corinne Schroeder made 34 saves between the pipes.
- BU is without seniors Victoria Bach and Rebecca Leslie this weekend, as the dynamic duo is on duty with Team Canada this week at the Nations Cup.
- Leslie assisted on a Bach goal during pre-tournament action this afternoon in Austria.
BACK AT IT TOMORROW
- BU and Princeton will conclude this weekend's two-game set on Sunday at 1 p.m.