Friday, November 24, 2017
Bach Leads Boston University Past Minnesota State, 5-2
Senior forward Victoria Bach picks up fifth career hat trick for Terriers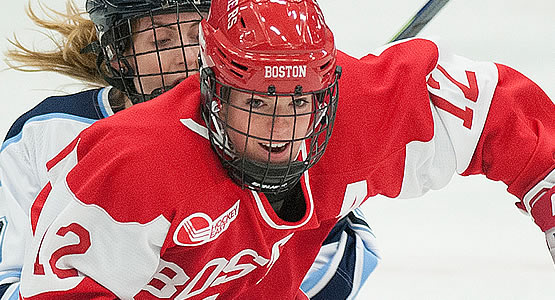 Senior forward Victoria Bach scored her fifth career hat trick for the Terriers
| | | | | | | |
| --- | --- | --- | --- | --- | --- | --- |
| Prd | Time | Team | Score | Type | Scored By | Assists |
| 1st | 6:43 | BU | 1-0 | EV | Victoria Bach (11) | Rebecca Leslie/10, Mary Grace Kelley/5 |
| 1st | 7:42 | MNS | 1-1 | EV | Jordan Jackson (3) | Corbin Boyd/6, Lindsey Coleman/4 |
| 1st | 8:02 | BU | 2-1 | EV | Victoria Bach (12) | Rebecca Leslie/11, Abby Cook/7 |
| 2nd | 3:49 | BU | 3-1 | PP GW | Nina Rodgers (3) | Jesse Compher/8, Victoria Bach/11 |
| 2nd | 5:36 | BU | 4-1 | EV | Nina Rodgers (4) | Jesse Compher/9, Natasza Tarnowski/5 |
| 2nd | 13:00 | MNS | 2-4 | PP | Corbin Boyd (3) | Brittyn Fleming/8, Megan Hinze/4 |
| 2nd | 19:47 | BU | 5-2 | EV | Victoria Bach (13) | Natasza Tarnowski/6 |
| | | | | |
| --- | --- | --- | --- | --- |
| Scoring | 1st | 2nd | 3rd | Final |
| Minnesota State | 1 | 1 | 0 | 2 |
| Boston University | 2 | 3 | 0 | 5 |
| | | | | |
| --- | --- | --- | --- | --- |
| Shots on Goal | 1st | 2nd | 3rd | SOG |
| Minnesota State | 13 | 7 | 11 | 31 |
| Boston University | 12 | 9 | 11 | 32 |
| | | | |
| --- | --- | --- | --- |
| Team Stats and Records | PP | PIM | SHGF |
| Minnesota State (2-12-1) | 1/5 | 5/10 | 0 |
| Boston University (5-6-2) | 1/5 | 5/10 | 0 |
| | | | | | | |
| --- | --- | --- | --- | --- | --- | --- |
| Minnesota State Goaltending | MIN | GA | 1 | 2 | 3 | Saves |
| Kathryn Bidulka (L, 1-9-0) | 60:00 | 5 | 10 | 6 | 11 | 27 |
| | | | | | | |
| --- | --- | --- | --- | --- | --- | --- |
| Boston University Goaltending | MIN | GA | 1 | 2 | 3 | Saves |
| Corinne Schroeder (W, 5-1-2) | 60:00 | 2 | 12 | 6 | 11 | 29 |
ARLINGTON, Va. - Senior Victoria Bach notched her second hat trick in three games to help lead the Boston University women's ice hockey team to a 5-2 victory over Minnesota State on Friday afternoon at the Kettler Capitals Iceplex.
HOW IT HAPPENED
- The two teams traded goals early in the first period, with Bach putting BU in front just 6:43 into the proceedings thanks to assists from senior captain Rebecca Leslie and junior Mary Grace Kelley.
- After the Mavericks tied the game 59 seconds later, Bach needed just 20 seconds to regain the one-goal advantage when she converted another pass from Leslie. Sophomore Abby Cook began the sequence for her seventh assist of the season.
- Senior Nina Rodgers scored twice in a span of 1:47 to extend the BU lead to 4-1. Her first goal came when she banked the puck in off of Maverick goalie Katie Bidulka from behind the net.
- Rodgers got her second thanks to some pretty passing on a 3-on-1 from freshman Jesse Compher and sophomore Natasza Tarnowski.
- MSU got a power-play goal of its own with 7:00 left in the period to cut the Terrier lead to 4-2.
- Bach completed her hat trick with less than 13 seconds left in the frame. After a battle along the MSU half-wall, Bach came out of the sea of players and beat Bidulka for her 13th goal of the season.
ANOTHER HAT TRICK FOR BACH
- Bach notched her second hat trick in three games as part of her four-point effort on Friday.
- In that three-game stretch, she has tallied nine goals and two assists for 11 points.
- Bach now has five career hat tricks.
- Her 13 goals rank third in Hockey East and fourth in the NCAA.
RODGERS WITH AN OUTSTANDING GAME
- Rodgers recorded her third career two-goal game on Friday.
- Her last multi-goal game came on Jan. 22, 2017 against Providence.
- She now has six points this season thanks to four goals and two assists.
ESLIE KEEPS LIGHTING UP THE SCORESHEET
- Leslie added a pair of assists on Friday to extend her point streak to four games.
- She has notched four goals and six assists during that stretch.
- Leslie has recorded 21 points (10g, 11a) in the last nine games, failing to record at least one point in just one of those nine contests.
SCHROEDER SHARP AGAIN
- Freshman Corinne Schroeder made 29 saves on Friday to help preserve the win.
- She turned aside all 11 shots she faced in the final 20 minutes and allowed just one even-strength goal.
- Schroeder is one of just two netminders in the NCAA that has played at least 40% of her team's minutes and has not allowed more than two goals in a single game.
TWO MORE ASSISTS FOR COMPHER
- Compher collected her second two-assist game in three tries on Friday.
- She also had two helpers in the Terriers' 7-1 win at Vermont on Nov. 17.
- Compher now has nine helpers this year.
ANOTHER MULTI-POINT GAME FOR TARNOWSKI
- Tarnowski picked up her second multi-point game in three tries as well on Friday.
- She lit the lamp and added an assist in the team's 7-1 win on Nov. 17 at Vermont.
- Tarnowski, who has recorded a point in three of her last four games, has two goals and six assists for eight points this season.
NEXT UP: TOP-RANKED WISCONSIN
- The Terriers will complete their weekend in Washington with a tilt against the top-ranked Badgers on Nov. 25.
- Game time is set for 1 p.m.